It's on, people! Get your shopping cart wheels oiled up, because Amazon Prime Day is here and in full swing!
If you've been living under a rock (or a vintage camper) and don't know what Prime Day is, it's a 2-day event where Amazon discounts LOTS & LOTS of stuff on their site.
I know Amazon prime Day can be super-confusing with so many deals flying around out there, so I thought I'd give your a little primer on Amazon Prime Day and some suggestions of things I love there!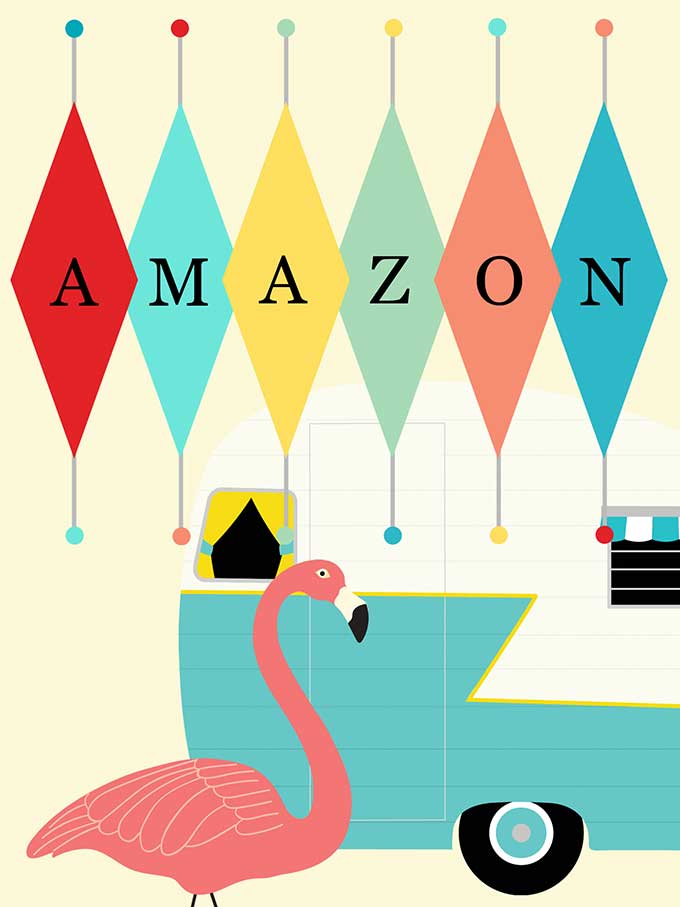 Amazon Prime Day 101
Shop early and shop often. Deals come and go throughout the 2-day event. If it's a super duper deal and you want it, it's best to just go ahead and buy it NOW. It may not be here 15 minutes from now.
Amazon Prime Day is a 2-day only event and lasts until Midnight Tuesday, July 16th and then it's over again until next year.
You do have to be an Amazon Prime Member to get the discounted deals. You can sign up for a FREE 30 day Trial of Amazon Prime HERE though.
Insider Tip: You can sign up for the FREE 30 day trial of Amazon Prime and get in on all the deals over the next few days and then go ahead and cancel your Prime Membership after that if you wish! And they don't even care! It's not like I'm telling you something Amazon is going to freak out about, they have pretty much set up Prime Day to entice you to try their services and once you try it they are betting you will love it!
(This post contains some affiliate links for your convenience. You can read my full disclosure policy here.)
Perks For Being An Amazon Prime Member:
You get to be in on Amazon Prime day deals!
FREE 2-day Shipping! (Did you notice the FREE part?) And when Amazon is coming to your door every other day this is a game changer (said the girl with 14 Amazon boxes stacked up in the garage).
Instantly watch thousands of movies and TV programs on Prime Video
FYI: I will be updating this page throughout the sale with additions and items that are sold out, so stop back by to see what's new.
Some GREAT Amazon Prime Member deals you might be interested in today:
Kindle Paperwhite E-Reader New Waterproof Version for $84.99 (regularly $129.99) - My husband bought me an older version for Christmas one year and I thought I'd hate it since I really love the smell and touch of books and just the idea of flipping pages (I'm a book dork). But I was surprised how much I LOVE it!
Amazon Echo Dot for $22.00 (regularly $49.99) - you don't want to know how many Dots I have in my house
Amazon Fire 7 Tablet (7" Display) for $29.99 (regularly $49.99) - this is a great little tablet to use on the sofa while watching tv
Ibot Roomba 690 Robot Vacuum w/ WiFi Connectivity for $229.99 (regularly $374.99) - this may be my early Christmas present if I can figure out a way to keep the dog from wanting to chase after it
Instant Pot Ultra 6qt 10 in 1 Pressure Cooker for $87.99 (regularly 149.95) - I love, love, love my Instant Pot (btw, this is a different one than they had available yesterday, that one sold out pretty fast)
Ring Video Doorbell for $69.99 (regularly $99.99 - plus this one comes with a free Amazon Echo Dot) - I just bought this today
Cricut Explore Air 2 Bundle w/ Basic Tool Set & Two Vinyl Samples for $199.99 (regularly $289.99) - I do not own one, but I know people love these things
Cricut Easy Press for $69.99 (regularly $149.99) - I don't own one, but all the mesh type stenciling people I know love it for heat setting t-shirts!
23 & Me DNA Test Health + Ancestry for $99.99 (regularly $199) - I bought this for my husband for Father's Day last year when it was on sale.
And some of my favorite fun and funky items they sell there everyday (you do not have to be a Prime Member to snag these items):
Coleman Steel Belted Cooler In Pink
Cosco Retro Chair/Stepstool in Red
Aladdin Heritage PLAID Thermos
Crosley Vintage Suitcase Style Turntable (Record Player) in Turquoise
Black Rocking Chair (like I have on my front porch)
Super Funky Distressed Vintage-Style Area Rug
Traditional Metal Porch Glider
Solar Birdbath Fountain (sounds odd but it has really good reviews and is on my Birthday wish list)
We're you surprised there was a thermos on my list? Probably not!
And don't forget you can always check out my Amazon Storefront every single day of the year. Pinky, the pink flamingo, would be happy to show you around!

Now get out of here and get to shopping!