When I found Frank hanging out on the front porch, we started feeding him, making sure he had water and gave him a safe, dry place to sleep. But he was such a lovable kitty that it was obvious that he belonged to someone else and we wanted to try to find his real parents. I always had a vision of some little girl being very upset that her kitty was missing.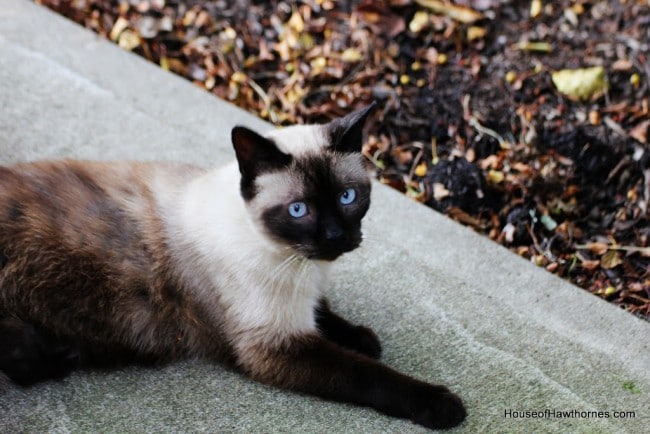 So I took him to the vet to get him scanned for a microchip (he had none). We put some ads up online, posters around town and notified all the vet offices that we had found a Siamese cat. But it's been well over a month now and his real parents never surfaced. The only people who contacted us about him may not have had his best interest in mind (let's just say that not all cat "rescue" groups are non-profit or legitimate).
After much consideration and heartache, we decided to find Frank a new permanent home. As much as I'd love to keep him around here, our animals have never gotten to the point that we felt that they were going to accept Frank into the family. Otis has been hiding under a bed all day and Lacey would love to have Frank over for dinner. She's actually quite aggressive about trying to get at Frank and it's a little scary.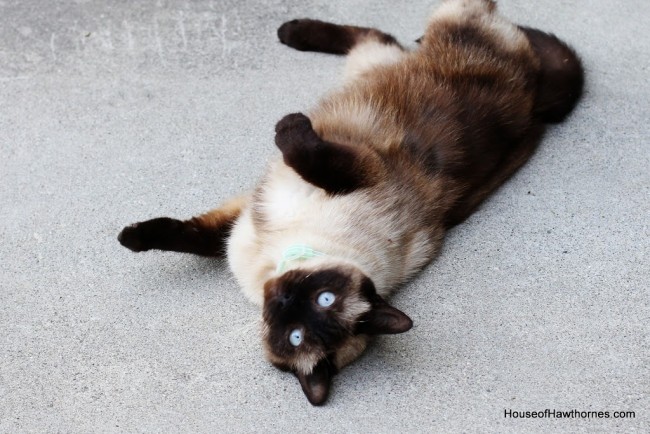 We felt it best that Frank go to a family that could fully integrate him into their home, pet him tons more than I was able to (he is a lovey dovey cat) and allow him to live without fear of being chased by a dog all day long. All cats should have the freedom to walk in their own home without being in constant fear.
So today Frank is going home with one of my husband's coworkers. I'm more than a little sad about it, but it is really is the best thing for him. He's a great cat and deserves a great life, even if it's not with us.