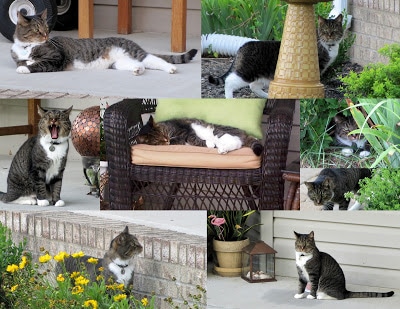 Since I did a post a few weeks ago about our dog, I felt it was about time that I do one about our cat, Otis.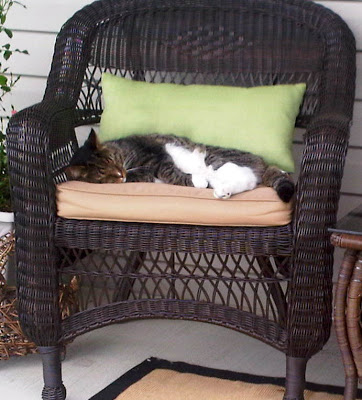 I adopted Otis from a cat shelter for my son's 4th birthday. So he is officially my son's cat, but Otis doesn't seem to know that. He prefers me,so I have to constantly remind him that he belongs to the boy of the house.

We have no idea how old Otis is, but we've had him for 7 1/2 years and he was an older cat already when we adopted him from the shelter. He's still pretty active, so I would guess he is 10-12 years old. He should have another 20 good years left in him, right?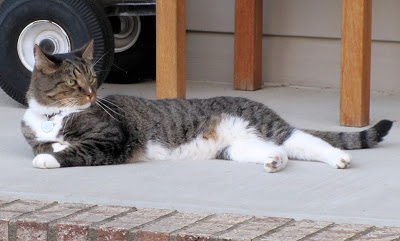 I adopted him from a no-kill shelter. If a cat comes there they are welcome to stay until they get adopted or they can live out the rest of their days there, so at any given time they can have as many as 250 cats there. And how do you chose between 250 cute little furry faces begging you to give them a nice warm home? Well, I like to think that Otis chose us.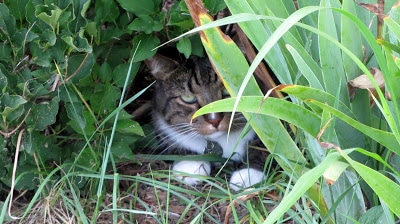 I was having a really hard time picking a cat because it seemed like the weight of all these cat's futures was sitting on my shoulders. After looking at a gazillion cats, I walked into a room and there was a cat laying on the counter all by himself. I petted him and he started purring really loudly. Then he got up and started head butting me in the chest so I would keep petting him (he does the same thing now, sort of forces you to pet him).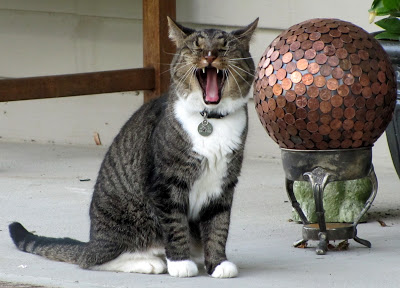 The shelter worker said that that particular cat had been there for a year or two and was probably going to be there forever since he had some sort of cat cold and no one wanted to adopt him. She sort of dismissed him. Well, always being one for the underdog (undercat) I decided that this was the cat for us. And by the way cat shelter worker person – the whole cat cold thing cleared itself up after we took him to our vet.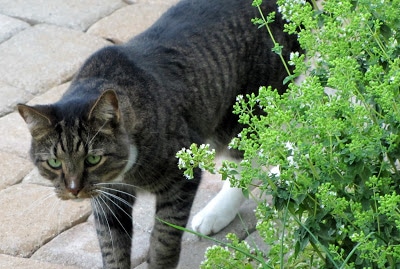 Otis has always been strictly an indoor cat with us, but just last year we started to allow him to venture outside a little. Supervised outings only.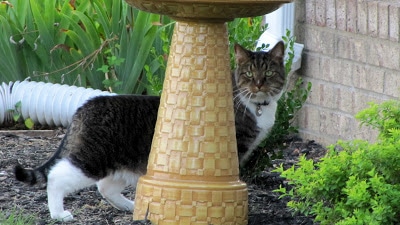 Strangely enough though, if we shut the door when he's outside he immediately comes running back to the door. He has to know he has an escape route back to the safe indoors and if he doesn't he gets very nervous.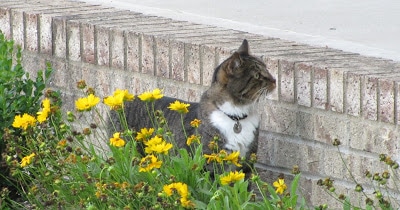 Shh, he thinks he's hiding from the birds here. He's blending into the mulch.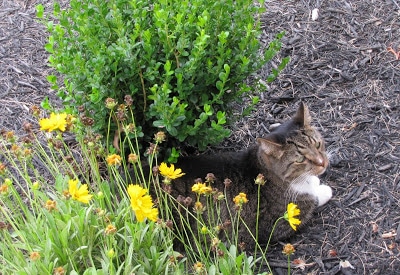 So if you're in the market for a new kittie, don't be afraid to take a chance on an older shelter cat. Otis has been one of the most loving cats I've ever had (even though he's really my son's). I like to think that is because he appreciates us more from his time in the cat shelter.