I was going to do a tutorial on how I made my entry hallway arrow for you today, but you know what? I really hate to read super simple, duh, sort of tutorials, so I won't put you through that.
In a nutshell, it was an old piece of wainscoting I had bought at the Habitat For Humanity Restore and I drew an arrow on it and cut it out.
I painted it with off-white chalk paint and added some old schoolhouse type coat hooks. It's hung up with Command Adhesive Strips.
No twelve step tutorial needed for that!
The hooks I used on it though? Those sort of rounded screw-in type hooks?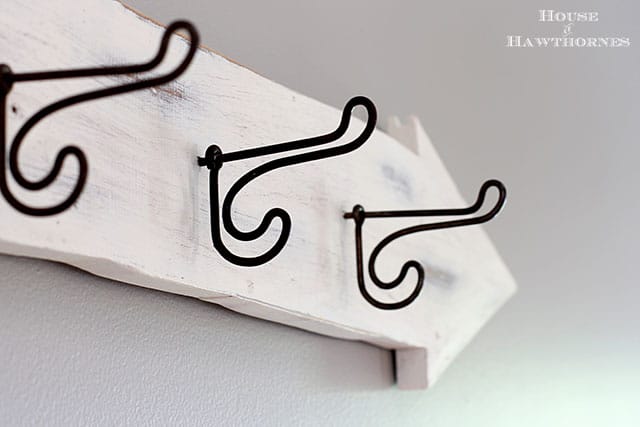 They came from the house I grew up in. From my bedroom closet to be exact.
I grew up in an older home. Nothing fancy. Nothing fancy at all.
Nowadays you would call it farmhouse style. Back then we just called it home 🙂
I used to play around in that closet. I remember building forts and hiding behind boxes in there. Setting an ironing board up in the doorway and playing store in there. Sitting on the floor, hiding behind the clothes with a flashlight and reading books in there. All sorts of fun stuff.
To keep this in perspective, this wasn't a walk-in closet. It was probably two feet deep by five feet wide. I must have been one small sized kid, because it seemed like a whole other room to me.
When ducking and playing around in the closet, I would occasionally stand up too quickly and bang my head into these hooks. Or walk into them. Or have one jab me in the eye.
Many a bruise was caused by these stupid hooks.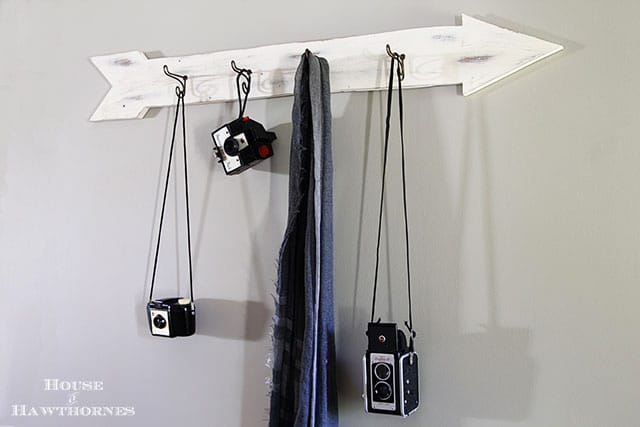 But when we sold my mom's house after she died, it was these hooks that I wanted to keep.
I unscrewed them from my closet wall and carefully packed them away. I had no intention of using them for anything other than just being a keepsake from the house I grew up in. But when I made this arrow it was just begging for something else.
So out came the hooks.
Stupid hooks that I love. Because they came from the house I grew up in.
And are part of my house now.
Oh, and I played it smart. I hung that arrow and those hooks up high on the wall. It's amazing what a few hooks to the eyeball will teach you.