Country Living Fair Columbus Ohio 2017 is a unique shopping experience with tons of antiques, vintage items, crafts, speakers, live demonstrations and more.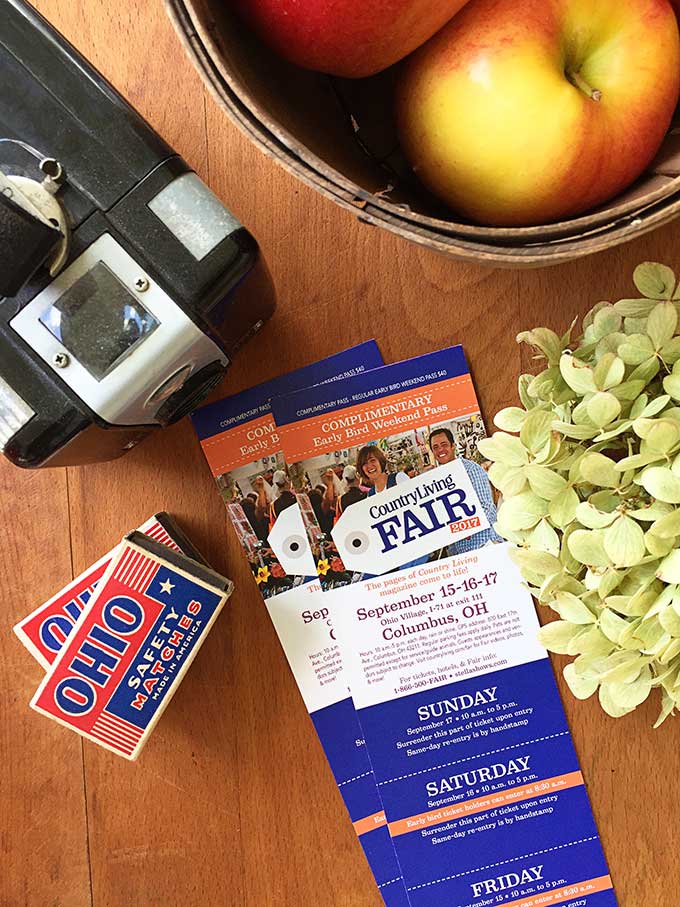 It's back and better than ever. The Country Living Fair is coming to Columbus, Ohio September 15-17, 2017.
And I just may have some tickets for you down below.

Last year I was on a whole "let's declutter this house" mission and had just had a yard sale the weekend before, so I didn't buy as much as I wanted to.
But you know what? There are still things there that I didn't buy that haunt me to this day.
To this very day.
Like this Car-Snac thermos set.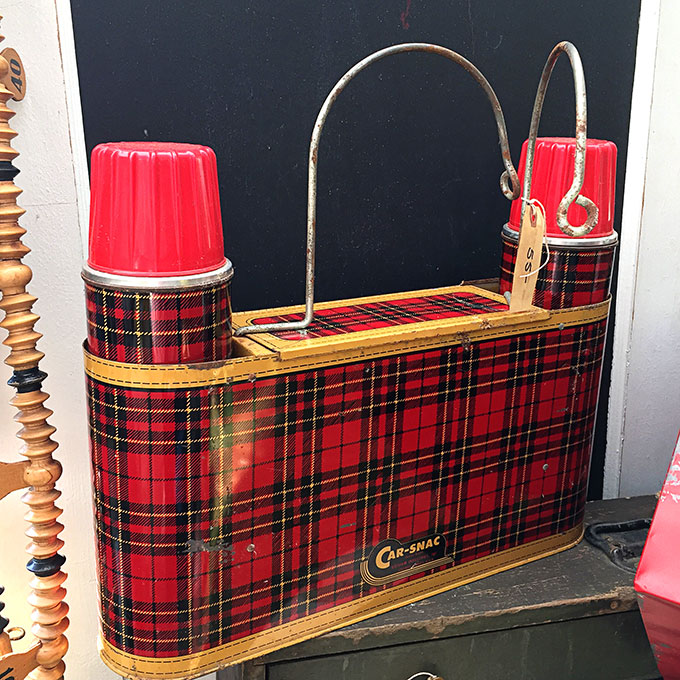 Wonder if it by some fluke, the vendor will have that at the show again this year? Pipe dreams?
Or this chippy turquoise (!!!) rocker that would have been so darn cute on my front porch with a few pumpkins setting on it and a plaid throw casually draper over one arm.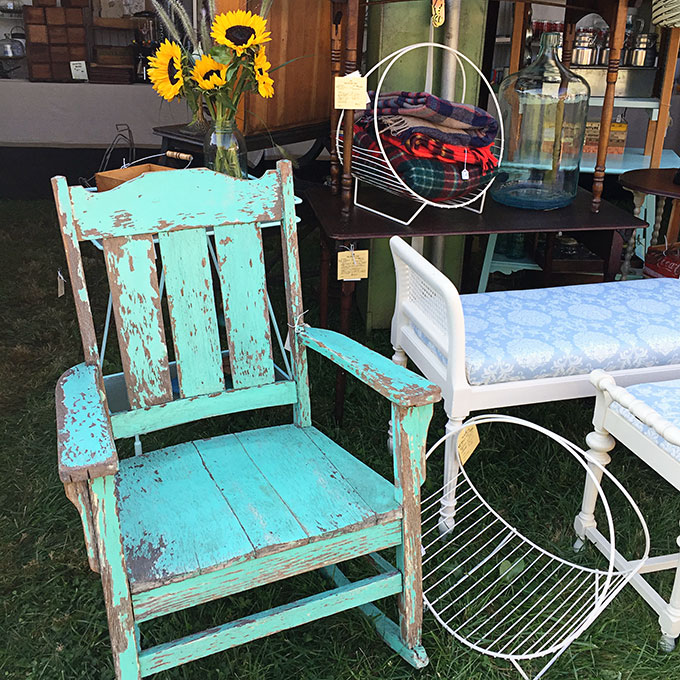 H-A-U-N-T-I-N-G me!
This is what I did end up buying last year though. I go into a little more "depth" in My Country Living Fair Finds post, including how I almost died while shopping that day.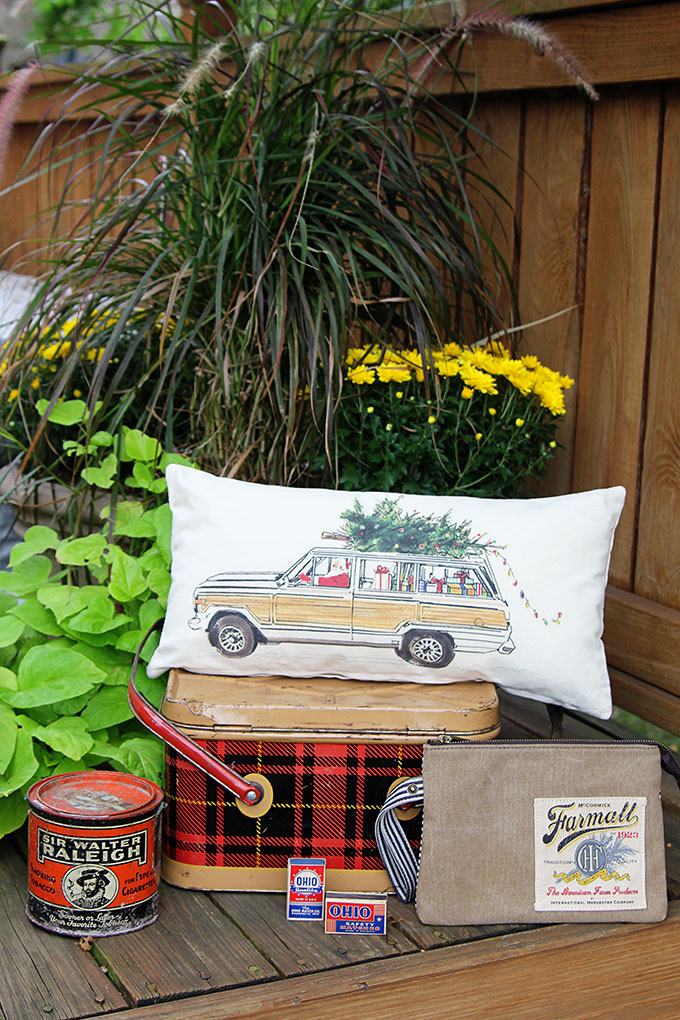 And what I bought in 2015, which you can read more about in the post Shopping The Country Living Fair. No near-death experiences that year.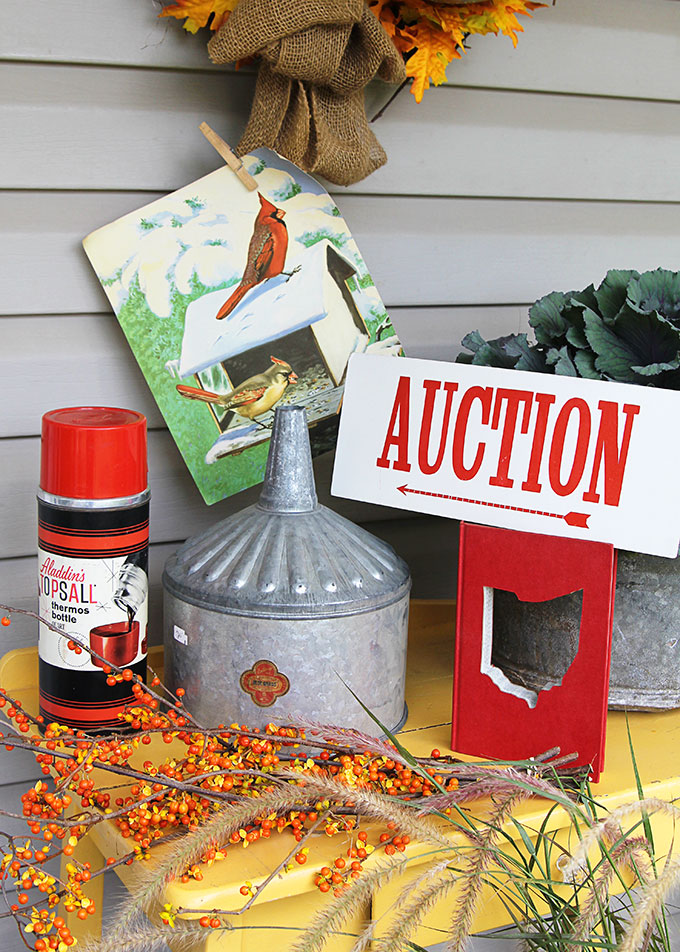 BTW, I ended up repurposing that funnel into a cute pumpkin for my porch.
OK, now on to the good stuff.
The Country Living Fair Columbus Ohio 2017 Details
When:
September 15, 16 and 17, 2017
Tickets:
One day admission is $13 in advance and $16 at the door, 3-day weekend passes are available for $15 in advance and $20 at the door
An Early Bird 3-Day weekend pass is available for $40 and grants early admission on Friday and Saturday at 8:30 a.m.*
Free admission for children ages 16 and under
Regular parking fees apply ($5 per car per day)
Tickets in advance can be purchased
Hours:
Friday, Saturday and Sunday (September 15, 16 and 17) 10 a.m. – 5 p.m. ; gates open for early bird ticket holders at 8:30 a.m. Friday and Saturday
Location:
Held rain or shine (please let it be shine) on the grounds of the Ohio Village, 800 E. 17th Ave, Columbus, OH  43211
New This Year:
JOANN Stores is sponsoring Make & Take Workshops where they show you how to make a craft and then take it home with you (I suppose that's where they get the "Make & Take" name from).
Plus you can buy tickets to the Country Living Fair at Ohio JOANN locations through September 14th. Like you just walk in to a JOANN's and buy a ticket. And wait for it . . . they are offering a discounted Early Bird 3-Day weekend pass for $30, instead of $40!!! And yes I am yelling, because it's that cool! Thank you JOANN's!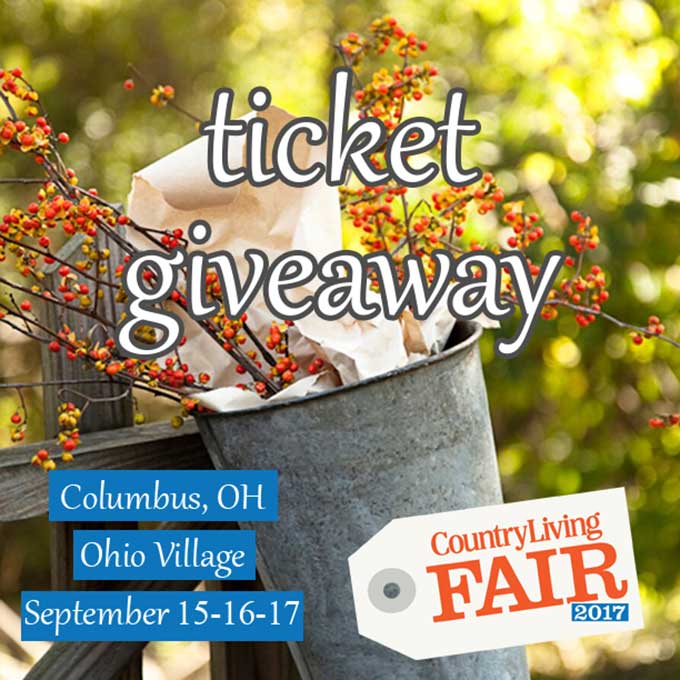 The Giveaway
And again this year, I am partnering up with Country Living and giving away 2 Early Bird 3-Day Weekend Passes to the Country Living Fair in Columbus!!!
If you win, you and a friend get complimentary weekend passes PLUS you get to be one of the lucky ones that gets into the fair EARLY.
You really have no idea how cool is it to get into the show 1 1/2 hours earlier than the regular ticket holders. It's huge! A lot of the vendors have special deals for us early bird shoppers, plus it's just so nice to casually stroll through the booths and grab the pick of the litter before all the droves of people descend on the place.
To enter the giveaway leave a blog comment below and fill out the Rafflecopter form (just so we're all on the up and up here).
Disclosure:  I received complimentary Early Bird tickets for the Country Living Fair from Stella Shows. All content and opinions are my own. I LOVE going to the Country Living Fair and would go there whether they gave me tickets or not (shh, don't tell them that). You can read my full disclosure policy here.
P.S. – If you go to the show please use #clfair and #clfairfinds in your social media posts (instagram, facebook, twitter or whatever new social media pops up in the next few days . . . ), so we can all follow along with you and your shopping finds.
P.P.S. – I call dibs on all cool vintage thermoses  and chippy turquoise rocking chairs at the fair. They're mine. All mine.