I'm back from my mini-vacation. Wish I could say I was well rested, but this was more of a running around kind of vacation, so no such luck. My son goes back to school in a little over a week, so my relaxing will take place then!
Speaking of relaxing though, last week I was sitting in a chair in the backyard trying to read my Country Living magazine when something buzzed by my head and loudly landed on the tree I was sitting under. Really it was quite a loud thud I heard, so much so that I had to get off my chair and see what the heck it was.
And since I had my camera with me (who doesn't take their camera with them when reading in the backyard?), I took some shots of this prehistoric looking thing.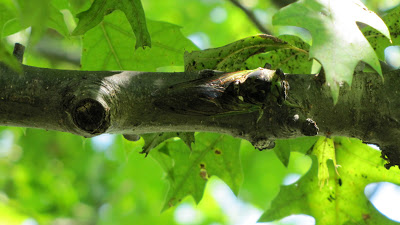 He was approximately 3″ long.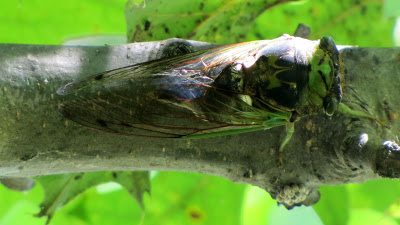 Here's a better shot. Isn't he pretty? He is a Cicada, often mis-identified as a Locust in these parts. His wings are translucent and his eyes are freakishly large.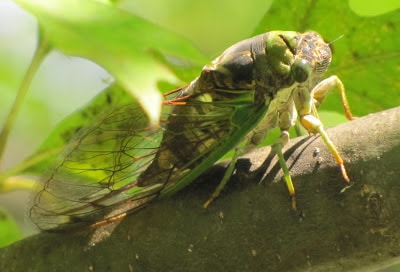 His official name is Tibicen Chloromera and is more commonly known as a Dog Day Cicada. I assume the dog day part comes from arriving in town in July and August when it is the "dog days of summer" and not the fact that my dog likes to run after these things.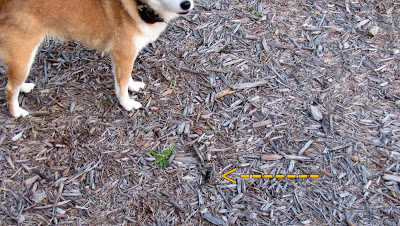 This other one (not the pretty one pictured on the limb in the first few photos) was hurt in the process of my dog playing with it. I think that is what happened. I guess it is entirely possible that Sheba just found it on the ground and wanted to stand beside it, but since she tends to try to catch bumble bees in her mouth (ouch), I'm thinking she may have tried to do the same with Mr. Cicada. I put him out in the corn field to recover, so hopefully he was OK.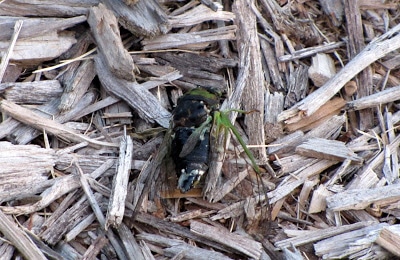 Now I'm off to check my emails, read comments and make my rounds of my favorite blogs!