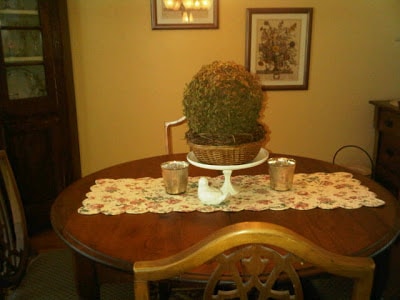 I made this moss ball centerpiece last week, but I can't find the blog that I got the idea from. I wanted to link to it because she had really great instructions for it so if I find it I will add the link.
Oh well, basically I wadded a lot of newspaper up into a ball the size of a bowling ball, taped it together and glued $2.00 worth of moss from The Dollar Tree store onto it. Then sat it in a wreath and basket that I already had on hand. That is all sitting on a cake plate THAT I MADE.
Again, I didn't think of the idea myself, I found it on the Internet. I glued a candle stick from The Dollar Tree store to a plate from the same store (so $2.00 total) and then spray painted them off white. Paint sticks amazingly well to glass although you could never use it as a real cake plate (unless you want to risk death), but it is really cute. So for a grand total of $4.00 I made a new centerpiece for the dining room table.
And the mercury glass candle holders to the side of the plate stand are from Big Lots - on clearance for $1.00 each.