Normally on Sunday or Monday I show you what great thrifty finds I got over the weekend, but this weekend was pretty much of a bust. Went to three, count it THREE, church sales and they were all disappointing. Oh well, it happens.
On the way home I ran across a garage sale that hadn't been listed on Craigslist. It was manned by a very nice older gentleman. I use the term gentleman because he was well dressed for a garage sale. Dress pants, short sleeved dress shirt. No tie though, but definitely a step up from a dirty t-shirt and shorts.
Normally I can size up a garage sale in 10 seconds and get out quick if it doesn't have anything I'm interested in. And there was not much that I was interested in at this sale. But this man was obviously bored, very talkative and such a sweet older man that I spent close to fifteen minutes talking to him.
I would have felt bad about just walking out of his sale not buying anything. So I bought this cookie tin for a quarter.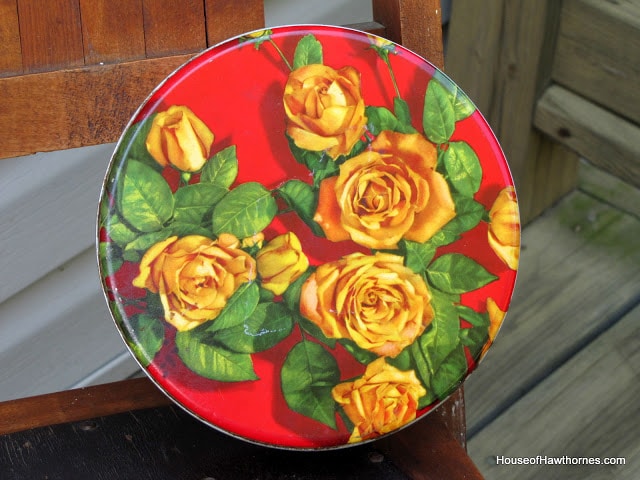 Did I mention he was a widower? And that his eyes lit up when he told me about how his wife had always made cookies at Christmas and put them in these tins for the neighbors?
It was a quarter well spent.
Linking with Southern Hospitality's Today's Thrifty Finds and Coastal Charm's Nifty Thrifty Tuesday.