Just in case you are like me and wait until the last minute to plan your 4th of July desserts menu (and desserts really are the star of your Fourth Of July picnic), I thought I'd show you a few patriotic desserts that are both QUICK and EASY to make.

And they all are super yummy and highly patriotic.
Of course, this only applies if you are in the U.S.A. If you are Canadian and celebrating Canada Day, then just skip the blue parts of the foods.
Easy 4th of July Desserts
This Flag Fruit Pizza from Sabby In Suburbia is so darn festive. And almost too pretty to eat. Almost.
I made this last year and it is AMAZING and since it's made with refrigerated cookie dough as the crust, it only takes 15 minutes tops to make!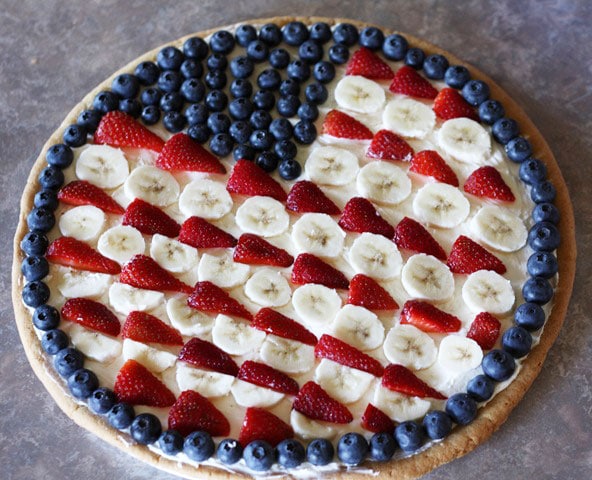 The Red, White and Blue Trifle from Skinny Taste , which has 4 Weight Watchers Freestyle points for those counting, is super patriotic looking.
This is another fast one taking roughly 15 minutes to put together and then you just put in the refrigerator for it to set up.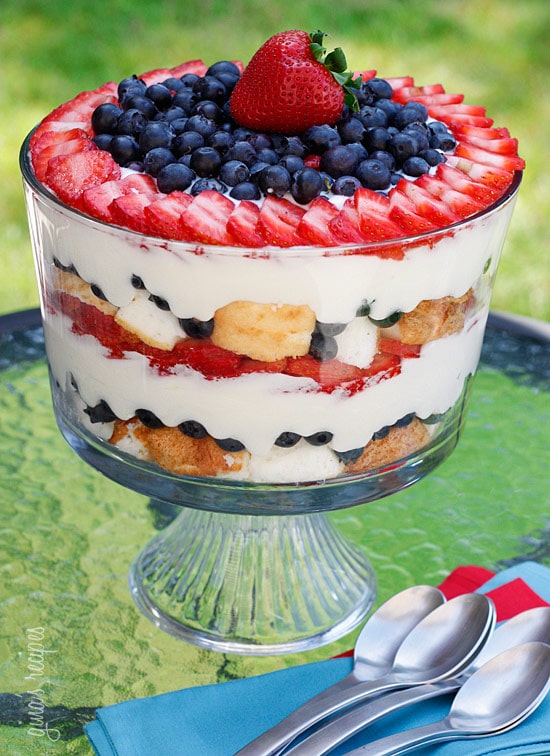 These Spangled Sandwich Pops originally from Disney Family Fun are ridiculously easy to make. Buy ice cream sandwiches, roll them in sprinkles and insert popsicle stick. BOOM, you're done!
I'm not even going to put a time on this one, since these probably take less time to make than it takes to unwrap the sandwich bars.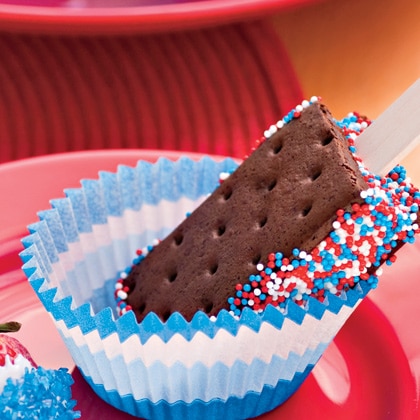 This No Bake Summer Berry Icebox Cake from Cake's Cottage is as gorgeous as it is easy to make.
You do have to refrigerate it at least 4 hours after putting it together just so the graham crackers can soften up, but, once again, the assembly time is only 15 minutes.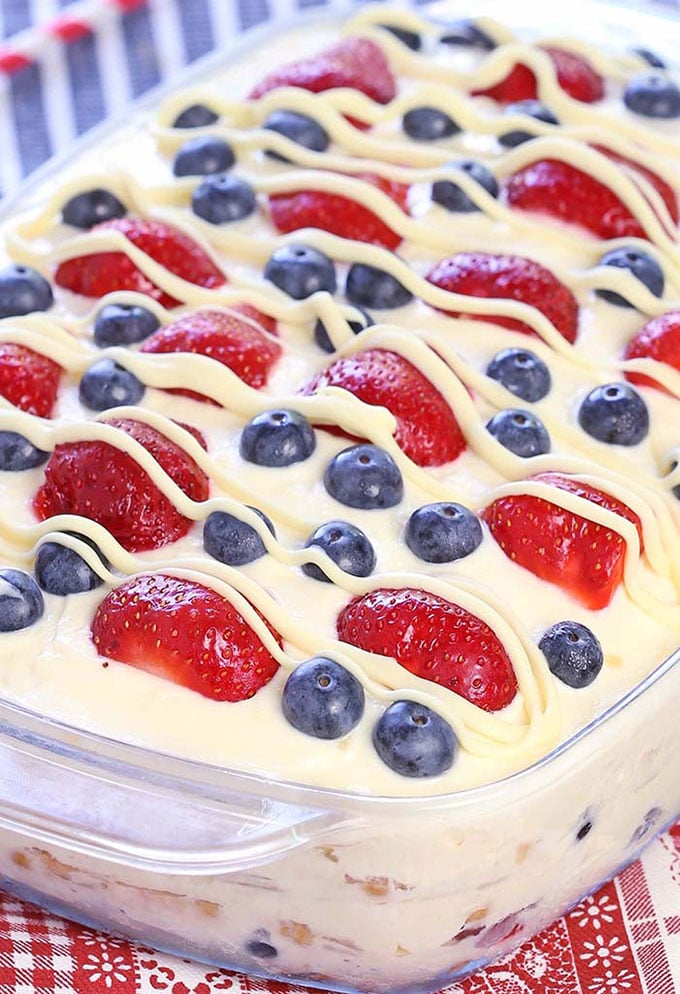 This Strawberry Shortcake In A Jar from Suburban Simplicity is a cake . . . that is portable, need I say more.
OK, I will say more. This is one of the funnest desserts I have ever made and there's a little bit of an aw-factor involved when pulling these out of your picnic basket. Plus this recipe comes with a video which is always a plus in my book!
Oh, and if you use store bought angle food cake, it takes 10 minutes to "throw" together.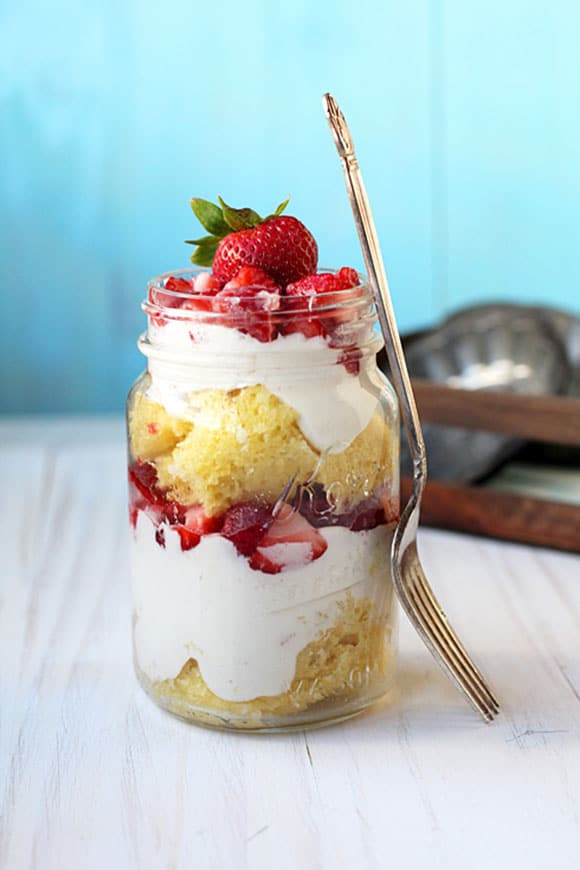 This Firecracker Bundt Cake from Betty Crocker might not be the quickest recipe out there, but it just shouts 4th of July, doesn't it!
Can't you picture lit sparklers stuck on the top of this!
Betty doesn't mention a time frame (shame on you, Betty), but I'm guessing maybe about an hour between mixing up the cake, cooking it and then drizzling the icing and tossing the sprinkles on top.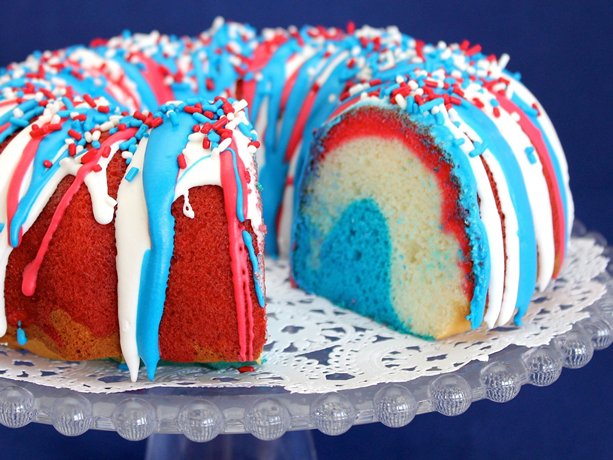 I'm dying to try these Red Velvet Brownies With Cream Cheese Frosting this year by I Heart Naptime!
They're festive and just the right size. Did I mention they are brownies? Prep time plus cooking is just 30 minutes.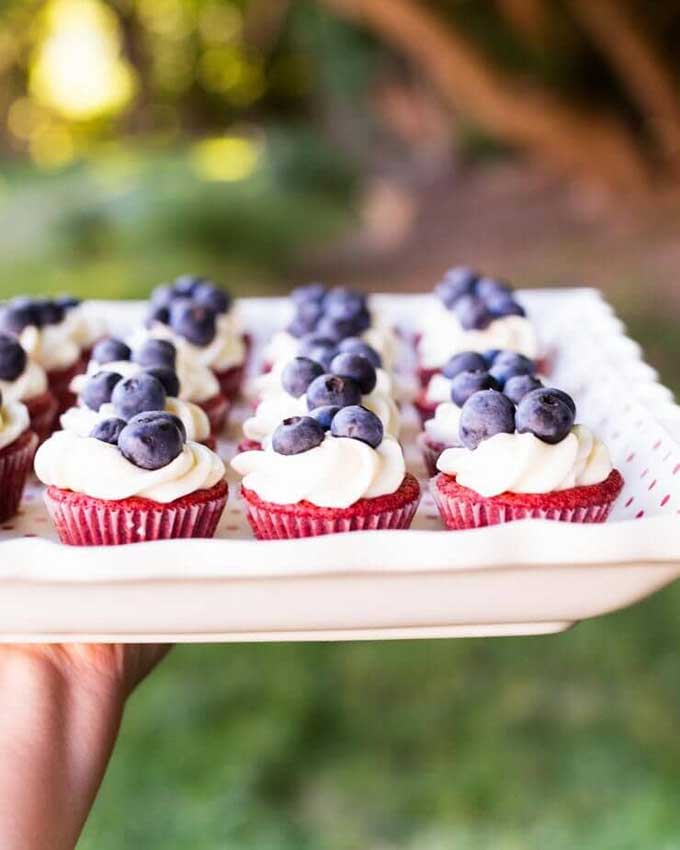 Who doesn't like a 4th Of July Pinwheel, especially these edible ones from Home Cooking Memories!
The kids at your picnic will eat these up in less time than it took you to throw them together! Prep time is about 10 minutes and then you refrigerate for about an hour or until set.
And even though these watermelon Rice Krispie Treats from Glorious Treats are not red, white and blue, they are still pretty darn picnic worthy!
Super cute and they won't take you much longer than making plain old boring white Rice Krispie treats, which is roughly 15 minutes!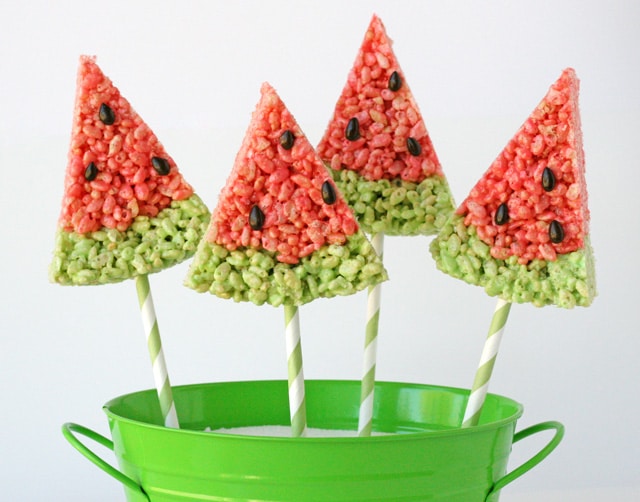 This Bluebbery Crostata is SO EASY to make and so impressive at the same time! Crostata is just a fancy word for an easy to make, no-fuss pie!
At 10 minutes prep and 20 minutes cooking it's a winner!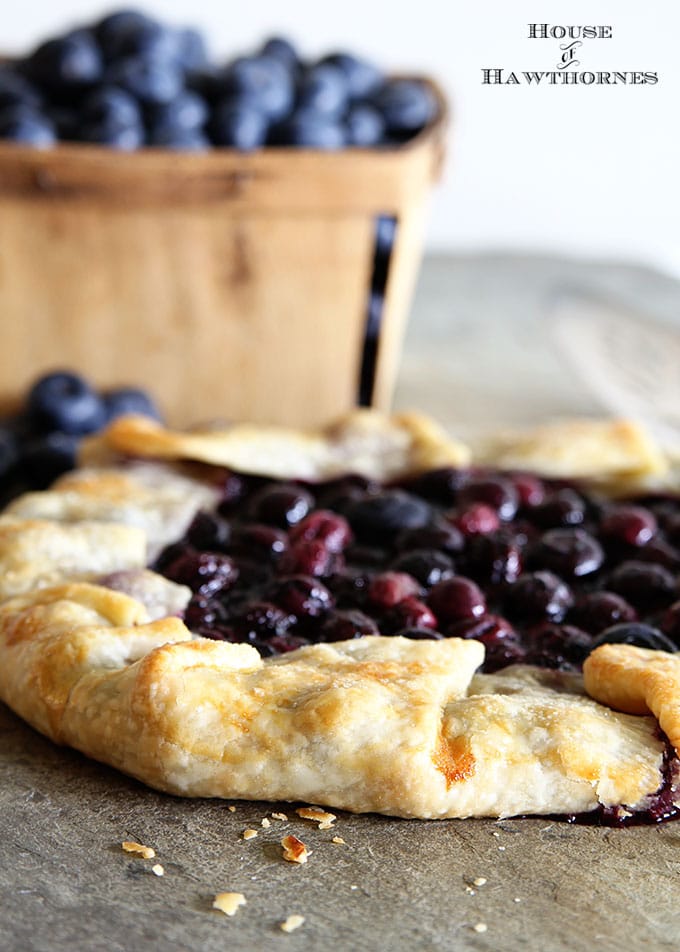 Who wants to bet that I just buy an apple pie from the grocery store, slap it into my fancy star spangled pie pan and try to pass it off as homemade?
That's what Betsy Ross would have done.
With all those bombs bursting in air, she wouldn't have had time to make a pie from scratch either.


Even more dessert ideas can be found on
Patriotic Fourth of July Desserts HERE
.
Need more ideas for the 4th Of July? You'll want to check out my other patriotic ideas:
More 4th Of July Recipes and Ideas
5 Unique Potato Salads For Summer
Best Soft And Chewy Oatmeal Cookies
Retro Picnic Supplies For Your Fourth Of July Barbecue