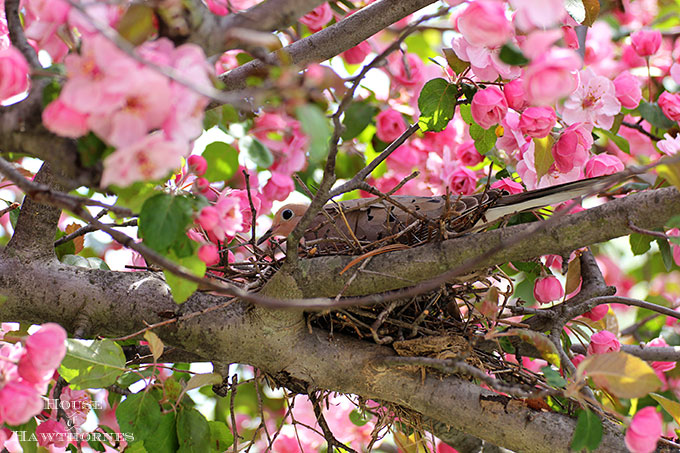 Isn't that a pretty photo? Little Mrs. Morning Dove sitting on her nest.
It's a ruse, people.
Now that I have my blog set up to have one photo of each post show on my main blog homepage, I didn't want to ruin the "look" by having a cruddy cell phone photo showing up first thing.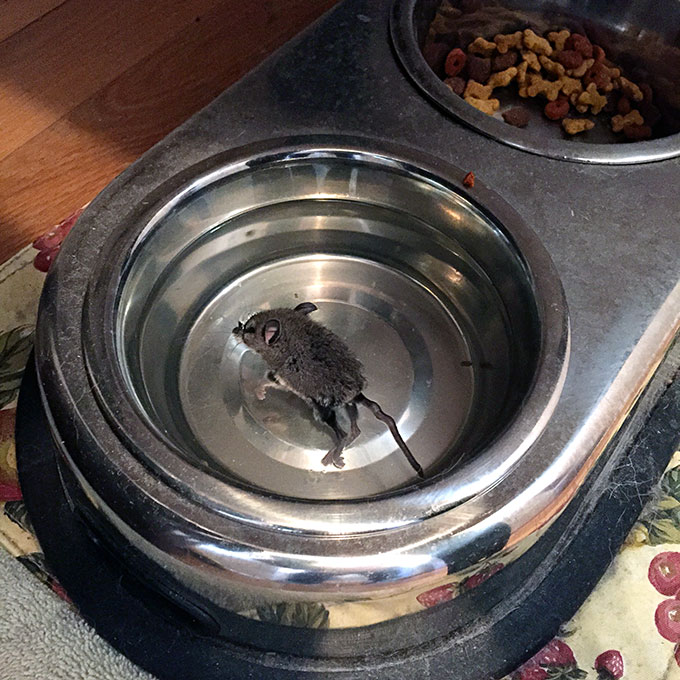 Of a dead mouse floating in the dog's water bowl.
One day last week, I was sitting in my favorite chair in the living room reading some blogs on my laptop when out of the corner of my eye I spied something dark and small dart under the tv cabinet. Maybe.
I wasn't sure I had actually seen ANYTHING, since why would there be something darting anywhere in my house? Sure we have the occasional mouse in the garage or shed, since they go hand in hand with living next to a farm field, but we've never had one in the house. So I had totally talked myself out of me having seen anything at all.
I prefer to go through life with blinders on.
Then a few days later I go to give the dogs fresh water and reach for the bowl and am greeting by the sight of Mickey swimming for his life. Except he must not have been a very good swimmer, because there wasn't a whole lot of life left in him.
OK, I'm not gonna lie, there was NO life.
I didn't put two and two together and just thought it was a joke. From my husband. I thought he had put a rubber mouse in the water bowl to freak me out.
You see we have a running thing about a rubber snake that I bought to put on the back deck to keep birds from flying down, landing on the deck and pooping. Believe me, they are more than welcome to land anywhere else in our yard, but the whole poop bombing of the deck was driving me nuts. Enter the rubber snake to scare them off the deck.
The problem was that the snake started ending up in other place in my house. Places I wasn't expecting to find it.
Throw back the covers of my bed at night. Snake.
Step in the shower in the morning. Snake.
Go to reach for something on the top shelf. Snake.
So naturally, I thought the mouse was yet another version of the rubber snake. You would too, right?
After taking a photo of the rubber mouse (bloggers take photos of everything!!!), I reached for it.
Not rubber. Oh, so very much not rubber!
Excuse me while I go wash my hand again. For the 4,000th time.