Well, we've been having a great time here swimming, shopping and reading some books. The new summer schedule seems to be working out well so far. Later today my son and I are off to a farm to visit our animal friends.
But first, I wanted to show you what I did with my vintage shelf that I bought at a sale last week. And since it's decorated for the 4th of July, I thought I'd better show it to your before the holiday had come and gone.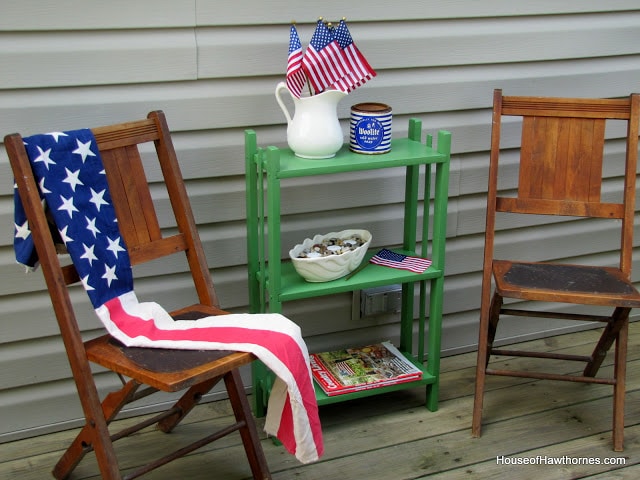 I decided to paint it with Rust-Oleum's Leafy Green spray paint.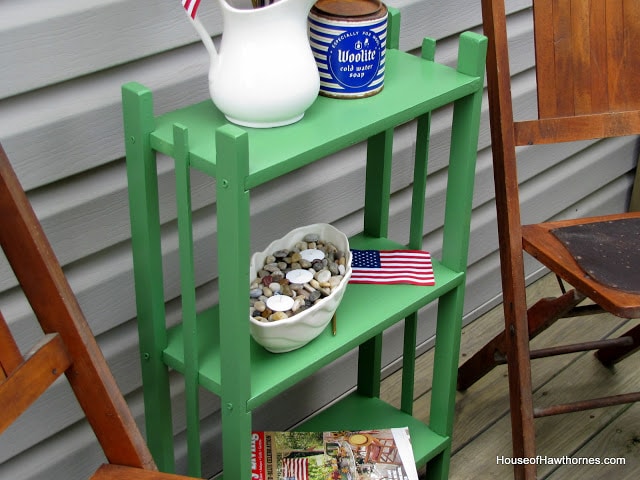 In case you forgot (or didn't follow my link thing), this is the before photos of the shelf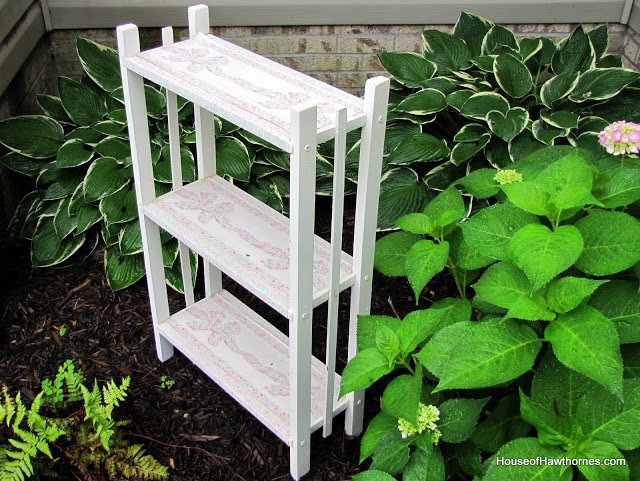 with the lovely wallpaper.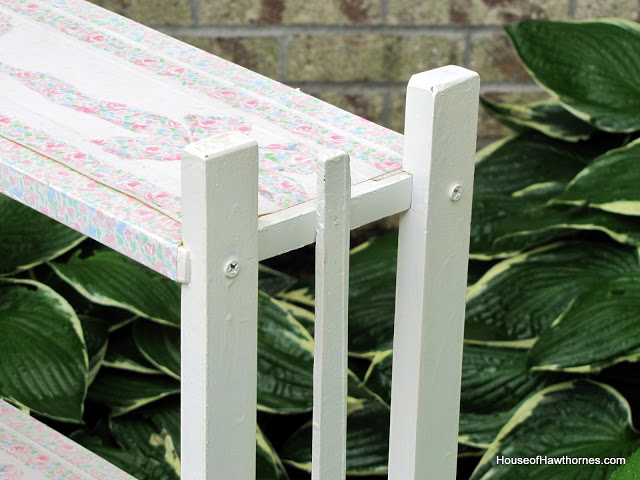 BTW, I've been pouring over some old July magazines this week. And surprisingly, 4th of July decor from 20 years ago is pretty much similar to 4th of July decor now. Who knew?
Lots of flags. Some Uncle Sams. Apple pies.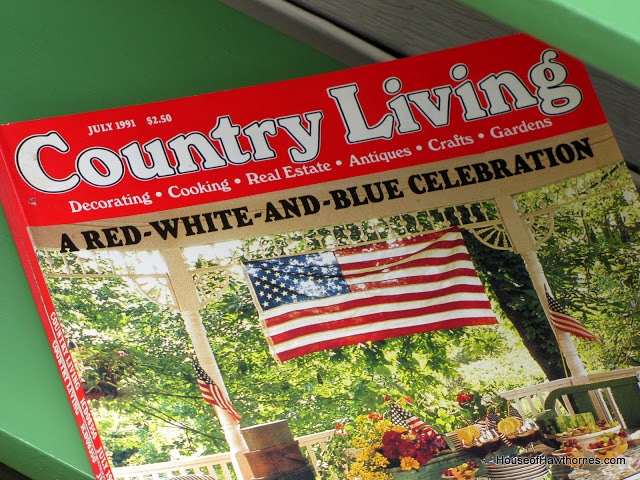 Pretty safe bet that in 20 more years they will still be decorating with flags and Uncle Sams and serving apple pie.
Speaking of flags, I love these little flags. I have a ton of them in different places all over the house.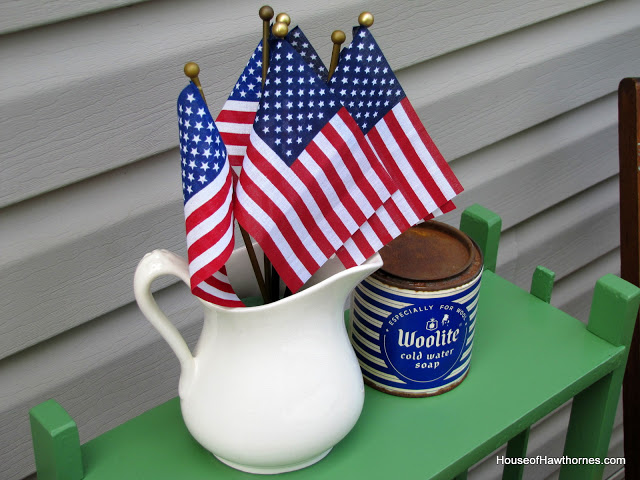 Woolite anyone?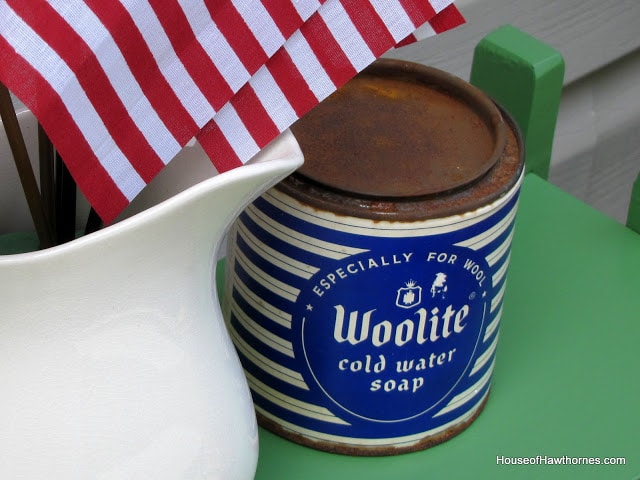 Not sure the can is working out in this vignette, but as soon as I saw it at a garage sale I thought of using it somewhere for the 4th.
For mosquito protection, I'm using my thrifted Hull planter as a tea light holder. With all the rain we've had around here, the mosquitoes are vicious this year.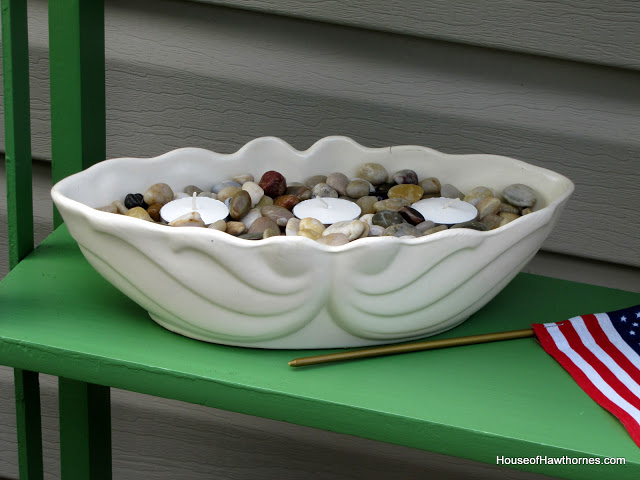 I put sand in the bottom, added some tiny stones on top of that and then smooshed the candles down into it.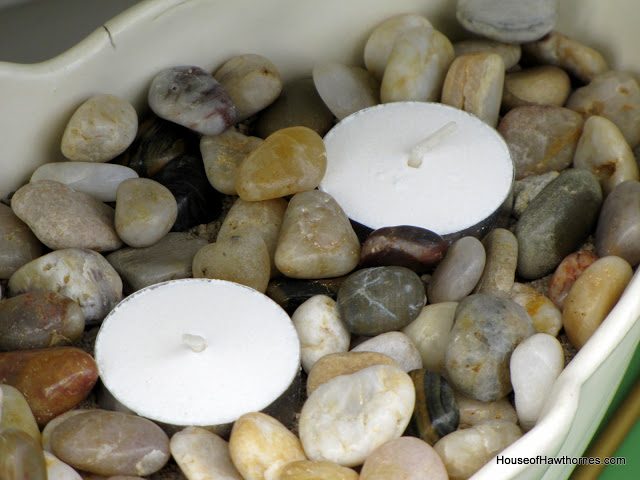 The wooden folding chairs are part of the set I bought last year at a barn sale. I'm pretty sure they aren't funeral home chairs, although that is what they remind me of. Haven't seen any ghosts sitting in them, so I think we're safe on that level.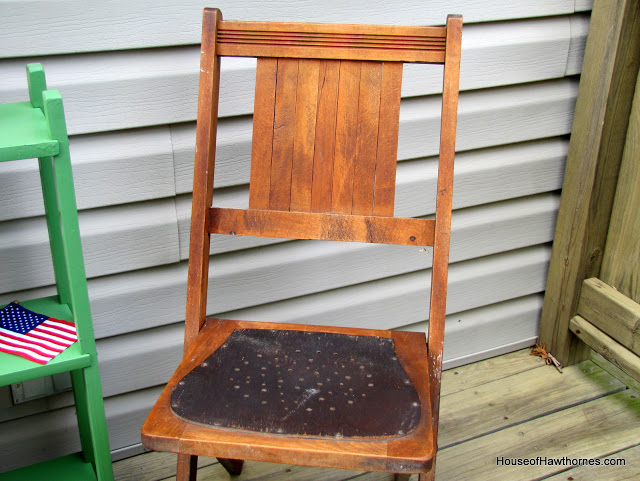 The chairs and shelf are light enough that I can just move them inside in case of rain, but otherwise they can stay out on the deck.
The flag on the chair always comes inside. So don't be sending me any hate emails about me disrespecting Old Glory.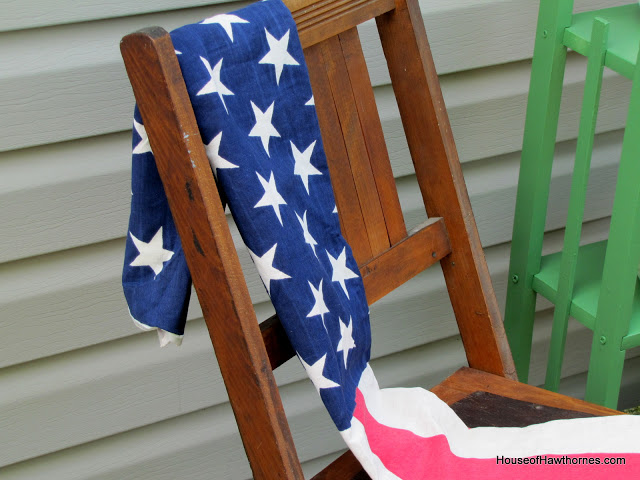 Unless it's in bad taste to put it on a chair? It's not touching the floor or anything?
I don't think I've ever shown this particular deck that I put the shelf and chairs on. It is a little area right outside our bedroom.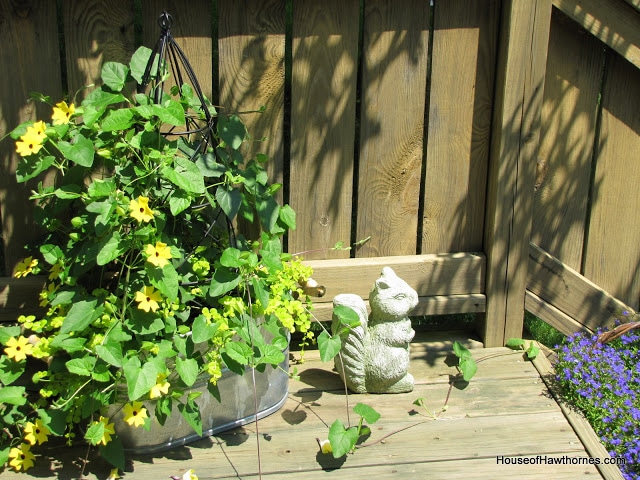 Sort of cute, huh?
It is as extremely small area though. I am squished up against the bedroom door in order to take this photo.
The original owners of the house pretty much made it just large enough for the 2 person hot tub (we can squeeze 3 in there in a pinch)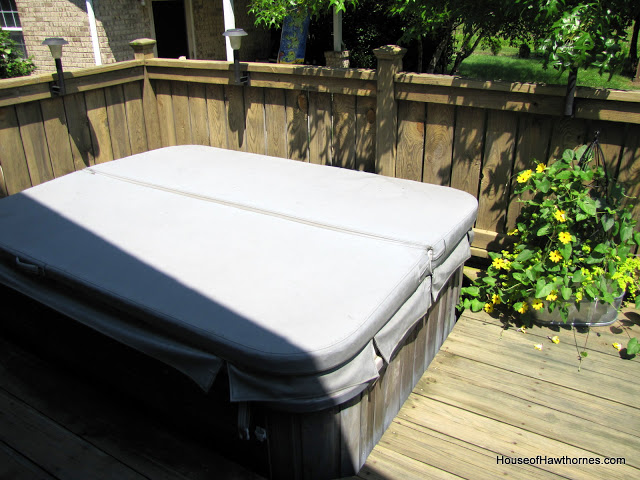 and a place to throw your towels.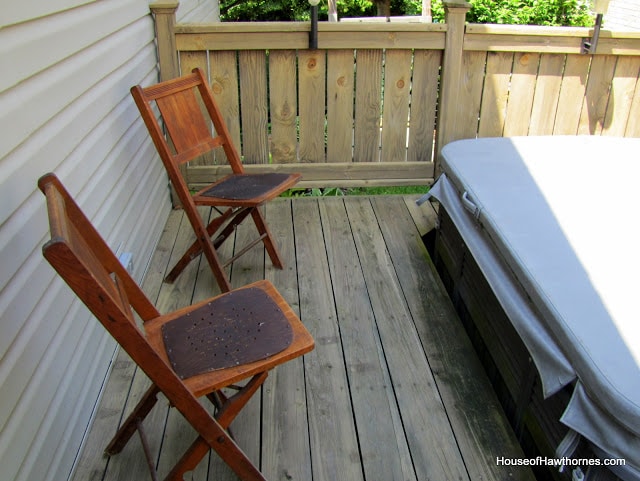 BTW, we're not actually using the hot tub this year. Over the winter, we developed a leak somewhere under the deck. And I'm not crawling under the deck anytime soon to check it out.
I don't know what lives under there and I don't want to know.
Edited to add – Linking with Debra at Common Ground's Vintage Patriotic Party