Last week was a doozy around here. Husband had that respiratory crud that was going around. Son had some wacky stomach virus. I tried to not get either. Knock on wood, I think I escaped unscathed.
But this girl is exhausted, so enjoy a replay of a post from 2011 to get you in a happy, springy, crafty mood.
FOR PEAT'S SAKE – SPRING 2011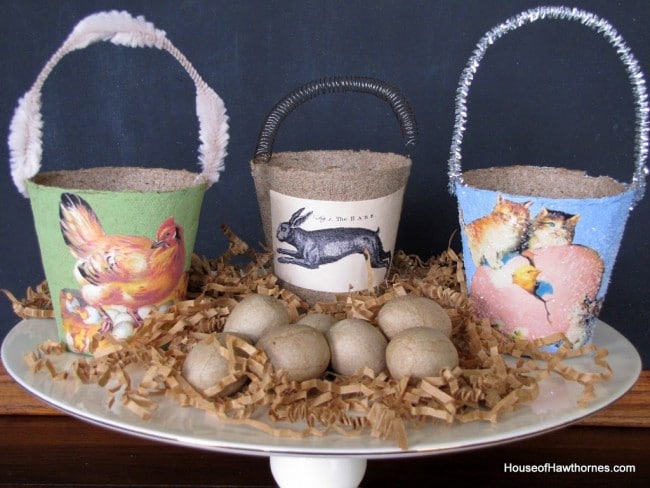 While perusing one of my favorite vintage/crafty blogs, Musings From Kim K., I ran across a post that showed how to turn peat pots into little Easter decorative baskets.

All of a sudden a light bulb came on in my head. I had seen things like this at gift shops and antique stores, but had no idea they were made with good old peat pots.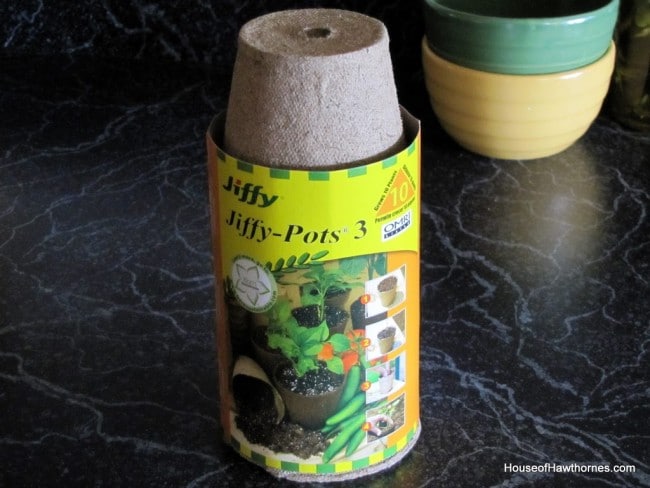 I found mine at the local grocery store, but I have seen them at Home Depot, Lowes and Big Lots too. Just about anywhere that sells gardening goods.
I did a couple versions of the little baskets just to show the versatility of what you can do with them.
A little bit country (image used was from Vintage Holiday Crafts)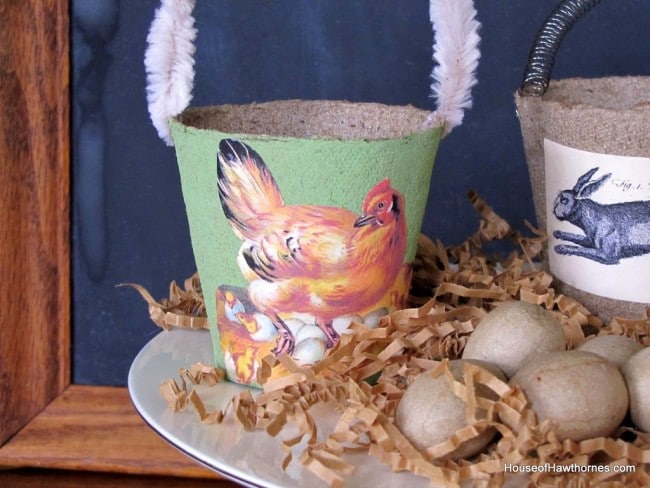 a little bit rock 'n roll Pottery Barn-ish (image used was from The Graphics Fairy)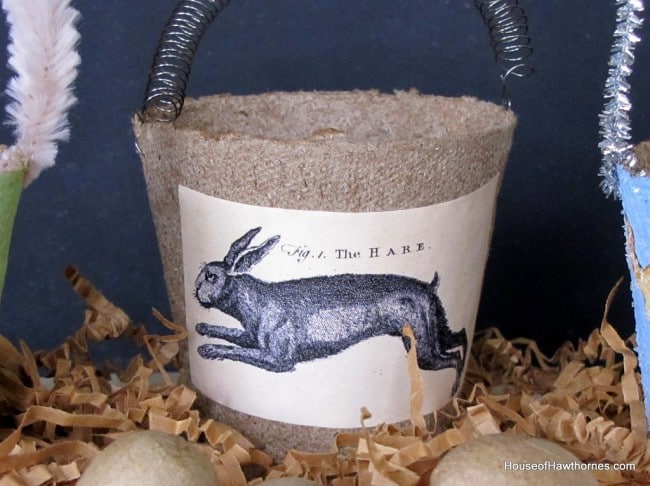 and a little bit cottage-esque (image used was from who knows where – I've had it for years saved on my computer)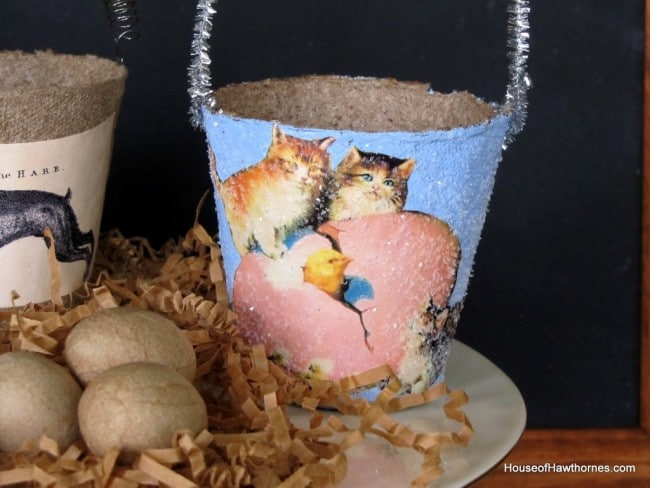 I'm sure I could have been a little more creative on these, using buttons, flowers or lace to bling them up a bit, but since I'm not a normally super crafty gal, I thought it better to stop when I was ahead on these.
Do you ever do that? Make a craft that is OK, then you start messing with it and before you know it it is in the trashcan. Then I won't show you the Mod Podged sheet music one that is currently buried beneath coffee grounds and banana peels.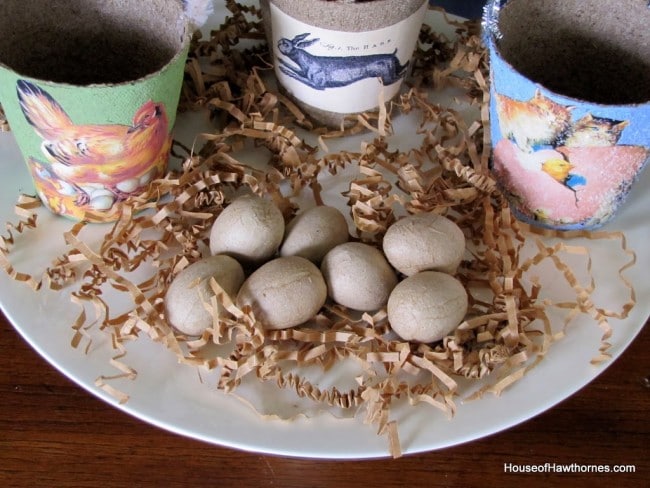 I thought I'd get a little wild on the handles though, so for this one I used wire that I had wrapped about a pencil to make a springy handle.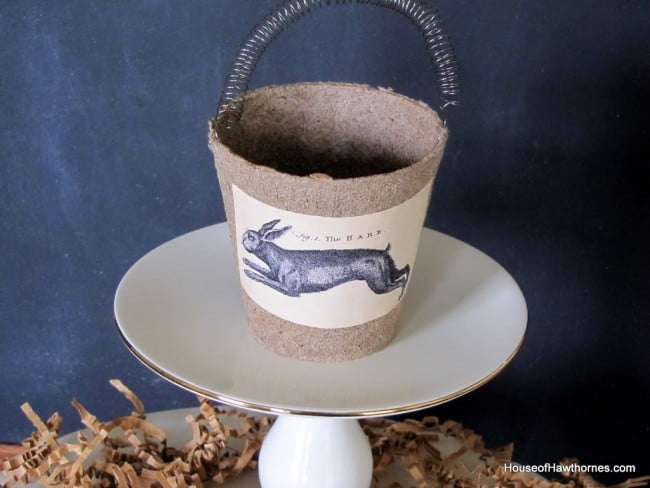 This handle is a tea dyed bumpy chenille stem.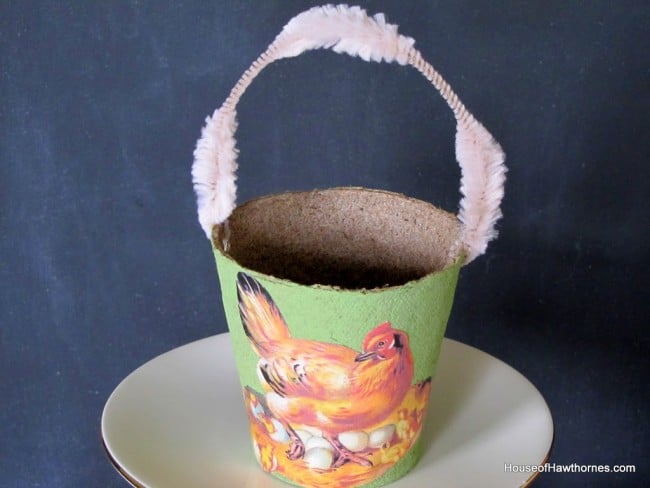 And on this one I thought a tinsel stem that I had left over from Christmas was a good fit (matches well with the snowy glitter).

Now I just have to buy some Cadbury eggs to fill them up.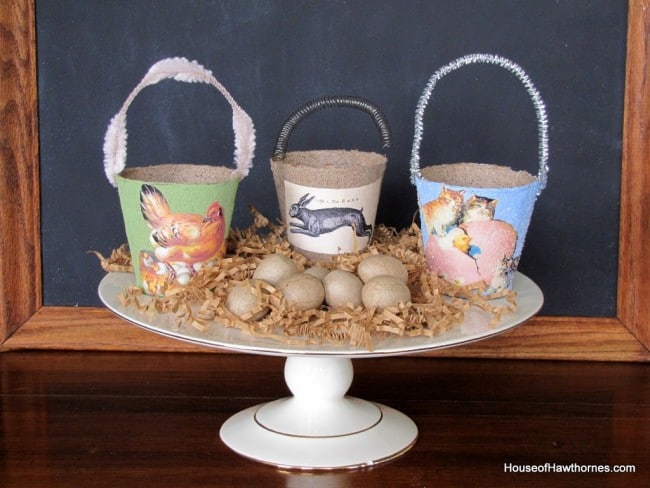 Go on over to Kim's blog and check out her post with a easy to follow tutorial HERE.