I would love to tell you that when you see photos on my blog that they are SOOC (straight out of the camera) and have not been through any photo processing what-so-ever. I mean I love taking photos with good composition, great color and great lighting. That is what I try to do on every photo I take.
Truth is that about 75% of the time I use my photos SOOC and the rest of the time I adjust the contrast or saturation if the lighting wasn't the best. Occasionally I get a little wild and use a texture.
For example, this is the original photo. Sort of washed out looking. The dining room has dark golden yellow walls (Waverly Honeypot) and it gives everything a weird, unnatural cast.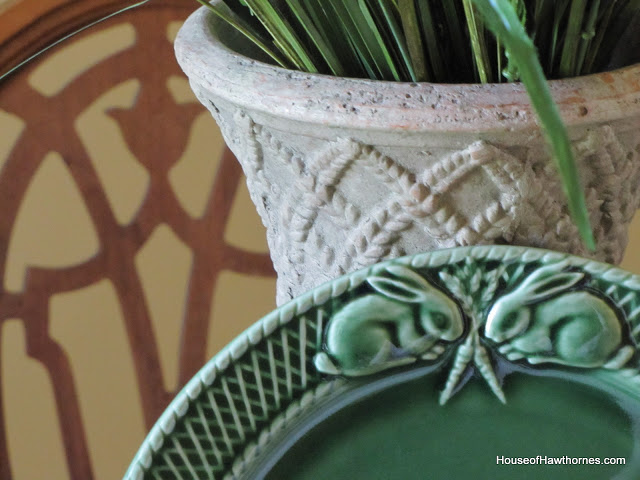 Using Photoshop Elements 9, I removed the thin green leaf in the upper left hand corner of the photo. Even though I knew what it was, I thought it looked like a slit in the photo and I didn't want to crop out that portion of the photo altogether.
I can say out of all the photos I have ever used on my blog, I think this may be the only one I ever "photoshopped" in the traditional sense of the word. Usually, if it has something weird in it I just choose another photo, but every single one of the photos of this vignette that I took all had the weird leaf in them.
Gotta wear my glasses next time I take photos.

So now to adjust for the washed out look, I adjusted the contrast by +20 and adjusted the saturation by +20. Sharpens the photo a little and gives it a tiny punch of color.

Finally I added Shadowhouse Creation's Midas Touch texture as an Overlay at 75% Opacity. Just to be a little artsy fartsy.

So do you prefer your photos SOOC or do you tweak them a little?
I am linking with A Rosy Note's Photo Feature Friday.