I have been doing a little decorating for the 4th of July.
My kitchen table centerpiece is the picnic basket and Ball jar that I wrote about here in addition to some things I had from previous years.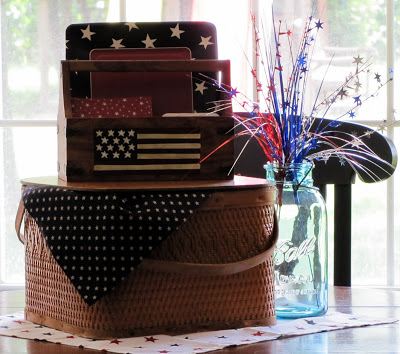 I put up a bunting on the garage. I may go back and buy some more of it if they have any left at the store. It looks OK by itself, but would make more of an impact with another one on each side of this one (so three altogether).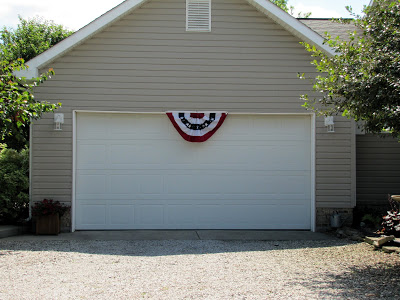 This is my wooden flag that I made following Stephanie's instructions at Under The Table and Dreaming.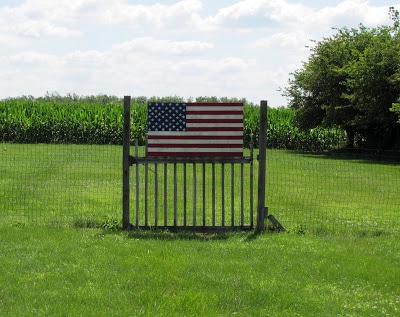 I think the flag came out really well (if I do say so myself).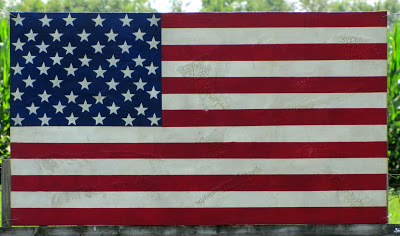 It has a great distressed, antique finish that is very noticeable up close, but gets totally lost when viewed from afar.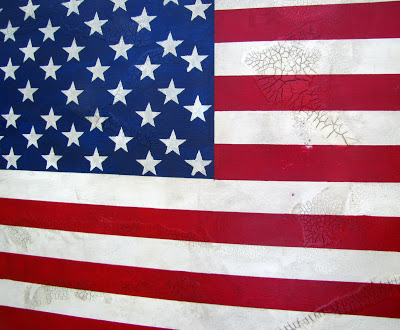 This is a view of my front porch.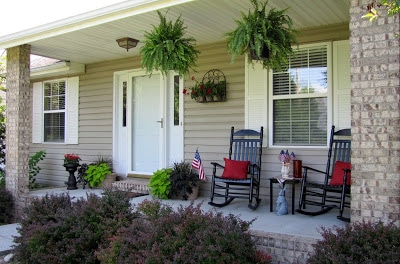 And my front door area.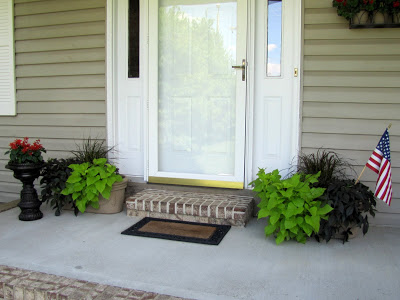 I painted my urn which was a recent garage sale find and put some Red Salvia in it. This is the left hand side of the door and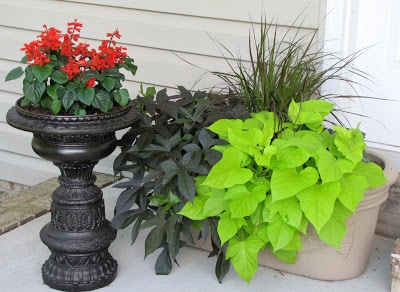 this is the right hand side. Other than the urn, they are pretty much identical planters.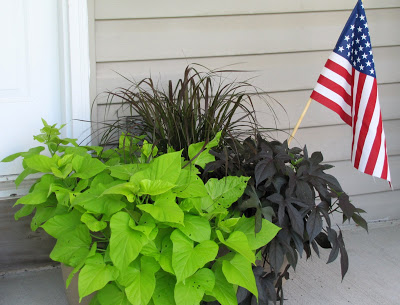 They are planted with
- One Margarita Sweet Potato Vine (chartreuse green in the front)
- One Illusion Midnight Lace Sweet Potato Vine (very dark purple in the front)
- Two Coral Bells behind the Sweet Potato Vines
- One Purple Fountain Grass (although they aren't growing tall enough to be that variety so they may have been mislabeled)
The Coral Bells were nice filler before the Sweet Potato Vines started growing, but I will probably move them to the flower beds next week since you can barely see them in the containers anymore.
By the end of the summer these Potato Vines will be huge and we'll trip over them when walking to the front door.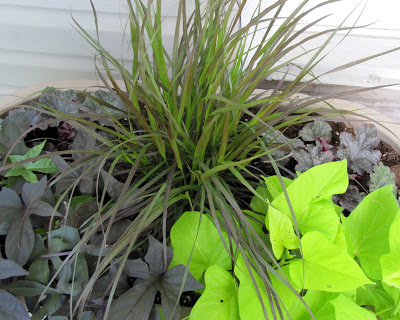 I bought this ironwork plant holder at Home Goods early this spring and planted geraniums in it.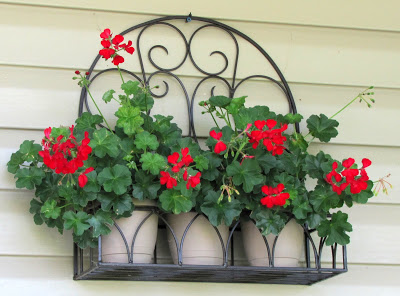 I love our porch rockers! I purchased them from Walmart last year and they are actually quite sturdy.
When I bought them I was only concerned about looks because I had no intention of actually sitting in them. Let's just say that I am not as young as I used to be and the idea of me sitting on the porch in a rocker was disturbing. But my husband plopped down in them as soon as we brought them home from the store so I caved in and joined him.
This is my little 4th of July table vignette. It is a work in progress and will probably change 3 or 4 times before July 4th, but this is what I am going with today.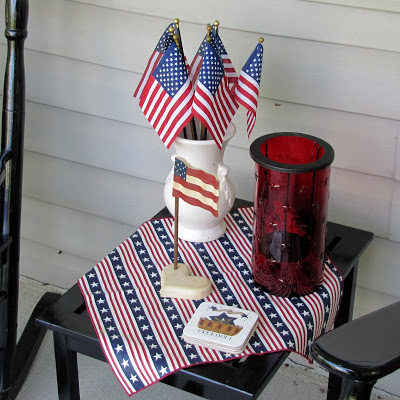 The bunny is part of my Easter porch decor, but I figure rabbits are around all summer so he can still sit there for a while longer. We've had live rabbits come up onto the front porch also, but I'm not convinced that they came to see this little guy.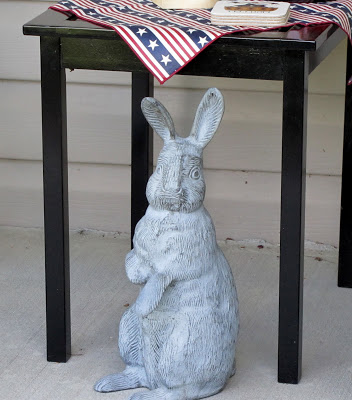 Does anyone have an opinion on front door colors? My husband wants to leave it white, but I am thinking of painting it either black, dark red or very dark green.
I keep wavering between thinking it looks farmhousey to be just white vs it looks like I never bothered to paint the door. What's your thought?