Occasionally in the comment section, I have been accused of having a clean house. The nerve of some people!
OK, it wasn't as much accusatory as complementary, but still it made me think. I don't want anyone to feel bad about not having a neat as a pin house themselves based on me and my white lies.
You see, it's all smoke and mirrors, people.
I normally clean up the area directly connected to where I'm taking photos and throw all the clutter to the side where you can't see it in the shot. Pretty vignette in front of the camera, hoarder's garbage heap behind the camera.
So in the interest of full disclosure, this is what my living room looked like when I was taking last Tuesday's photos of the printer's box.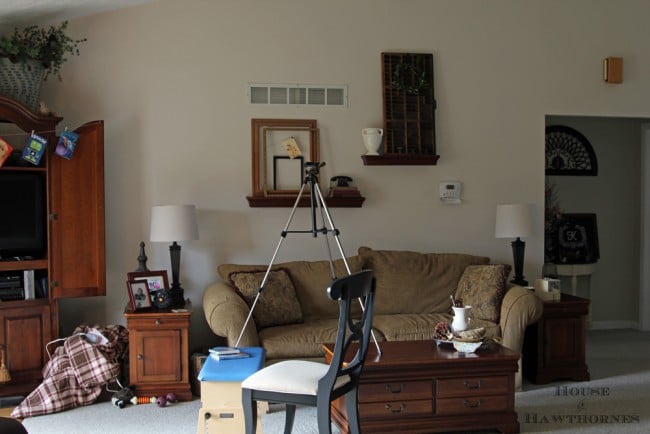 My son's Furby on the end table. Wadded up electric throw thrown on the floor (is that why they call them throws?). Dog toys and videos sitting around. Dog drool and hair encasing the sofa.
And in order to take the photos, I have the camera tripod balancing precariously with one leg on the sofa, one leg on the therapy bench and one leg on the coffee table. With a kitchen chair scooted over there, so I could stand on top of it and look into the camera eyepiece. Of course this is all minus the camera, since it's in my hand in this shot.*
And that is just this 1/4 of the room. Who knows what lies five feet to the right of the sofa.
Just remember, what you see online is just a teeny, tiny snapshot (pun intended) of a moment in the blogger's life. Edited so you see what we want you to see. You never know what's going on on the other side of the camera.
OK, go back to looking at pretty photos of other people's houses now. Feel free to imagine what they are not showing you.
*BTW, I really don't recommend this contraption at your own home, because you may put your foot on the coffee table with slippery socks (better than sticky socks, I suppose) and bump the tripod which then falls off the couch onto the dog, causing you to have to lunge for your camera before it falls on the floor. Believe me, it can happen.