Three years ago we had a flood in our lower level (OK, basement). Our sump pump malfunctioned and since our house is in a low lying area if the sump pump isn't working for more than a few hours you can pretty much guarantee that the basement will fill up with water. And boy did it fill up!
It was pretty devastating to us because it is a finished basement with carpeting, furniture and all that, plus it is where we stored our massive amount of Christmas decor (a lot of it vintage). We learned our lesson after that and installed an emergency backup sump pump system (and moved the Christmas decor to a safer location).
Well, the drywall and carpet could be replaced. Most of the furniture was professionally dried out and cleaned, 80% of my Christmas decor was able to be saved, but a few items were just not the same afterwards. This chair is one of them.
This is one of the first antique items I purchased years and years ago. It's a tall child's chair that I use as a bar stool. Not sure of the real name for the piece, but think of a high chair that you would pull up to the table instead of having the tray attached. Anyhow, it's not a fancy piece, but it had sentimental value just because I had had it forever.
Initially after the flood I thought the chair would be OK. It appeared to dry out and looked normal. But as the days and months wore on it started to get this white stuff on the legs and the white stuff kept growing.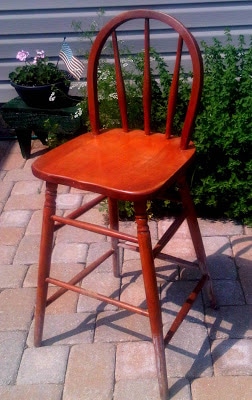 See the weird whiteness on the bottom. It's not as simple as just the varnish being water logged, it appeared to be almost like a fungus. I could scratch it off with my fingernail, but within a few days it would come back (sounds like a horror movie – Attack of the Chair Fungus).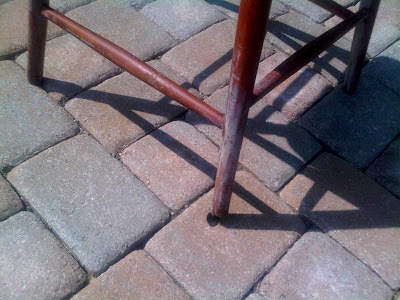 More examples of the whiteness.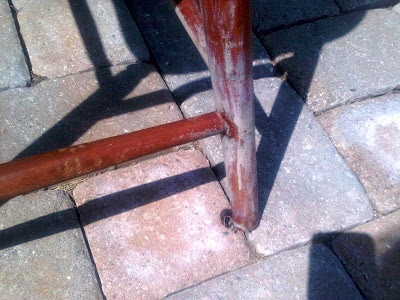 Oh, and when the dog was a puppy she tried to chew on the leg stretchers. So we're really not talking great antique now!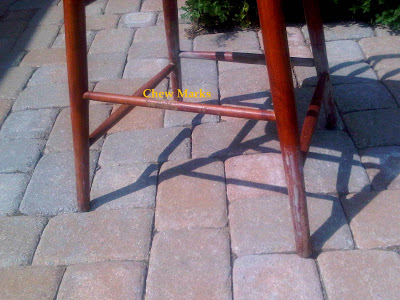 I attempted to sand off the white stuff, but I wasn't 100% sure that was going to be a permanent solution or not, so instead of refinishing it, I decided to paint it instead.
I used my mouse sander and lightly sanded the entire chair.
Then I applied Rustoleum's Black Semi-Gloss Painter's Touch from Home Depot with a paintbrush. I had thought about a fire engine red for a few minutes, but stuck with the basic black.
The can looks funny because I used a hammer to put the lid back on it and I smashed the top of the can in the process.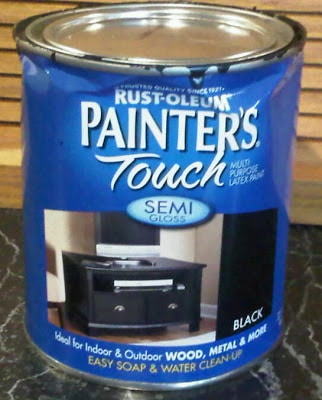 And here's the results! Oops, Otis walked in front of the camera (he has a habit of doing that).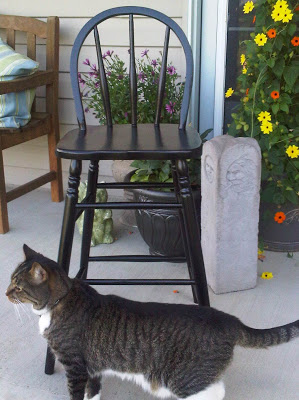 OK, here it is. Looks so much better and I actually prefer it painted black rather than the natural wood color.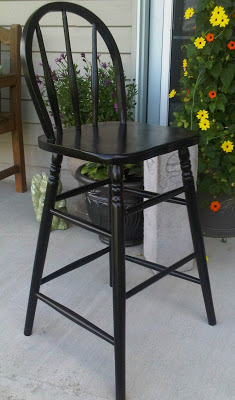 Here's a closeup. In retrospect, I should have used a primer after the sanding and before the paint. By not using the primer I had to put a good 3 coats of paint on it (4 on some spots). And when you're paiting something with spindles on it, the less coats the better. With the primer I could have probably just done 1 or 2 coats at the most.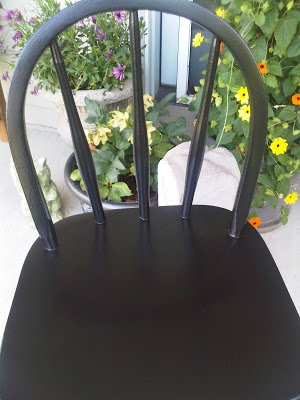 Hope you enjoyed the chair re-do. It was a simple project, but I like how it turned out.
I am linking to the following parties:
Under The Table & Dreaming's Sunday Showcase Party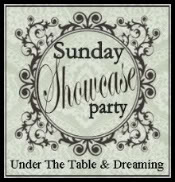 and
Between Naps On The Porch's Metamorphasis Monday Party