Thank you all for your comments on my turquoise buffet post and for voting on whether you liked it or not.
"Love it, you're a genius" won at 70% (I just realized that I spelled genius wrong in the poll - guess that makes me not a genius).
And the "Like it, but wouldn't want it in my house" was in 2nd place at 24%!
I was surprised that "Hate it, you ruined a perfectly good piece of furniture" had no votes. Since that was my initial reaction after painting it, I can only imagine that the people who felt that way didn't vote.
Good thing is that I have grown to really like the piece. And as wildly colorful as I thought it was at first, it almost is blending into the walls right now. Almost.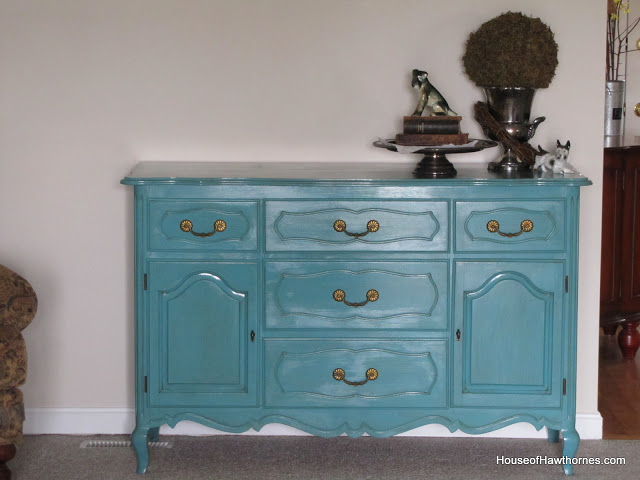 I have been having an amazingly unproductive week so far. I have been looking at used new-to-me vans all week trying to find a van with all the features I want on it. Yep, I'm a swagger wagon kind of girl.
Actually my first car ever purchased was quite the muscle car. It was a Chevy Impala similar to this.


Not sure of the year, but I think it was a '68.
That car had some get up and go. The guy I bought it off of used to race it at the drag races. Probably a little too dangerous for a 16 year old girl to be driving, but it sure had some quick acceleration at traffic lights.
I've also had a Mazda Miata which I loved. Loved the handling and responsiveness of it. Driving it was like an extension of your body. Come to think of it, most of my cars have been on the sporty side.
But for now and ever after, I'm a mini van person. We're buying this one with the intent to get it modified for wheelchair access for my son, so we're a little confined as to what year and type of van we can have.
After a week of shopping, I have narrowed it down to what I want - a 2008 Chrysler Town & Country. Now to just find one with all the options that the sporty girl in me wants and the practical side of me needs. Oh, and with low miles.
Anyhow that's why I have been around visiting blogs much this week. Just working on the van buying project. I hope I find "the one" today and can get back to my normal chaotic life!