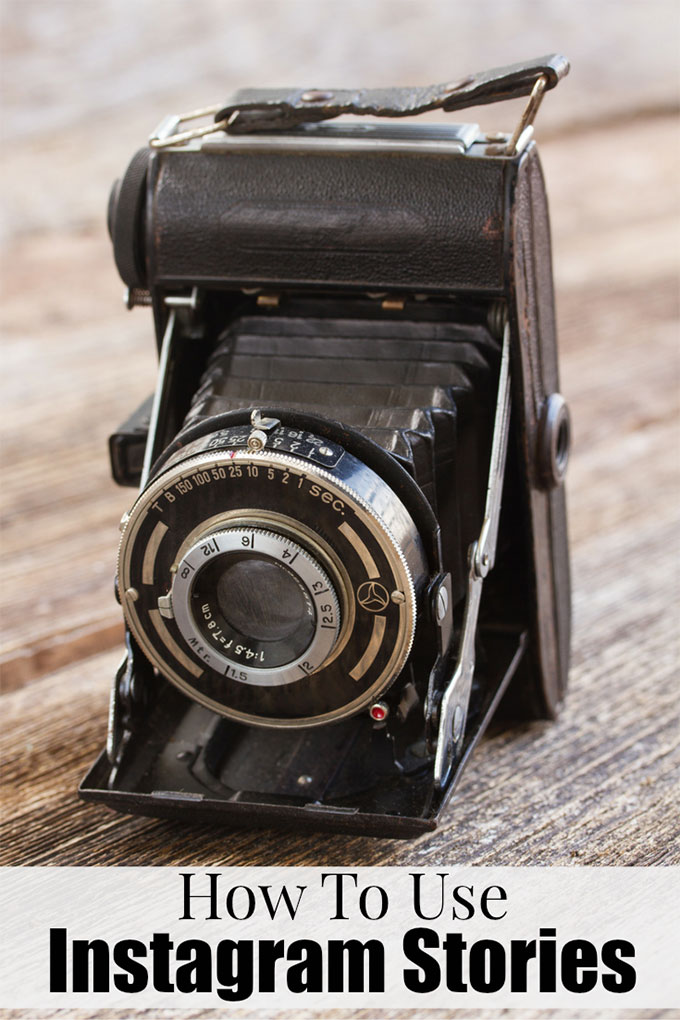 Well, all heck broke out in the social media world Tuesday when Instagram announced their new feature, Instagram Stories.
It is a lot like Snapchat. A LOT. And that's why more than a few Snapchat users are pitching a fit about it.
But you know what, I kind of like it.
If you don't know what I'm talking about, climb on out from under that rock and listen up.

How To Use Instagram Stories:
When you go onto Instagram you will see a bunch of circles across the top of your screen. These are your friends that are using Instagram Stories. Stories is sort of a compilation of what you've been up to every day and you can fill your Story with anything you want. ANYTHING.
No nakedness around here though.
Taking Your Photos And Videos
To make your own Story click on the + sign inside that circle on the top left.
Click the round circle at the bottom once to take a still photo and hold down to take a video.
The arrows going around in a circle to the right of that will allow you to switch the direction of the camera – from rear facing to forward facing (for a selfie, of course).
The lightening bolt to the left will turn your flash off and on.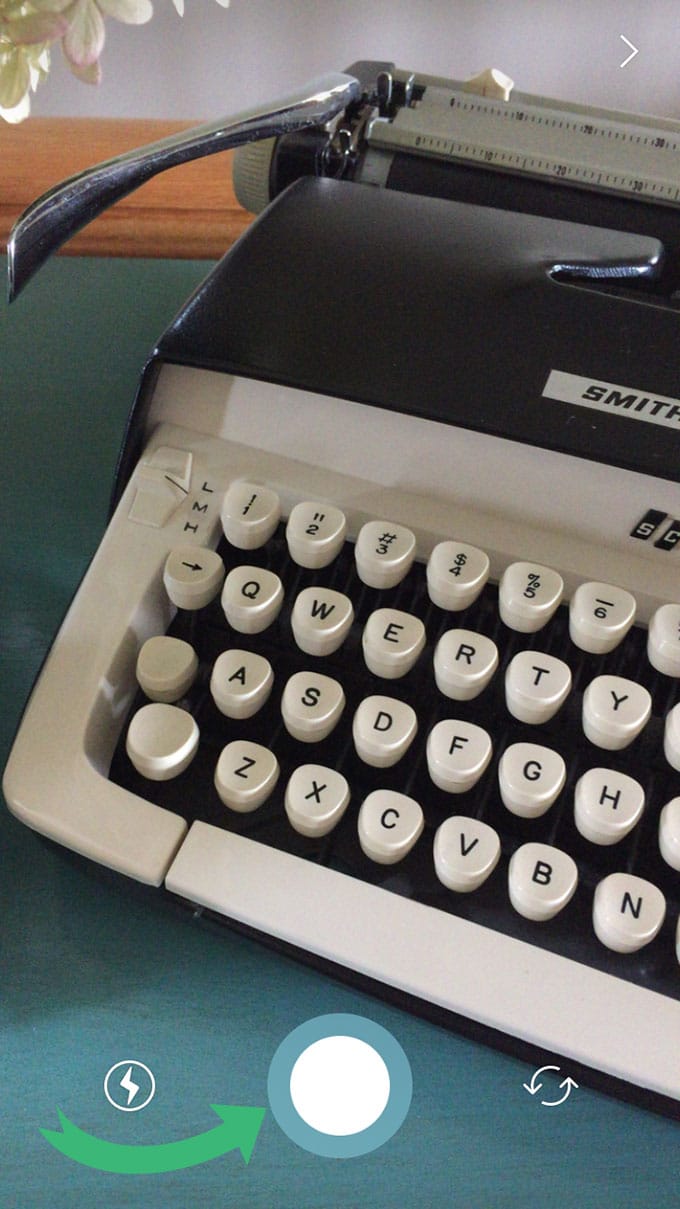 In my example, I did a still photo.
Adding Pizzazz
Once you take the photo or video you can draw or write on it either by using the pen (to the left of the green arrow) or by typing (to the right of the green arrow).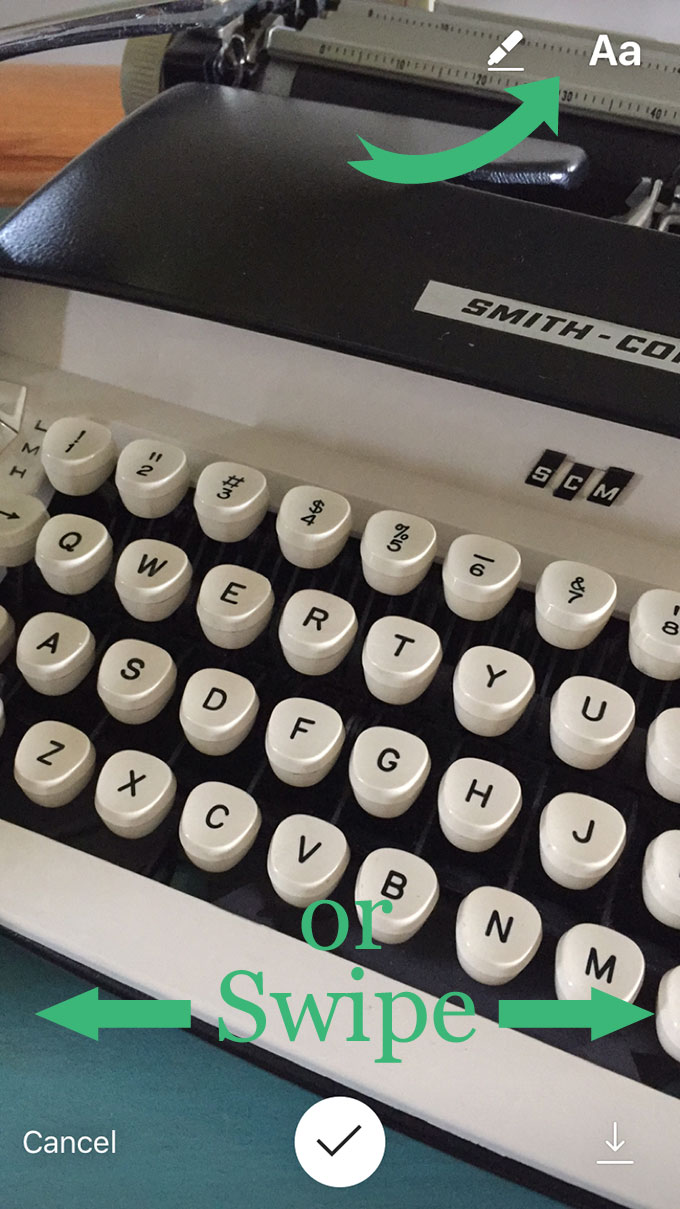 You can also swipe left or right to get to the filters.
Now if you are used to Snapchat, don't get all excited. The filters are pretty basic. On my photo I just used a filter to brighten the photo up a bit. NOTHING as fantastic as the dog face with the tongue sticking out or anything like Snapchat has. Yet.
You have two choices for writing stuff on your photos. A pen or typewritten words (Ha, I have a photo of a typewriter. How ironic!).
If you use the pen you can change the look of the pen from regular pen size (left) to marker size (middle) to neon glowing marker (the one with the dots on top of it). And you can change the color of the writing with the colored dots on the bottom of the screen.
Click on Done when you are done (see how logical Instagram can be).
I wrote the word LOVE! on my photo with the marker.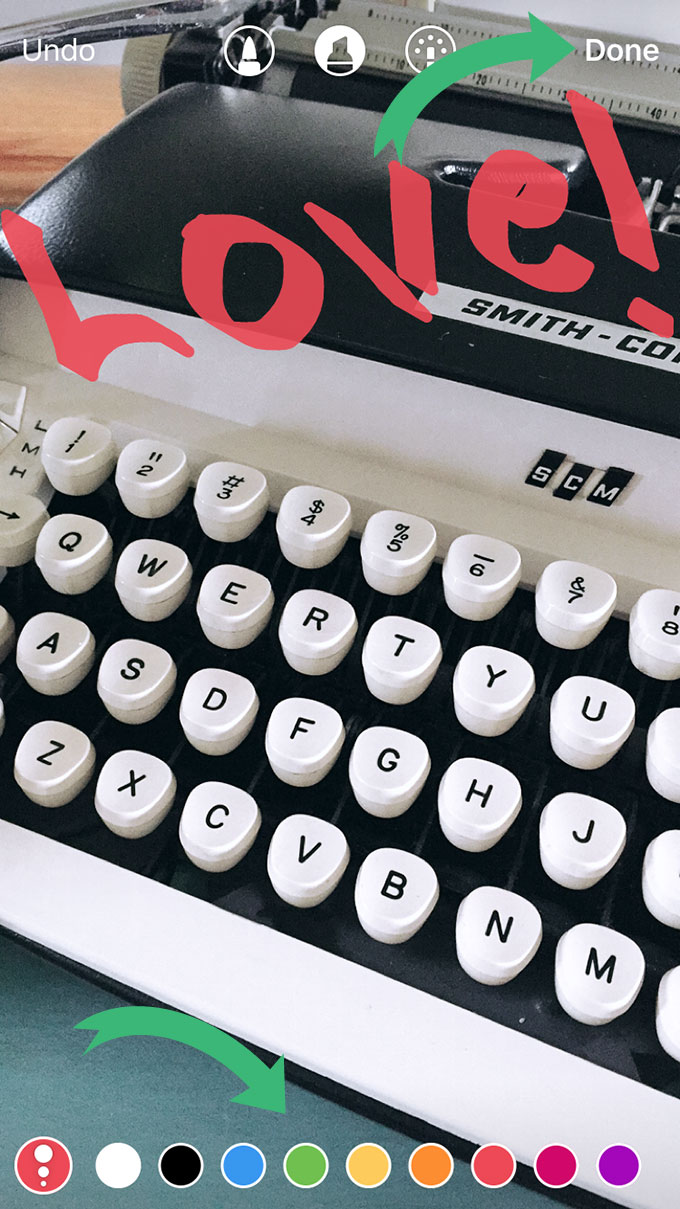 If you use the typing tool to type words on it, you just choose the Aa icon. The screen will go dark and your keyboard will pop up. Type away and when you're done just press somewhere else on the screen and it will take you out of the keyboard mode.
You can move the typed words around by dragging them and you can make them larger or smaller by dragging them out with your fingers (you know, how you pinch your fingers together and separate them and then it gets larger – I'm sure there's a fancy term for that).There won't be a Done sign when you are done with your typing though.
Sending Your Story Out To The Masses
If you don't like it you can hit Cancel before you send it out and no one will see it.
If you want to save it to your camera roll, hit that downward arrow on the right hand side (you'll have another chance to save it to your camera roll in a second though).
When you are done with your masterpiece and ready for the world to see it, hit the big check mark at the bottom.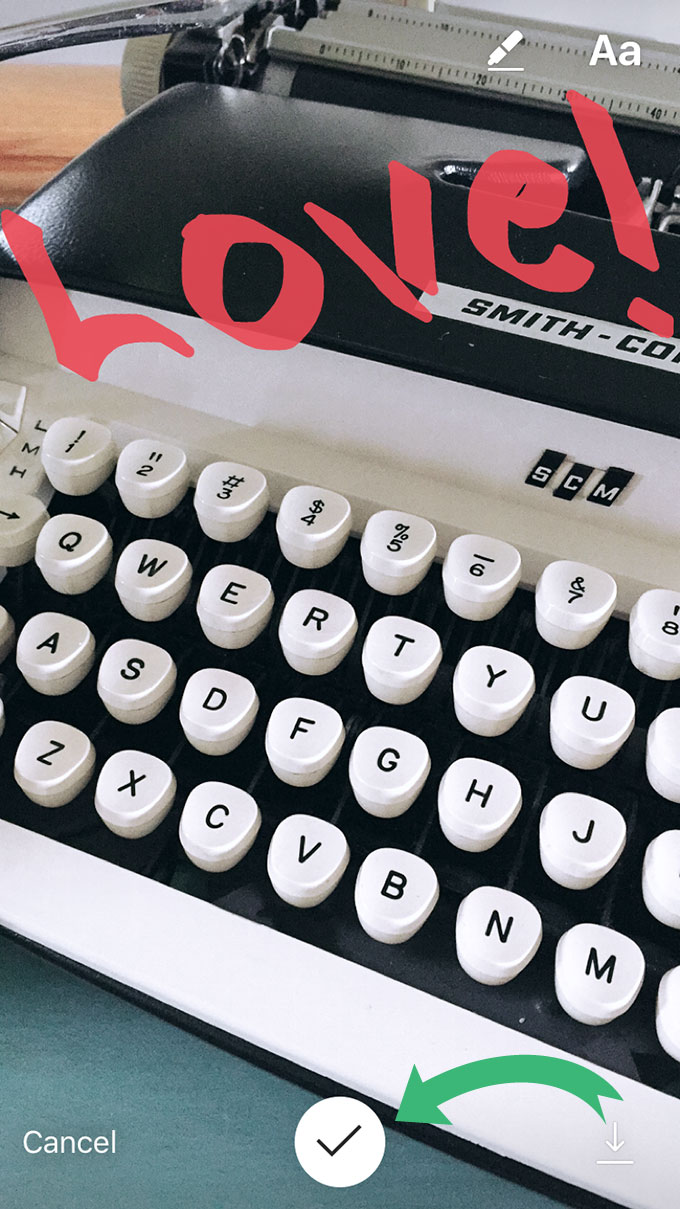 Ta-da! You are one of the cool people now!
And then if you want to watch your Story (to see how dorky you sound on video), your Story will be the first one on your list across the top.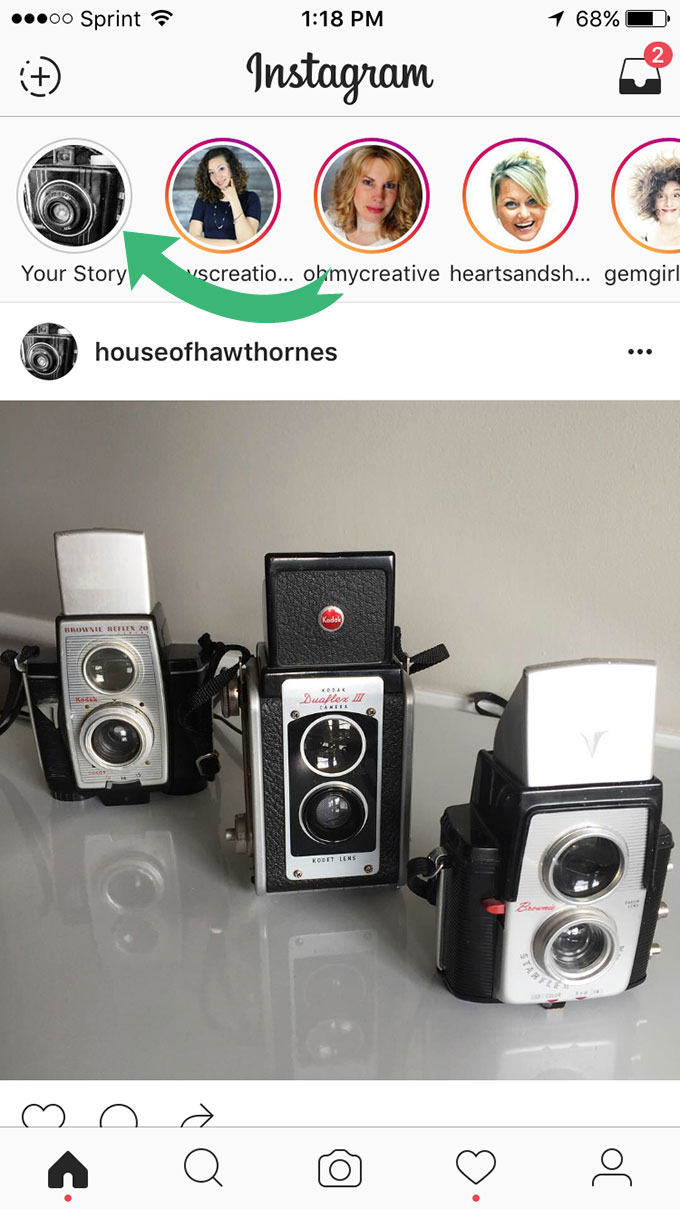 Seeing Who Is Watching Your Stories
A little shy?
See that little eyeball on the bottom of the Story? It is showing that 10 people have seen this story (10 eyeballs on it, or 20 depending if you're assuming everyone has two). And if I swipe up from that I can see who saw it by name.
Saving Your Story
Normally a Story only stays around for 24 hours and then POOF it is gone.
If you want to save it for posterity, you can hit the three little dots at the bottom right and it will pop up with a few options.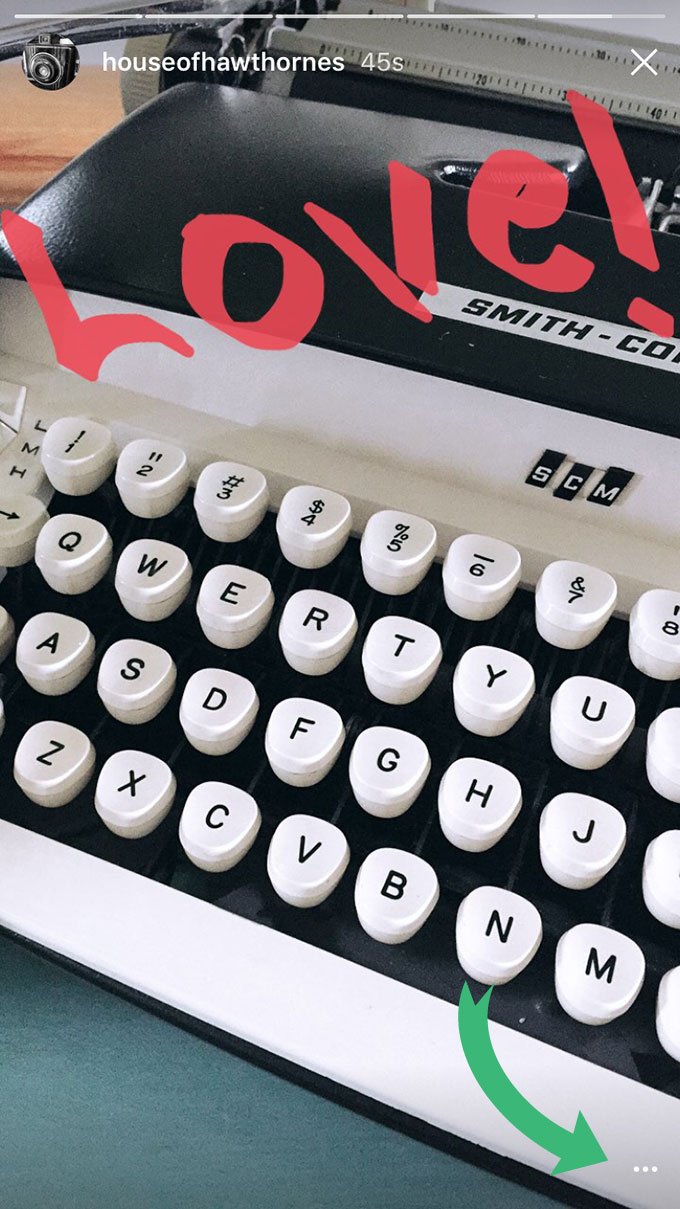 Delete – sort of like it sounds, it deletes your Story
Save Photo – saves your photo or video to your camera roll on your phone
Share As Post – puts it in your normal Instagram feed so all your followers can see it, not just those who look at your Story
Story Settings – You can hide your Story from certain people. You can also set who you want to be able to message you on your Story.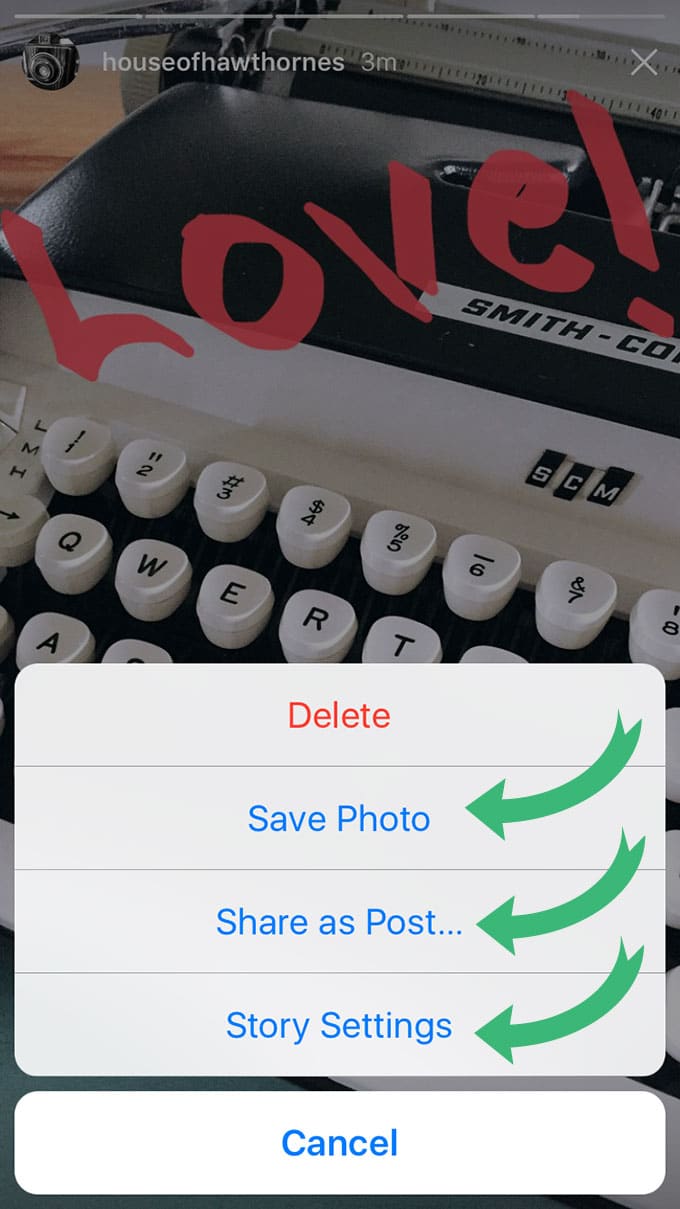 This is what the Story Setting Screen looks like.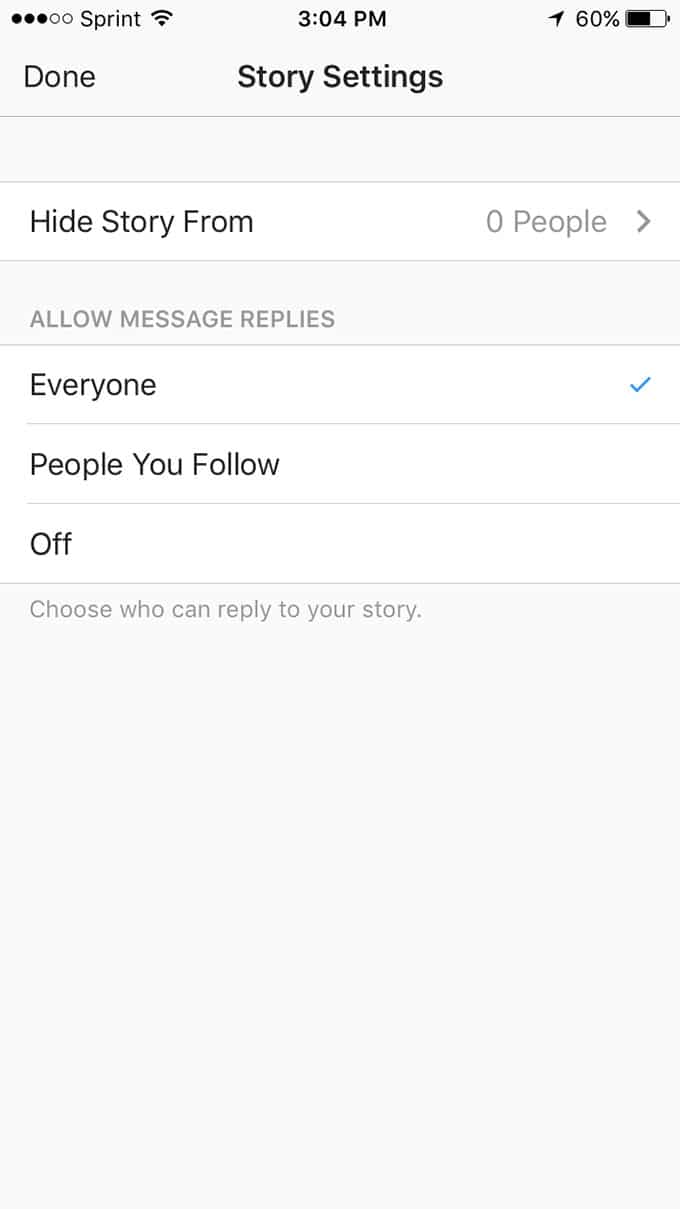 Pluses of Instagram Stories:
You can whine and moan all you want about liking Snapchat better and how Instagram stole Snapchat's idea. Go ahead. Get it all out of your system. Feel better? But let's face it, having Stories as part of an app that we all already USE and LOVE is sort of nice.
Now let's talk about how Facebook owns Instagram. There are a massive amount of Instagram (and Facebook) users out there and my readers (you guys) are more apt to be on Instagram and Facebook than Snapchat. I love to interact with my readers (you guys), so I am going to hang out where you all hang out (or y'all, depending on where you're from)!
It's so much easier to find someone on Instagram than Snapchat. So. Much. Easier.
And Instagram Stories is just generally easier to use than Snapchat and much more intuitive.
If you're one of those people that have to have a certain "look and aesthetic" to your Instagram feed, this is a way to keep your feed looking the way you like it, yet be an actual human being. Just kidding, but it is a nice way to show a bit more of your behind the scenes life without cluttering up your regular Instagram feed.
Negatives of Instagram Stories:
Holy cow, I follow a lot of people! It's impossible right now to pick and choose who goes into your top Stories bar, so everyone you follow who makes Stories will be listed up there. I'm hoping Instagram changes that so I won't have to feel like I'm watching Uncle Joe's boring home movies when I'd prefer to be watching Aunt Susie's wild weekend at the thrift store.
Filters. Where are the fun ones? They're coming I think. I hope.
Have you jumped on the Instagram Stories bandwagon yet? If not, what's holding you back?
You can follow me on Instagram here – @HouseOfHawthornes . No nudity, only mild bad words, some behind the scenes stuff at the house and an occasional yard sale expedition.
That's my Story and I'm sticking to it!