Call me crazy, but Christmas porch tour day is one of my favorite days on the blog. I decorate my front porch before I do any holiday decorating inside the house (says the woman with a nekked Christmas tree in her living room right this very minute).
Today I'm partnering with a fabulous group of bloggers to show you our porches. I'll show you mine first and then scroll on down to the bottom to see what the other girls have done with their porches. I hope it gives you some fun ideas for outdoor decor.
And we have a variety for you. Anything from large front porches, to small stoops to sunrooms and screened in porches.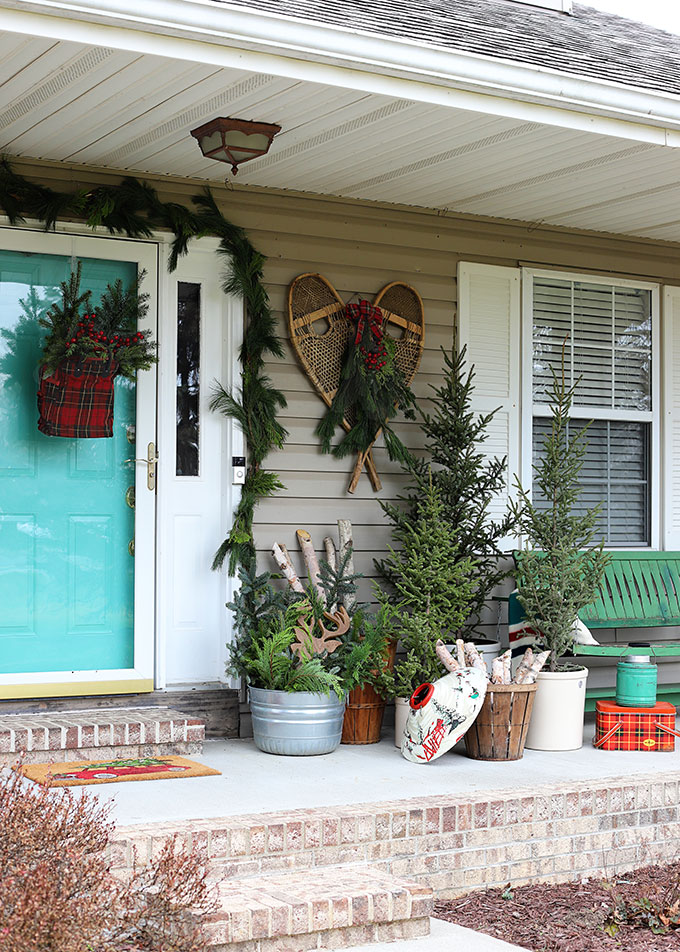 If you can plop a flower pot on it you can decorate it!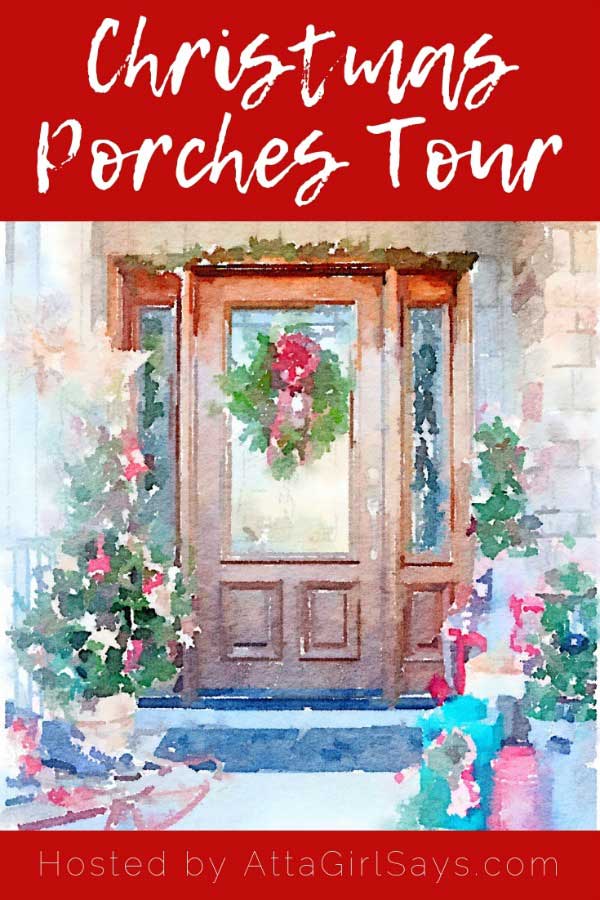 My Vintage Lodge Inspired Christmas Porch
I always have a starting off point with my porch decor. Something to give me some inspiration on what direction I want my porch to go each year.
Sometimes it's a porch urn, sometimes it's a giant lighted reindeer.
This year it was this set of snowshoes.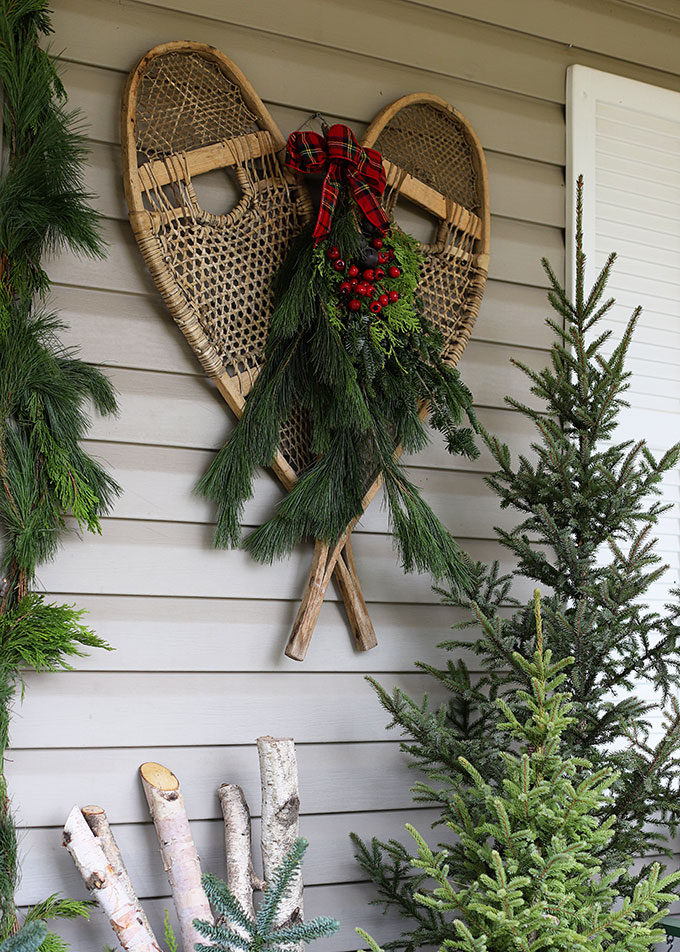 I ran across them in the basement of a old antique mall a little ways from here. It's a little dingy and scary in the basement at times, but you can find the best stuff if you're willing to tough it out and do some digging.
When I got them home my husband mentioned they didn't have anything to attach them to your feet. To be honest, I had no plans of strapping them on to trek through a snow covered meadow, so I hadn't even noticed the lack of straps. Oh, well.
I just simply wired the two shoes together, added a pre-made door swag and they were ready to hit the porch.
What I did make was this plaid door hanger I created from an old Thermos picnic set. I showed you how to make it last week and you can find the tutorial HERE - Upcycled Plaid Christmas Door Hanger.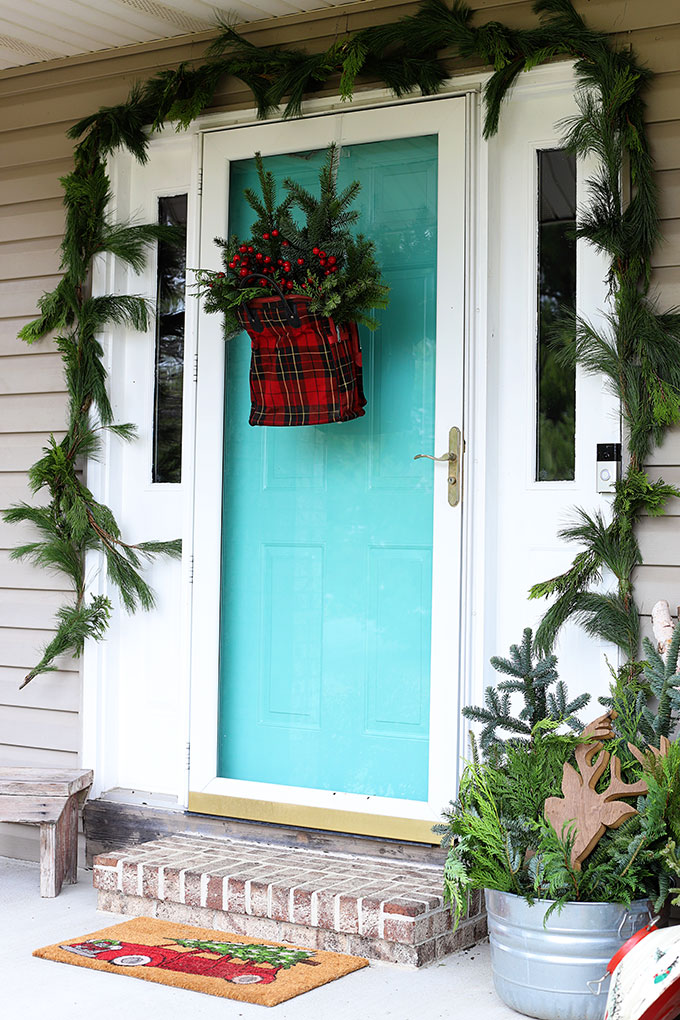 I "planted" these trees in my crocks full of mums (previously seen on my Rustic & Natural Fall Porch Decor post).
I purchased the trees tops (they're cut from the tops of Christmas trees and sold as inexpensive urn fillers) at the local nursery and I simply cut the mums off at dirt level and shoved the trees into the dirt.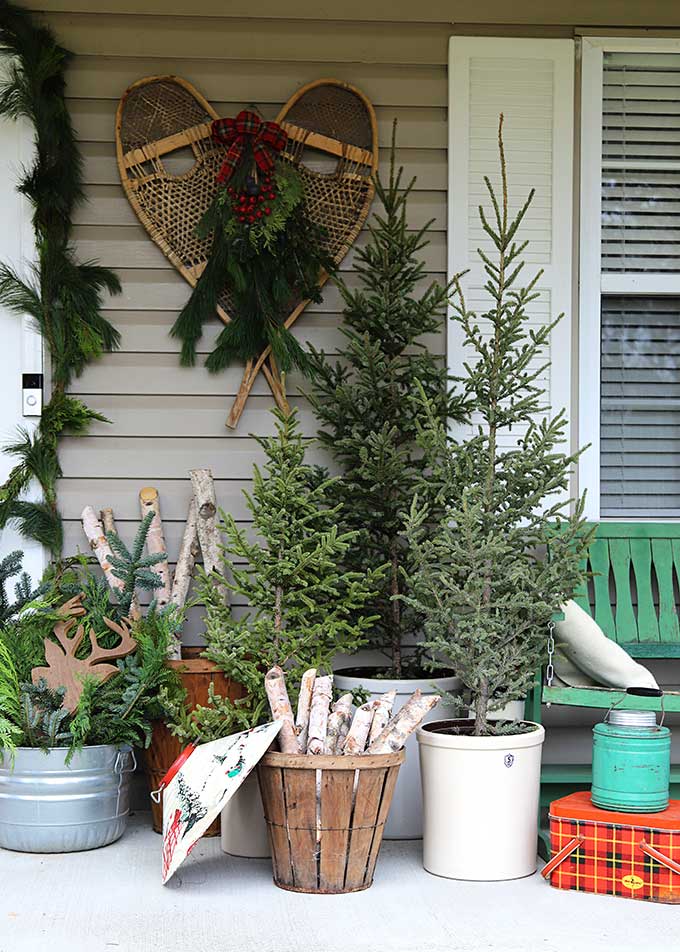 Once in the dirt I watered them to a) give them a nice drink of water so they will last longer and b) so they would freeze in place once the water and dirt harden up.
Of course I kept my wooden green glider out on the porch that I bought this summer.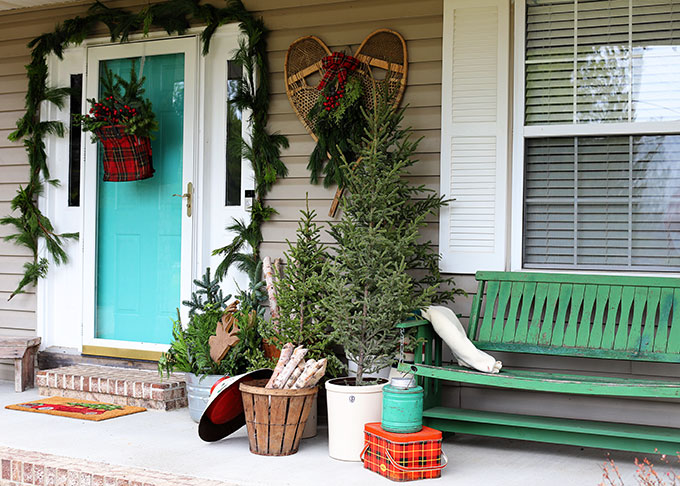 I just can't get enough of that green.
I thought it would be a perfect opportunity to use my faux Pendelton type blanket (it has an insurance company name printed on the other side, so I figure it was given away as an employee gift at some point).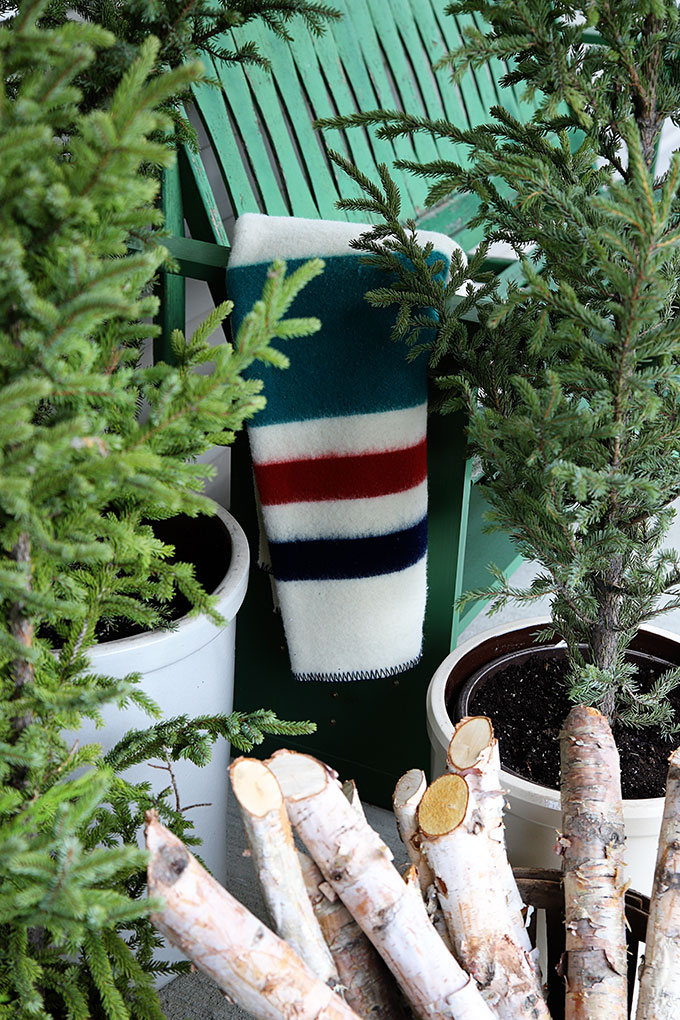 It's a super warm blanket, but it's also super itchy, so perfect for porch decor.
And then I finished it up with a vintage Christmas tree stand and some vintage picnic ware.
The tin picnic basket says "Hoot Mon Picnic Things" with a picture of a Scottish girl doing a dance on it. Which is sort of a hoot, so kudos to whoever came up with the name!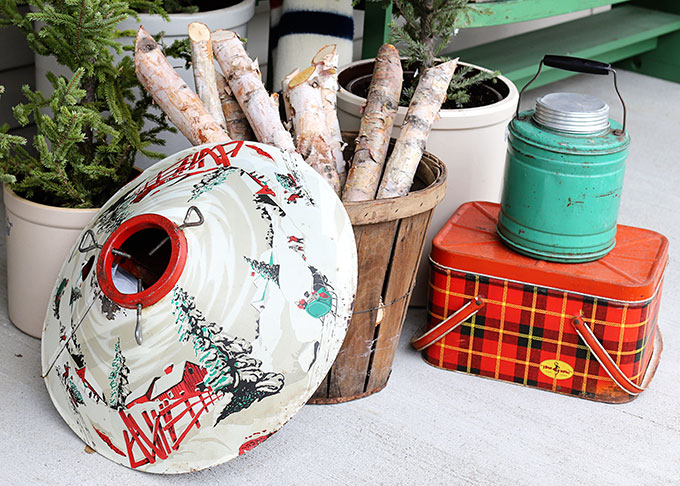 I had never heard of that maker before, but I will be on the lookout for more Hoot Mon stuff when I'm out thrifting now, because I like the plaid. Not quit Thermos plaid, but not buffalo check either.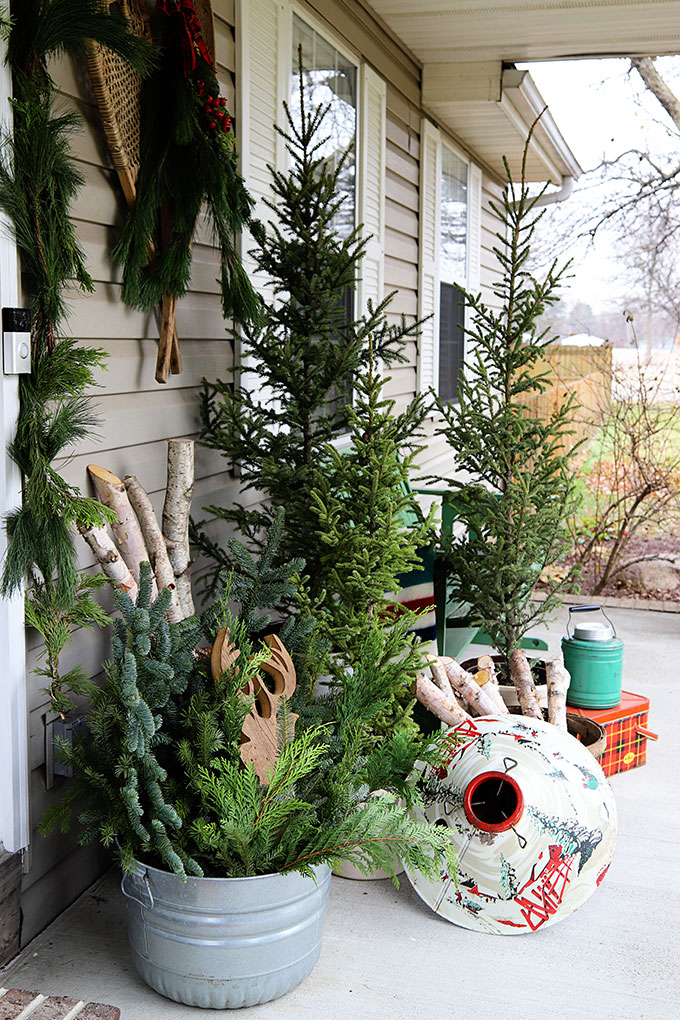 OK, so that's my Christmas/winter porch. Go ahead and pin some photos of it and then run over to see what the other girls have done with their porch decor.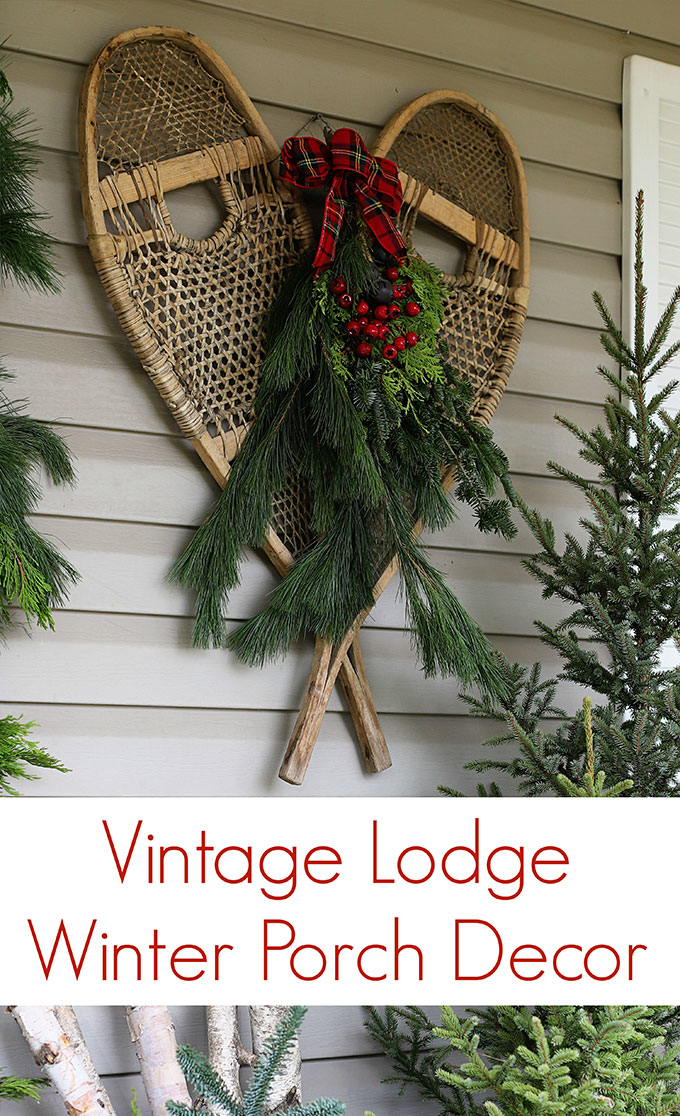 More Christmas Porch Inspiration
Be sure to visit all the participating bloggers for festive decorating inspiration for your front porch, patio, sunroom and screened-in porch.
Atta Girl Says // The Frugal Homemaker // House of Hawthornes // Southern State of Mind
2 Bees In a Pod // The Chelsea Project // Virginia Sweet Pea // T. Moore Home
Top Row: Our Crafty Mom // Postcards from the Ridge
Bottom Row: Cottage at the Crossroads // Worthing Court // Major Hoff Takes a Wife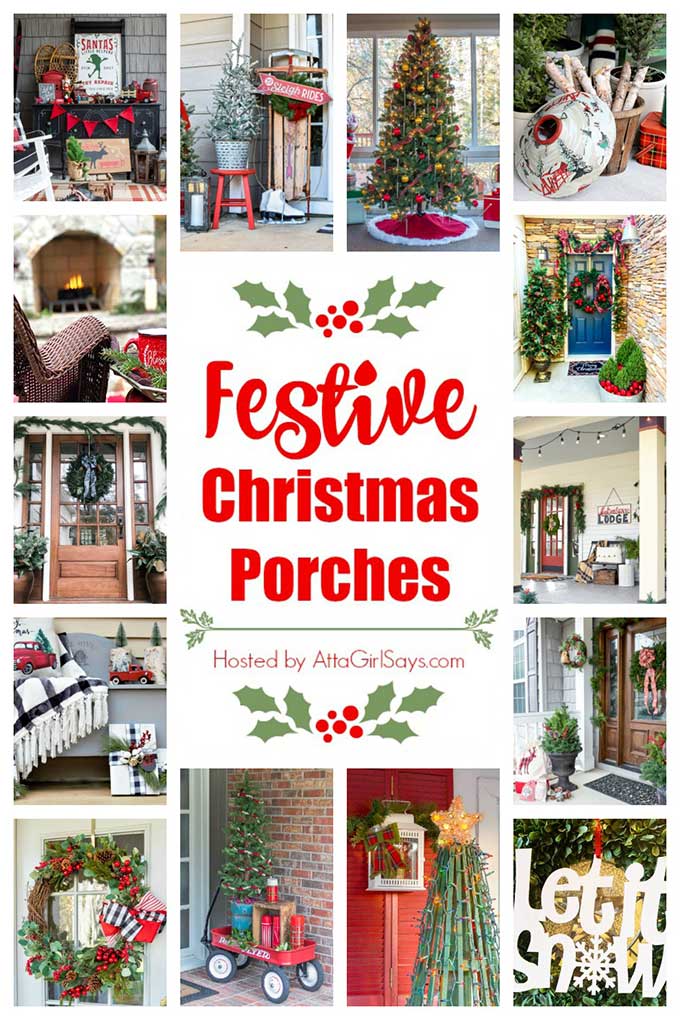 Check out the web story version of this article HERE.
Other posts you may enjoy:
My Previous Holiday Porch Decor:
Winter Porch 2018 - a little bit kitschy (OK, a lot kitschy)
Winter Porch 2017 - the one where Rodney The Reindeer makes a guest appearance
Winter Porch 2016 - a laid back farmhouse inspired porch with no kitsch whatsoever
My Previous Holiday Porch Urns:
Winter Porch Pot 2018 - very rustic and natural
Winter Porch Pot 2017 - featuring bright red winterberry and birch logs
Winter Porch Pot 2016 - farmhouse inspired holiday goodness