Have you broken out the Christmas decor yet? I've heard a lot of people talking about starting to decorate, but I haven't actually gotten anything out yet.
The Christmas decor is stored in the crawl space which is aptly named. To get the stuff out of there it takes a step ladder, the ability to drag heavy boxes while bending over 90 degrees at the waist and a large tolerance for spiders.
I'm sort of chomping at the bit to get started though.
Especially after waking up to a winter wonderland this morning.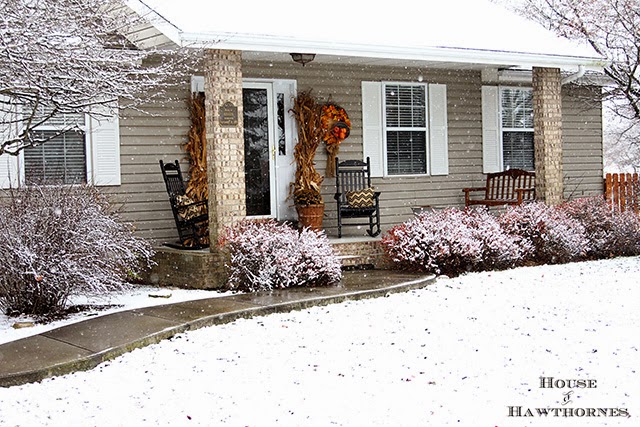 I did buy this snowman at a little store close to here (don't forget to support your local shops on Saturday) and I just sat it down here on my counter when I got home.
Right next to some of those yummy little oranges (which I can not for the life of me remember the name of, but I'm too lazy to Google it) and the greenery I had cut for my zinc number post.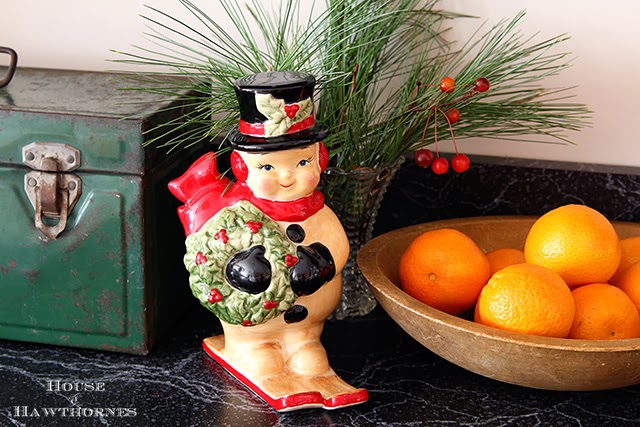 May just keep him there. I love when accidental decorating just sort of works out.
In other news, I saw a whole blow mold nativity set at the thrift store the other day. And I DID NOT buy them. Yep, just left them on the shelf.
This is where the photo would go if I had remembered to take my cell phone into the thrift store 🙁
I almost put them in my cart and then thought that there was just something wrong about a big old plastic nativity set. Not for tackiness reasons. God knows I love a good blow mold. But for religious reasons.
Sort of crosses that line from respectful to cartoonish for me.
Big plastic snowman? Yes, by all means!
Big plastic Santa? Come to Mama!
Big plastic Jesus? May need to think on this one.
What do you think? Plastic lighted Jesus - yes or no?