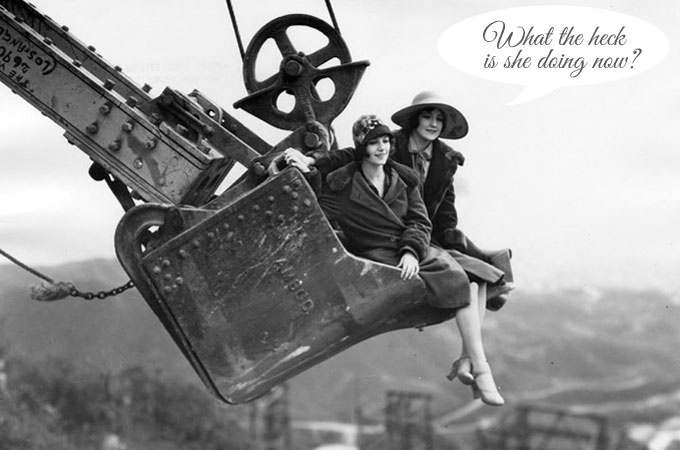 Well, I decided to use a bit of my down time to do some work on the blog. One thing led to another and next thing you know I have a full blown construction project here.
Better wear your hard hats and watch for falling bricks.
First of all, I've moved from Blogger to WordPress. To 99.9% of you, that is all a bunch of gobbledygook, but in a nutshell it just means I use a different program to write my posts.
Sort of like going from an Android to an iPhone, it's going to take some getting used to before I feel 100% comfortable. Sometimes, change is hard. I'm still rockin' my mom jeans from 1994, you know.
Secondly, some things went AWOL in the move, so it may take me a few days to hunt them down and get them all situated. For instance, I used to have a "Blogs To Visit" page which is missing. No idea where to find it or how to recreate it right now, but I'm working on either getting it back or at least getting something similar for you.
Some other things you might be used to may be in different places too. Just think of it like one of those I Spy games you used to love as a kid. Where is the little toothbrush?
And oh, I inadvertently sent out a repeat email to my email subscribers yesterday. Thought since you liked a post once, why not show it to you again. NOT!
Still have no idea how that happened, but I think it had to do with the big moving day, so I'm pretty sure I won't be spamming my email followers again. (Love you guys)
So anyhow, just bear with me. The sun will come out tomorrow, bet your bottom dollar . . .
Grammar Tip Of The Day: Do you know how I remember whether it's "bear with me" or "bare with me"? The "bear" in bear with me comes from the word forbearance (ie patience or self control). Bare with me would mean to take your clothes off with me. And no one wants THAT! You're welcome!