Mommy bird is still hanging out with her eggs. I was paranoid that my taking photos would have scared her off, but she's still sitting on the nest and appears to be enjoying my flower pots. Thought she would enjoy some peace and quiet (just like Jessica Simpson), so I'm trying not to check out her nest anymore.
I think the bird is a sparrow. I'm not an Ornithologist or anything, but it looks to be a pretty nondescript, run of the mill brown bird, so I'm declaring it to be a sparrow. Not sure why one egg is more of a solid color that the others though (there's three in the nest now). Surely she wouldn't be sitting on some other bird's egg. She seems like a cool bird and all, but not sure if she would offer to do surrogacy for her gay best friend?
While I'm getting all Mutual Of Omaha's Wild Kingdom on you, we found a tiny baby turtle in the backyard!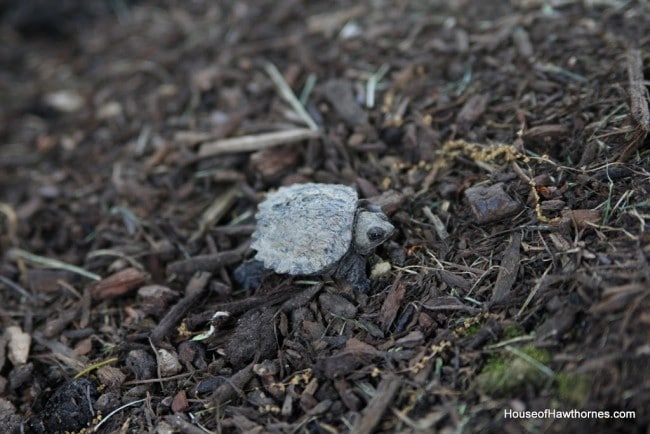 He's sort of scary looking and at first I wasn't 100% sure it was a turtle. After all, I am the person who frantically called my husband one day because I saw a crawfish in the yard and thought it was a baby lobster and then couldn't for the life of me figure out how a baby lobster came to live in our backyard in the middle of Ohio. But we've had snapping turtles in the yard before and when I googled baby snapping turtles it looks similar, so a snapping turtle would make sense (as opposed to a prehistoric creature who managed to survive in my backyard for 65 million years).
He's staring at you in that photo. Try to get that image out of your mind tonight when you fall asleep.