I am officially in love with garage sales now!
People who know me IRL will find that amusing because I would never in a million years go to a garage sale when I was a kid. No way, no how, never going to happen. I found it totally embarrassing that my mother would go to garage sales and drag other people's stuff home.
But then a few years ago a neighbor down the street had a yard sale, I stopped and found some neat vintage items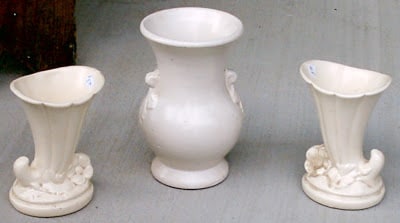 and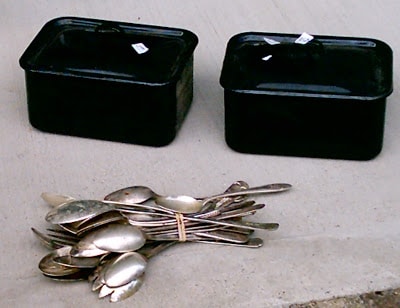 Then this year, since I had more time on my hands, I decided to stop by a few and just see what they had. Maybe the garage sale from a few years ago was not a fluke?
Yes, the majority just have over-priced junk that no one wants anyhow, but occassionaly I would come across some antique or vintage items at FAR, FAR LESS than I would ever find them at the antique stores.
Take for instance yesterday. I went to one "estate sale" waaaay out in the country that was pathetic. No price tags on anything and the items I did ask about were priced way higher than you could buy them for at the fanciest antique store. **sigh**
I thought the day was a bust, but on the way home I ran across a street in the older part of my town that had numerous garage sale signs on it. So I stopped and found this these little beauties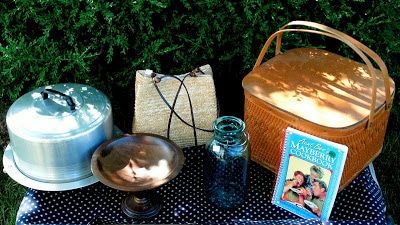 Now, who would not buy this fantastic cookbook for 25 cents? There's a recipe for Charlene's Hoot Owl Pie (can substitute chicken if you want), Rodney Darling's Blackened Pig, Coca-Cola Pork Chops and many more tasty dishes.
Remember the Aunt Bee's pickle episode? They even have her Kerosene Cucumber recipe!!
BTW, I named my son's cat Otis, after Otis Campbell the town drunk so I just may have a weird fascination with The Andy Griffith Show.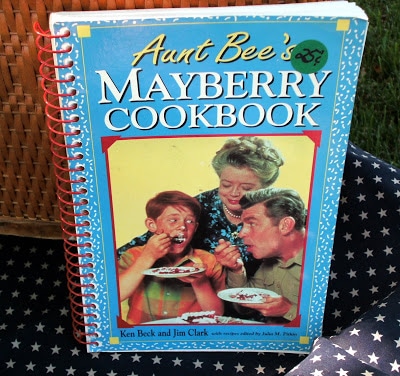 And for 50 cents who could pass up a huge blue ball jar - no lid, but still a good find since I have never seen one that size before (½ gallon???).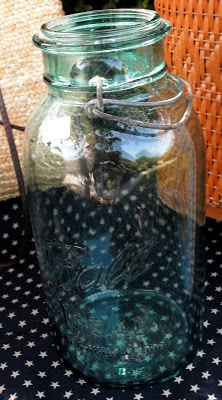 A cute,little, never been used before straw Croft & Barrows purse for $1.50.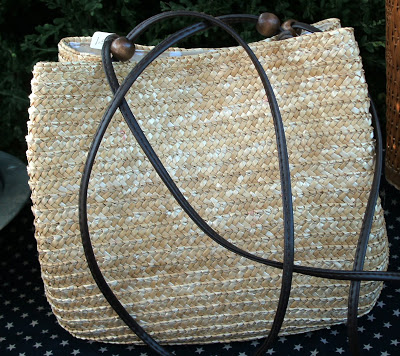 This wooden stand was only 50 cents. It has a slight bowl shape to it and the woman who sold it to me said it used to sit on her Mom's coffee table with wooden fruit in it when she was a kid.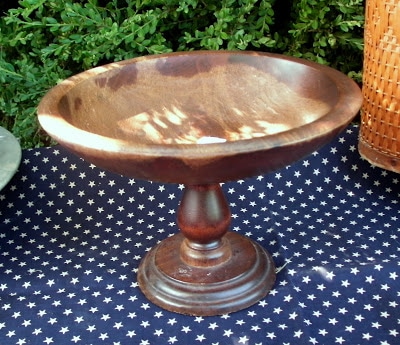 This metal cake plate/holder/carryingcase was only 50 cents also so I couldn't pass this up. Now when I take a cake to my next cookout I will be all set. I mean I would have to take the cake out of the plastic container that it comes in from the grocery store first, but it will look real pretty sitting in this!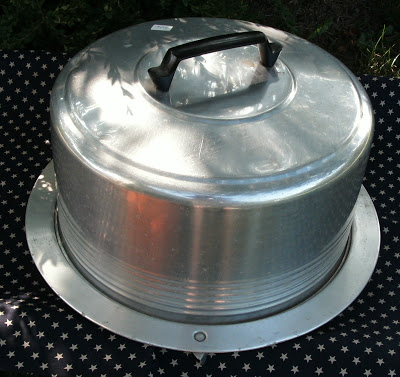 And when I saw this little guy I almost fell over. I have been wanting a vintage picnic basket forever, I just never found one I liked enough to part with the money for. This was only $3.00, so I snapped it up.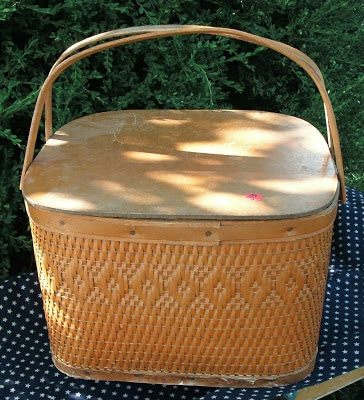 I love the diamond pattern on the side of it!!!