Complete guide on growing peonies. Everything from soil conditions to USDA zones to the ants that love peonies too. Including how and when to cut peonies for vases so you can enjoy them indoors. And most importantly, what you can do if your peonies just won't bloom!
Peonies season is here!!! My favorite time of the year!
Now, every year when peony season rolls around I get tons of questions about peony care and how to grow them, so I thought I'd put all my answers in one place and give you some tips on how you can grow peonies too.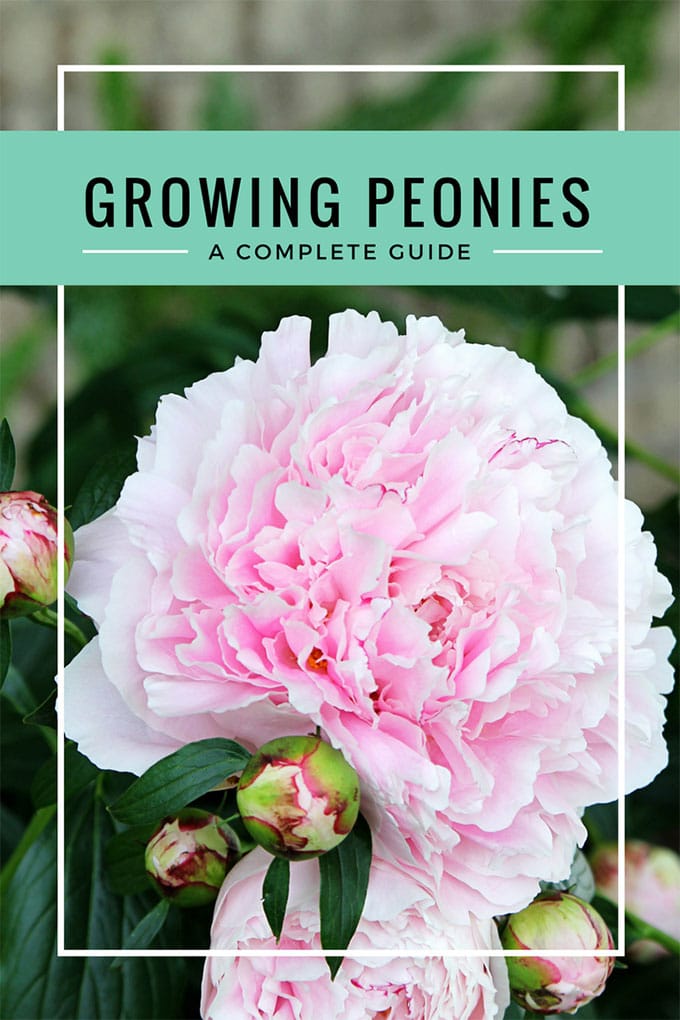 Tips For How To Grow Peonies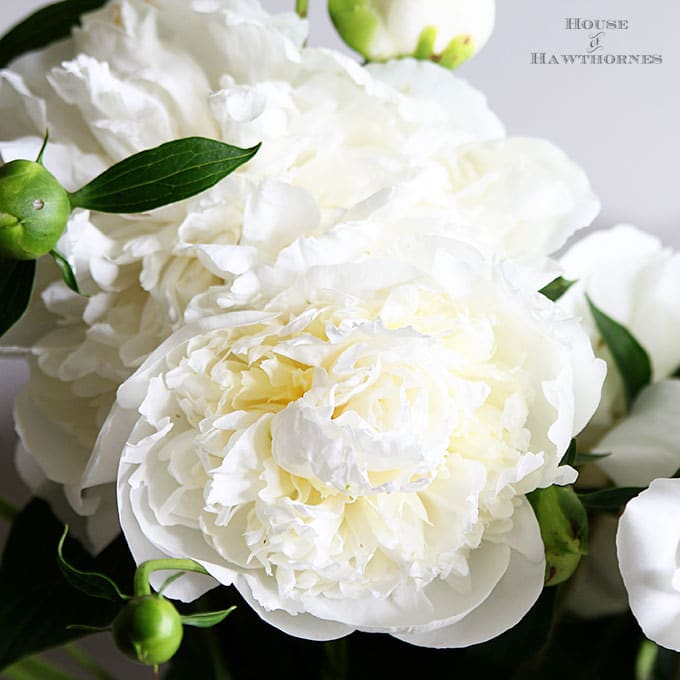 Best Zones For Growing Peonies
Peonies grow well in Zones 2-8, which means they require at least 30 consecutive days of freezing temps in the winter. No deep freeze, no go.
If you don't know your USDA Zone ((gasp!)), you can check it out on the USDA Plant Hardiness Zone Map. You just input your zipcode and it spits out your Zone. Here in Central Ohio I am in Zone 6a.
If you live in a state that is too hot to grow these babies, my deepest condolences.
Do Peonies Require Full Sun Or Shade?
The best place to plant a peony bush is where it will receive 6-8 hours of sun per day minimum. But if by chance you are lucky enough to live in a much warmer climate, the peonies will appreciate some afternoon shade. And when I say appreciate, I mean they won't wither away and die on you and break your heart.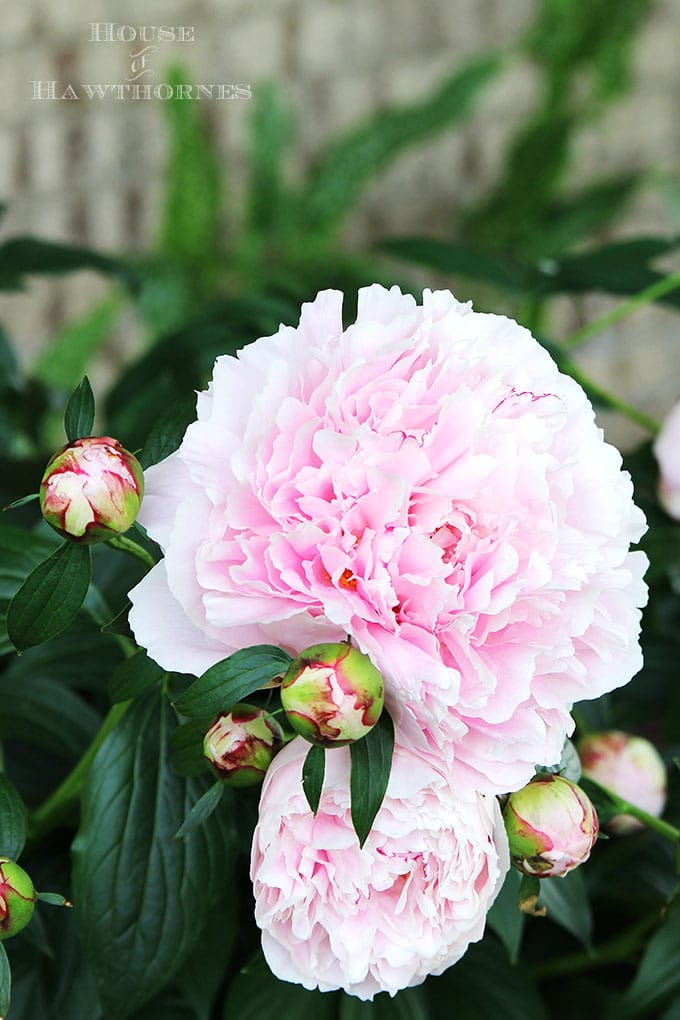 How To Plant Peonies
You want to pick out an area in your yard or flower beds that receive that 6-8 hours of sun per day.
They enjoy well drained soil, so if you have clay, you'll need to amend the soil a bit.
Plant bare root peonies (peonies where the soil has been removed from around the tuber) no deeper than 2" below the soil line. Peonies that comes in pots can be planted with the soil of the pot even with the ground's soil line.
Peonies that are planted too deep (or even think they are planted too deep) will not bloom. Be careful with putting too much mulch around the base of the plants, because that can trick them into thinking they are deeper than they are. I never said peonies were smart.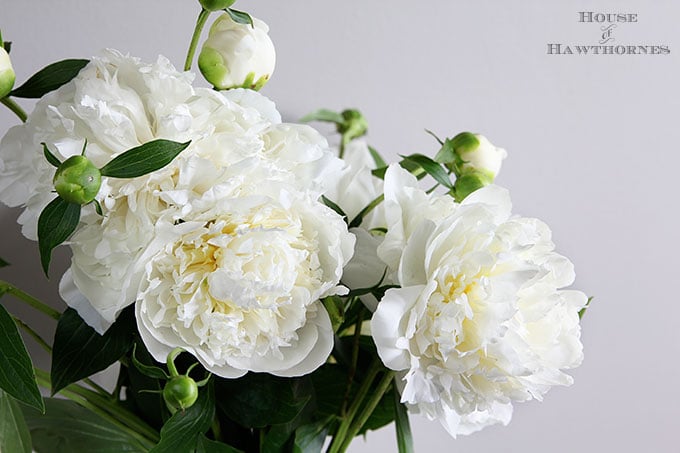 How Long Does It Take To Grow Peonies?
A little bit of patience is needed for peonies. Peonies do not often bloom the first spring after planting. Depending how big they were when you planted them, it could take up to three years for them to bloom. Three excruciatingly long years.
That said, I plant the peonies that have been grown in pots and I normally have one or two lonely blooms on them the first year, a couple more the second year and then the third year they take off and never look back!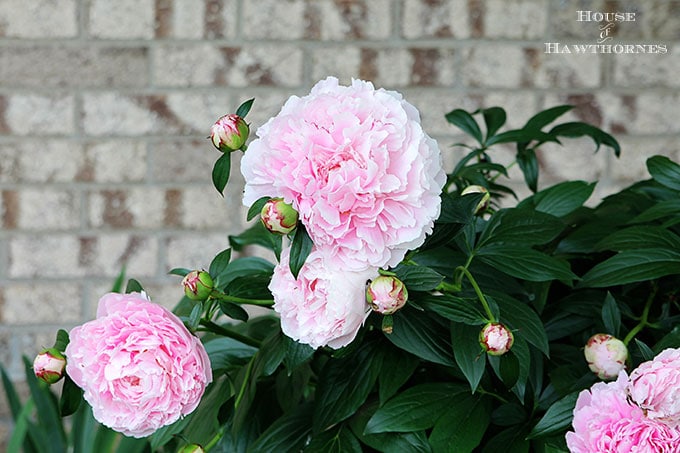 Peonies are really easy to grow and care for, but occasionally they just won't bloom.
Top 3 Reasons Why Your Peony Won't Bloom:
It's a young peony and not established yet. It may take up to three years to bloom. Be patient.
It's not getting enough sun. They are little sun bathers and need at least six hours of sun a day.
It's planted too deep. You can raise it up a bit in the fall if you think this is the problem.
How To Cut Peonies For A Vase
It's up to you if you prefer to enjoy the blooms on the plants in your garden itself or cut them off and bring them inside for flower arrangements. If you are planning on cutting them off and bringing them inside, you can either wait for the blooms to open on the plant and cut them at that time or you can also cut when in the bud state and enjoy having them slowly bloom in the vase for you.
I prefer to use both fully opened blooms and buds just starting to open in my peony arrangements.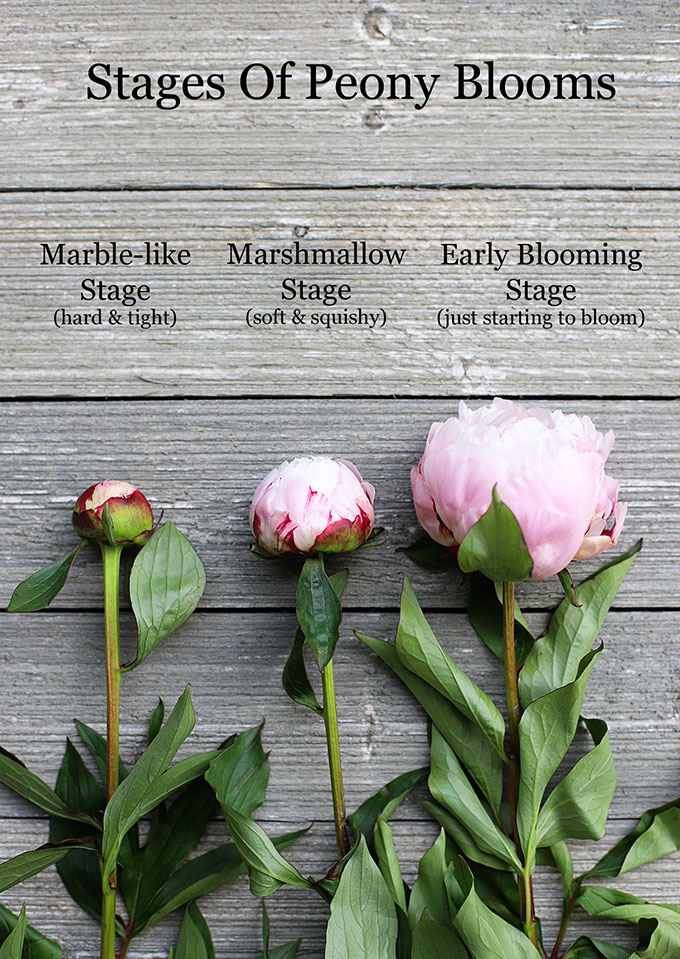 A bud can be cut before it opens up once it's in a soft "marshmallow" state (it's still in the shape of a bud, but is soft and squishy like a marshmallow). If the buds are too hard and tight (like a marble) they will not open once cut.
And then you've just wasted a peony bloom, and a peony bloom is a horrible thing to waste!
Psst - I made a quick little video to show you what the different bud stages look like and what exactly this "marshmallow" stage is!
If you prefer, you can watch an ad-free version of this tutorial on my YouTube Channel HERE.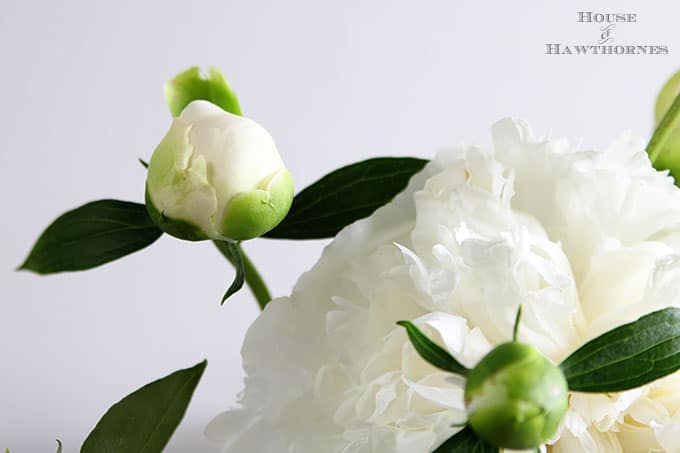 Peonies And Ants
Ants are your friend. Well, actually that is debatable. Some people say they help the peonies to open and others say the ants just happen to like the sweet, sweet nectar of the peonies and have no actual beneficial purpose. In either case, they don't harm the peonies.
I just gently shake the ants off the peonies before bringing them inside. I have also heard you can dip them upside down in a bucket of cold water to get the ants off (ie drown the ants).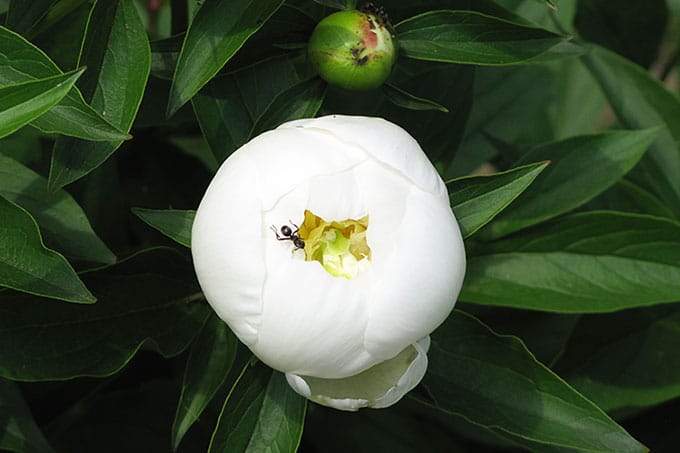 Peony Supports
Like most women, most peonies need a little support and without it they will flop over onto the ground. Think of it as Spanx for your flowers. I use the basic three legged metal peony rings that stake into the ground.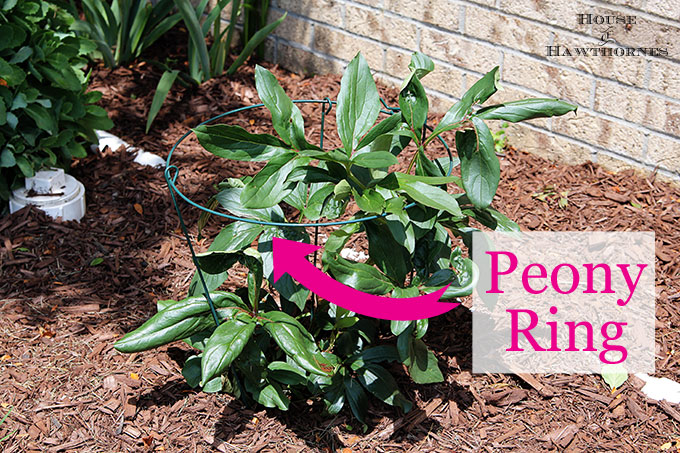 Peony Fertilizer
Fertilize in early summer after you have deadheaded the spent blooms using a 5-10-5 blend, keeping the fertilizer 6-18" away from the middle of the plant. The 5-10-5 refers to percentages of nitrogen, phosphorus and potassium respectively and should be listed on the fertilizer package.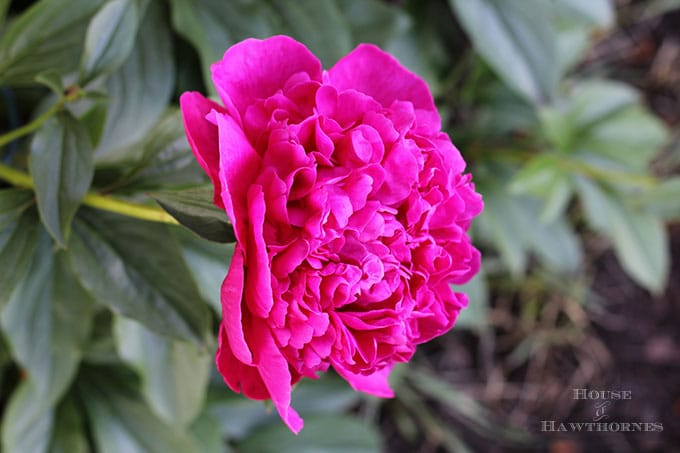 Peony Fall Care Tips
When leaves start to turn brown and fall off in early autumn you should cut the peonies to the ground. You can wait until the 1st frost, but I generally cut them in late September when I'm tidying up my beds for winter.
Simply cut all growth down to ground level and discard. Peonies can be susceptible to foliage diseases, so by cutting back in the fall you can reduce chances of that carrying over into next year's plant.
Fall is also the time to divide your peonies if you want to do so.
Dig around the entire plant, pull it up out of the ground and then divide with a sharp spade.
Just make sure you have 3 or more eyes in each new section to ensure you have a healthy, substantial plant to replant elsewhere.
And then just follow the instructions in the How To Plant Peonies section above to get the new ones back in the ground correctly.
Favorite Peony Plants
If you are planning on planting more than one peony plant in your garden (and by all means, please do!!!), you have to choose whether you're going to plant more of the exact same peony variety or mix it up with lots of different varieties. Personally, I like to mix it up a bit in my peony bed!
These are three of my favorite peony plants. In chemistry flasks, because . . . why not.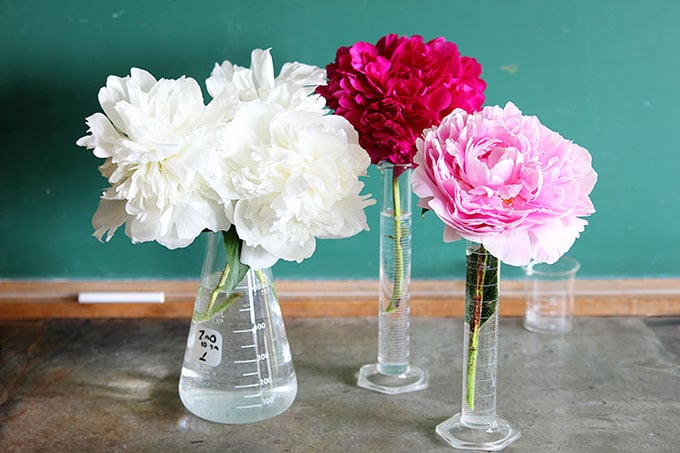 Left to Right - Duchesse de Nemours, Victoire de la Marne, Sarah Bernhardt
Duchesse de Nemours
is a beautiful white peony variety which was first introduced in the 1800's. It has creamy white double flowers with just a hint of yellow in the center and is wonderfully fragrant. You can't go wrong with this one!
Victoire de la Marne gives a much needed POP of color! This bright fuchsia red variety has very large double flowers and is oh so pretty as a cut flower.
Sarah Bernhardt peonies are probably one of the most common peony varieties and for a good reason. Sarah Bernhardt peonies have large light pink double flowers backed up by glossy green foliage. They are easy to grow, have been around for over 100 years and they are readily available at most garden centers and big box stores.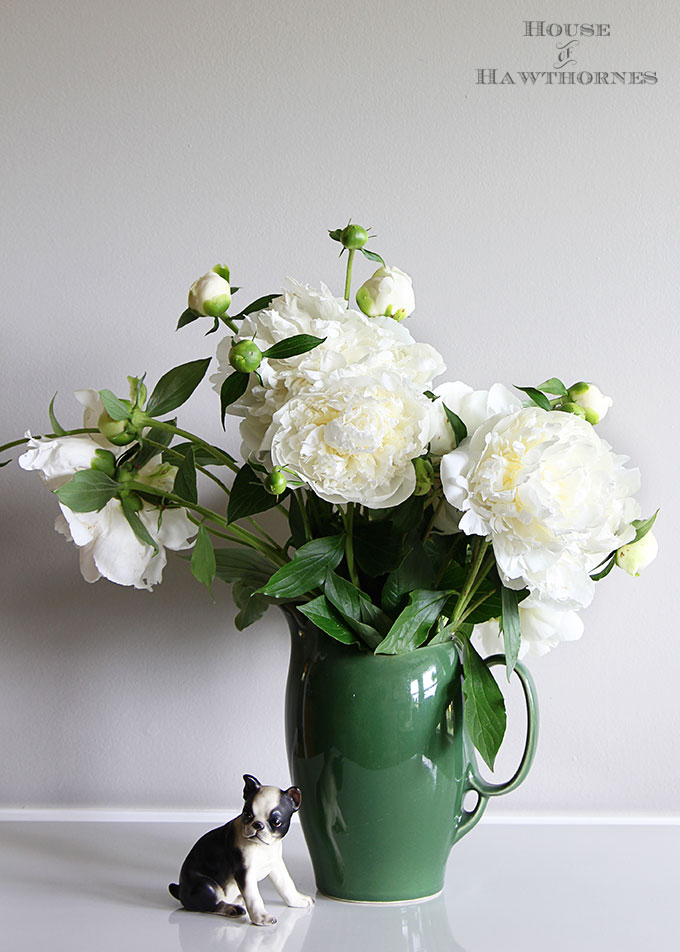 Are you a peony lover? Have you ever gone completely overboard with them at your house?
If you need to feed your gardening addiction more you can check out:
How To Grow Limelight Hydrangea
Old Fashioned Flowers For Your Garden
(This post contains some affiliate links for your convenience. You can read my full disclosure policy here.)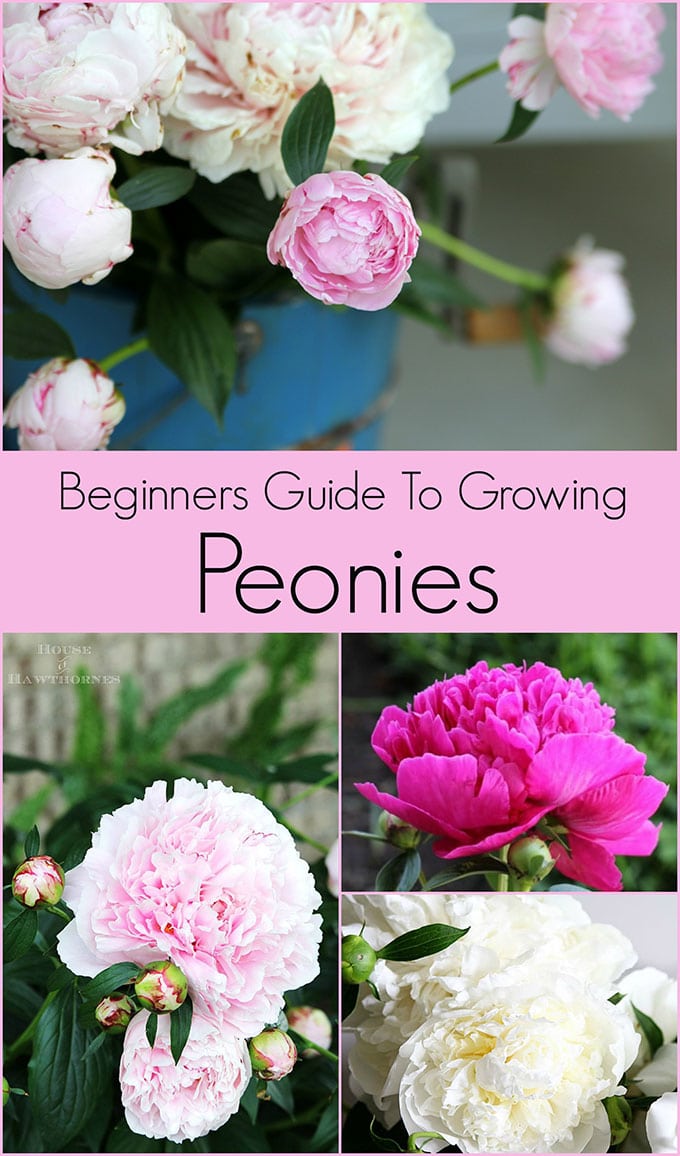 New For Spring 2021: