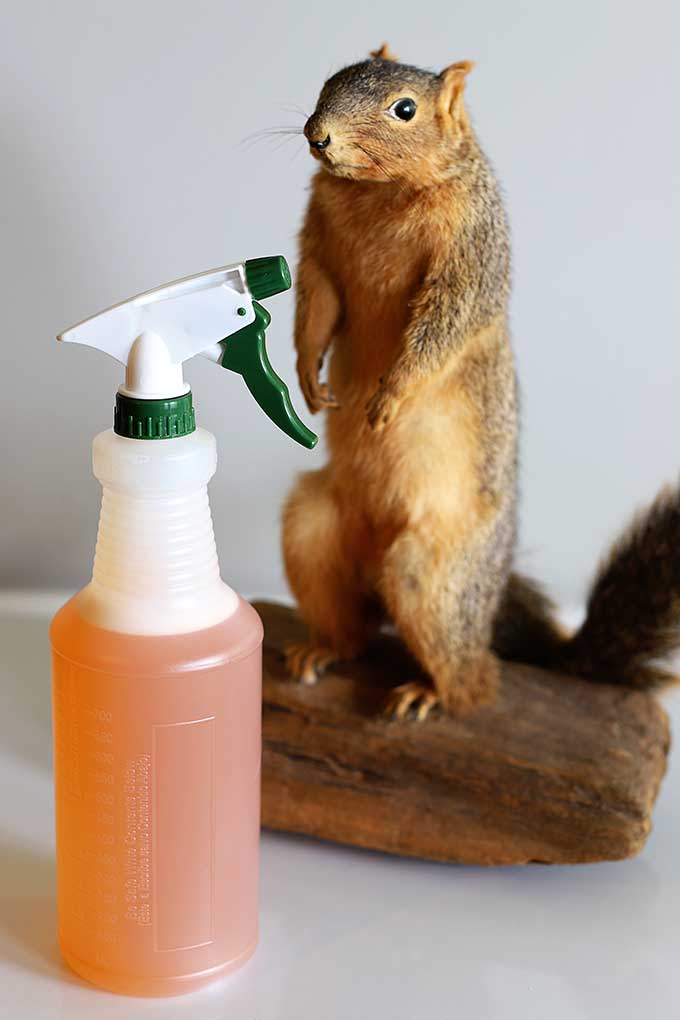 Last week I showed you How To Make A Fall Corn Garland. In that post, a reader innocently asked if the squirrels around the house would try to eat the corn.
Squirels, what squirrels?

We do have plenty of chipmunks running around here, but I have had corn stalks on my porch off and on for YEARS and I never had a problem with those cute little guys eating my fall displays. Never once.
The chipmunks and I are buddies. Amigos. BFFs.
And as for squirrels, I have never seen a single squirrel in the yard. Ever.
Well not until Susie mentiond squirrels in her comment and then all of a sudden I see one of those stupid furry little rats with big tails poking around my porch.
Darn you Susie, you jinxed me!
But here's the kicker, I think the squirrel came up on the porch to give a seminar to the chipmunks on how to eat corn or something.
Corn Eating 101 taught by Skippy The Squirrel.
The little guys were very well behaved until Mr. Squirrel showed up on the scene and now I'm down 3 ears of corn!. And I know it was the chipmunks because I saw one scurrying out of the cornstalks when I opened the back door.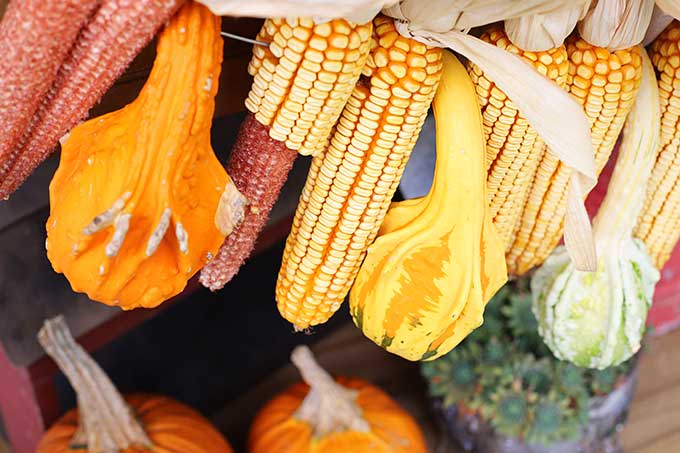 So I searched online and tried a few concoctions and theories and came up with a homemade squirrel repellent that seems to be working on both the squirrels and the chipmunks.
Of course, there's always the shovel over the head remedy, but I try very hard not to hurt other living creatures. Besides we USED to be friends.
Oh, and BTW, the squirrel in these photos is the stuffed squirrel my son bought at an antique mall a few months ago. He's long dead, probably 50 years dead, so it's not like I killed Skippy to make some pretty photos or anything.
How To Make Homemade Squirrel Repellent
Ingredients:
4 cups water
1 oz hot sauce (1/2 of the small bottle)
3 drops dish soap (you can also use vegetable oil if you prefer)
1 spray bottle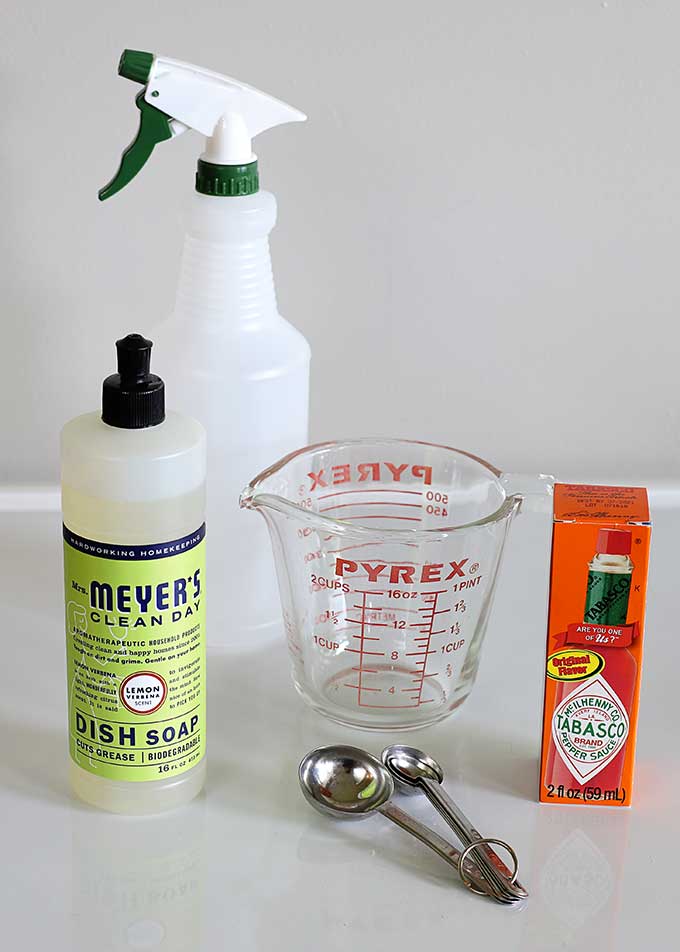 Instructions:
Pour 4 cups water into the spray bottle
Add 1/2 bottle (1 oz) hot sauce into the water
Add 3 drops dish soap
Close bottle and gently shake
Spray your homemade squirrel repellent on your fall cornstalks, corn decor and pumpkins to keep the squirrels and chipmunks away.
This won't harm the squirrels and chipmunks, it will just deter them from eating your stuff.
Disclaimer: Please don't be silly and spray this stuff in your eyes or anything. It is a pepper based spray and it is HOT!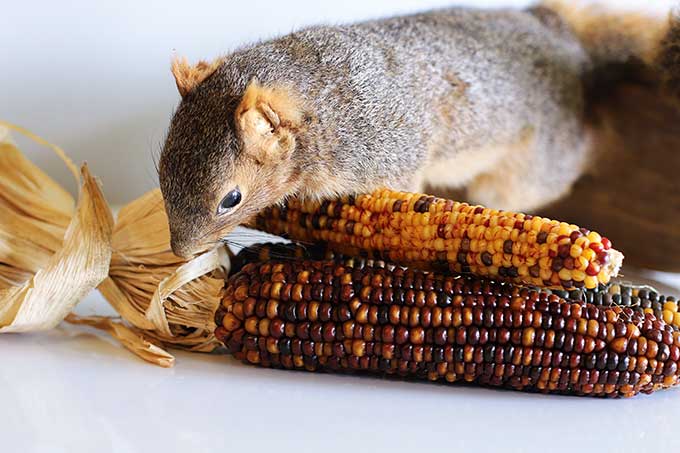 (my dead stuffed squirrel agrees, use your common sense when using this)
Squirrel Repellent Used In The Garden
Besides keeping them off my fall decor, it is also good for using in your garden. Just spray the areas you want the squirrels to stay away from. You may need to reapply after heavy rains as it would tend to wash away.
Now if this homemade squirrel repellent would just work on snakes too, I'd be all set!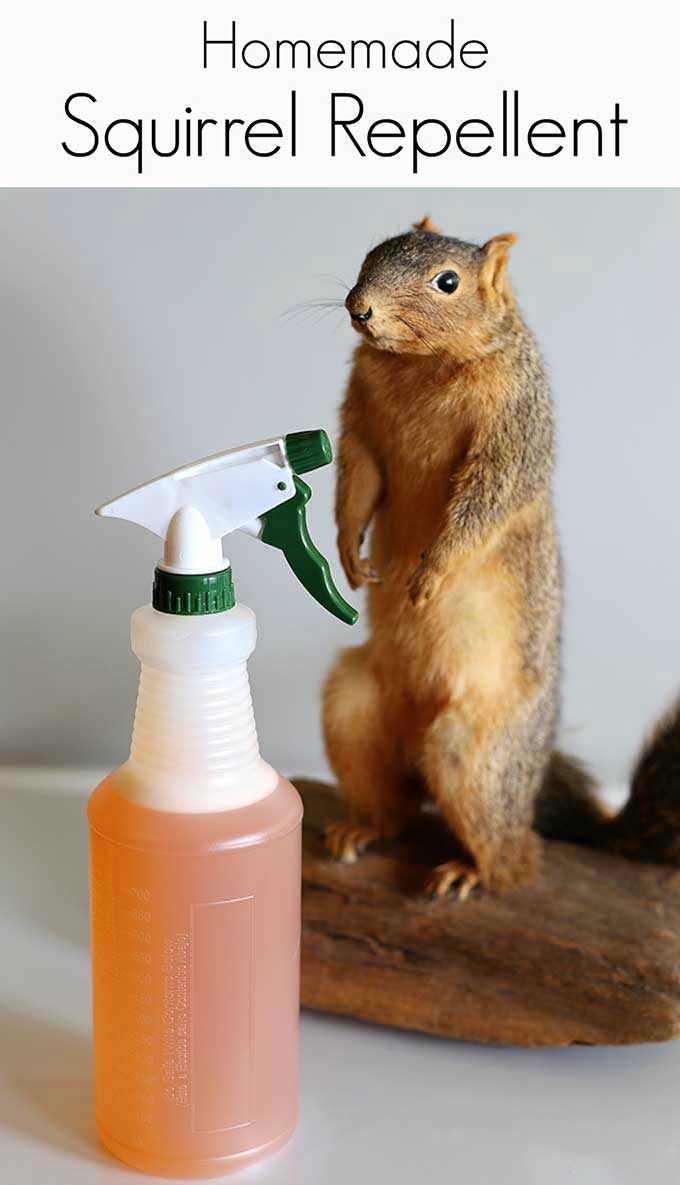 Other posts you may enjoy:
How To Get Rid Of Skunk Smell On Your Dog
DIY Stove Top Home Fragrance (Lemon and Rosemary)
Lazy Girl's Guide To Drying Hydrangea
Natural Ways To Repel Mosquitoes Without Bug Spray