With the holidays coming up I wanted to show you a quick and easy way to clean silver.
Over the years I have bought numerous pieces of silver at thrift stores and estate sales. Some are the kind of silverware you eat with, some are pieces I use to decorate my home.
Urns, tea pots, platters, you name it.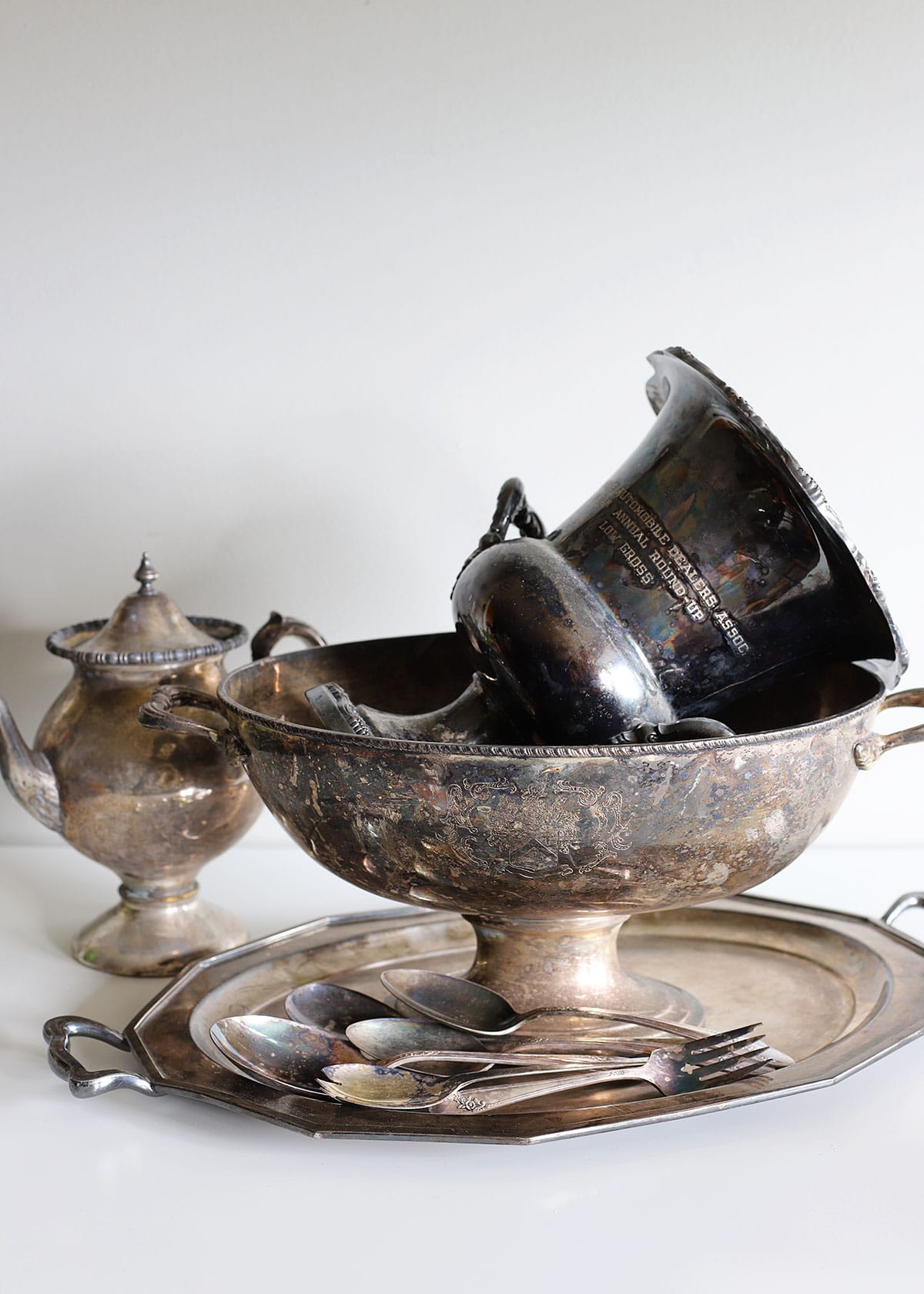 The thrifting Gods have been very nice to me when it comes to silver plate items.
BTW, I'm going to use the terms "silver" and "silver plate" interchangeably throughout this piece, because most silver pieces you find will actually be silver plate (meaning they are actually made from copper, brass or nickel and topped with a thin layer of pure silver) rather than solid silver.
Regardless of whether you pull it out once or twice a year to eat with or use it decoratively, it is nice to have a way to EASILY clean your silver. Because we all know keeping silver shiny with silver polish and elbow grease is not always fun. OK, it's never fun.
If you've followed this site for very long you'll remember I went through a "Oh, tarnish gives the piece so much character! The more tarnish the better!" phase and now I'm moving onto the "Give me all the sparkly things!" phase.
Here's a look at some of the pieces BEFORE I cleaned them.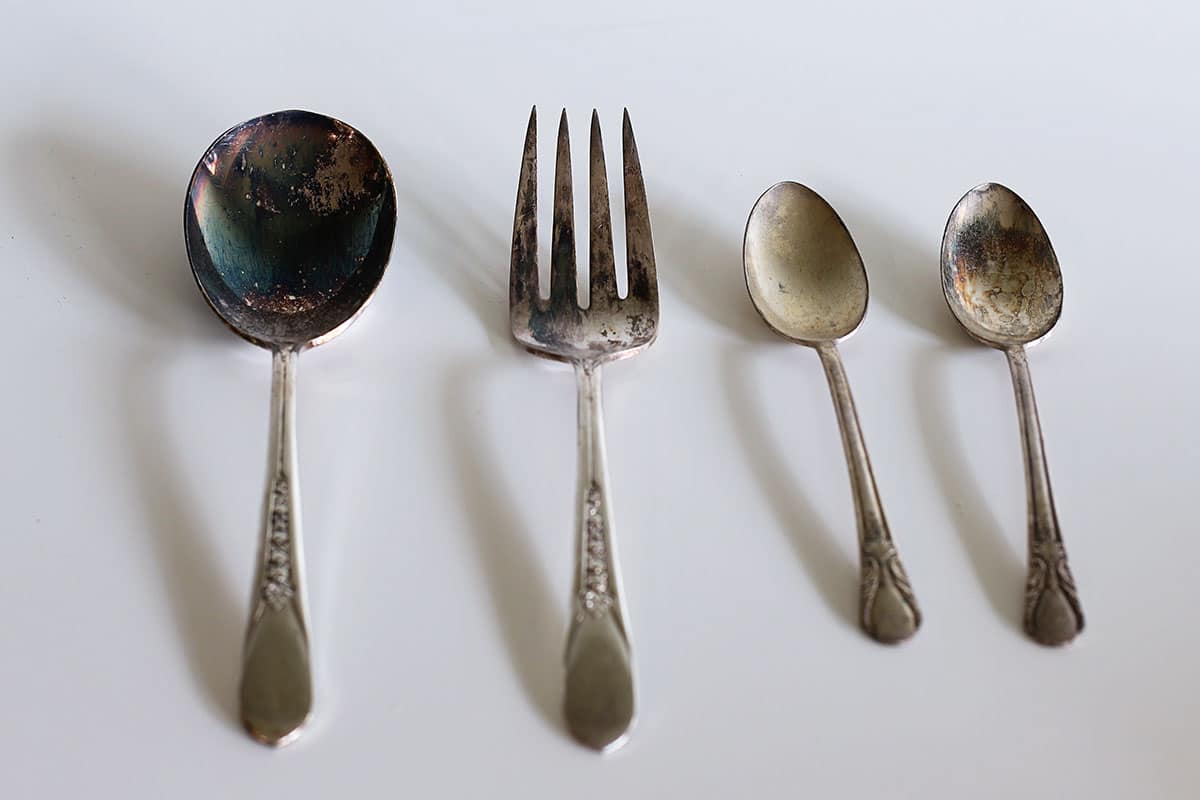 Seriously that big spoon was pretty darn black!
And AFTER.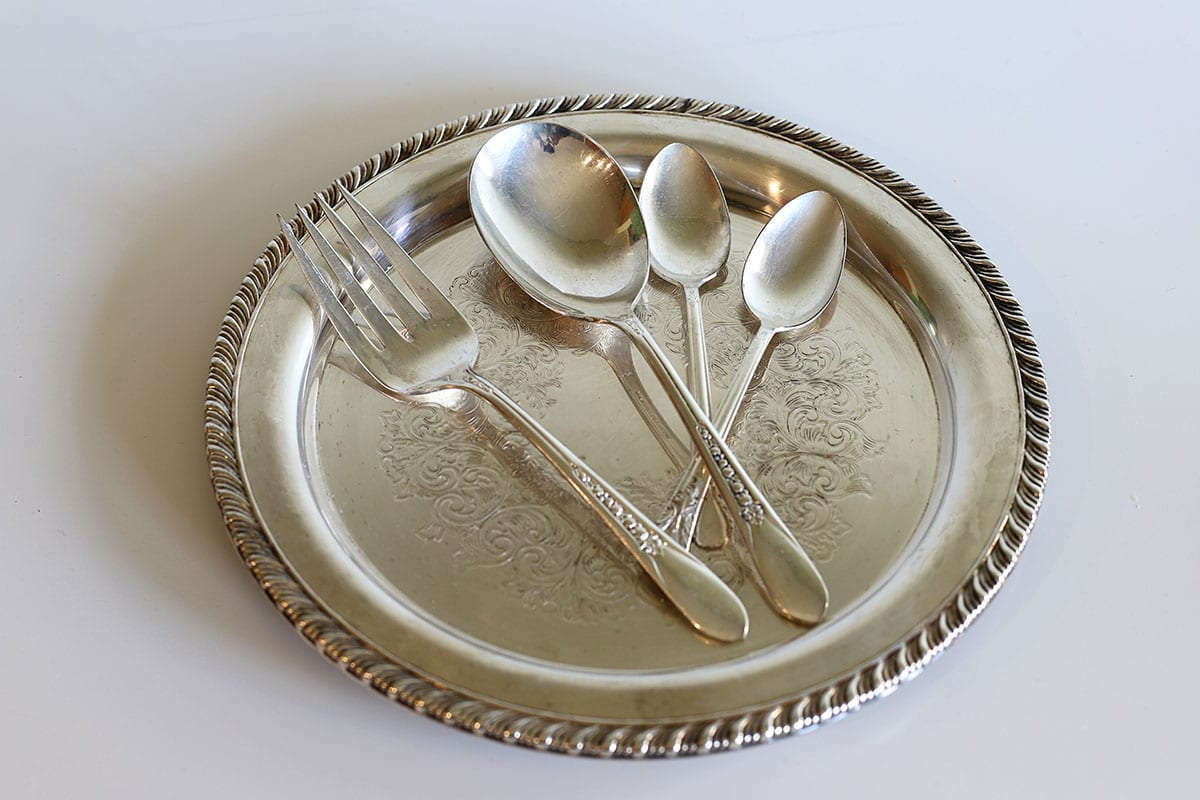 OK, let's get down to the nitty gritty of how to clean your silver quickly and pretty effortlessly!
And with pantry staples you most likely have in your house right now.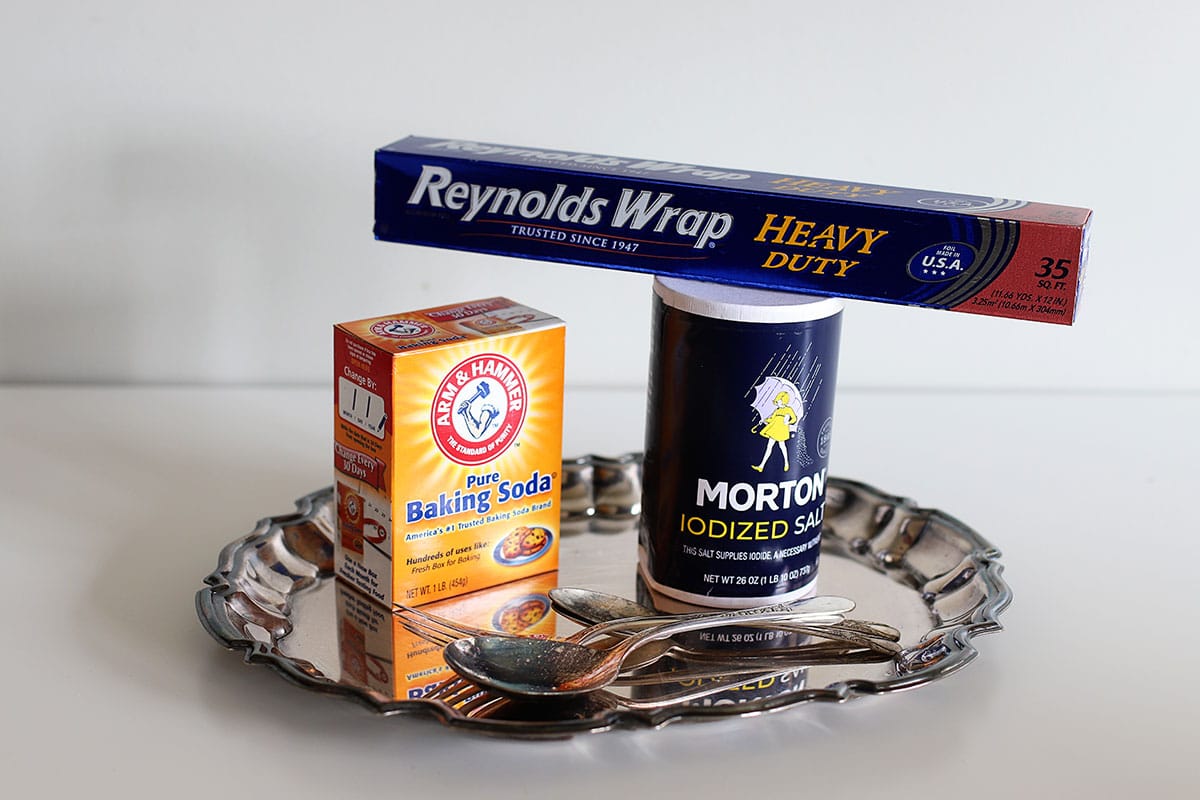 How To Clean Silver Naturally
Supplies:
Glass Baking Dish and Aluminum Foil
or Aluminum Baking Pan
2 Tablespoons Baking Soda*
2 Tablespoons Salt (table salt, sea salt, kosher salt, etc)
2 Cups Boiling Water
Soft Microfiber Cloth
*The baking soda will vary with the amount of water used. Use 2 tablespoons for 2 cups water, which equals 1 cup of baking soda per 1 gallon water.
Instructions:
Heat your water to boiling.
Line your glass baking dish with tin foil, shiny side up. Or grab your aluminum baking dish.
Spread your baking soda and salt on the bottom of the pan.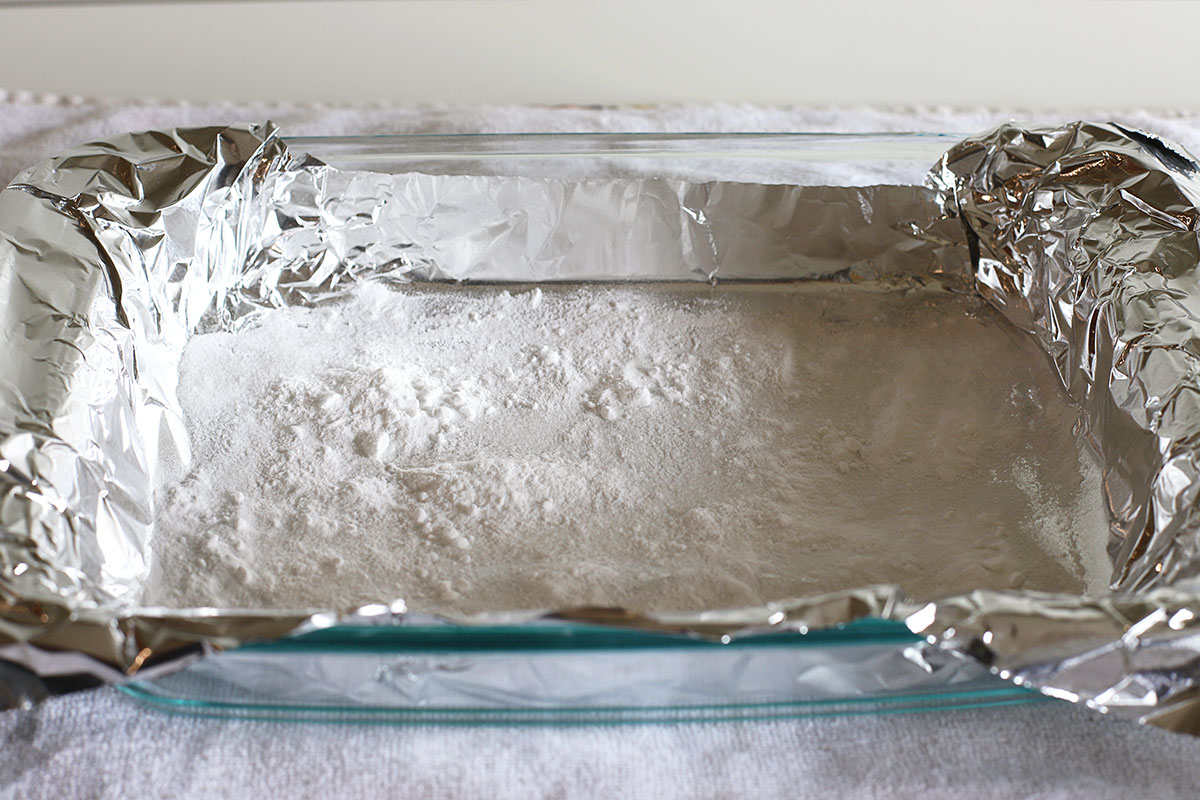 Lay your silverware in the bottom of the pan. Make sure the silverware is firmly touching the aluminum foil and not touching each other.
Add your boiling water to the pan.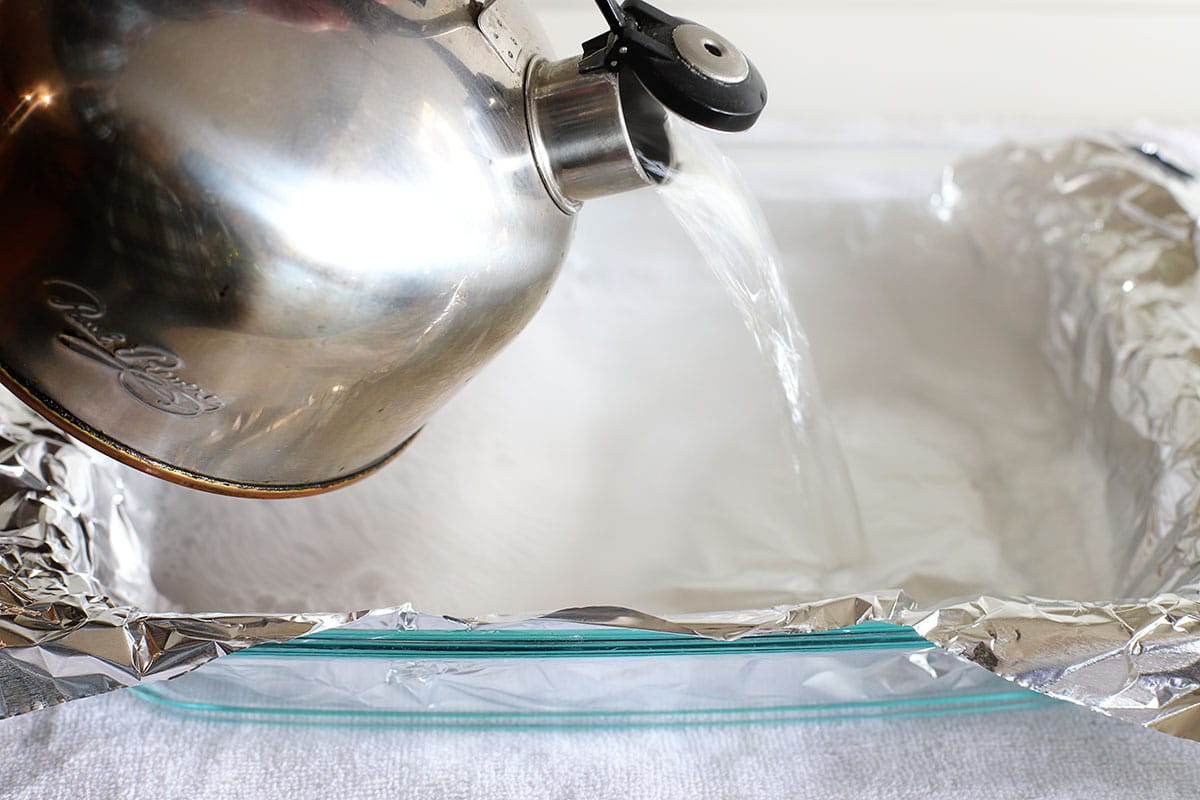 Allow silver to soak for 2-3 minutes.
Heavily tarnished pieces may take more time (up to 15 minutes).
Although my pieces did not need it, VERY heavily tarnished pieces you found at the thrift store and have not be cleaned for 55 years can benefit from a 2nd soaking using fresh aluminum foil, baking soda, salt and boiling water.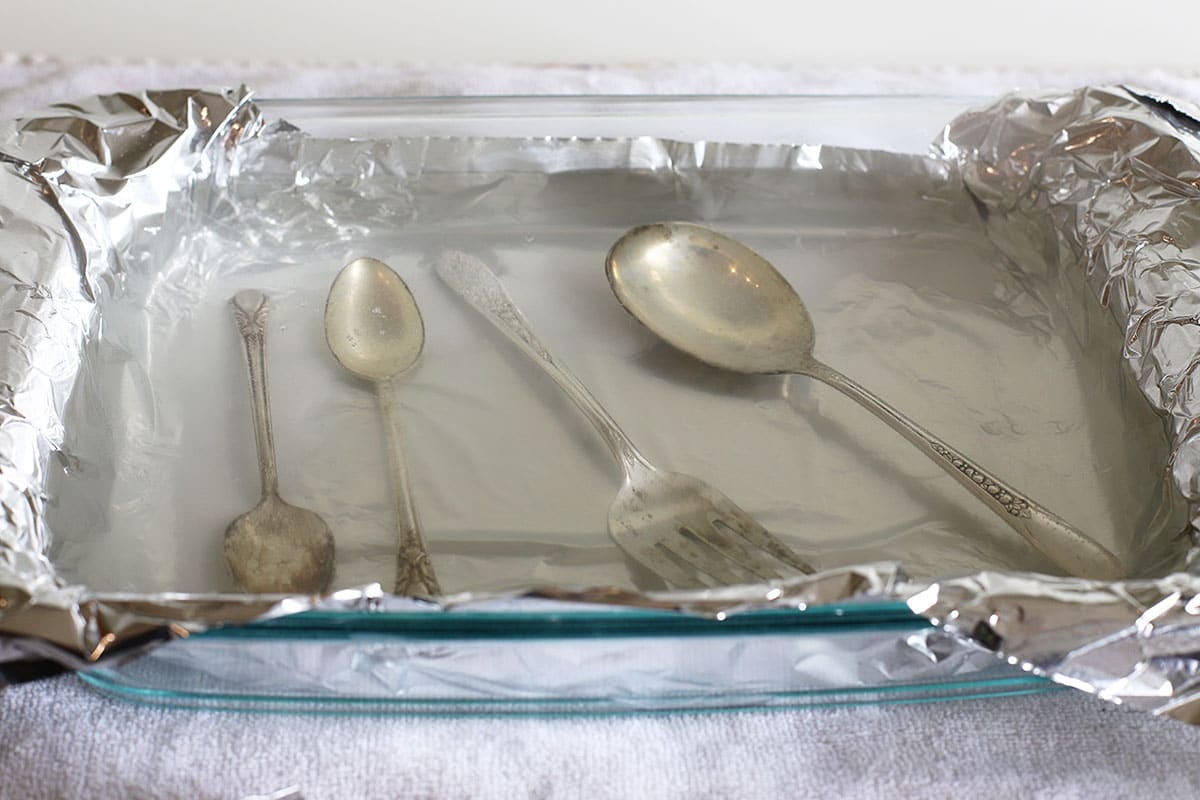 The water will turn a slightly yellow-ish color as the tarnish moves from the silverware to the aluminum foil.
Use tongs to carefully remove your silverware from the pan.
Wash with warm soapy water, rinse and dry.
Buff with a soft cloth.
Why Does Cleaning Silver With Baking Soda and Aluminum Foil Work?
Science 🧪.
OK, maybe I should elaborate.
The reason silver tarnishes in the first place is because it combines with sulfur-containing substances in the air to create silver sulfide. Silver sulfide is black.
The baking soda/aluminum/salt/water thing will create a chemical reaction with the silver sulfide (tarnish) and turn it back into silver, pulling the sulfur part away from the silver and on to the aluminum foil instead.
Obviously there's a more in-depth scientific explanation, discussing salt bridges and electrolytic currents and all sorts of fun stuff, but I really don't do a very good Bill Nye the Science Guy impersonation.
Why you should use commercially available silver polishes sparingly:
They usually remove the tarnish quite well through abrasion, but since there is a thin layer of silver laid on top of another metal in silver plated items, using silver polishes/cleaners that are abrasive can wear away at that silver covering.
You are basically removing a small bit of silver each time you use one of those cleaners!
Better to use the natural method above and save the heavy duty cleaners for emergencies.
Notes of caution:
Make sure you do not fill the container too full of boiling hot water, you do not want to burn yourself.
Do not do this directly in your stainless steel sink as it may discolor it. Now I have seen other people recommending using your sink, but honestly, I don't want anything to go wrong and next thing you have to do is go out and buy a brand new sink just because you wanted shiny silverware.
There is a VERY SLIGHT sulfur smell to this process. Not like you need to open your windows or do this outside or anything, but just be aware of it if you are sensitive to odors (my husband could not smell it at all even after I brought it up to him).
I have used this process successfully on family heirloom silverware, thrift store silver plate and "newer" pieces I received as wedding presents. I would not try this on authentic antique pieces that my be worth a lot of money.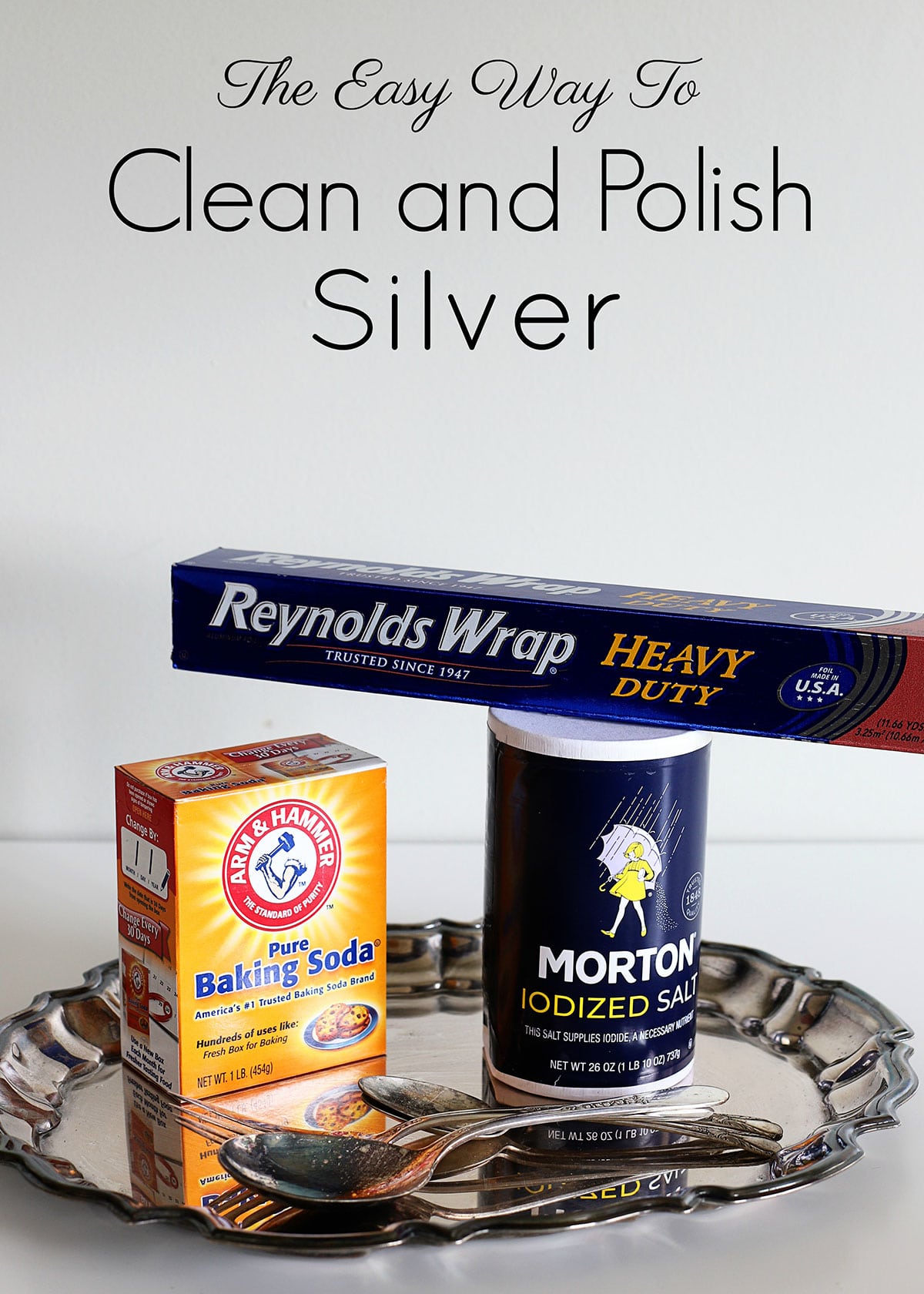 Check out the web story version of this article HERE.
Other Post Your May Enjoy:
DIY Simmering Potpourri and Printable Gift Tag
Homemade Squirrel Repellant Recipe
How To Get Rid Of Skunk Smell On Your Dog