Clematis vines, what's not to love about them!
Big, beautiful, in your face flowers! And lots of them!
Some people think clematis are hard to grow or just downright finicky, but that is not true at all.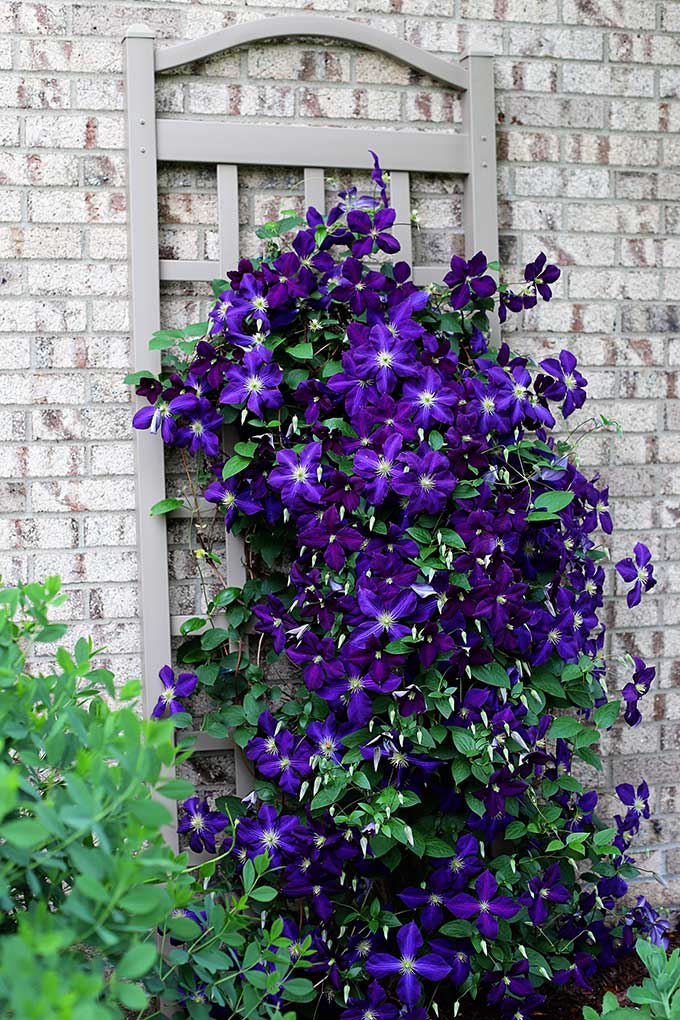 You just need to remember a few things about clematis and you too can grow these lovely vines.
BTW, the clematis in these photos are from my Jackmanii Clematis which is 4 years old. Your freshly planted clematis will not look like this. Do not worry though because time is all you need.
And these tips . . . you need these tips!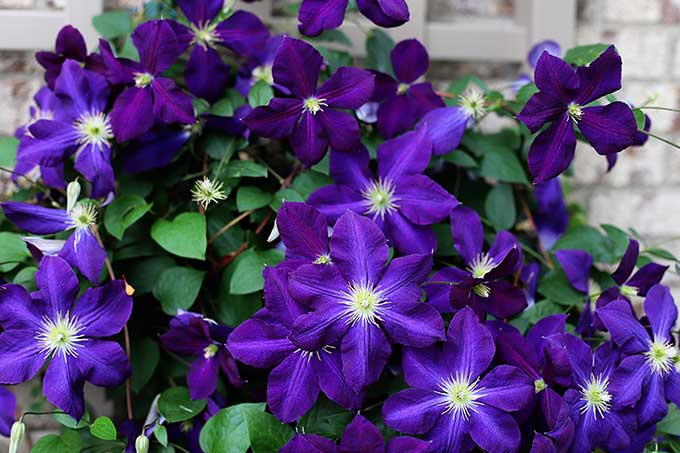 5 Simple Tips For Growing Clematis
When To Plant Clematis
The best time of year to plant clematis is in spring or fall, with spring being the best time since your vine will have ample time to establish itself before winter weather sets in.
You can plant in the dead of summer, but you need to make sure the plants are very, very well watered and tended to at that point. Honestly, right now is not an ideal time, but it can be done!
Light Requirements
Clematis prefer to grow in full sun with a bare minimum of 6 hours direct sun each day. And the more the merrier, they really cannot get too much sunlight.
There are some varieties that can "survive" in less sun (those would be air quotes if we were sitting here having coffee together), but surviving and thriving are two different things.
Less sun generally means less blooms and you do not want to limit blooms on these babies.
It's All About The Roots
Clematis like their roots to be cool and shaded. I try to plant my clematis among other flowers so the top of the vine gets plenty of full sun yet the roots will be shaded by the other plants' foliage.
If you are planting your clematis all by itself, not surrounded by other plants, you should mulch the roots VERY well (at least 3-5 inches deep). Try to keep the mulch a few inches away from the actual base of the vine so as to not encourage root rot.
How To Plant
Clematis prefer moist and well drained soil.
When planting you want to dig a fairly large hole at least 12 inches wide and 2 foot deep, amending the soil with compost. You want the planting area to be loose and fluffy so the roots can roam freely.
I should also note that clematis roots and the vine itself are somewhat fragile, so be very gentle when removing it from the nursery pot so as not to snap off portions of the plant.
You want to plant your vine deep, so the first set of leaves is just below soil level, which will allow for good root growth. And then fill in your hole with the amended soil and water in the plant very well.
Make sure your vines are watered well during the first year. At least one gallon water per week and up to 4 gallons per week during the hottest part of the summer. DO NOT let the vines dry out during summer hot spells.
Support Your Local Clematis
Now that you have your clematis planted in its new home, you need something for it to climb on as they can get quite tall (some varieties can grow as tall as 20 foot high). You can grow them on a trellis, arbor, pergola, fence or even simple twine.
Just give them something to attach to and they will be happy.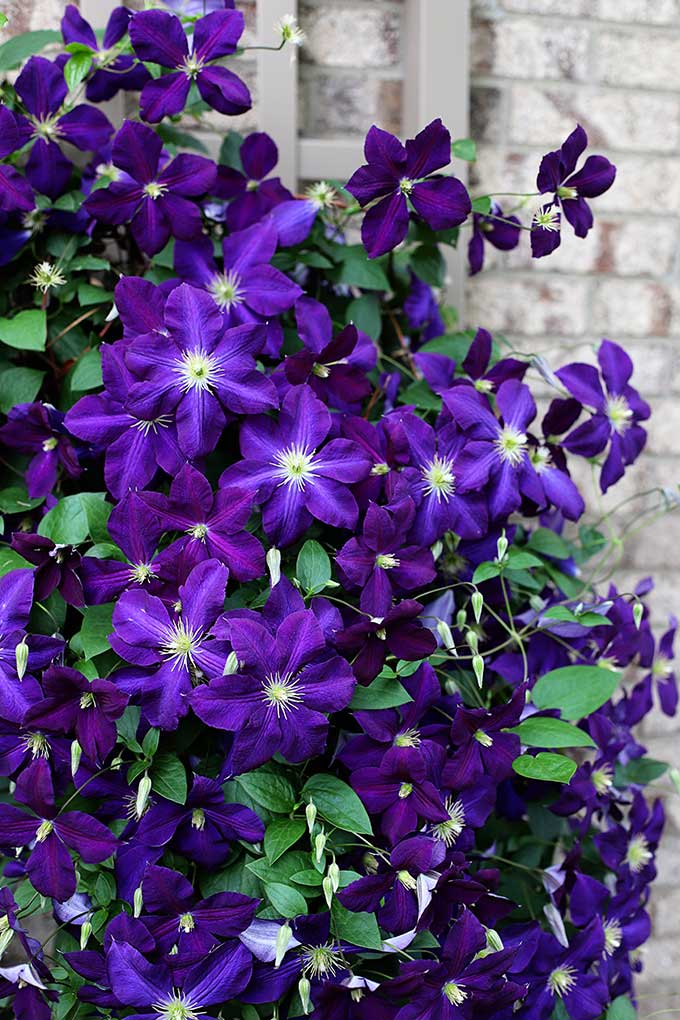 Oh Wait, There's A Sixth One
I think I'll add another one to my list, which is Patience.
The first year your plant will just be establishing itself in its new home. It's just putting some energy into getting a good root system going and recovering from being transplanted. It needs its time.
The second year you should see more blooms and by the third year it should be flourishing.
And I'll end by saying, I prefer to purchase a clematis in a gallon sized container from the nursery. I think it gives them the best chance of success and may just possibly shorten the wait time for blooms.
The gallon sized plants are normally 2 years old to begin with and more established than the spindly ones in the teeny tiny containers.
Neither one is going to be going gang busters the 1st year, but the gallon ones seem to do better their 2nd year in your garden.
And there you have it. Follow a few simple tips and your clematis should be THRIVING!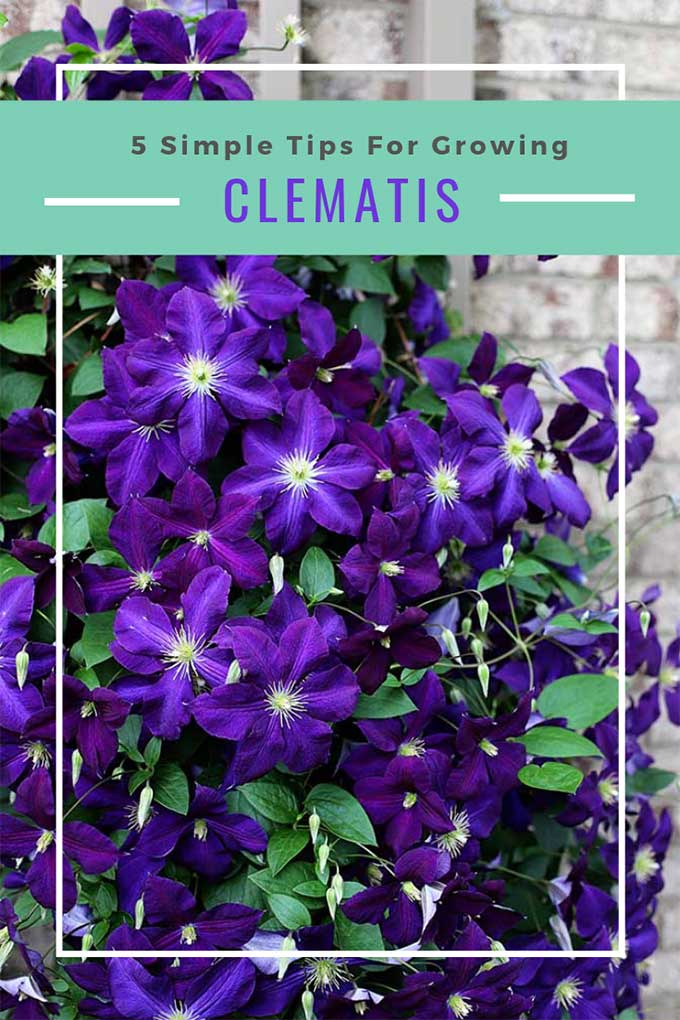 New For Spring 2021: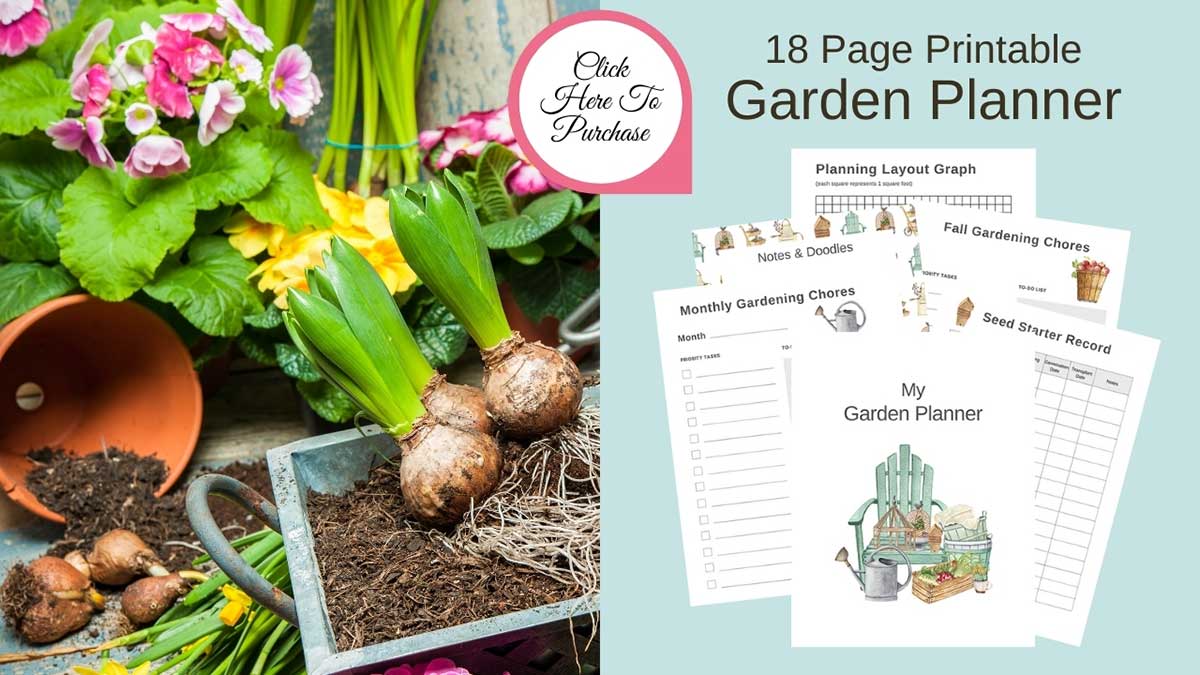 Check out the web story version of this article HERE.
Other posts you may enjoy:
How To Grow Black-Eyed Susan Vine
Tips For Growing Lobelia Plant
Colorful Flower Container Ideas For Your Porch
Storing Peonies To Bloom Later