The BEST Baked Apple Recipe! This classic fall dessert is super easy to make in either your crockpot or oven. Your family will love it!
I've got fall on the mind. And I have apples in the house.
So put two and two together and you have my crockpot baked apple recipe!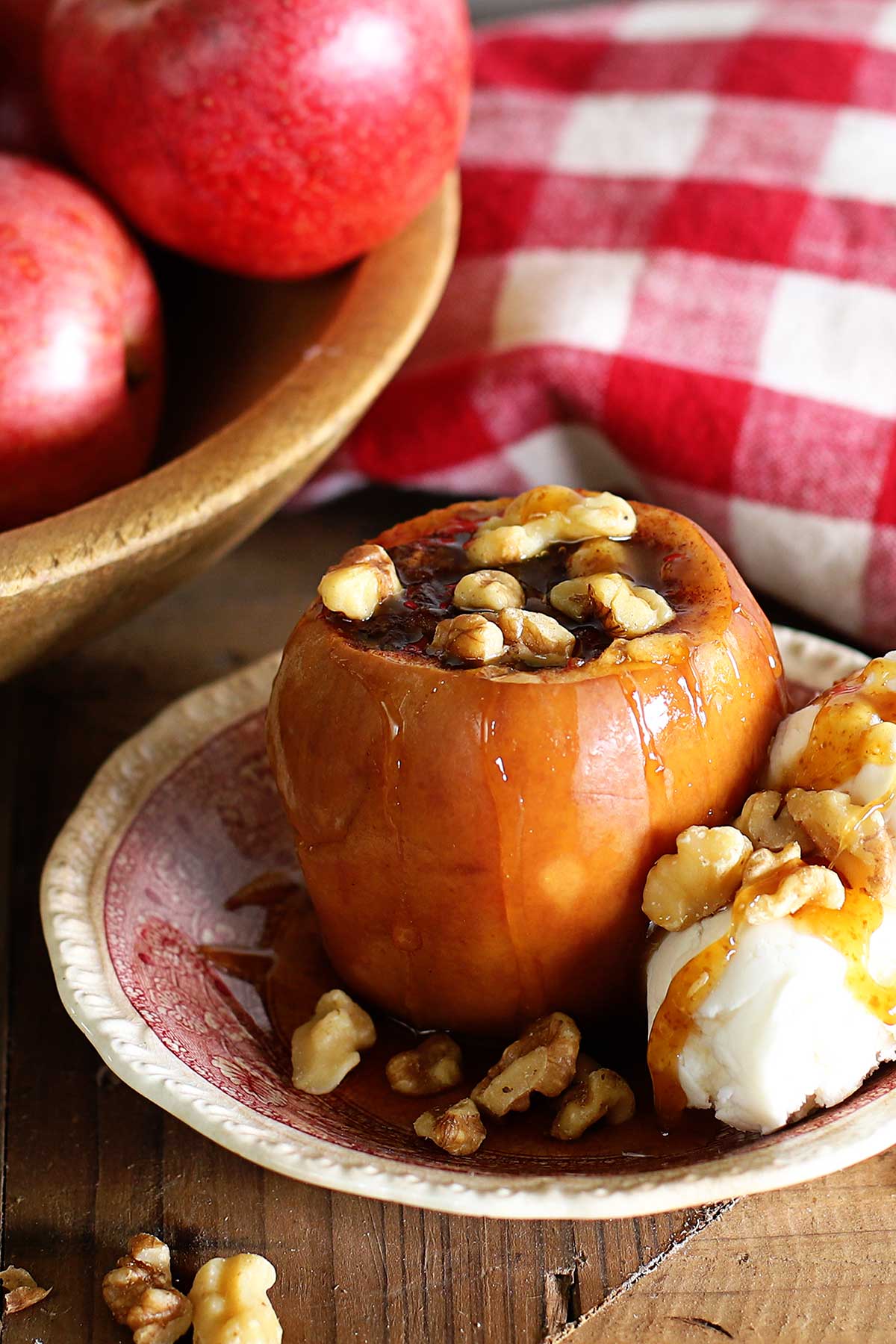 This is another one of those recipes that I used to make with my mom when I was a kid, so it's super simple, but honestly it has probably been 30 years since I made baked apples. I guess I thought of them as comfort food and to me "comfort food" means you might as well just paste them to your thighs and be done with it.
But, they really are only around 225 calories each. All those years of doing without and for nothing!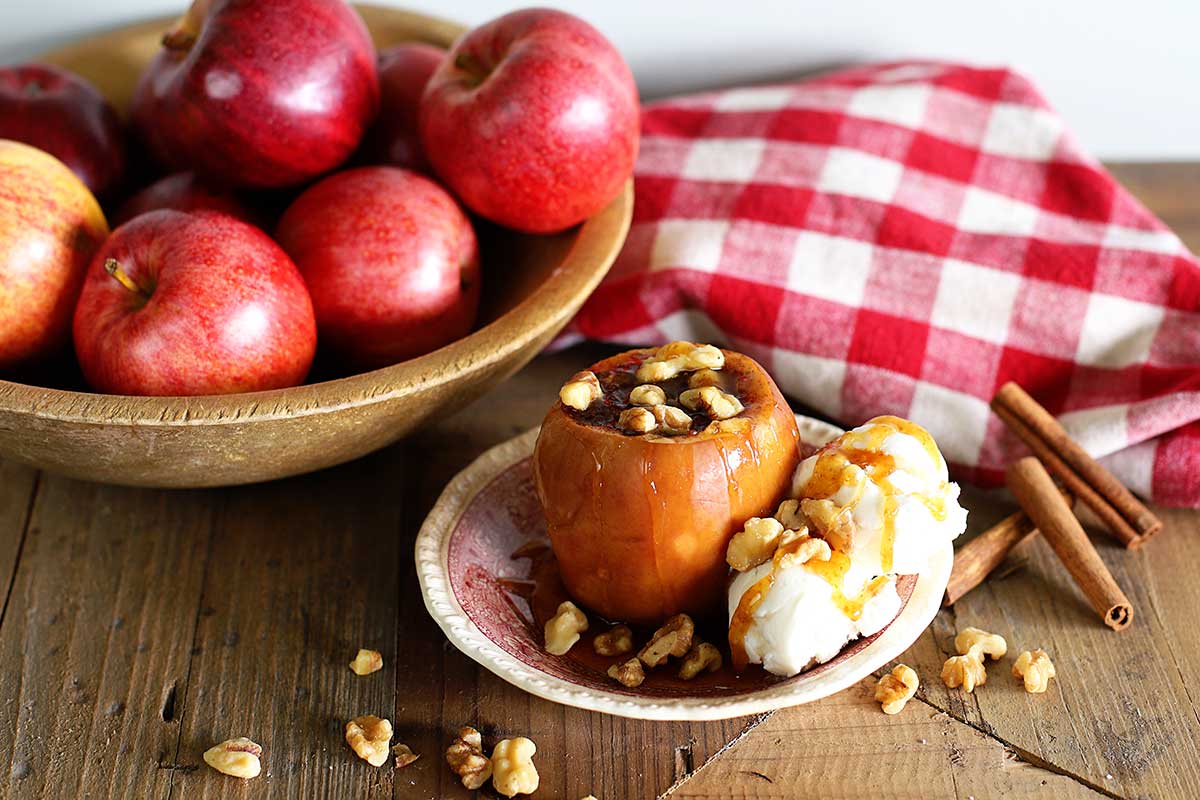 I'm not sure I can call them baked apples if I didn't bake them in the oven though? I may have the recipe police knocking at my door any minute now.
But they taste exactly like their baked cousins, so there you go! I believe it would stand up in food court (rimshot please).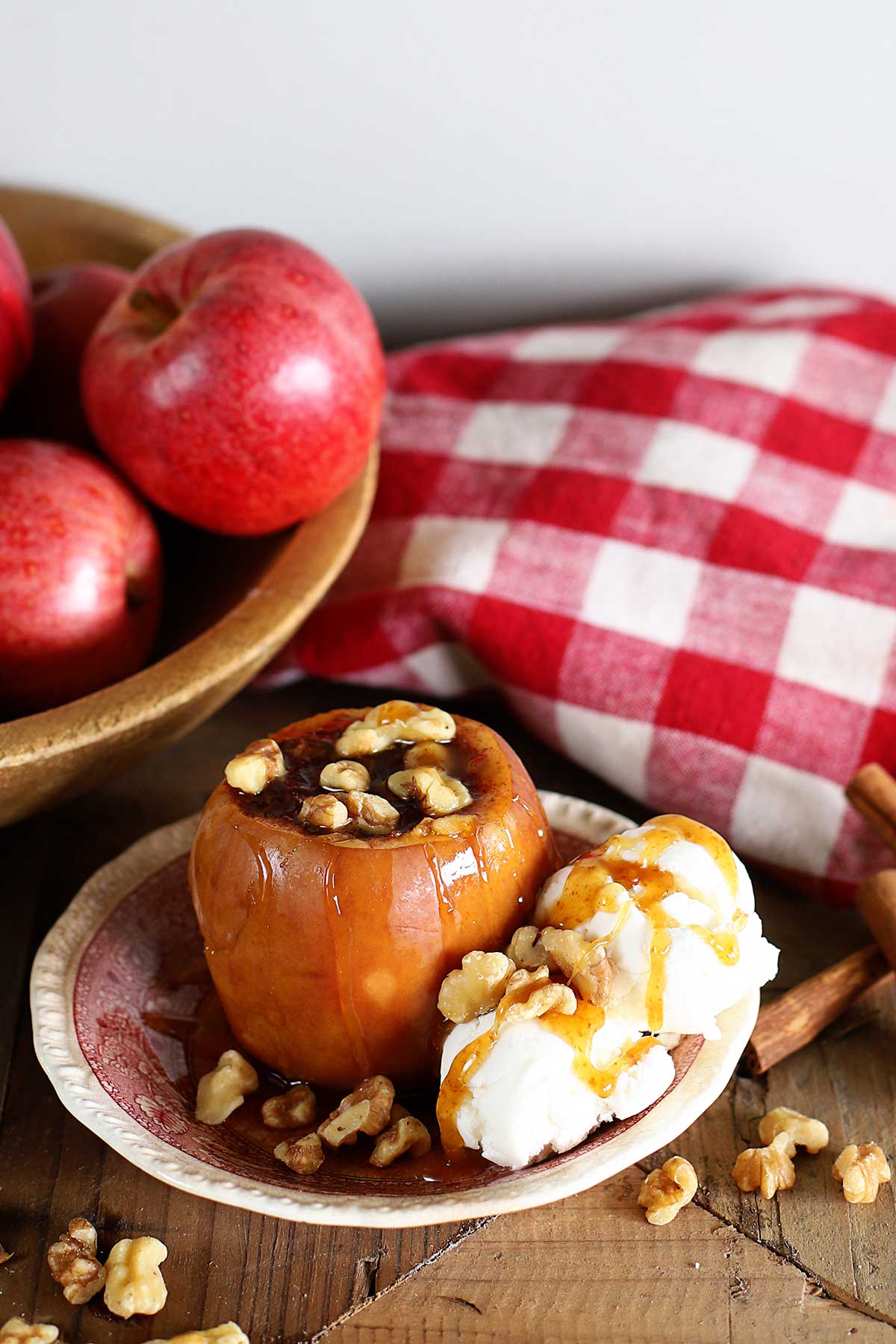 OK, now let's get down to the nitty gritty. Is it crock pot, crockpot or slow cooker?
Whatever you call it, it's that thing you have stashed in the back of your cupboard with a cord attached. Dig it out and let's get going.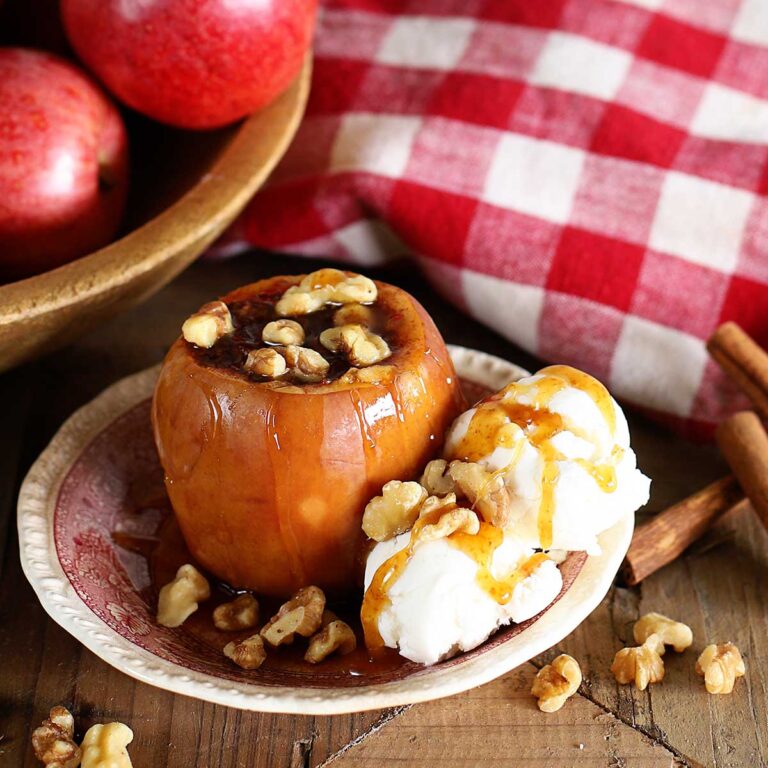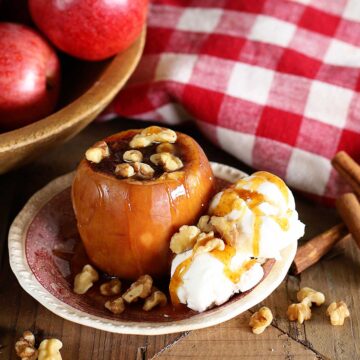 Crockpot Baked Apple Recipe
The BEST Baked Apple Recipe! This classic fall dessert is super easy to make in either your crockpot or oven. Your family will love it!
Print
Pin
Rate
Ingredients
6

large apples

I used Gala

¾

cup

brown sugar

1

teaspoon

cinnamon

2

tablespoons

margarine or butter

½

cup

apple juice

¼

cup

walnuts or ¼ cup old fashioned oats

optional ingredients
Instructions
Wash and core apples. You can use a melon baller or pairing knife to core the apples. Pair off a 1 inch strip of the skin around the top of the apple to prevent the apples from splitting.

Mix the brown sugar, cinnamon, margarine and walnuts (or oats) together in a large bowl and fill each apple with the mixture.

Place apples in the slow cooker and add the apple juice around the bottom of the apples.

Turn crockpot on high heat and cook for 2 ½ - 3 hours until apples are soft when poked with a fork.

Serve with ice cream and caramel sauce or go old school and just serve as is!!!
Nutrition
Beware - they are hotter than molten lava when first coming out of the crockpot. I know you want to inhale them, but be careful!
Don't want to dig out your crockpot? Place in a casserole dish and throw them in the oven. Bake at 375 degrees for 30-40 minutes until soft when poked with a fork.
Tip Of The Day - If you fall in love with these things and you just want to make one or two baked apples at midnight and then hide in the closet and eat them, you would use 2 tablespoons brown sugar, ⅛ teaspoon cinnamon and 1 teaspoon butter per apple. You don't even have to mix it up first, just plop it in the apple and it will mix together as it melts. Just don't drip apple juice on your jammies.
Want To Try This In Your Instapot? - Increase apple juice to 1 cup, cook on High pressure for 10 minutes, use Natural Release for 10 minutes. The apples must be fresh in order to cook well in your pressure cooker though, so use ones you bought from the farmer's market or picked at the orchard. Those older ones in the bags at the grocery store tend to get too mushy in the pressure cooker and are better suited for making applesauce.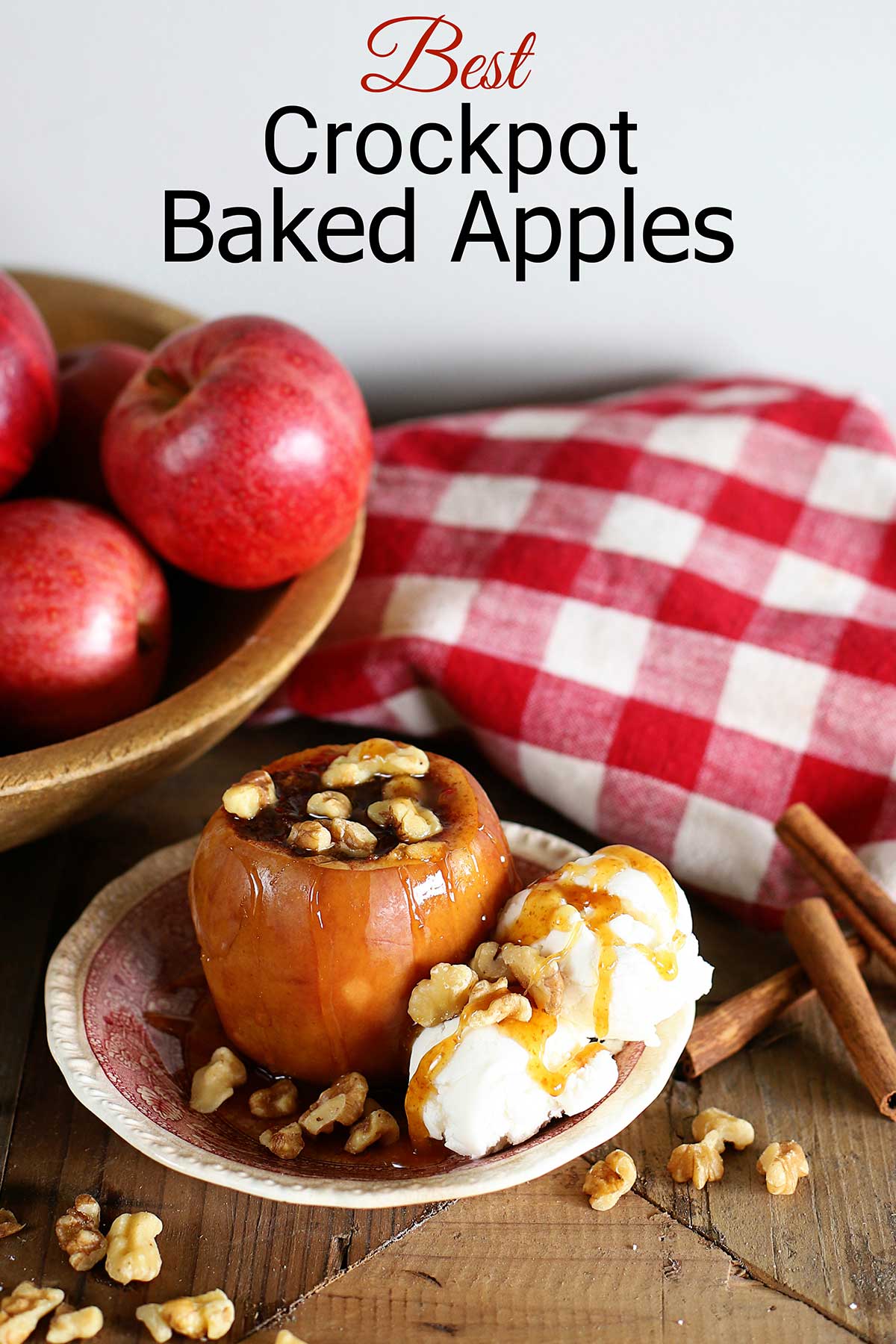 Do you enjoy baked apples as much as I do? What's your favorite topping for them? Or do you just eat them naked?
Other recipes you may enjoy:
Handmade Apple Hand Pies
Blueberry Crostata Recipe
Best Soft & Chewy Oatmeal Cookies
Moist And Delicious Banana Bread Recipe
(This post contains some affiliate links for your convenience. You can read my full disclosure policy here.)