Around this part of the country it seems like Holiday weekends bring out the big garage sales. I ran across some good ones today.
Look at all the loot I got for $15.00: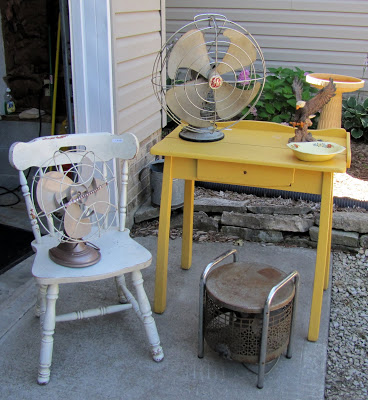 Won't this make the perfect potting bench? I saw a table similar to this in an antique store for $35.00, but I nabbed this one for $5.00. I have to put a pull on the drawer, but other than that it is sturdy - any very very yellow.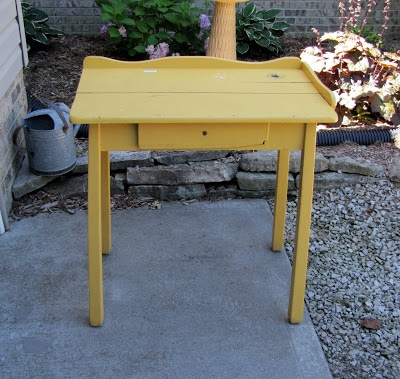 It has a strange top to it with a lip on the back and right hand side, but not on the left hand side. Up close you can tell it never had one of the left hand side at all, so maybe it used to sit up against something on that side.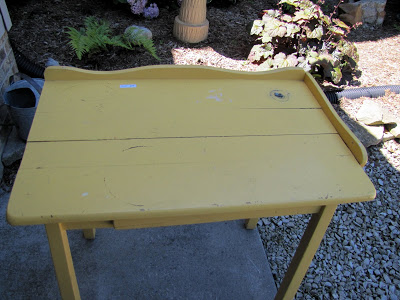 At the same sale I found this chair for $2.00 and you just can't pass up a $2.00 chair.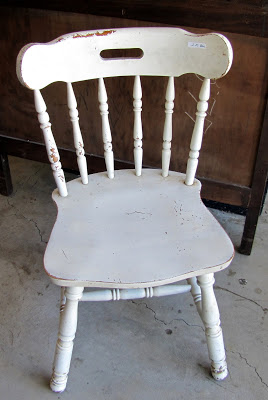 It's one of those typical 70's wooden kitchen chairs that someone painted off-white, but I loved the chippy paint.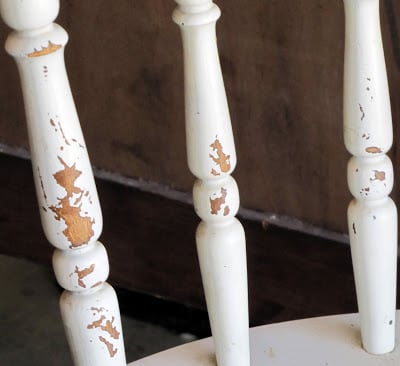 I went to another sale where they didn't have a single item priced. This is big pet peeve of mine. If you want people to buy something, take the time to price your stuff!!!
Anyhow, I saw two fans and asked the lady how much she wanted for them. She said $5.00 FOR ALL THREE OF THEM. I hadn't even seen a third fan at that point, but who cares, I would have paid $5.00 for just one.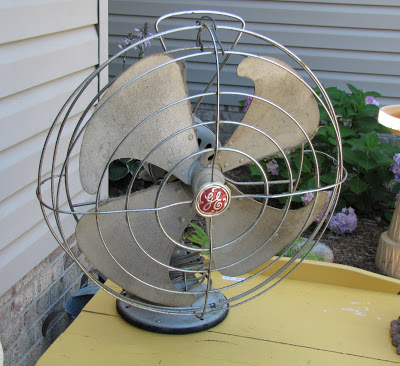 This is the second fan. I didn't realize until I got it home that it has a broken blade :(.
(For my family that is reading this - vintage fans are a hot decorating item at Restoration Hardware and such - no, I have not gone nuts and no, I am not having hot flashs!)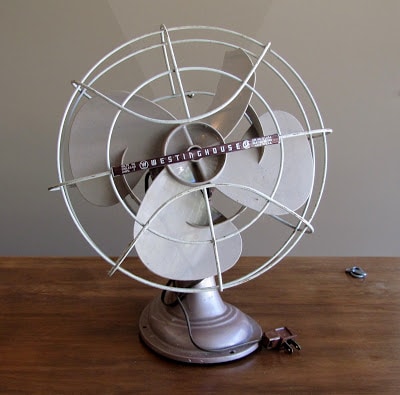 This is the bonus fan that I hadn't seen, mainly because it looks like a stool. I have never seen a fan like this before.
Are you supposed to sit on it while it is running? And if so, are you worried about electrocution or getting your pants caught in the blade?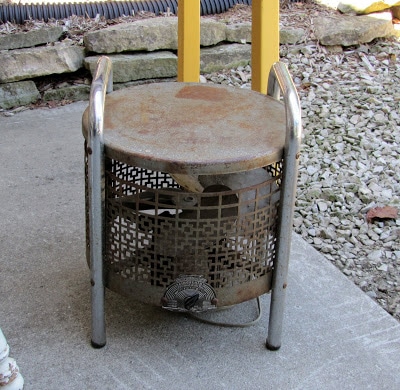 OK, I just googled Kisco Circulair and people are calling it a hassock fan. And on ebay there is one listed that is going for over $30.00 so far. Cha Ching!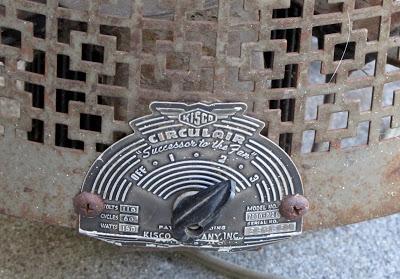 I bought this cute china bowl for $1.00. I can not for the life of me get a good photo of it though - it is actually cuter in person than this photo.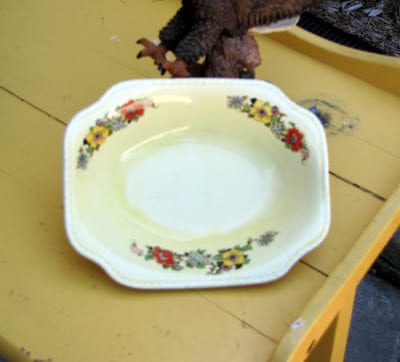 And Baldy the eagle was $2.00. Totally an impulse buy because it was 4th of July weekend, because I have absolutely no place in my home for him any other time of the year unless eagles become the hot decorating item for 2010.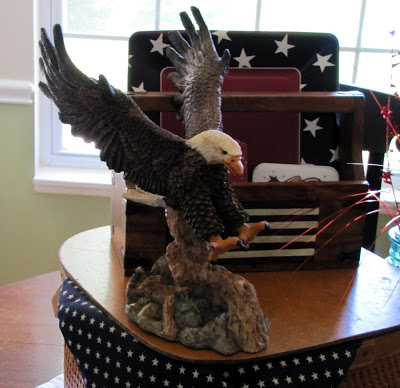 Now on to the guy stuff that I know you've all been waiting for.
The first sale I stopped at had an air compressor for $25.00. A girl can't have enough air compressors you know. Actually, we already have a larger one, so this is going to a guy in my husband's office that had been looking for one.
The guy at the garage sale and I lifted it into the back of my van (I have the grease marks on my shirt to prove it) and it will stay there until someone helps me take it out. It has to weigh well over 100 pounds.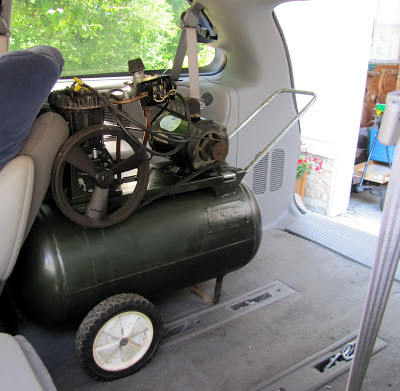 And a MIG Welder. MIG stands for metal inert gas (I googled that for you) and you can do some sort of welding with it. My husband thought it was a good deal at $100.00. All I know is that he was eating up my garage sale money and I had to go to the bank to replenish my cash.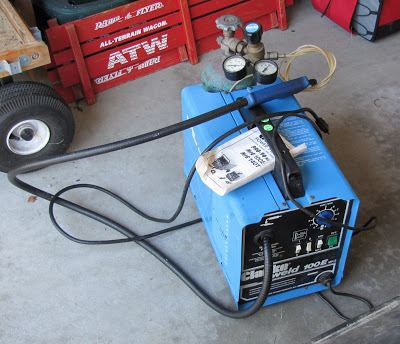 And last but not least we bought a heater for the garage for $31.00. It runs off kerosene and puts out 150,000 BTU. It gets cold here in the winter, so if my husband wants to work on stuff in his garage he needs extra heat.