And no I don't mean nose picker.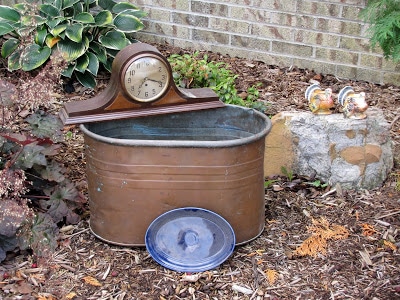 I went to a unique garage sale on Friday at an older house with a rickety old garage. The old man had a bunch of stuff sitting outside the garage, but after I started talking to him a bit and he saw that I was interested in his stuff (he said some people had stopped by and said it was all junk), he invited me into his garage and started showing me other stuff in there that he wanted to get rid of. Stuff that wasn't originally part of the sale! I felt like Mike and Frank from the American Pickers show.
First thing I spotted was this copper boiler. I've always wanted one of these to throw wood into or keep in my living room for warm, comfy throws or whatever. I just wanted one.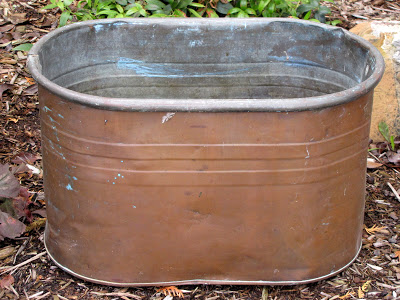 Well, this one didn't have a lid with it, didn't have handles anymore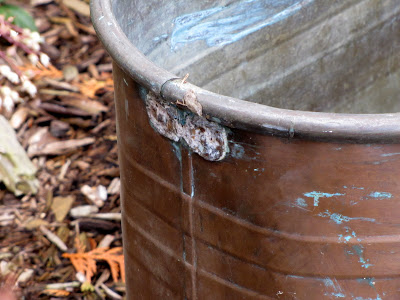 and was a little "distressed", but I still wanted him. I negotiated the boiler down from $20.00 to $10.00 so he could come home with me.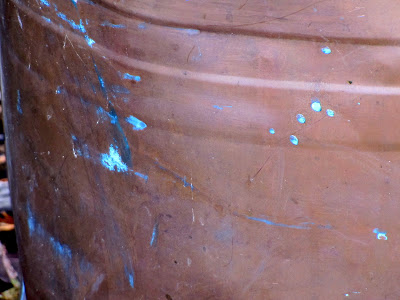 Then I saw this sort of cool mantle clock.
Linda at Itsy Bits & Pieces had an ingenious and very cute idea to put a moon face on her old clock, so I had that thought in the back of my mind when I saw this guy.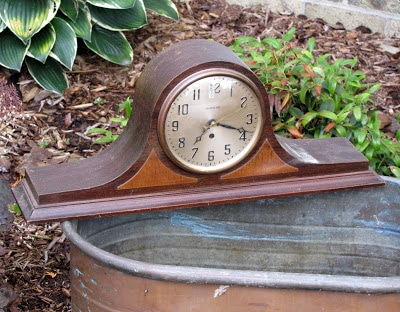 The wood was a little dry looking, but I thought I could probably bring that back to life. Or if I put a moon face on it, who cares what the wood looks like?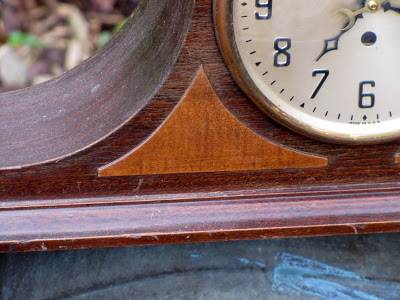 This clock was made by the Hammond Clock Company that produced clocks between 1928 and 1941. Hammond Clock Company was eventually changed to Hammond Instrument Company when they started producing Hammond organs. Remember the Hammond organs from The Price Is Right?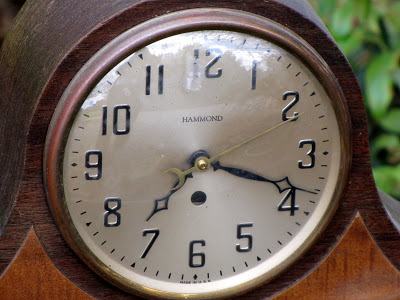 This clock started out being $10.00 when I first asked about it. He quickly reduced it to $5.00 when he saw I wasn't going to be paying $10.00. And then when I asked him if it worked and he plugged it in and it didn't, he lowered the price to $3.00. I thought my husband could probably get it to work since he likes electronic stuff, so I bought it anyhow.
When I got home I Googled the clock company and found out that a unique feature of their electric clocks were that they were not self starting. If you had a power outage you had to push and twist a button on the clock to restart it and then reset it to the correct time. They thought that was a benefit rather than have the clock start back up with the wrong time when the power came back on.
So long story short, I tried the trick and it works like a charm.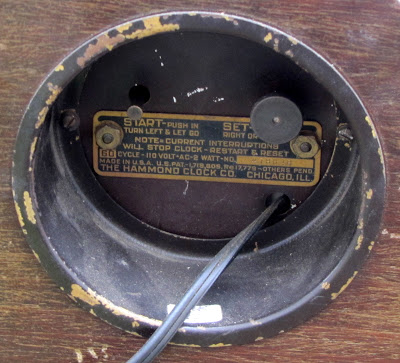 I got this filthy Fiestaware plate for $2.50.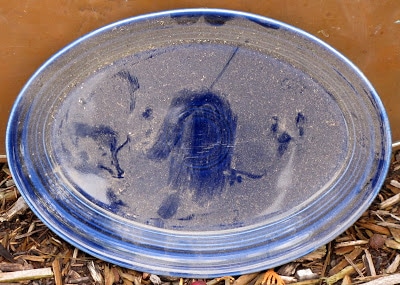 Yeah, pretty much everything in the garage was dirty. Mike and Frank never complain about a little dirt though.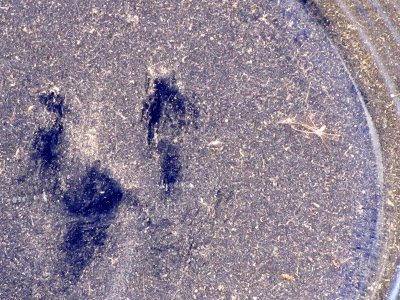 And it cleaned up just fine except for a small flea bite on the surface of the plate (a flea bite is a tiny raised bump on the pottery that occurred during firing of the piece).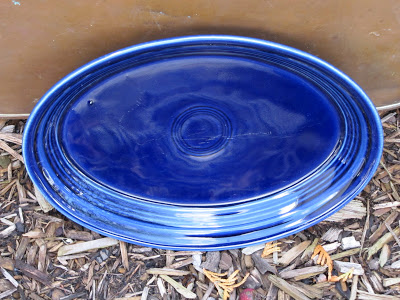 I bought these Napcoware turkey candle holders at a thrift store earlier in the week for 90 cents each.
Napcoware made a whole line of matching turkey table items (salt & peppers, soup tureens, napkin holders, etc) in both this colored version and a plane white version.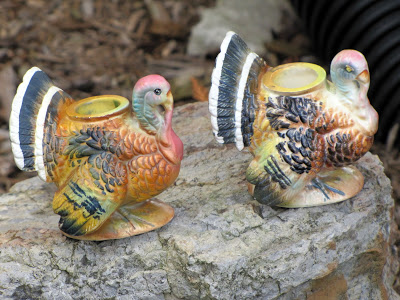 They are not a matched set. Tom the turkey has a matte finish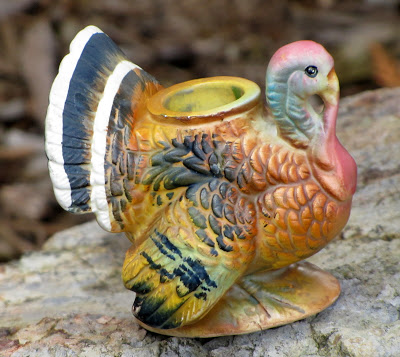 and his cousin Tim has a shinier glazed finish.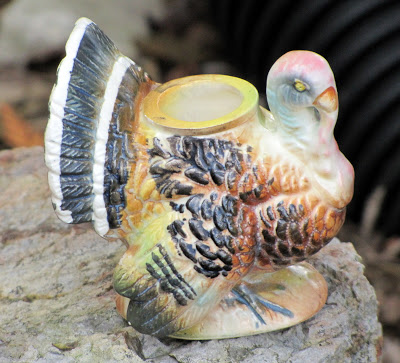 Tom has warmer fall colors on his face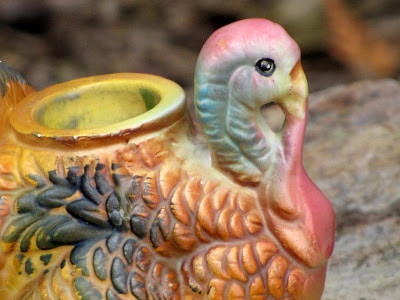 and Tim has lighter, more pastel colors on his.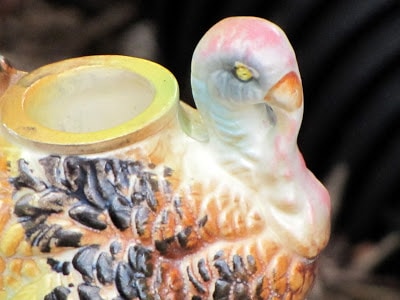 Tom's feathers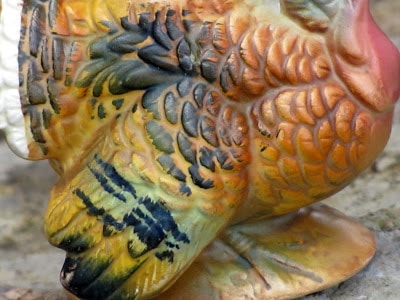 vs. Tim's feathers.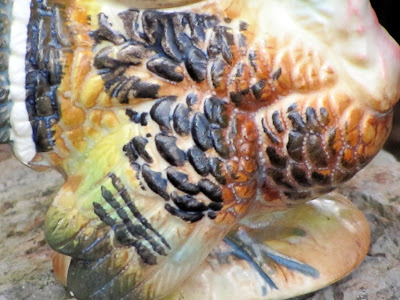 But all in all, not a bad haul for an October week.