The final part of the tour is the kitchen area. Because let's face it, I'll never have my bedrooms or bathroom clean enough to be photographed. Just not happening.
And while we're at it, let's talk about cleanliness. I hope you realize that I super duper cleaned and organized my house before taking photos. Just for a typical dinner party, you'll find me cleaning the rubber seals in the dishwasher with a toothbrush and vacuuming behind the refrigerator (people look back there you know). So there was no way I was going to invite 10 billion people on the internet into my home and not clean it up. Just saying.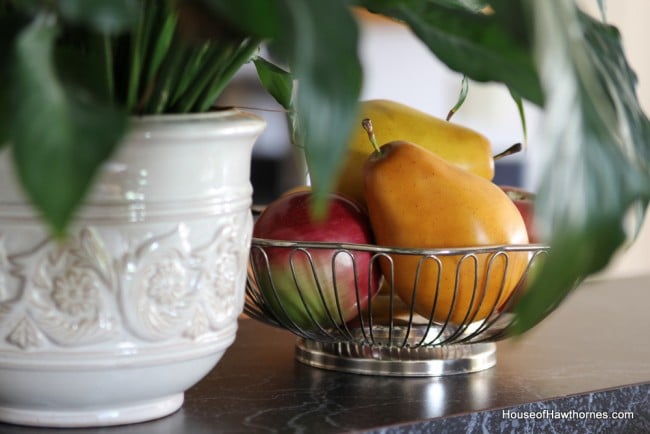 Wait, my husband just notified me that there's not 10 billion people on the planet? Oh well, the point is that whenever you see photos of people's houses on blogs, you can pretty much count on the fact that there's been some cleaning and fluffing going on.
So on to the tour. The kitchen and kitchen dining area are right off the living room. You can stand on the other side of this breakfast counter and look straight back into the living room.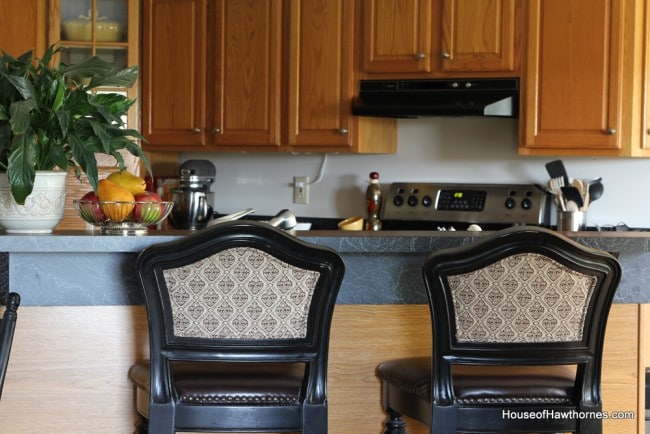 And since the rooms adjoin each other, we have the obligatory dog in the kitchen. When he's not staring longingly off into space, he works as a bottle opener.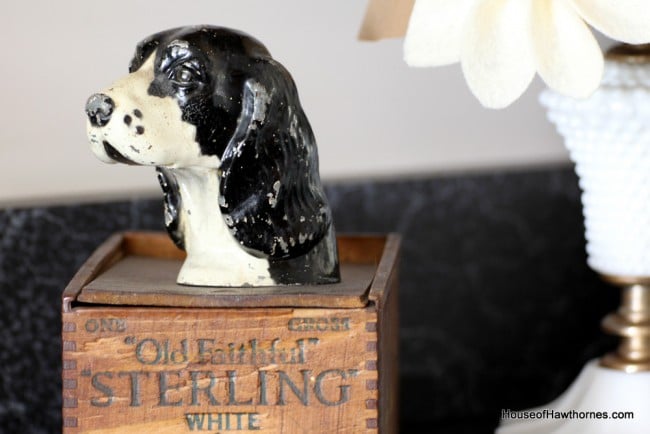 Yes, I have wooden cabinets.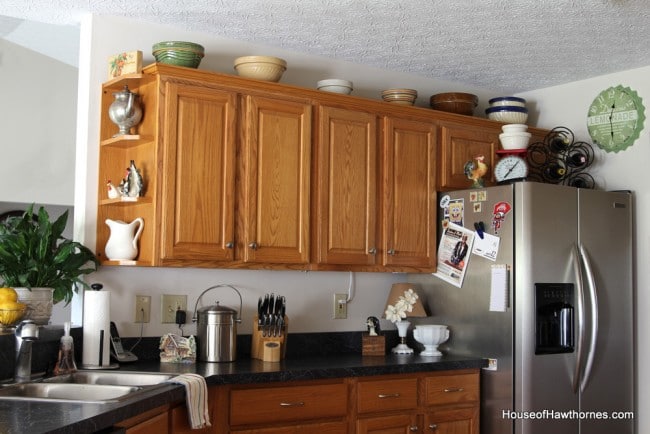 Yes, I understand that it is not a popular look on blogs.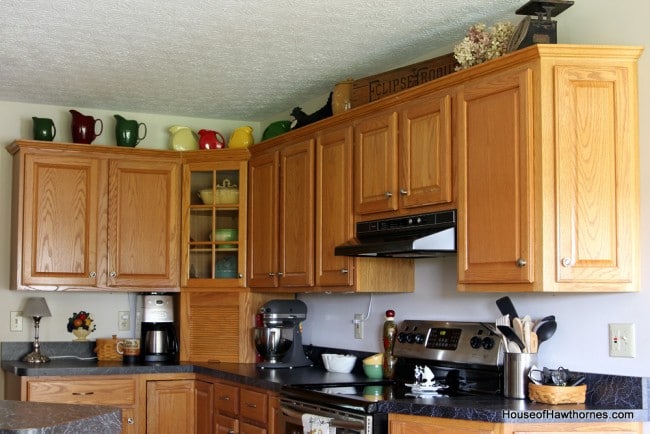 I have steered clear of the painting-your-kitchen-cabinets-white blog trend, because honestly, I like my cabinets and they are still in excellent shape. I just can't personally see me painting them. Just being honest. I know that a lot of people love the painted cabinet look and I do too, but just in other people's houses.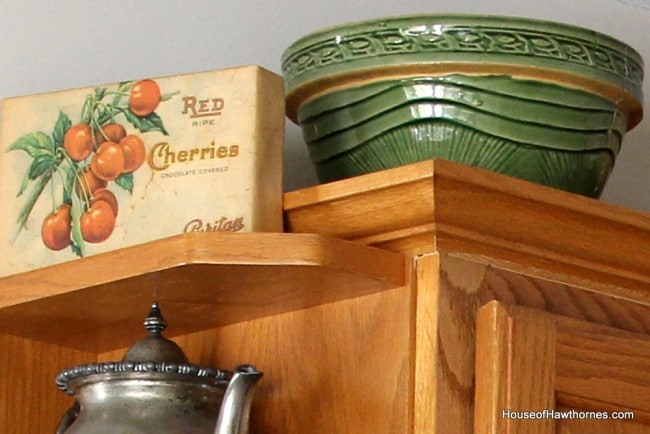 I love putting stuff on top of my cabinets. I don't know what I'd do if we had a soffit up there.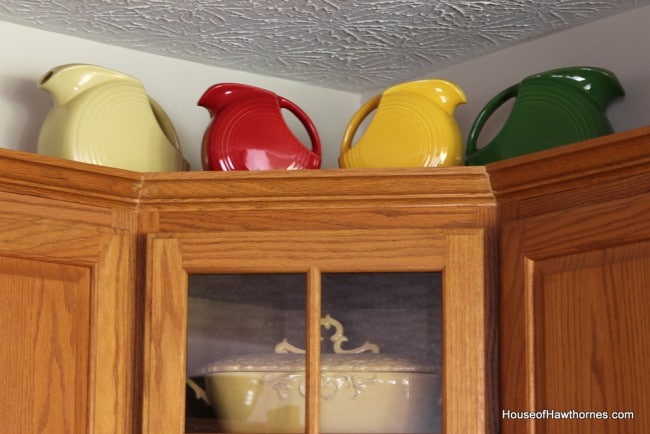 I mean, where would I keep my croquet box?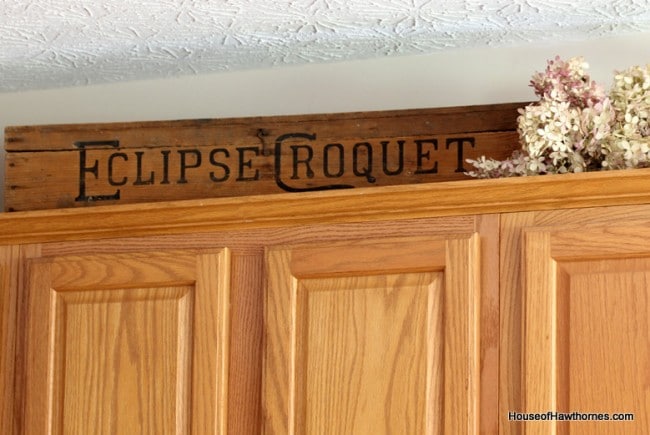 Or rusty scale?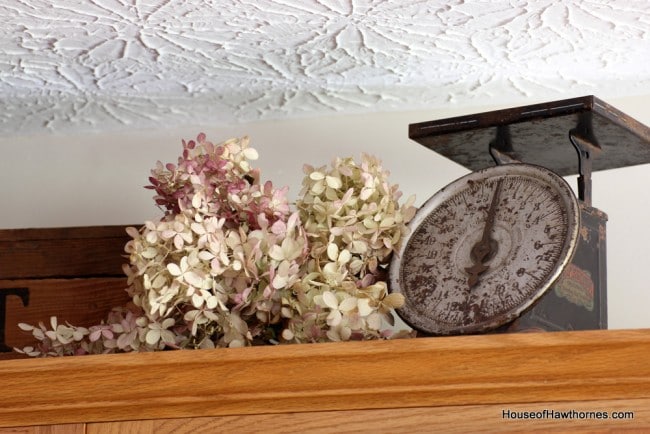 This round wooden table is from my Mother's kitchen and the black chairs were ridiculously cheap from the Penney's Outlet.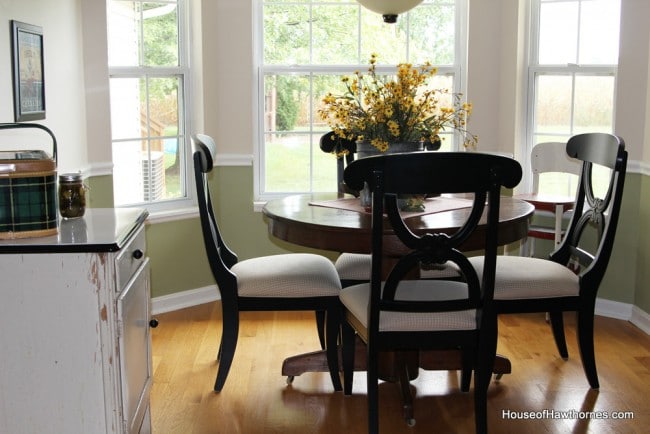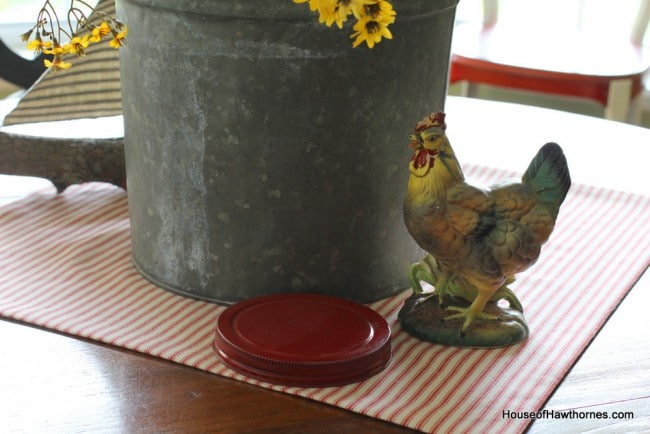 Everyone thought I was nuts for buying chairs that didn't match the style of the table, but I like the look of mismatched chairs. Like the set was multi-generational. Which it is.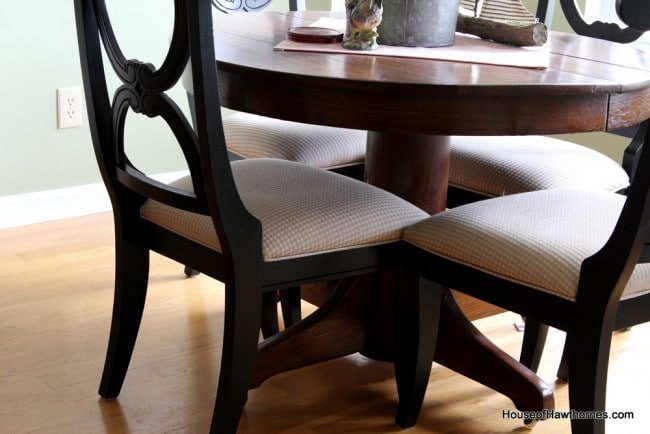 I hope you enjoyed the tour of the house. I'll be back this weekend with some Christmas posts, because rumor has it that the holidays are just around the corner.
If you're interested, you can check out some of my other room tours: