I've had a lot of questions about some of my chalkboard inspired headers.

I actually created this one in Photoshop, but since quite a few of you use PicMonkey, I thought I'd show you how to do something similar in the PicMonkey program.
PicMonkey Blackboard Art Tutorial:
What you need to start off with is an image that looks like a blackboard. You can get a free blackboard background image at Foolish Fire or you can google "free blackboard digital paper" and find quite a few to get for free. Free is good.
These come as jpeg files just like your normal photos do, so you are just basically writing text on top of your chalkboard image just like you can write text on top of a photo. Just remember where you save the jpeg.
Go to Picmonkey.com and click on Edit A Photo. A box will pop up with your computer files on it, so just pick the chalkboard image that you had saved previously.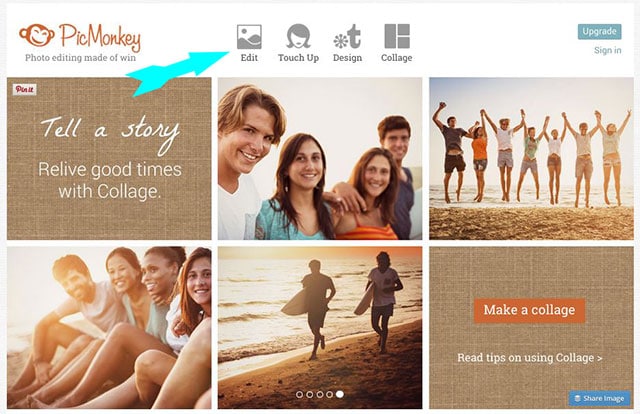 When your chalkboard image is showing in PicMonkey, you need to click on the Tt icon on the left which signifies Text.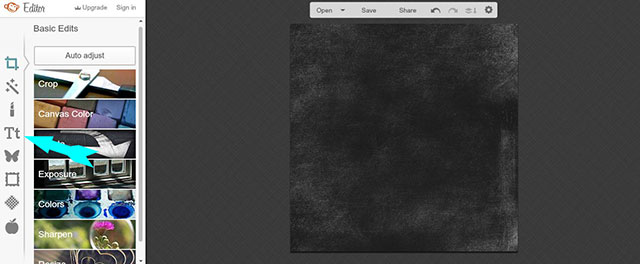 It will give you different font styles that you can pick from. In this instance, I used Lobster Two for the word PicMonkey.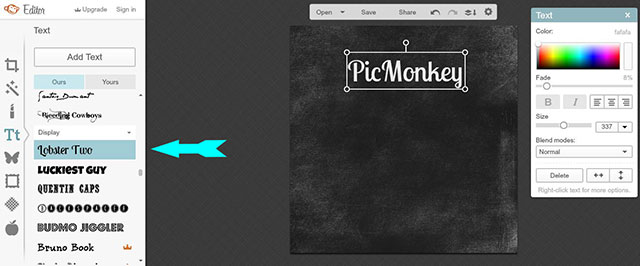 I picked a white color for my type. I changed the fade from 0% to 8%, just to lighten the harshness of the text. Chalk isn't super duper bright on a chalkboard.
Below that I typed the words Chalkboard Art in the font Eraser Dust.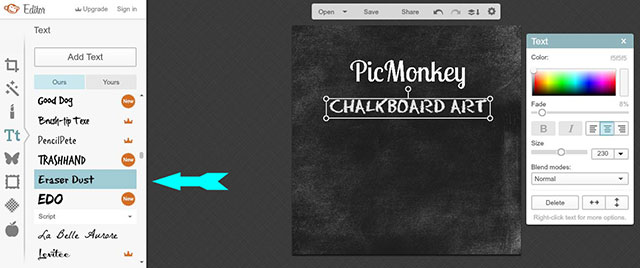 And the word Tutorial in the font Quentin Caps.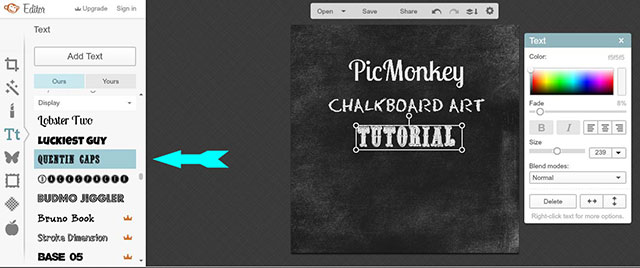 Then on to the fun stuff.
To add festive shapes to the chalkboard, you click on the butterfly icon which signifies Overlays.
There are lots of shapes to choose from, but in this instance I chose the hand which for some strange reason is under the Postal category of the Overlays.
I guess people used to write letters. People have hands. Hence hands under Postal???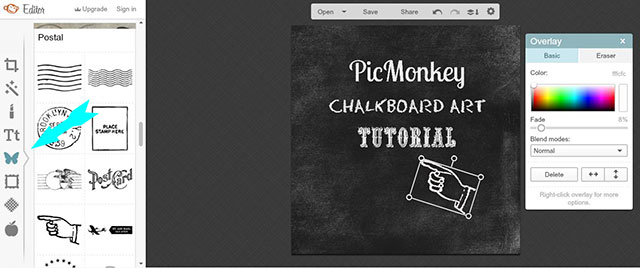 I wanted to put my blog name on the chalkboard, so I chose Ecuyer Dax as the font.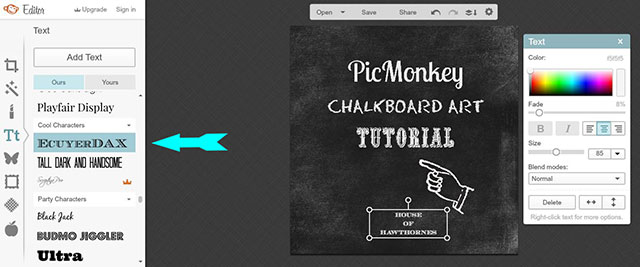 And put the word From in the font Learning Curve.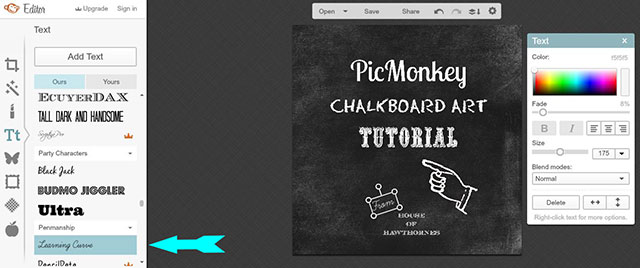 I clicked on the boxlike thing on the top of the column that signifies Basic Edits and cropped down my chalkboard to get rid of the excess.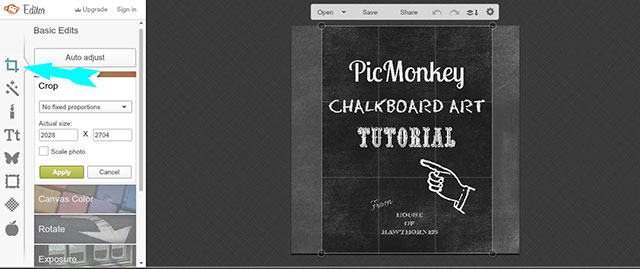 I saved it by clicking on the Save button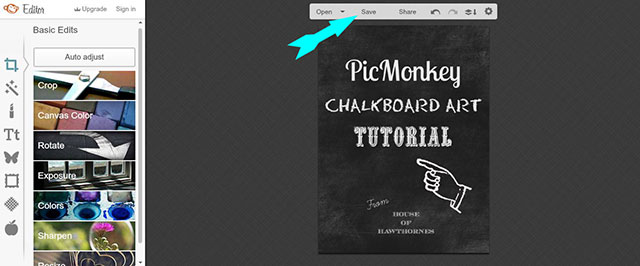 and chose to save it in the Pierce size, changed the width to 1000 px wide and then Saved To My Computer.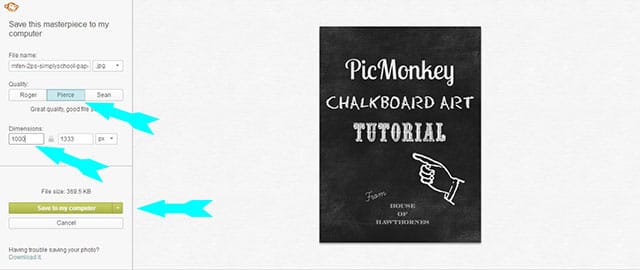 And you're done.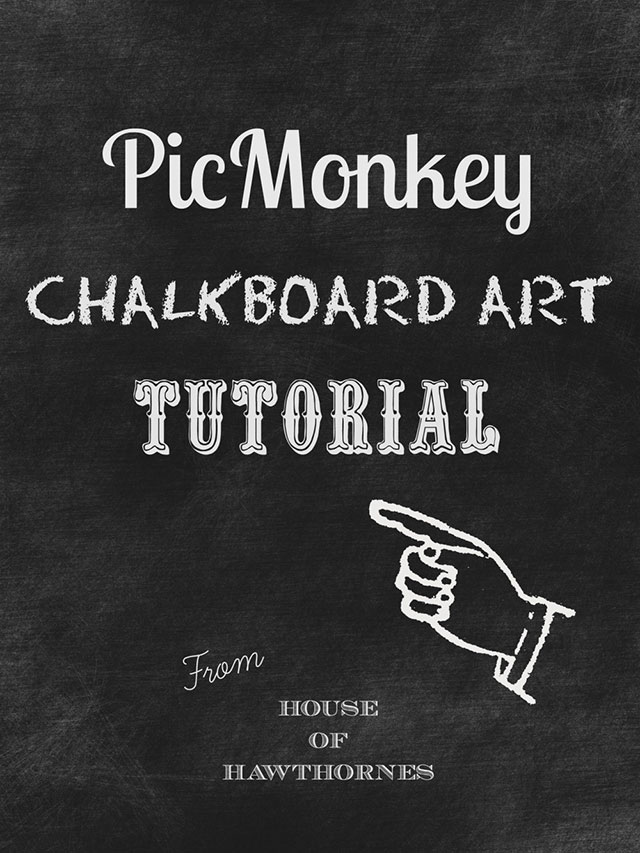 PicMonkey comes loaded with a ton of fun fonts. Or you can get your own fonts for your computer, which then area accessible on PicMonkey.
When you are in the Text area (Tt), just click on the brown box that says YOURS, instead of the blue box that says OURS and you will see a list of all the fonts that reside on your computer.
Here are some of my favorites for chalkboards: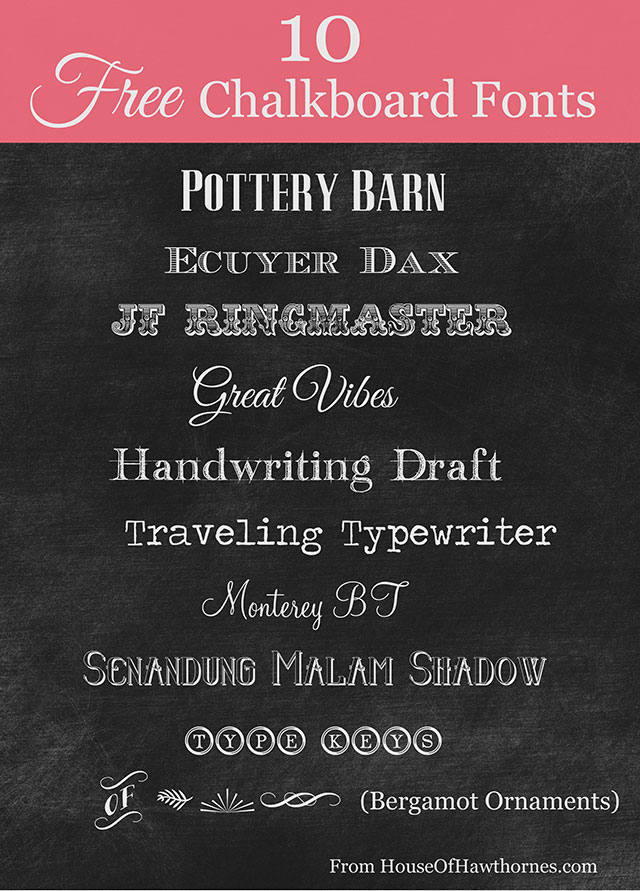 All fonts were from DaFonts, except for Monterey BT from A-Z Fonts and Great Vibes from Font Squirrel
Beware
- font sites are very very fun. You will soon be redesigning logos in your sleep.
Oh, and dingbats!!! Not calling you a dingbat, but there are things called dingbats that I am in love with too. You will type a letter in a dingbat font and a graphic pops up. For instance the little leaf type thing in my header is a capital letter S in the Bergamot font, which is a dingbat.
Sure, PicMonkey has something similar in their Overlay section, but there are some pretty fun dingbats out there on the web and they are pretty much a requirement in authentic chalkboard looks.
Gwenn Moss has a nice post about making real live chalkboards, not of the only-on-the-computer-screen variety. And she made a chalkboard with a typewriter on it for her office. Great minds think alike! She has lots of little tips including using hairspray after you're done. On the chalkboard, not your head, your hair is just fine.
I hope you enjoy creating your chalkboards, either on the computer or on an actual blackboard.