What would be more perfect on the Thanksgiving table than a set of vintage Libby Golden Foliage glassware?
This is my MIL's set and included a carrier, ice bucket and 7 out of 8 glasses.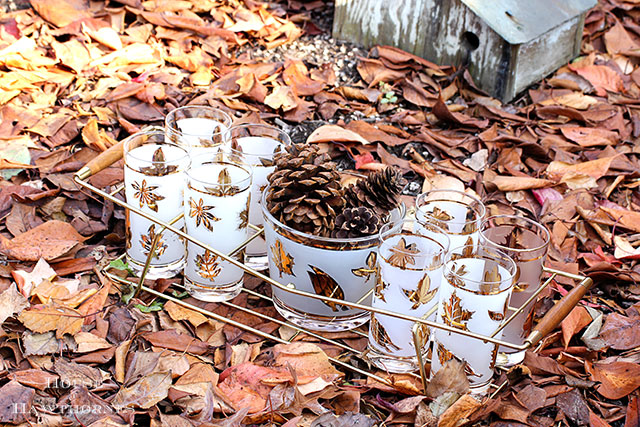 Since she was married in the late 1950's, I think this may have been a wedding gift.
It has a very mid-century Mad Men look to it.
One pine cone or two?
And you know what? I see this stuff at thrift stores ALL THE TIME!
As a matter of fact, when I was out at my local thrift store this week I picked up a matching glass to round out the set.
I was all excited until I brought it home and realized that it had a different level of frosting on it. Plus it has a gold rim around the top where the other ones do not.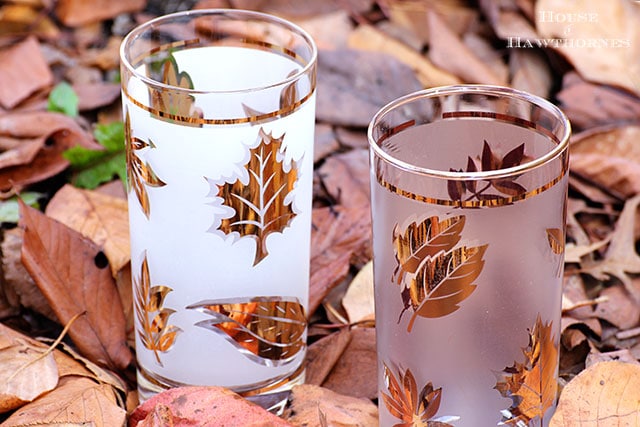 The glass from my MIL's set it on on the left and the impostor is on the right.
Close enough for me though. Once you've had a few highballs, no one will notice.
Can I tell you a secret?
Up until maybe six months ago, I thought this set was hideous. I hid it in the cabinet over the fridge that no one ever goes in to. You know, the cabinet that you have to climb on a chair to reach.
The only reason I still own it is that it was my MIL's and one of the few things my husband wanted to bring here when we sold her house.
But recently I have come to LOVE a touch of mid-century here and there throughout my house.
So if you want to dip your toes into mid-century or are just looking for the most perfect set of Thanksgiving glassware out there, run to your local thrift and see if they have any of these in stock!