I adore tulips. To me, they just shout SPRING HAS ARRIVED!
But for a while there, I had quit buying them because they were a big old waste of money!
You have no idea how often I would buy pretty tulips at the grocery store only to get them home and within 4 hours they would start drooping and within two days they were crying uncle.
By day four they were in the trash.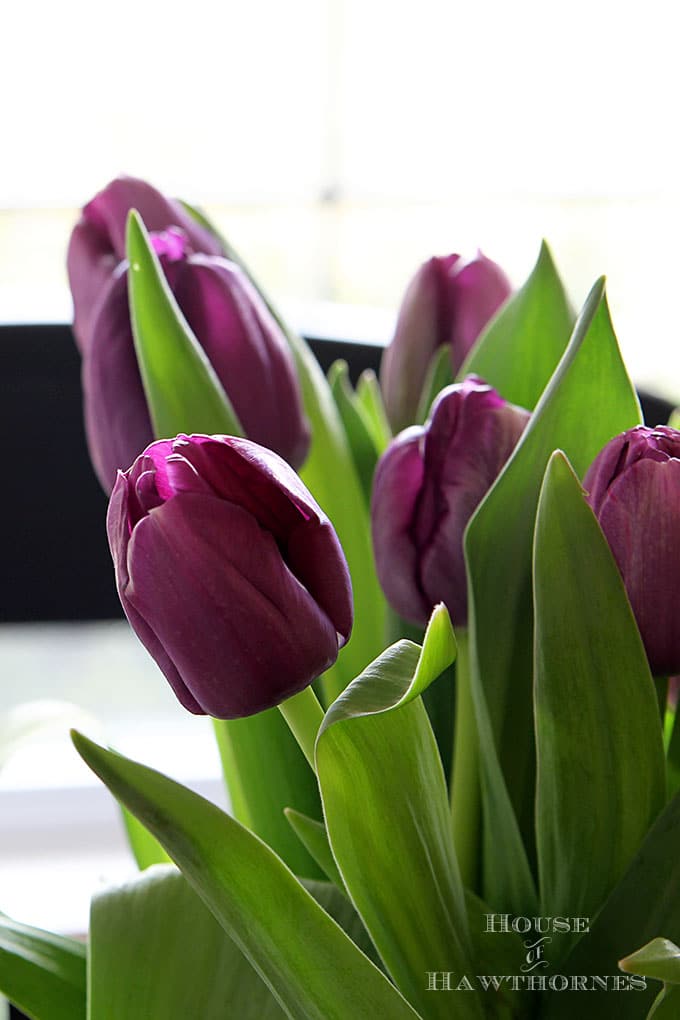 But then, I ran across a few tips that saved my life!
OK, that sounds a bit melodramatic, but it did improve my tulip buying experience.
How To Make Tulips Last Longer
Buy Fresh
Buy fresh tulips with strong stems and tight flower buds. Avoid buying them when the blooms are fully open as they will not last long. And by all means, refrain from buying them on the clearance flower rack as these normally don't have much life left in them.
Taking Them Home
Tulips do not like to be away from a water source for long, so when buying them at the grocery store be careful to get them back to your house as soon as possible. I only buy tulips if it is my last stop on my way home.
When you get them home, DO NOT remove them from the cellophane wrapper or remove the rubber bands. Just leave them packaged as-is for now.
But hurry on to the 2nd step below.
A Fresh Cut
Fill a bowl with COLD water and make fresh cuts on your stems while holding the stems under the water.
You should cut roughly an inch off the bottom of the stems and at an angle, so the stems have more surface area to drink up the water.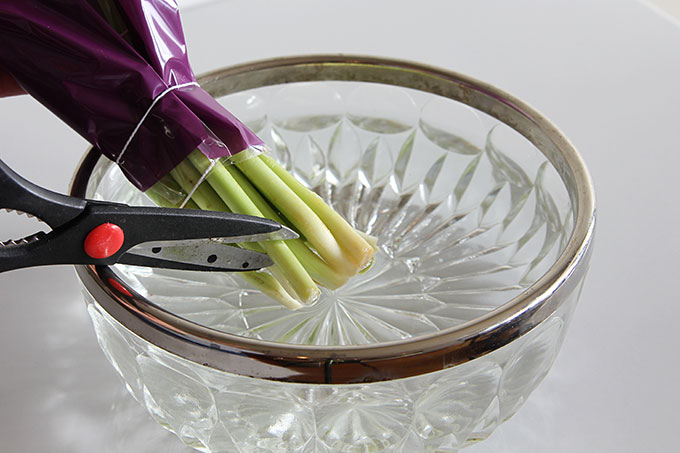 To Solve The Drooping Tulips Problem
After the fresh cut, immediately place the tulips in a tall narrow vase filled with ice water. You want a vase that will hug your tulips tightly and not let them flop around right now.
Leave them in that narrow vase with all the wrapping still attached OVERNIGHT.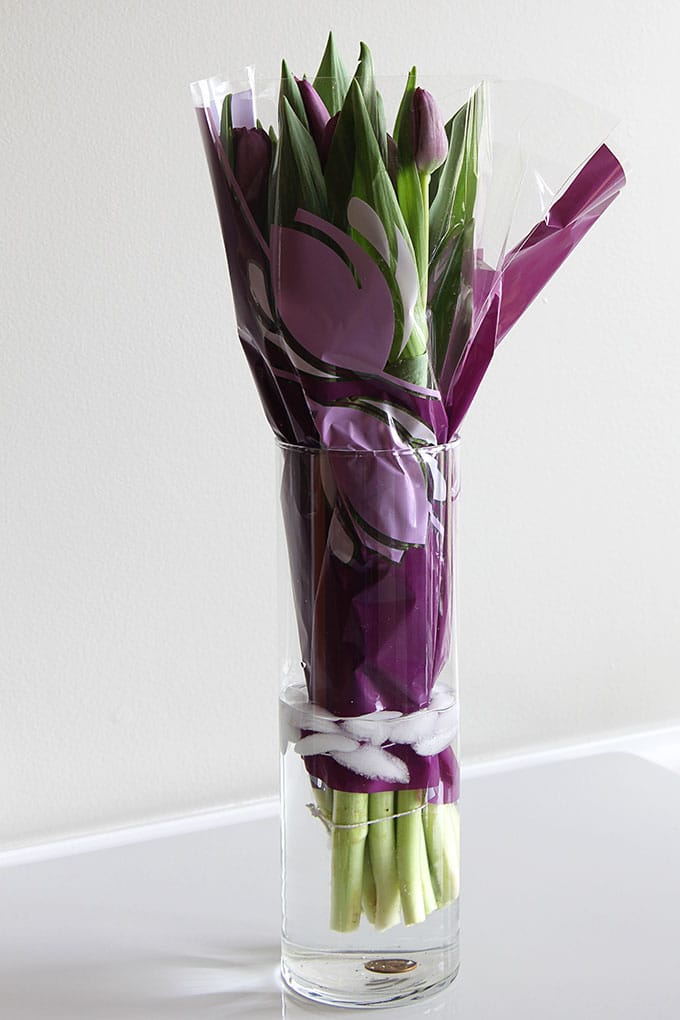 In the morning you are free to remove the wrapping and move the flowers to another vase if you choose.
What Kind Of Vase Is Best For Cut Tulips
You can put tulips in just about any kind of vase, but for best success at keeping them perky and droop-free for the longest amount of time you will want to find a tall, narrow vase that can support the stems.
Remove Leaves Below Water Line
Remove any of the leaves that will sit below the waterline of your vase. These leaves will rot and release harmful bacteria into the water reducing the life of your tulips.
Using A Penny For Tulips
Adding a penny to the water can extend the life of tulips. Or is that an old wives' tale?

Honestly, I'm not 100% sure and I have never done a true scientific test with a control test group on the whole penny/tulip issue.

You can see in one of my photos above a penny at the bottom of the vase, but I've never used a penny without doing the ice water/overnight/wrapped up trick before.

The theory is that since pennies have copper in them and copper is a fungicide then the copper would help cut down on the bacteria in the tulip water and allow them to grow straighter and last longer.
Oh, and then there's the problem with pennies produced before 1982 having 95% copper and today's pennies having way, way less copper (something like 2 ½%). So you'd have to use an old penny if the copper/fungicide effect was real.

So basically, I am not sure. But it doesn't hurt to throw a penny in the tulip water for good measure.
How Long Do Cut Tulips Last
Cut tulips generally last between 5 and 10 days when taken care of properly. 7 days would be a good goal.
How To Care For Cut Tulips
Change the water in the vase every day or two, removing all the old water and refilling it completely with fresh COLD water.
While not always possible, tulips will last longer if kept in a cool location in your home out of DIRECT sunlight. Direct sunlight will actually drastically reduce your cut tulips lifespan.
Even though you are not going to put your vase of tulips in direct sunlight, you will need to rotate the vase daily as the tulips will want to lean toward the closest natural light source it can find. Rotating the vase keeps all the stems in a more upright position.
Enjoy your perky, fresh, non-droopy spring-loving tulips!
BTW, the tulips in the photo above were 10 day old tulips.
Unheard of in my former Tulip Torture Chamber days!
So if you too have a drooping tulips problem, there is a fix! Or two if you want to test the penny theory also!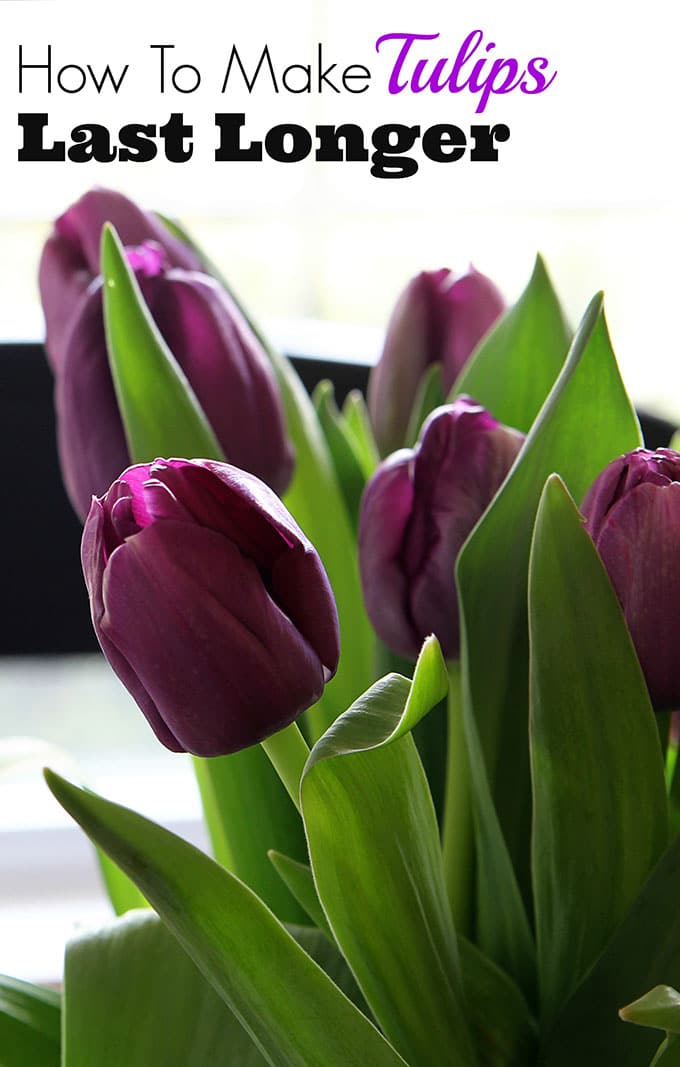 Check out the web story version of this article HERE.
Other Posts You May Enjoy:
How To Grow Peonies: A Complete Guide
Old Fashioned Flowers For Your Garden