INSIDE: Discover how to take ordinary thrift store items and make them extraordinary with this textured baking soda paint technique. A quick and easy way to upcycle outdated thrift store finds!
When I was out at the thrift store the other day I found this wonderful brass urn. It's light, so I think it's more of brass-plated piece than actual solid brass.
Now, the 1990's Tuscan-style grape-themed decor never really took hold in my house, but I did like the nice size of the urn and thought with a little makeover it could work with my decor.
So I decided it would be a good piece to try the baking soda paint technique on.
Adding baking soda to paint gives it a gritty, thicker texture that mimics rustic hand-thrown pottery - like Demi Moore and Patrick Swayze were making in Ghost.
Minus the hot steaminess.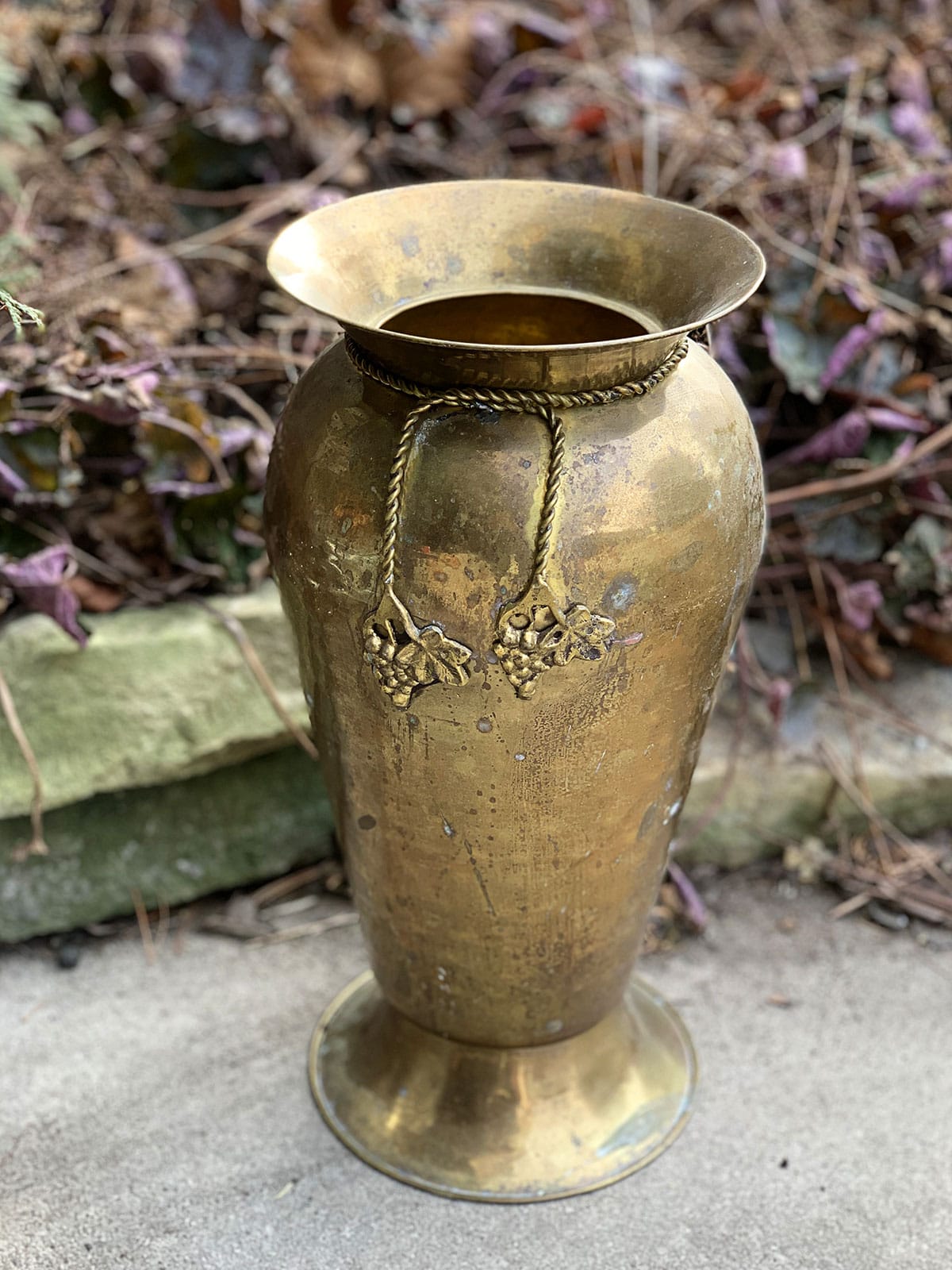 ✨ BTW, today is Thrift Store Decor Wednesday, so make sure you hang around to the end of the post to see the rest of the team's thrift store repurposes for the month!
(This post contains some affiliate links for your convenience. You can read my full disclosure policy here.)
How To Make DIY Textured Paint With Baking Soda
Supplies
Baking Soda
Chalk, Latex or Acrylic Paint
Bowl for mixing
Paintbrush (inexpensive or chipwood)
Spoon or Stir Stick
Primer if painting over metal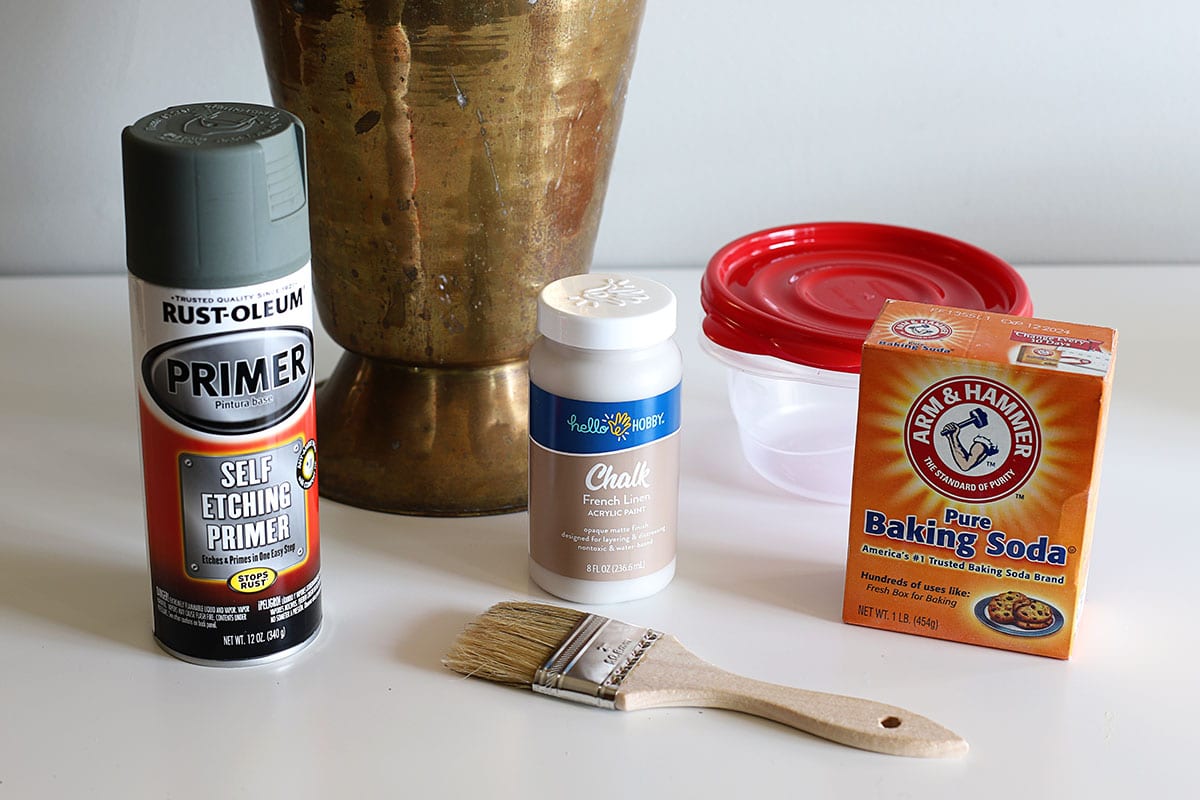 Instructions
Prep the item by washing with soap and water to remove grease or grime.
If you are painting a metal item or a very slick item you should spray a coat of primer on it first.

I chose this Self-Etching Primer from Rustoleum since it's commonly used on metals and automobile parts. The self-etchingness (is that a word?) allows greater adhesion because it has additional chemicals in it that normal primer does not which in turn creates a rougher surface for additional coats of paint to grab onto.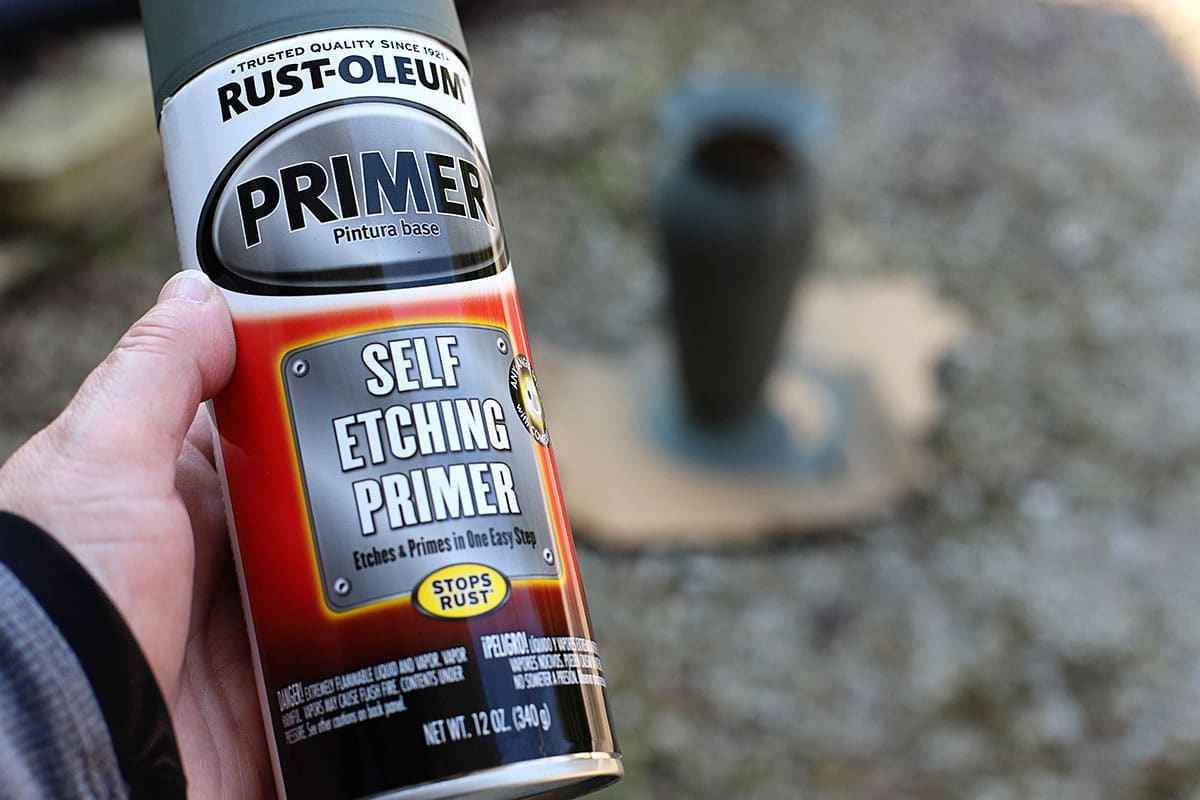 I just sprayed one quick coat of primer on the item and let it dry.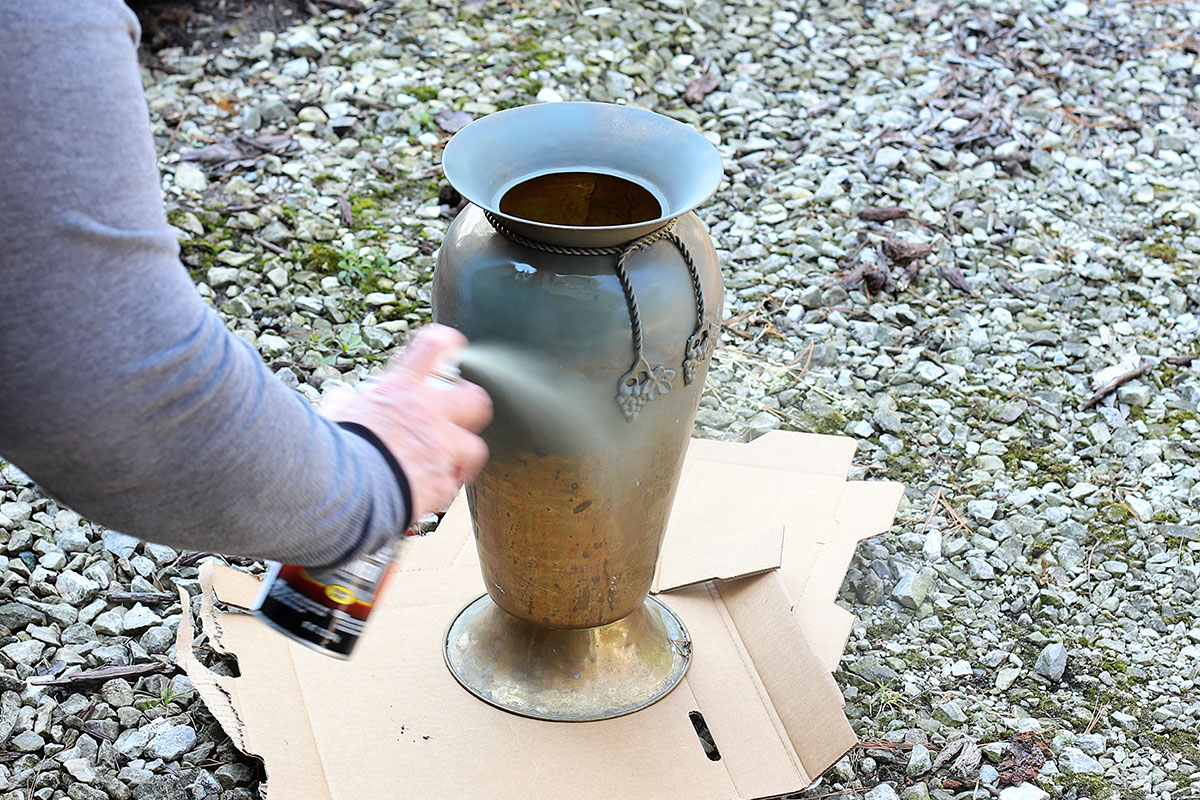 To mix up your paint, pour ½ cup of paint into your bowl.
Since my bottle of paint was 8 oz, that meant ½ the bottle (4 oz = ½ cup).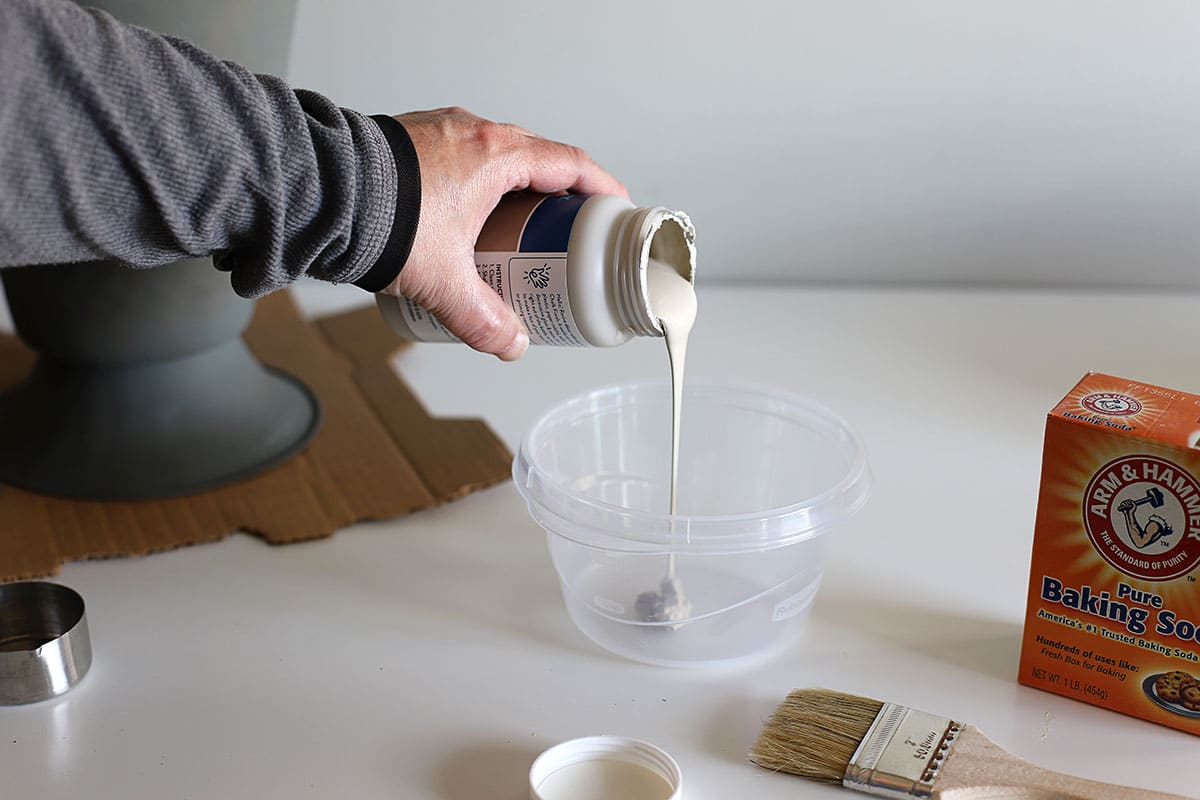 Add in ½ cup of baking soda.
If you find it easier to just scoop out tablespoons of baking soda from the box, you need 8 Tablespoons to equal ½ cup.

I'm just a whirlwind of measuring conversions today, aren't I!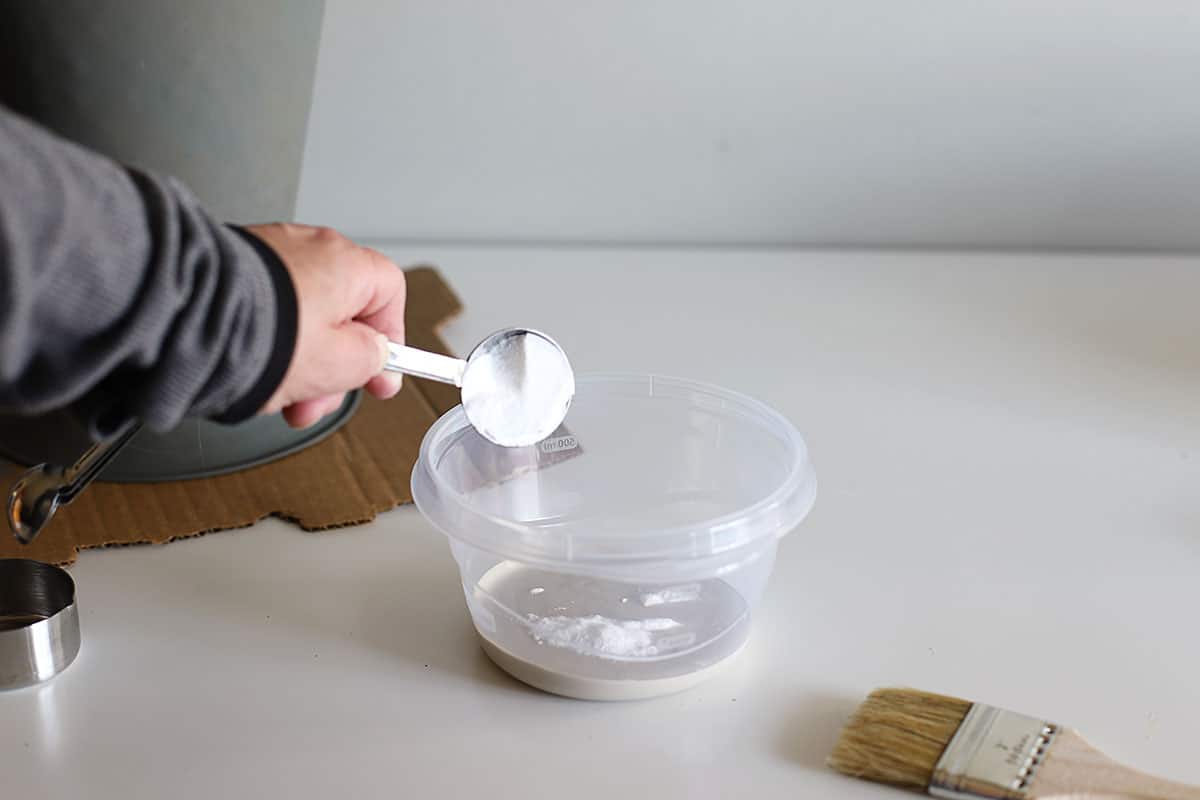 Using a spoon or stir stick, thoroughly mix the paint and the baking soda together.
It should have the consistency of thick (and yummy) brownie batter. Not so thick you can't use a paintbrush to spread it, but not so thin it's dripping off the paintbrush.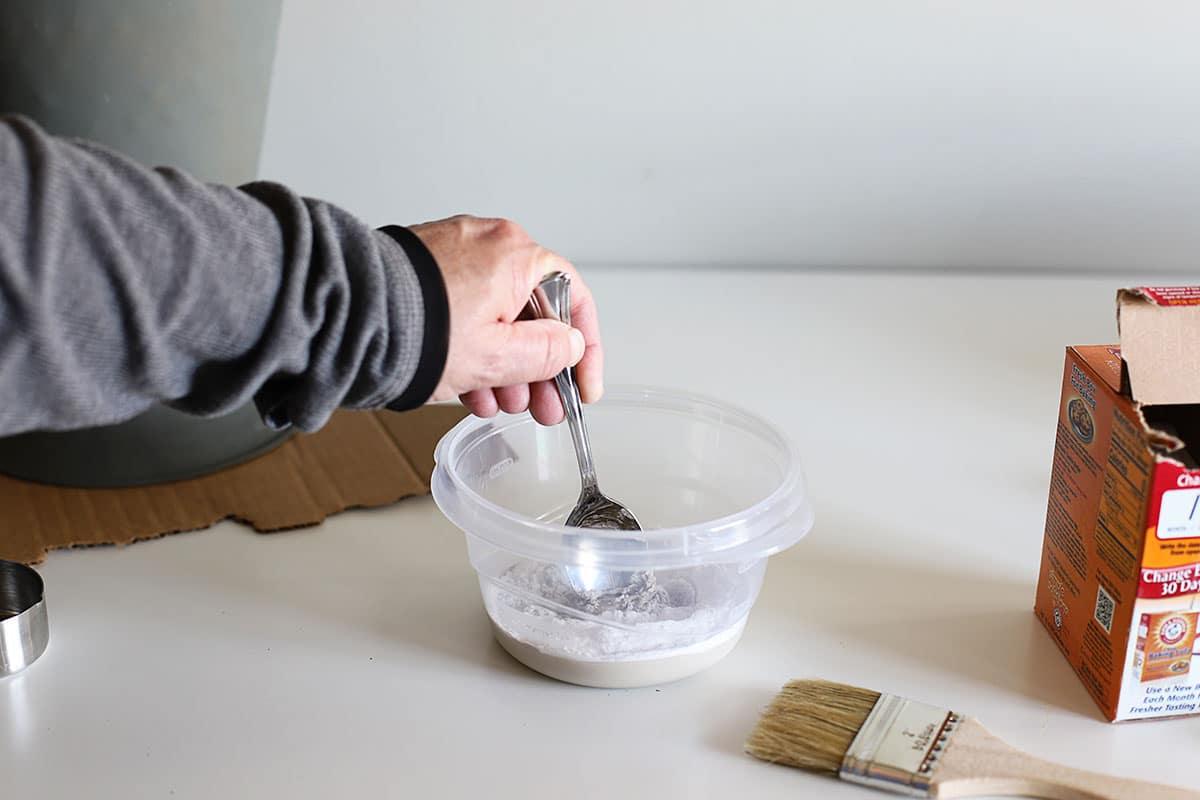 Using your brush, paint 2-3 coats onto the item allowing the paint to completely dry between coats.

The coats will be thicker than normal coats of paint, so it will take longer than regular paint to dry all the way through.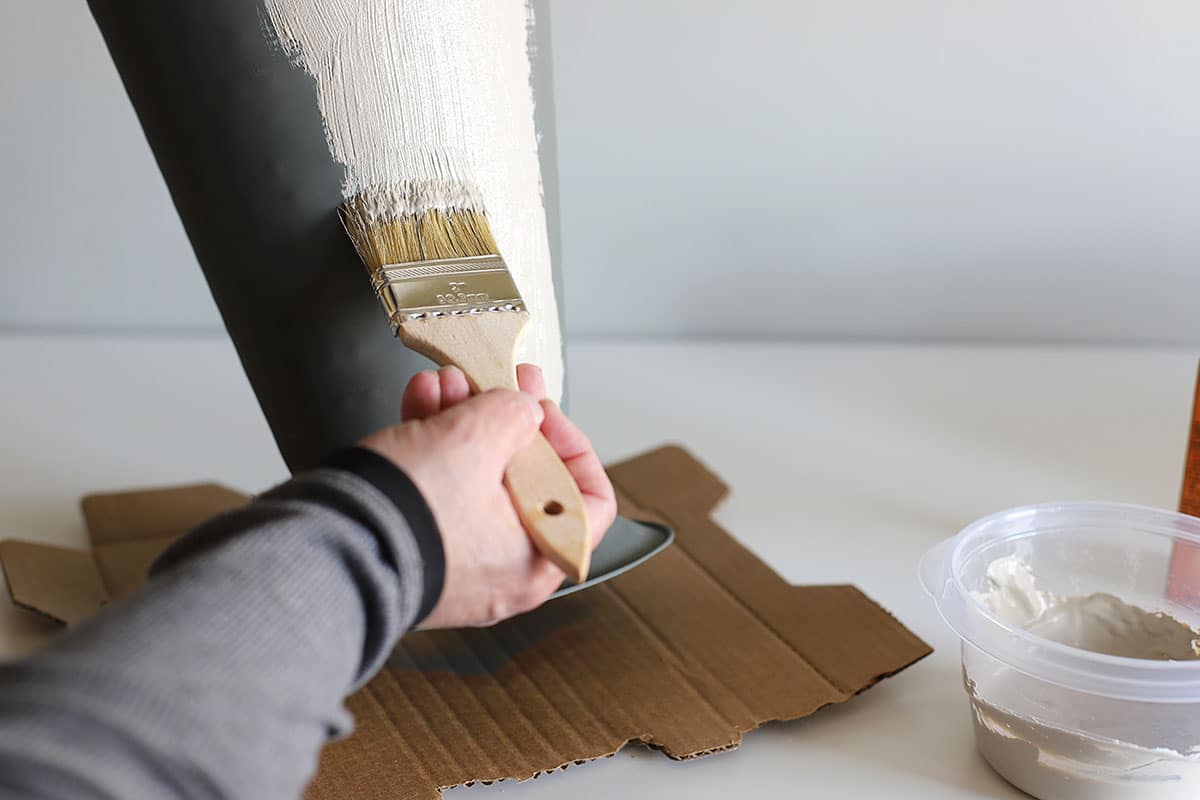 I wanted to give my piece a rough pottery look, so I left the vertical paintbrush marks on the urn.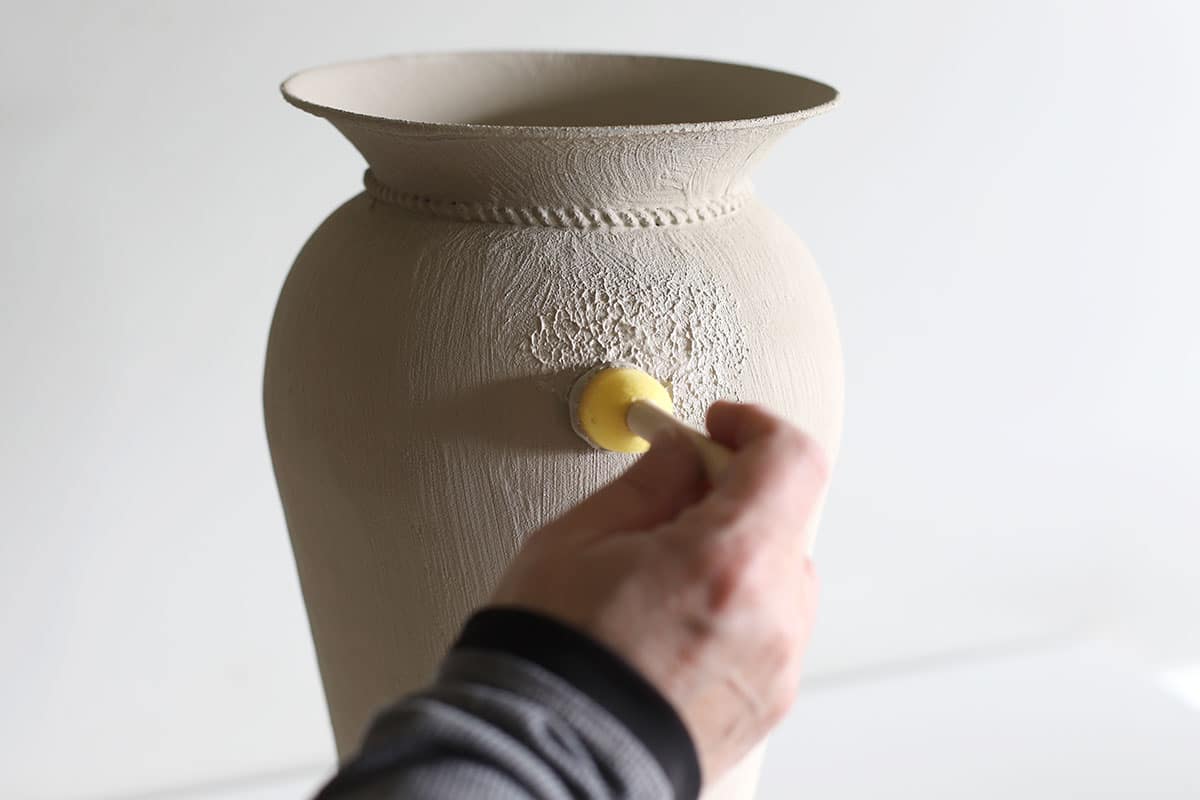 If you prefer an even more textured look you could use a sponge to dab on your last coat.
I tried it on a small spot with a sponge dauber (aka stencil brush) since I couldn't find any other sponges in the house, but I decided I preferred the less textured paintbrush look a little better.
You do you though!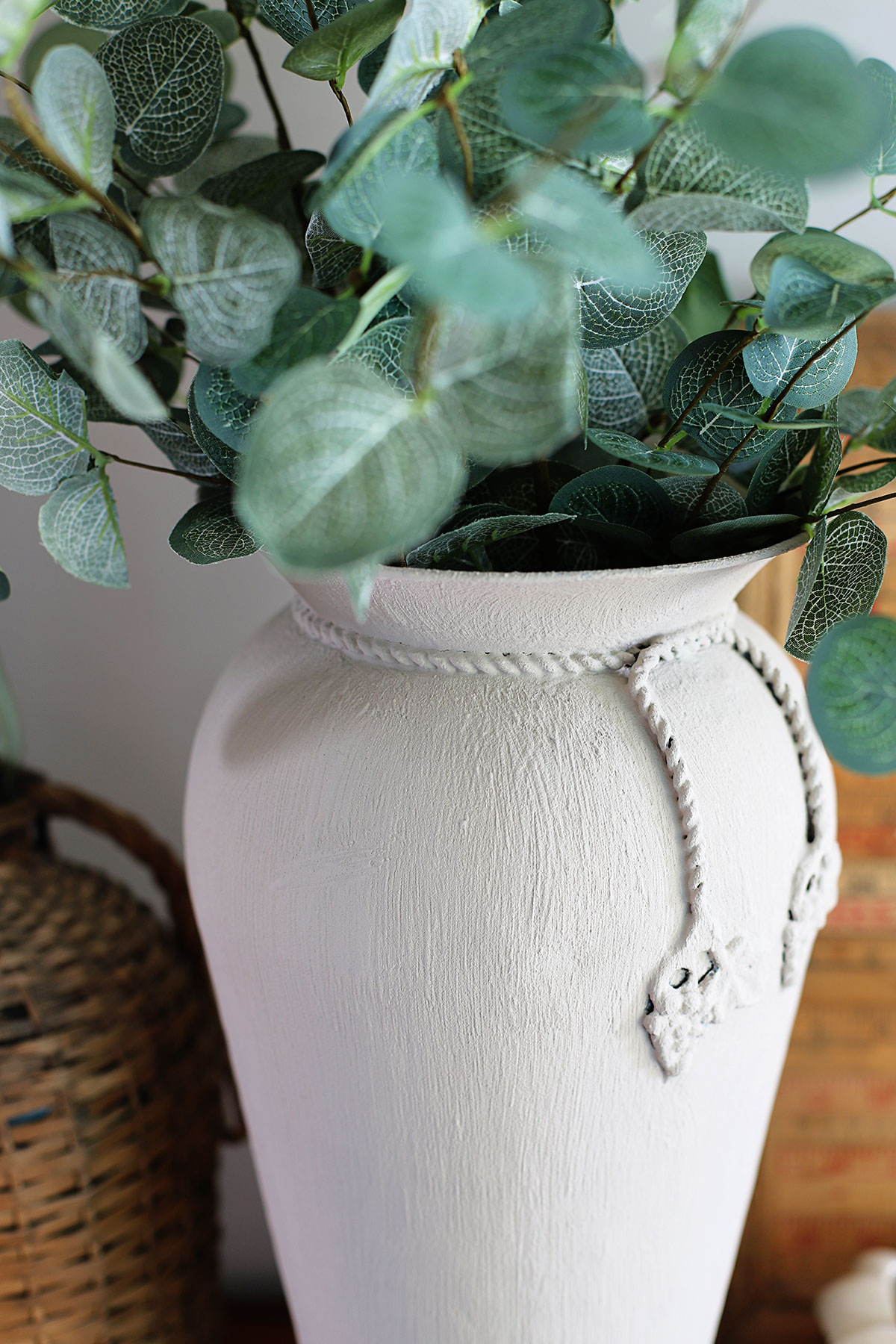 Can I just mention that I hate those grape ropey things hanging down.
I thought they'd grow on me (like a vine), but they are not.
I probably could have removed them with a rotary cutting device, but it seemed like it would have made a quick and easy project turn into a painful chore.
Here's the final look with it set on my entryway table.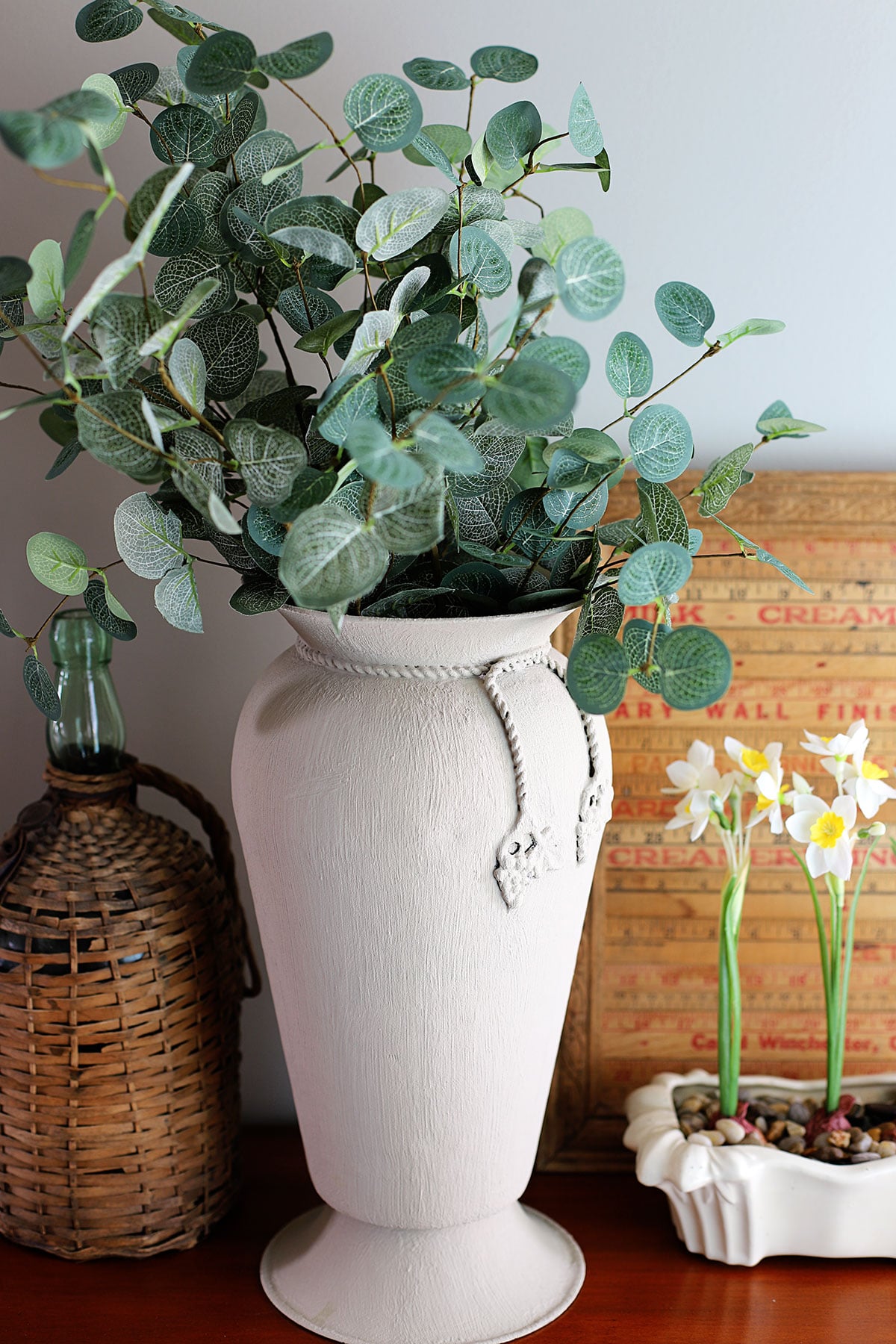 I think everything in the photo is a thrifting find, except for the actual table. Which came from the JC Penny Outlet Store years ago, so maybe that counts as a thrifty find too!
You can check out how I made the repurposed yardstick frame HERE.
And the baby daffodils are faux ones I found at Michaels (you might have seen them in my Upcycled Garden Tool Organizer post.
Printable Instructions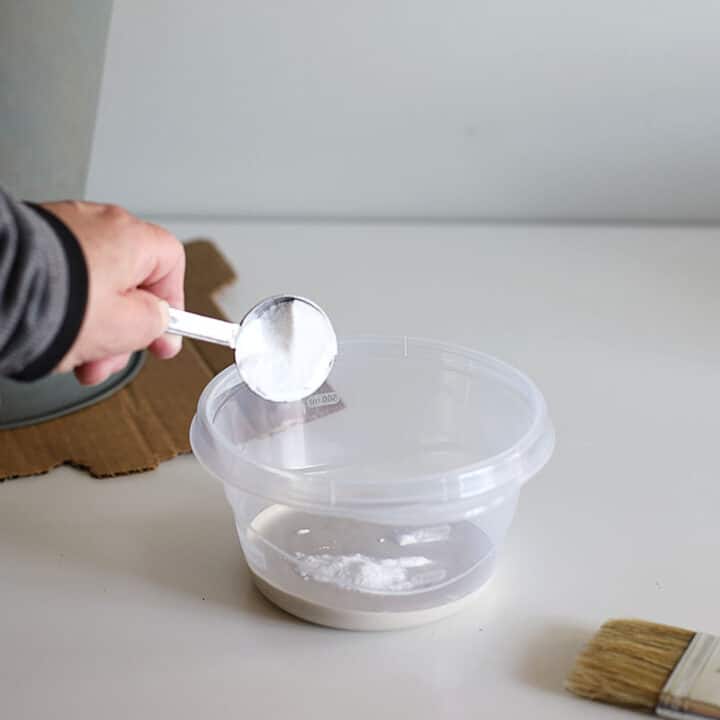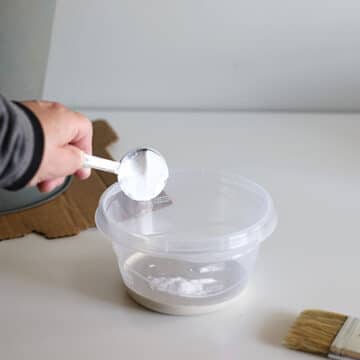 How To Make Baking Soda Paint
This quick and easy baking soda paint technique creates a textured pottery-like look. It's a quick and easy way to update thrift store finds!
Print
Pin
Rate
Equipment
1 Spoon or Stir Stick

1 Disposable Bowl

1 Paintbrush

1 can Spray Primer

(if spraying over metal)
Supplies
1

part

Acrylic, Latex or Chalk Paint

1

part

Baking Soda
Instructions
Pour paint into the mixing bowl.

Stir well completely mixing in the baking soda.

Paint item with the first coat and let dry completely.

Paint with a 2nd coat and a 3rd coat is desired.
Notes
If you are painting a metal item or a very slick item you should spray a coat of primer on it first.
If you prefer chunkier paint, use more baking soda. If you prefer a thinner coat of paint, use more paint.
Frequently Asked Questions
Why did you use a primer with chalk paint? Isn't the point of chalk paint to not have to use a primer?
Normally I wouldn't use a primer since chalk paint typically adheres to other surfaces pretty well all by itself.

But in this case, I was painting on brass which tends to be slippery, so I decided a little extra help was needed.

Plus I was adding something to the chalk paint and I wasn't sure if the baking soda would affect the adhesion of the paint or not. Baking soda magically makes cakes rise through a chemical reaction, so would it make the paint do funky things???

In the world of thrift store makeovers, it never hurts to use a primer. Back when I painted a forged aluminum tray and made it into a succulent garden, I did not prime it. And after 4 years it does have a couple of little places where the paint has chipped off.
Can You Make The Paint Thicker?
Instead of the 1:1 ratio, you can add in more or less baking soda to get your desired texture. To make the paint even thicker and more textured add in more baking soda. To make the paint thinner and less textured add in less baking soda (or more paint).
Can You Add Baking Soda To Acrylic Paint?
Yes, you sure can. It works for latex paint also. I just used chalk paint because I had it on hand.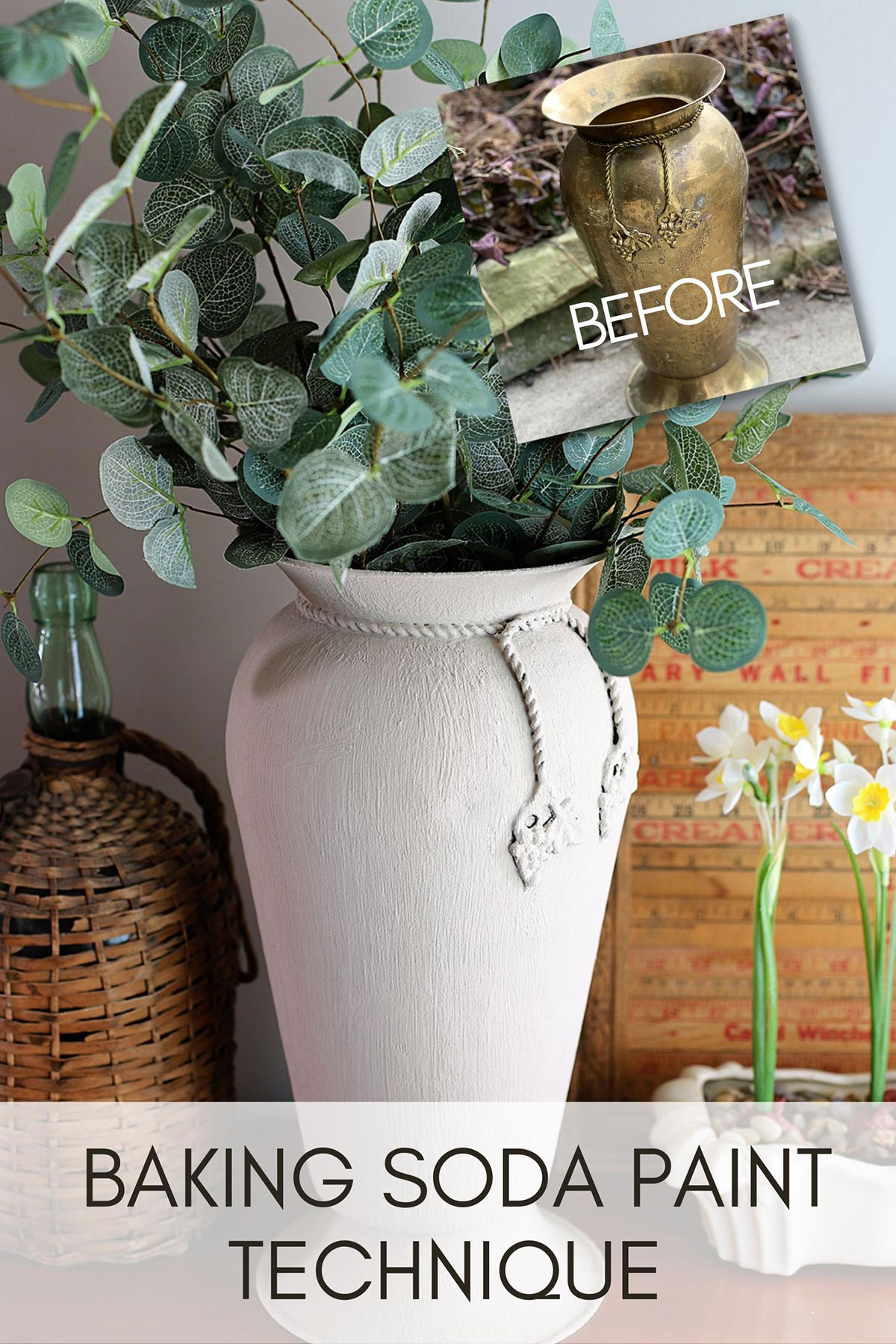 Thrift Store Decor Team Projects
Now let's go see what the other Thrift Store Decor Team members are up to today!
Thrift Store Stacked Box Makeover - Organized Clutter
Thrift Store Urn Tablescape - Our Southern Home
Succulent Terrarium Using Embroidery Hoops - My Uncommon Slice of Suburbia
Shamrock Decor from Vintage Wooden Bowls - Sadie Seasongoods
Melamine Serving Tray Makeover - Reinvented Delaware
Vintage Garden Bench Upcycle - Shop At Blu
DIY Wood Bowl Candle - Domestically Speaking
Bird Nest Vintage Water Dipper Display - Petticoat Junktion
How to: Paint a Wooden Mirror Frame - My Repurposed Life
Baking Soda Paint Thrift Store Makeover - House of Hawthornes (that's me)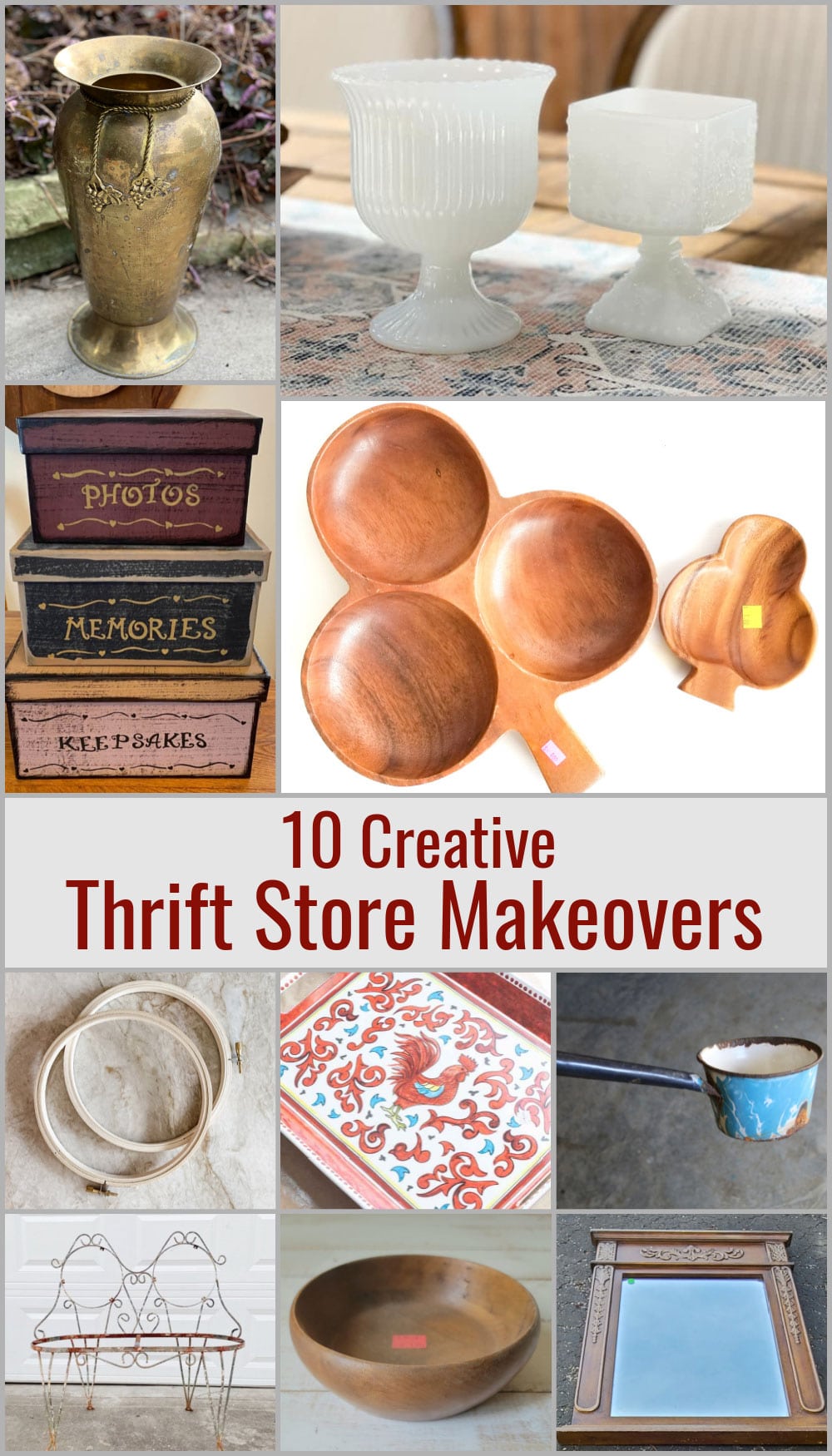 Looking for more Baking Soda Paint projects:
Check out the web story version of this article HERE.