I thought I'd share a childhood vacation memory with you today. I recently framed a couple postcards that show some places where my family vacationed when I was little. My favorite depicts the diving horse at the Steel Pier in Atlantic City. Now I would have visited in the 1960's, but 60's postcards aren't as pretty as the older ones, so I went on ebay and bought this linen one postmarked 1936 for my collection.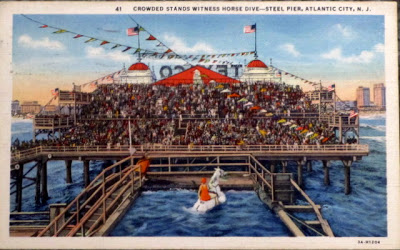 I remember sitting in the stands watching this act when I was about 5 years old. A horse would run up this big ramp and a girl would jump on his back and then they would both dive into a big tank of water.
For some reason this has always meant Atlantic City to me. I remember nothing about the beach, very little about the boardwalk, but I can remember that horse. It was fascinating to a five year old.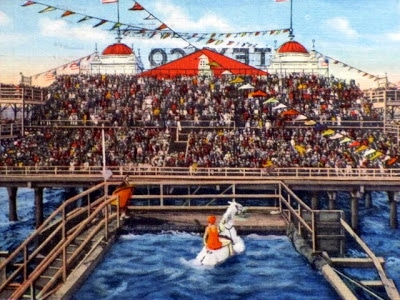 The horse diving act was a staple at Atlantic City from the 1920's until 1978. Remember this was prior to gambling in Atlantic City and they had all sorts of acts to attract people. Maybe this is where The Jersey Shore kids started.
Off topic - I think postcard artists are some of the most underrated artists of their time. There's an amazing amount of detail and work put into a postcard that probably sold for a couple cents.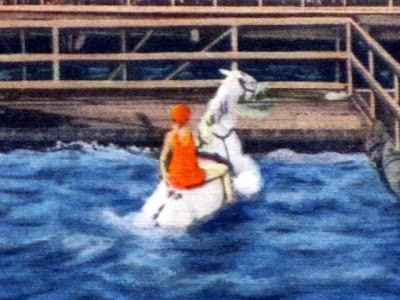 Really off topic - Texaco must have been a sponsor.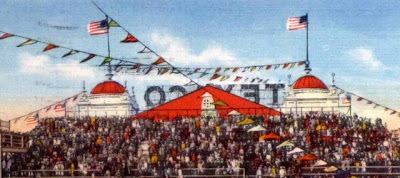 Here's a real photo of the horse diving. The angle that they are going to hit the water at looks like it would hurt. I guess you have to go in at the same type of angle as you would if you were diving just by yourself. You wouldn't want to do a belly flop.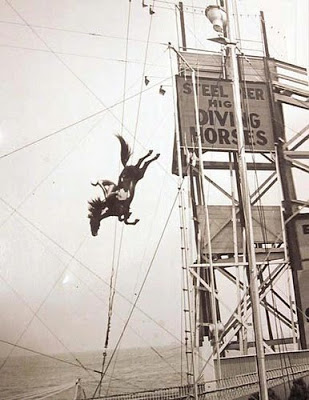 There was a 1991 Disney movie called Wild Hearts Can't Be Broken made about one of the first horse diving girls, Senora Webster Carver. She started diving in 1924, but in 1931 she and her horse hit the water incorrectly and she became blind from the impact. And she continued to dive with the horses for another ten years after that!
Blind and jumping off a 60 foot platform into a little tank of water on the back of a horse. That's inspirational. Or not so smart. Not sure which.
I'm sure this type of thing would never be allowed to happen now days since I'm not sure the horses were willing participants in the dive. Where was PETA in the 20's? Although in Senora Webster Carver's autobiography she insists that the horses loved to jump and were not forced to do it.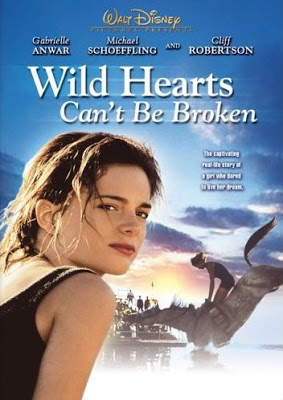 Another plus to this movie is that her husband is played by Michael Schoeffling who also played Jake Ryan (Molly Ringwald's crush) in Sixteen Candles.