This week I found a rare Thursday garage sale advertised on Craig's List. It was in a itty bitty little town about 30 minutes from my house. Since I had nothing better to do that day (like my piles of laundry, piles of dirty dishes and piles of dog hair on the carpet) I took a chance and took a little drive to the country to see what they had.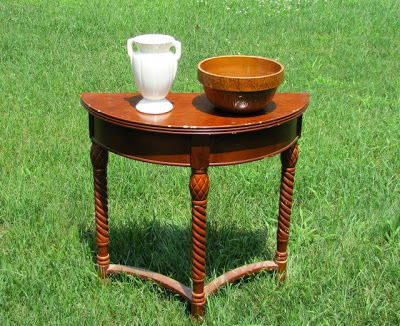 Well, they had a lot!!! I just love pulling into a driveway and seeing a few items I am interested in before I even step foot outside my car. It's like opening presents on Christmas morning - not sure what you'll get, but it's exciting regardless.
I bought this console table for $5.00. The finish is dinged up a bit, but later this week I will show you what I did to it.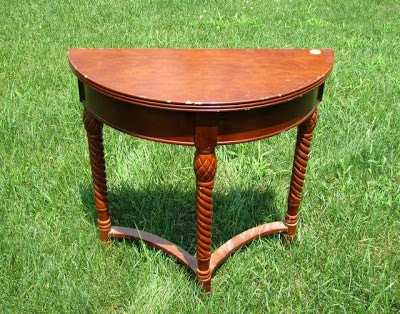 This white vase was also $5.00. Not sure if this is ironstone or just white pottery? I'll have to figure out what the exact definition of ironstone is because I think I have a collection of ironstone pieces, but maybe it's just white stuff.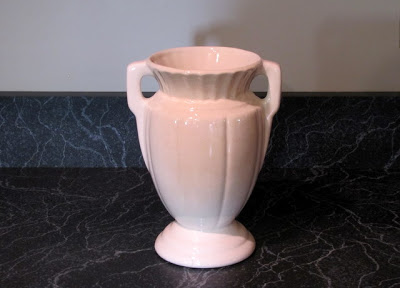 And this bowl which has a cute story to it.
It didn't have a price on it so I asked the lady at the garage sale how much she wanted for it. She said since it was her father in laws she didn't know, but she had her husband call and ask the FIL how much it was. I was standing beside her husband and overheard her husband say "Dad, you forgot to price that ugly old brown bowl with a huge chip in it. How much did you want for it?" Ended up being $3.00 and worth heck of a lot more than that. I just love a guy's explanation of a vintage item.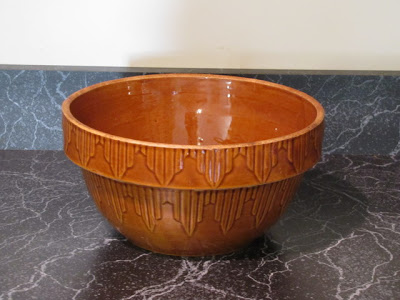 I don't know what this pattern is called and there is no maker's mark on the bottom, but it will be a nice addition to my bowl collection.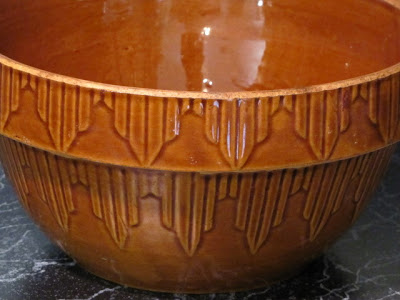 And this is the "huge" chip the husband described. I put my bowls on top of my kitchen cabinets, so the chip doesn't bother me in the least (I'll just turn that side to the wall). And the chip isn't inside the bowl, so it is still safe to be used for food.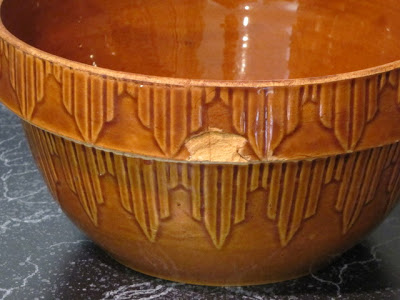 I got this vase at a Friday garage sale in my town. It was an unadvertised sale at one of the local Churches. I thought the two toned teal to yellow fade design gave it a 1950's look and might be a good resale item. And for 25 cents I could definitely sell it for more than that.
When I got it home and took out my reading glasses and a magnifying glass I got all excited because it said R. R. P. Co. Roseville, Ohio on the bottom. Now if you ever watch the Antique Roadshow, you know that Roseville pottery is very collectible and very valuable.
After I got done jumping up and down and patting myself on the back, I researched it on the internet and found out that R. R. P. Co. stands for Robinson Ransbottom Pottery Co. located in Roseville, Ohio, not the Roseville Pottery Company. Oh well, I was rolling in the dough for a few minutes anyhow.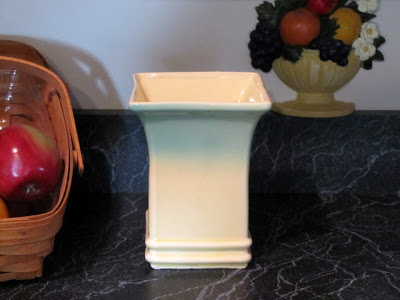 And the last thing I bought was this sugar and creamer china set.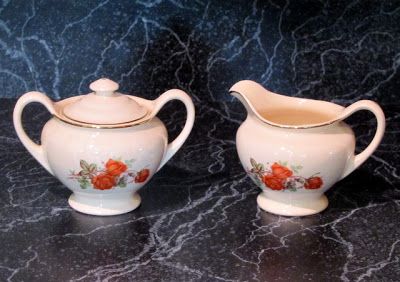 Not anything I was totally in love with, but it had pretty roses on it and again at 25 cents each, I can always resell them.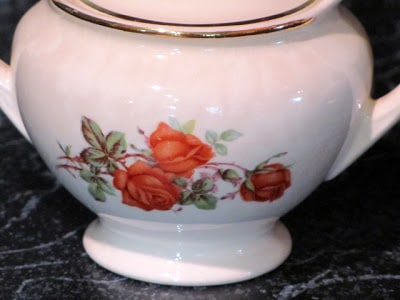 Hope you all had a great garage saling weekend!