Christmas is going to be here before I know it and I have hardly shown any of my Christmas decor yet, let alone do a home tour like all the fancy blogs do.
Well, I think I'll forget the home tour this year and just show you some of my dear friends who stopped by. Who happen to be deer.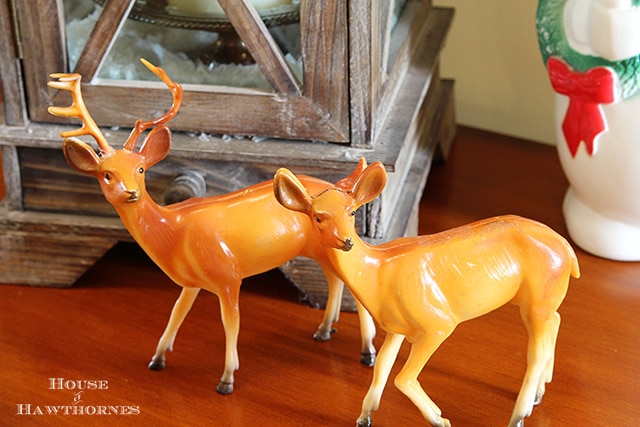 I bought a box o' deer in the summer at a yard sale and had visions of throwing them all in a huge glass vase and just having a jumble of deer.
But then I got to thinking that it might not be the best thing to do with some of them being boys and some of them being girls. And them being in close proximity to each other.
And well, you know that 7 months from now (yes, I Googled the gestation period of a deer) I'd have a deer population explosion on my hands.
So I thought I'd better separate them.
I have a couple of them in my vignette on the entryway table.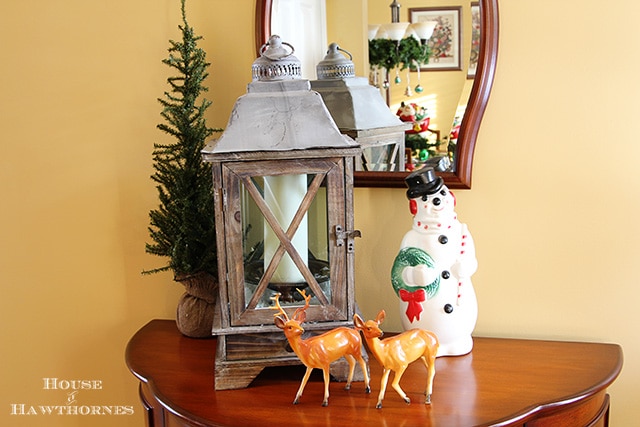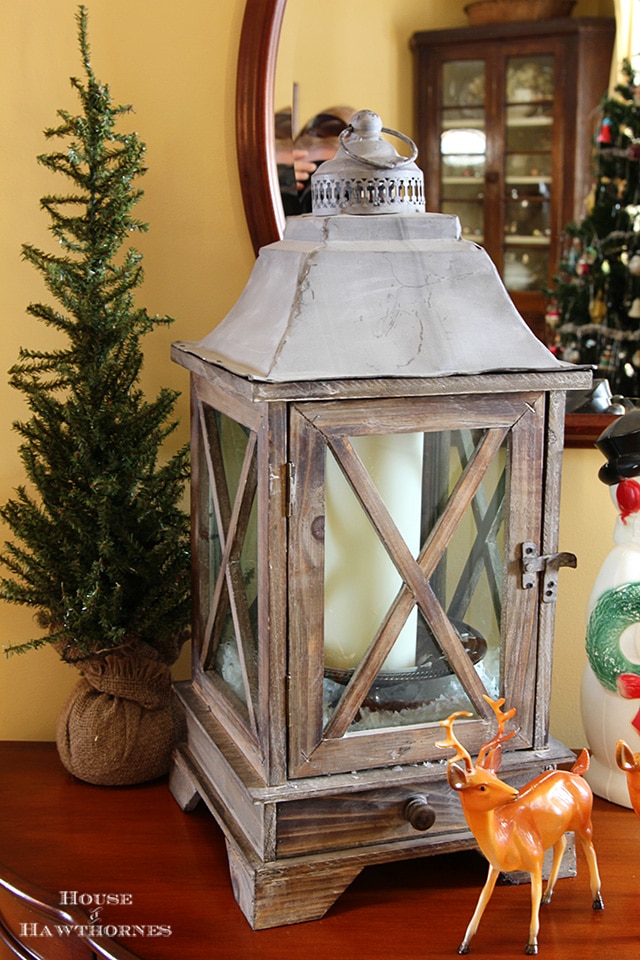 FYI, you can totally see the top of my head in that photo above. Right above the lantern. And I have sunglasses on my head indoors??? No idea why.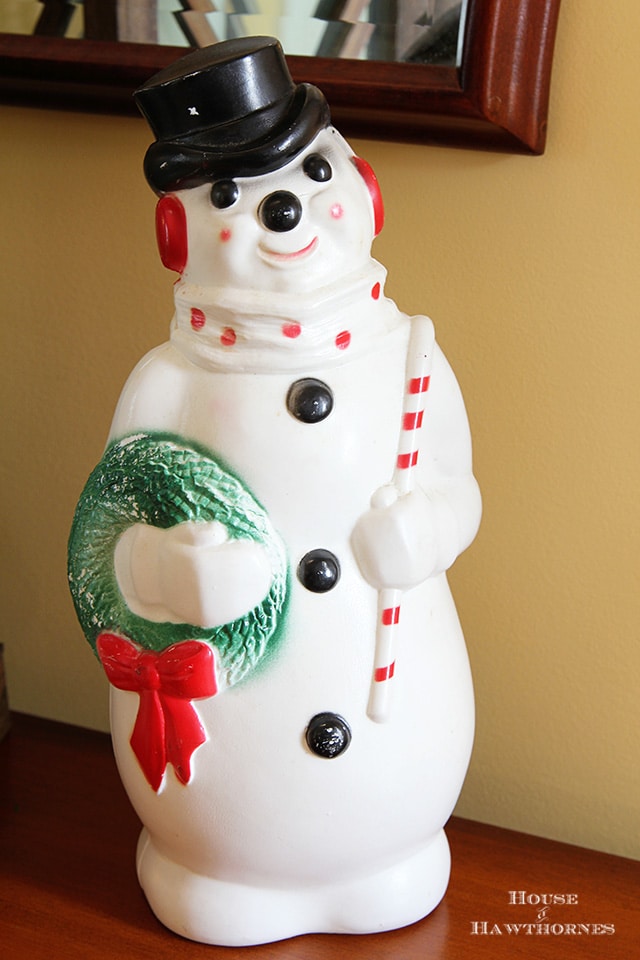 One of them has taken up residence in my kitchen on a stool.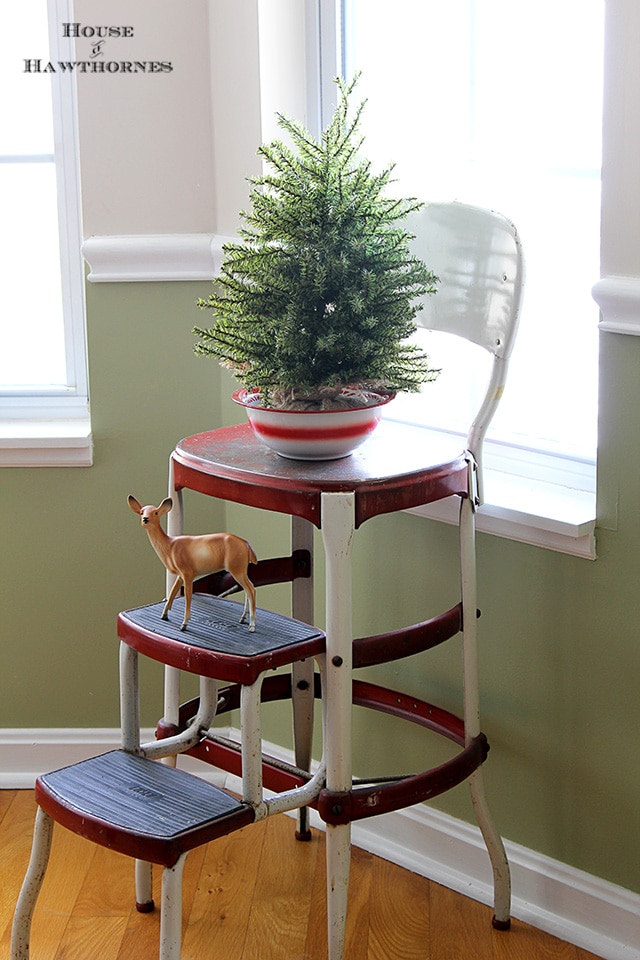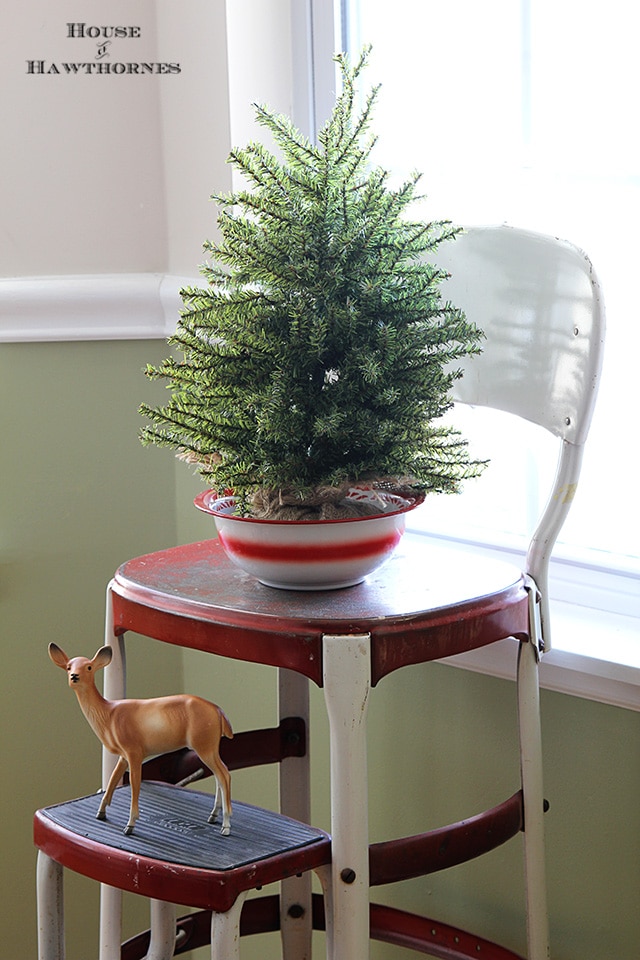 I put a baby one in my glass fronted cabinet in the kitchen.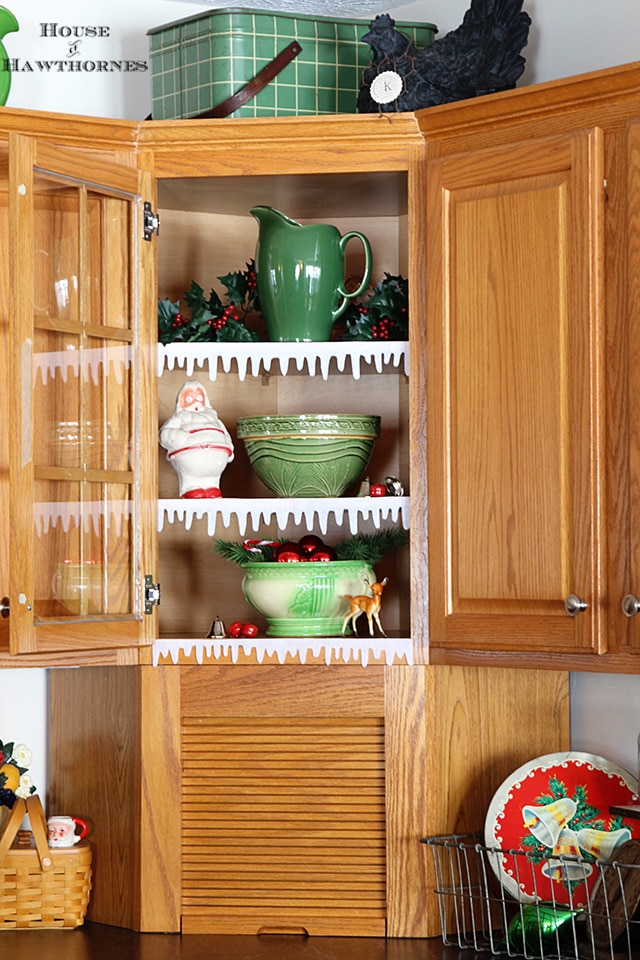 I made the "snow" just by cutting up some fusible webbing and then taped it to the front of the shelves.
I hear some people actually sew with it.
Super simple. Super festive. Sort of retro looking.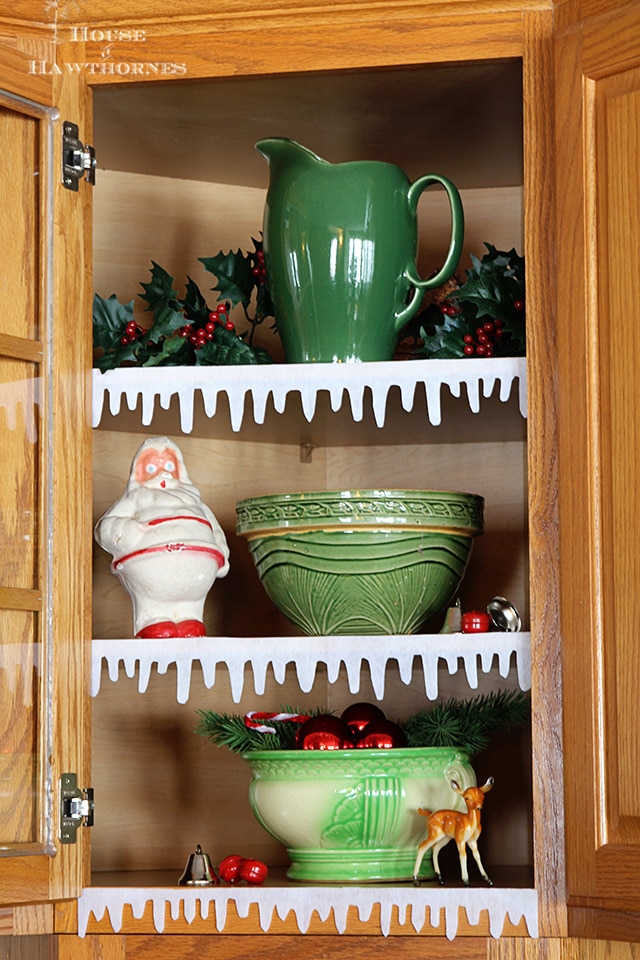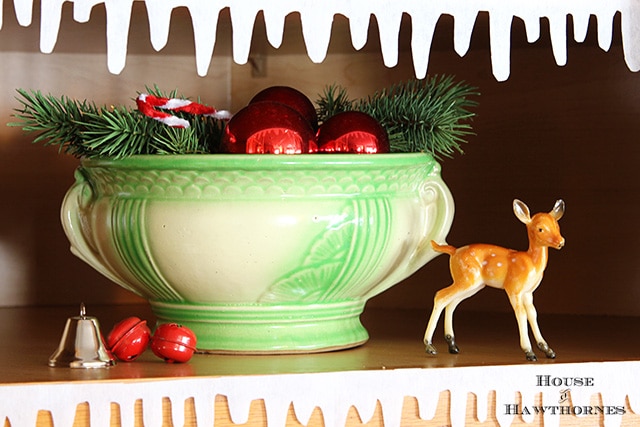 On a side note, no deer involved, I threw my thrifted Christmas tin in my metal basket on the counter and put some Christmas cookie cutters in a glass jar.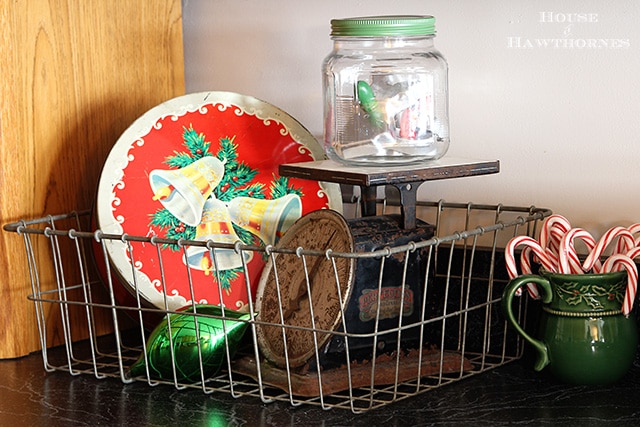 Looks like the cookie cutters won't be making it out of the jar this year. I just don't have the patience for those kind of cookies this year.
No Bake Cookies are more my style.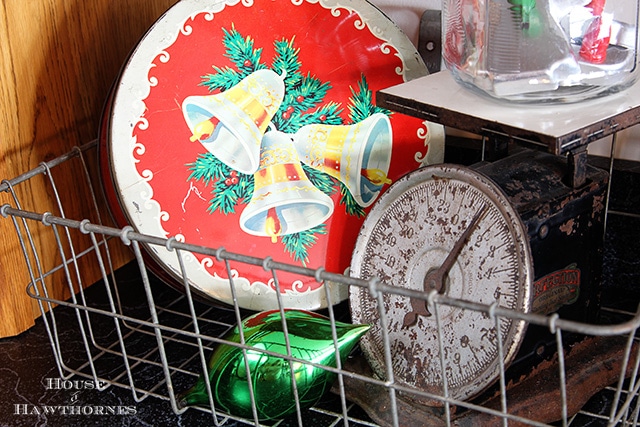 I also have one deer on the vintage spindly table in the living room. It's very minimalistic.
I threw some faux holly in a galvanized pail (sap bucket???) and I have to say that this is one of my favorite vignettes.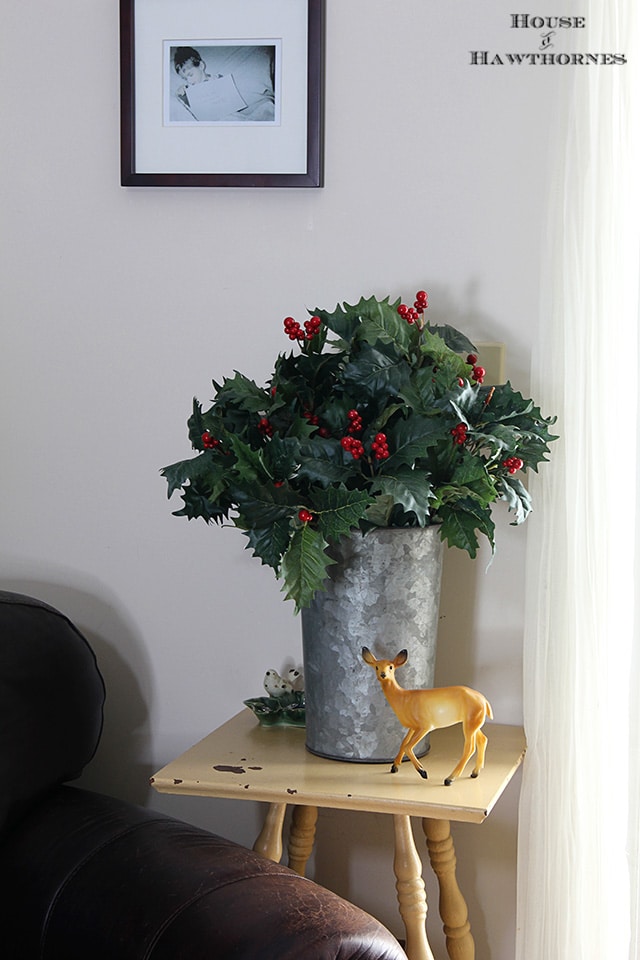 Nothing fancy, nothing planned, just using what I had on hand.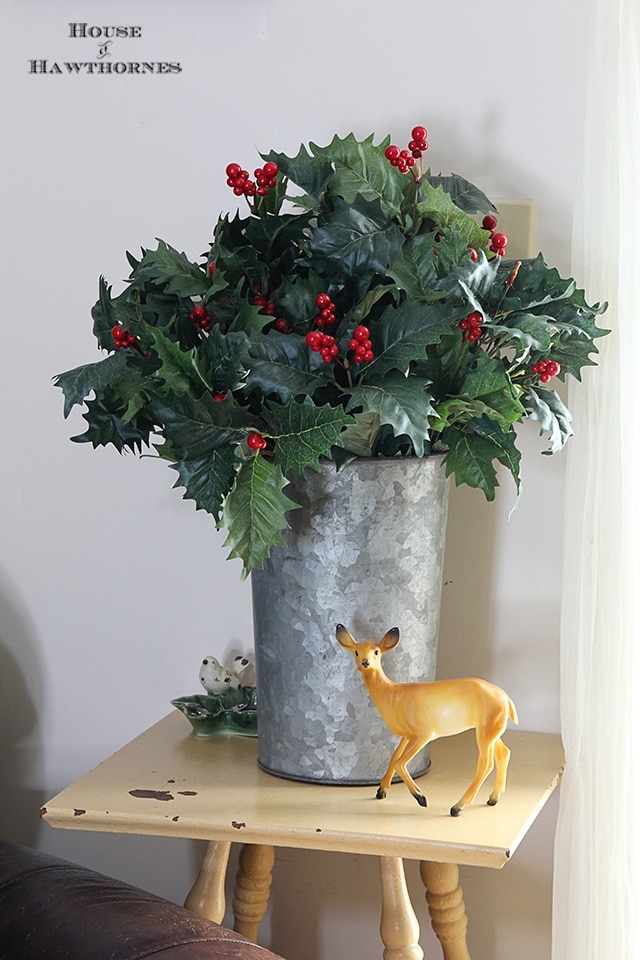 OK, so for my red truck that I bought at the Country Living Fair this year I was going to tie one to the hood.
But then thought that might be a little too "dark". Can't have that at Christmastime.
So now, they're just standing safely on the side of the "road".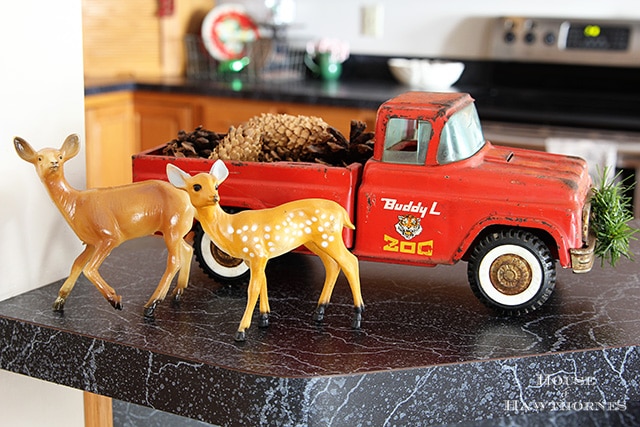 BTW, when my son was little I used to tell him the deer that had been hit and were laying along the side of the road were sleeping.
Yes, I lied to my son. Better than trying to explain life and death, right?
To loosely carry on the deer theme, I threw some faux antlers in my coffee table centerpiece.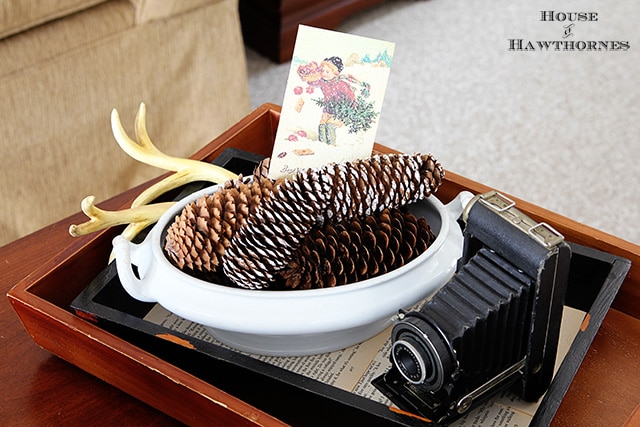 And we can't forget my dearest friend of all.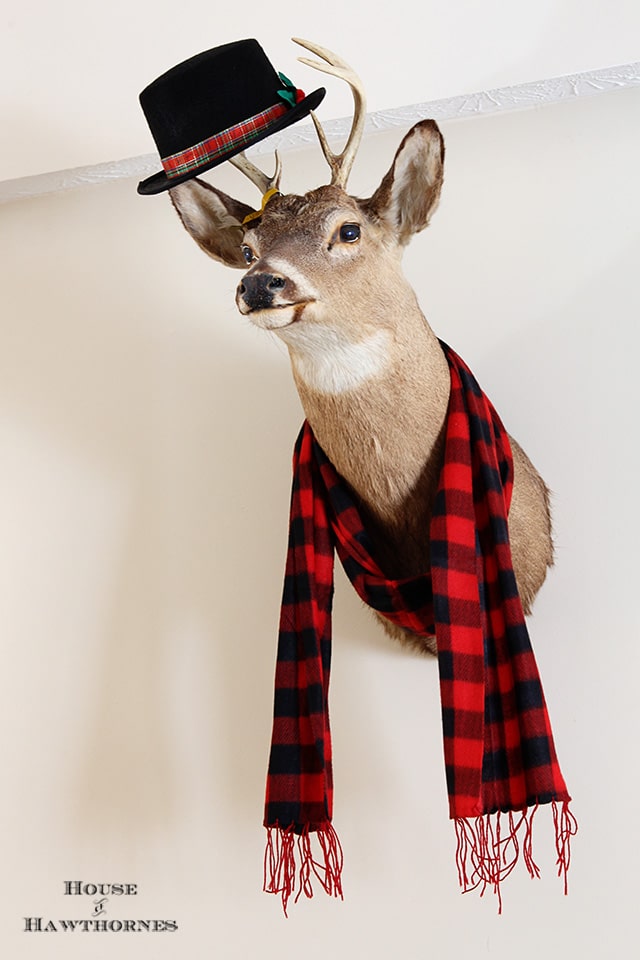 I picked up the Frosty The Snowman-ish hat at Target in the dollar bin section (although it was $3). After I got it home I realized it was too large to fit between the antlers, so it is just sort of thrown on there.
The scarf was from Dollar Tree! I actually bought two of them and sewed them together to make it long enough. Who knew that a deer's neck was larger than a person's?
OK, I'm off to do some gift wrapping now that the deer are safely separated from each other. That and take a nap. I inherited my son's cold and am having a hard time staying awake to finish this post 🙂