I popped in to Goodwill today, not really expecting to find anything.
Monday mornings are not usually a good thrifting time for me. Sure people have dropped off donations over the weekend, but the employees are normally still sorting and pricing on Mondays at my stores. The goods don't normally make it out of the back room until Tuesday or so.
Is it sad that I know my thrift stores intimately?
Anyhow, I was on my way to Target next door, so I thought I'd swing on in for the heck of it.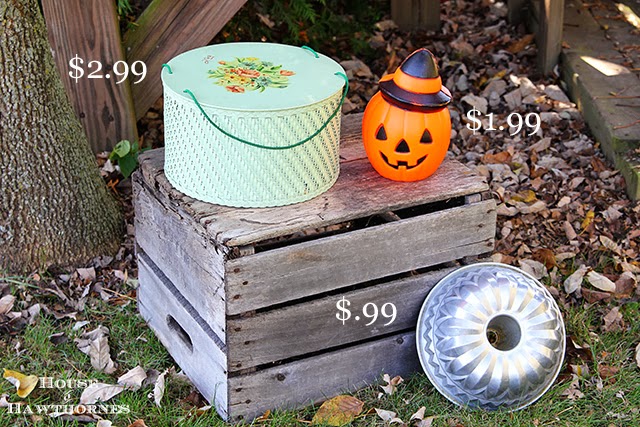 This little Halloween blow mold is marked Empire Plastics 1981 on the back.
That is the excellent thing about Empire Plastics blow molds. There's not a lot of guessing about how old they are, because they are stamped on the bottom with the year they are made.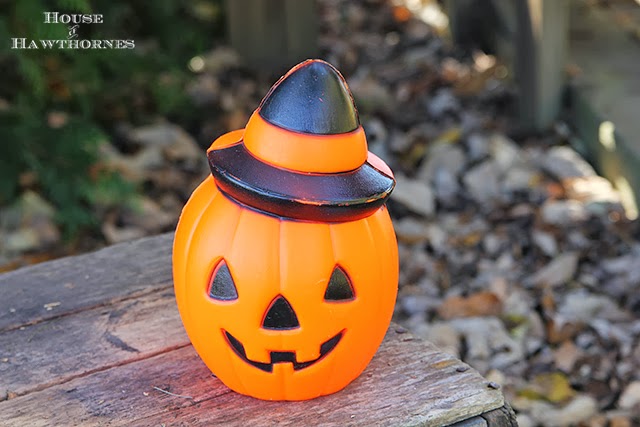 Sort of dummy proofing it for us thrifters.
OK, I need a little help on this one.
I bought it to make an apple walnut cake that I found on Pinterest (where else?). It wasn't until I was driving home, all proud of myself for finding a cheap bundt pan, that I realized it was probably a jello mold.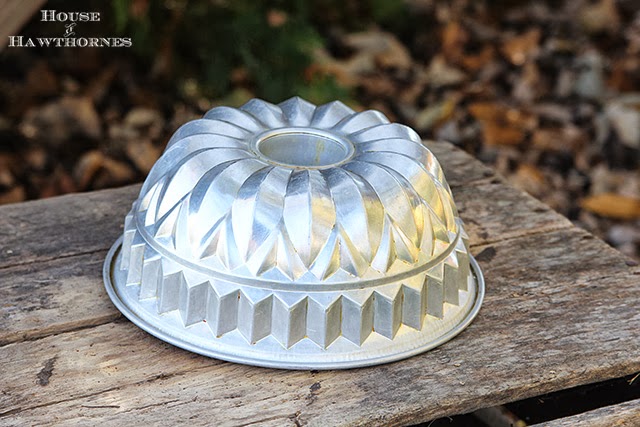 Can you make a cake in this or is it just used as a jello mold? And who the heck uses a jello mold these days?
So I was all excited about my finds so far and was walking to the cash register, when I spied a row of carts full of stuff just waiting to be put on the shelves.
But it's only Monday, don't they know my Monday thrift shop theory!
Now, normally I will follow behind employees putting stuff out, but I don't normally pick at the carts myself. They actually have a rule that you don't dig stuff out of the carts in process and they are fairly serious about it. I don't know what thrift store jail looks like and I don't plan on finding out.
Until today when I did not see a worker anywhere near the golden carts.
And I saw this poking up out of a mound of stuff.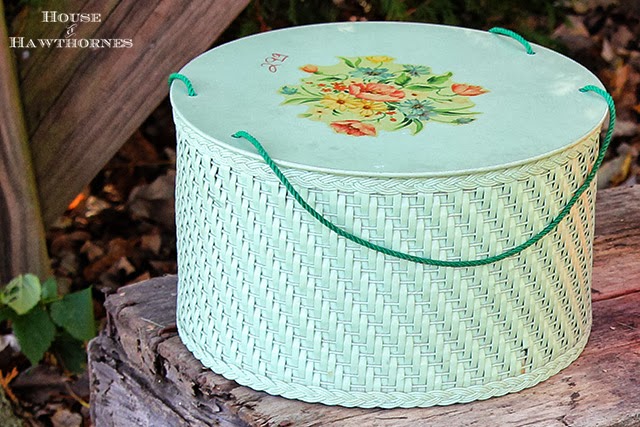 OK, maybe I had cake on my mind, but I thought it was the prettiest cake carrier I had ever seen.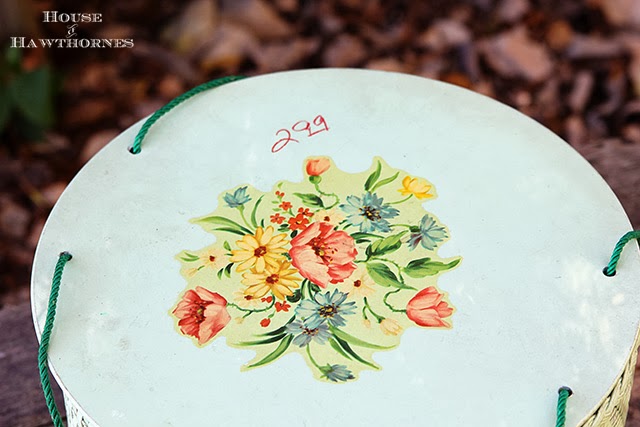 The basket stuff reminds me of the old-school laundry hamper that my mom used to have in her bathroom.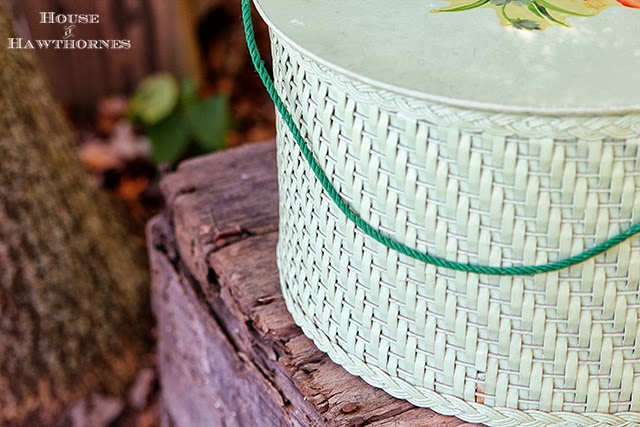 Again, let's just say I had cake on my mind, because after I got it home I realized it was not a cake carrier.
It's a sewing box.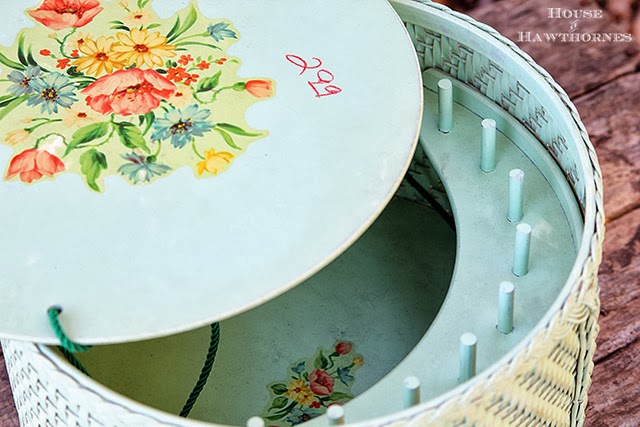 Hence the bobbin thingies. And well worth risking a trip to thrift store jail.
So, why did I have cake on my mind?
I had seen this recipe for Chunky Apple Walnut Cake that Michelle at Bite By Michelle had posted a few weeks ago.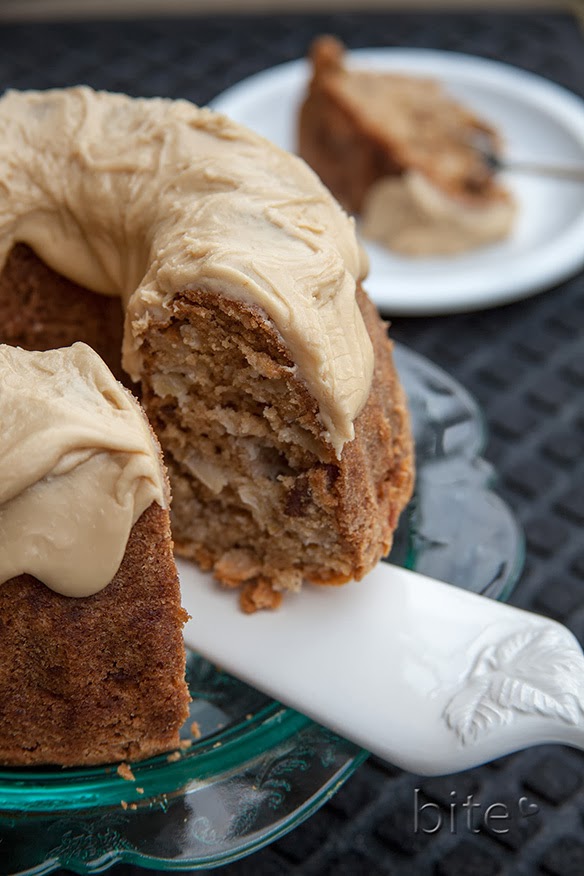 Source - Bite By Michelle
And I've been sort of obsessed with it. I mean, just look at that caramel glaze dripping over the edges!
If that blow mold wasn't so orange, I may have mistaken it for an apple.