I hit a few garage sales on Thursday and Friday and think I had some pretty good luck.
Let's start off with my Thursday finds.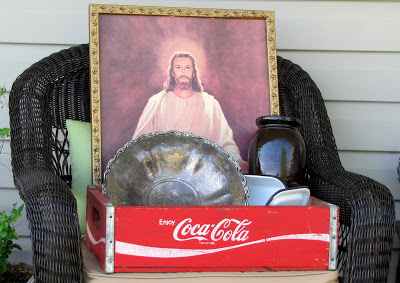 A Coke box for $6.00.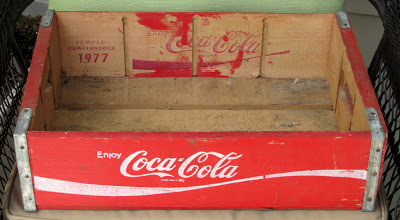 It appears to be from the 1970's if this is its manufacturing date. I have seen these at numerous antique stores lately for around $15-$20 each, so I thought this was a good deal.

And it beats the ones at Pottery Barn for $24.00. I am a strict Coke person, Coke Zero to be precise, so there will be no Pepsi crates in this house. And certainly no $24.00 Pepsi crates.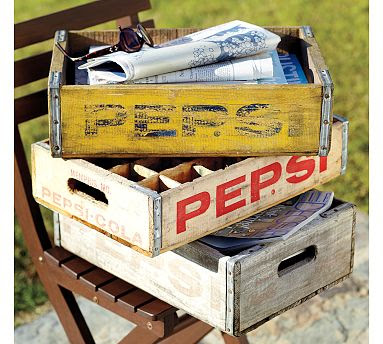 (Photo courtesy of Pottery Barn)
This great tarnished silver bowl was $3.00.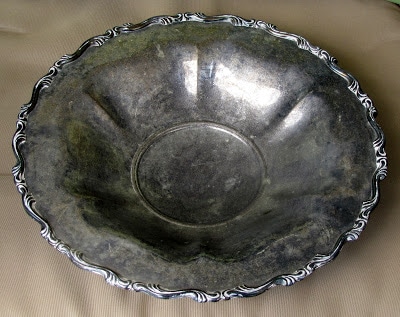 It's about 12" across, very heavy and has an ornate edge on it.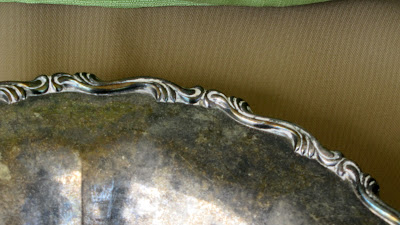 Better yet it has a pedestal base so I can use it as a centerpiece.
I always see tons of silver pieces when I am out and they are always dirt cheap. I think most people don't want to bother with cleaning them anymore. I love them either tarnished or shined up, they have so much character and history.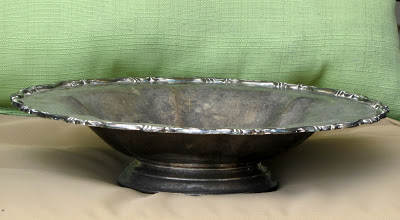 These two porcelain containers with only one lid were $3.00 for the set. They are a little too icky on the inside to ever be used for food again, but they are great to store stuff in around the house. They're a little bit vintage, a little bit industrial and more unique than a wicker basket.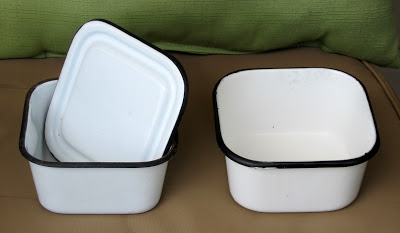 On the way home from the garage sale I stopped at Salvation Army and found a vintage picture of Jesus. On the bottom it says it's a 1959 Memorial Bibles Litho.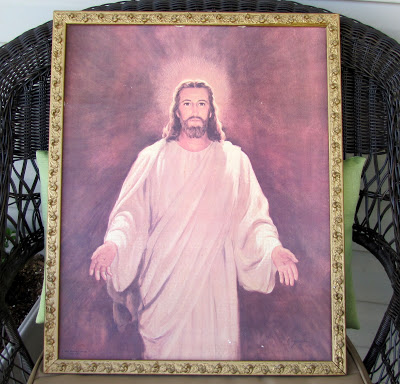 Although I think it's a beautiful picture of Jesus, I actually bought the picture because of it's old chippy wooden frame that is much older than 1959. I am going to do a project in my living room in a few weeks where I use some antique frames and this will be a perfect addition to that. So I'm going to take it out of this frame and find a different frame for the picture that is more true to the 1950's era.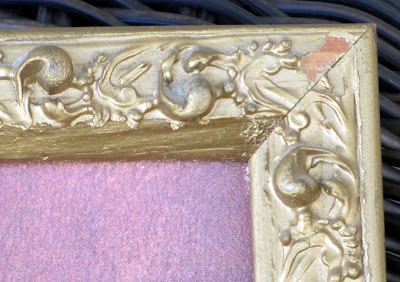 I also picked up this stoneware crock at the Salvation Army for $1.99.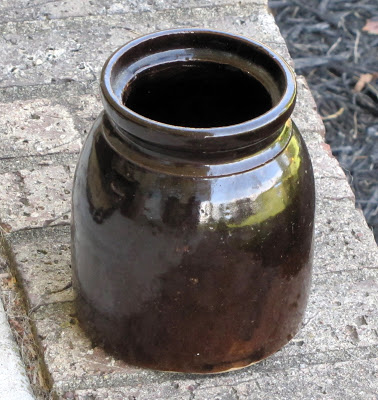 These are my Friday finds which is where the episode of Hoarders comes in.
I drive up to this house and they have a lot of tables set up in the yard with a lot of glassware on them. So I jump out and it's not until I get inside their yard that I realize that what I see on the tables is about 1/10th of what they have.
The vast majority of the stuff is just sitting in boxes under the tables and boxes lined up along the driveway. Like those big boxes that bananas come in. And the stuff was just thrown in these boxes. No price, no rhyme or reason as to what was in each box, just a free for all.
The best (or worst) part is when I finally have sorted through some of the boxes, found what I wanted, dusted the mouse poop off of them and go to pay for my stuff the lady tells me to come back tomorrow because she has more stuff still in boxes that she hasn't had time to put out yet. I initially think she's talking about the stuff under the tables and along the driveway still in boxes, but no she is pointing to her garage! I glance in that direction and see at least 20-30 more boxes stacked up in her garage that I never noticed before.
So this is my haul from The Hoarders of Ohio Club president.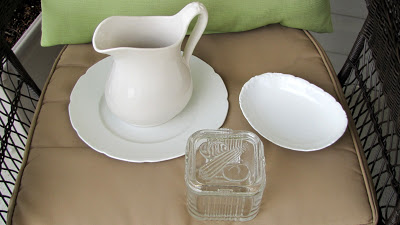 An English ironstone pitcher for $3.00.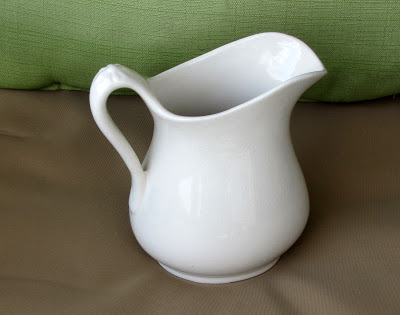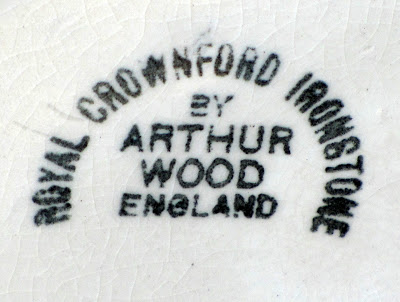 An English ironstone dinner plate for $.50. It has a brown stain in the center of it that I thought I could remove, but so far no luck. We'll just say it adds to the character of the piece.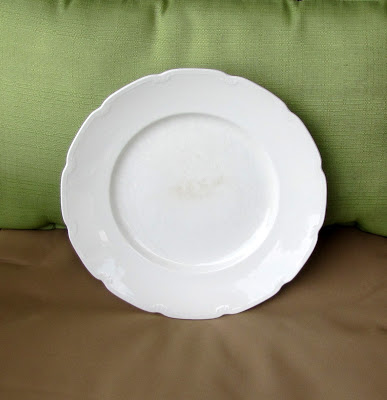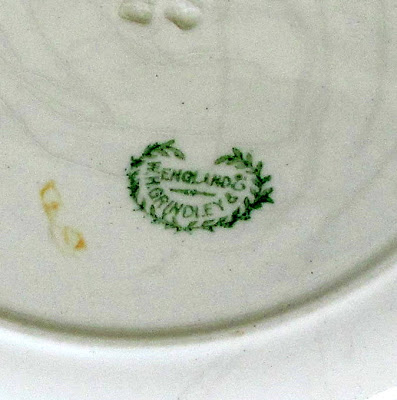 A French ironstone small oval bowl (around 5" long) for $1.00.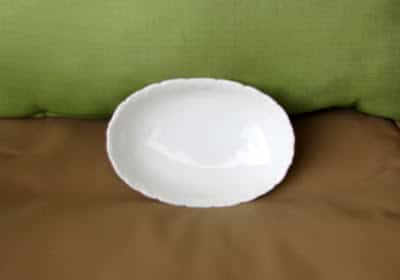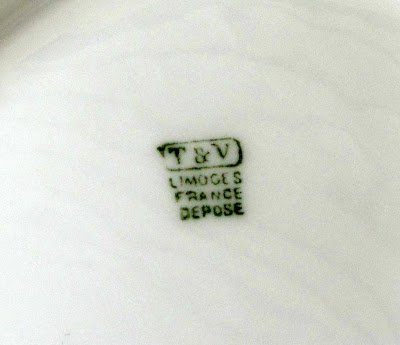 And a glass vegetable refrigerator dish for $.50.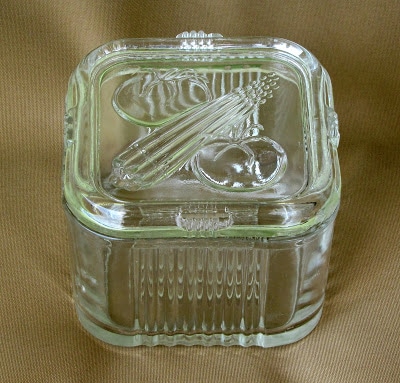 Before people used Tupperware in the fridge, they used these glass refrigerator dishes.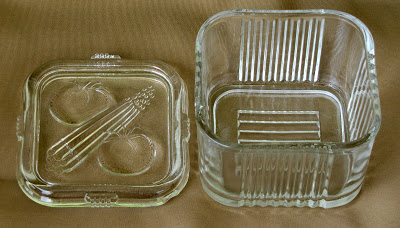 I hope everyone had a great Garage Salen and Thrifting Week.