My husband was off work on Friday so we all went garage saling together. Now, my husband has never really been into garage sales and rolls his eyes at some of the things I bring home, so when he suggested we go to some sales on Friday I about feinted.
After I checked to see if this guy was really my husband (yep, it is him), we started the day's journey at a church rummage sale in a small, teeny tiny town not far from here. I'm always a sucker for church sales because I have a picture in my mind of little old ladies donating their Hoosier cabinets and McCoy vases to the church. I was surprised at the huge amount of items they had. Tons of stuff, not any Hoosier cabinets or McCoys to be found, but a lot of other items. Here are some of our finds.
What is this you say?

Oh look, the legs unfold and then the shelves fold down. What a cute shelving unit!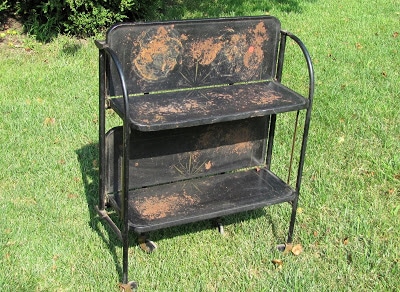 But wait, you can also unfold the other set of legs and now it's a table!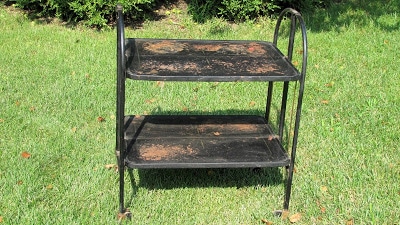 Is this the wackiest table you have ever seen? Sort of looks like one of those rolling metal carts you used to see in kitchens in the 1960's. Never seen a folding one though.

And it has this really cool retro design on the shelves.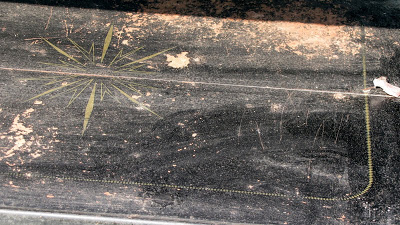 I would love it if the finish was in better shape, but I think it still has some quirky vintage appeal as is. And it was only $5.00, so even if I just use it as storage, it is worth it.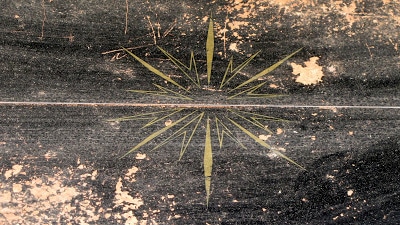 Another great find was this chair. Now it's nothing special and is pretty banged up, but for $3.00 I couldn't pass it up (even if it is the 9th chair I have bought this summer).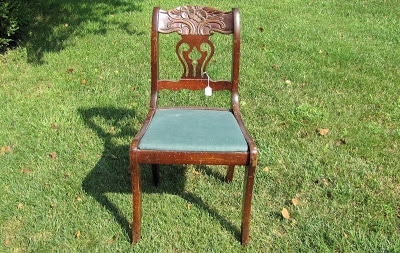 It has a nice flower detail on the top of the chair.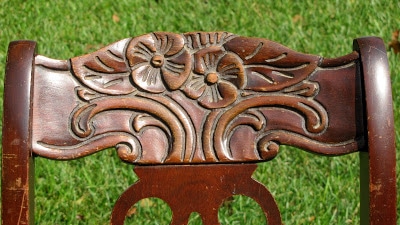 And some pretty ugly and dirty fabric on the seat.
Over the next few days I need to decide whether to paint the chair (quick and easy fix) or refinish it (not quick, not easy). The husband ALWAYS thinks I should refinish something or better yet, just leave it as is, but I tend to not listen to him and go with my gut.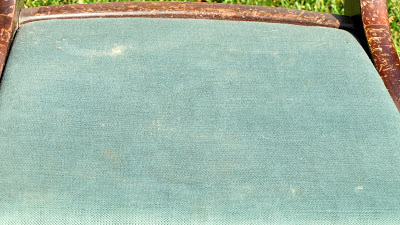 I also found this white vase for a quarter.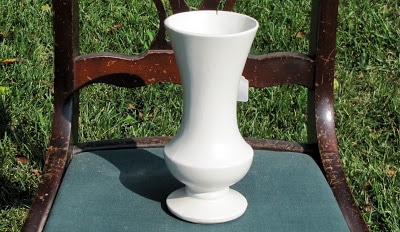 But it had an accident coming out of my car. So now I need to find my glue.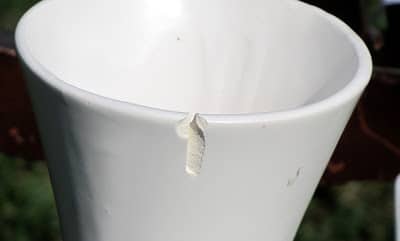 My son found a electronic project kit and a canteen. I boiled the canteen when we got home because I found it incredibly grody to buy a used canteen where you don't know who has drunk (drank?) out of it.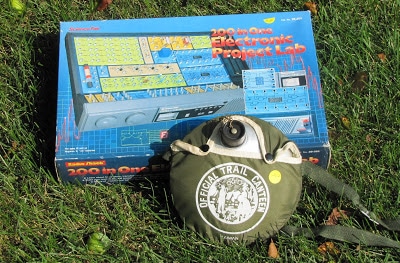 And the last item we found at the church rummage sale was a garden tiller.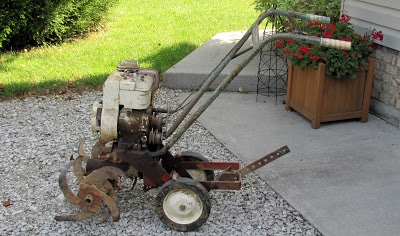 It's old and dirty, but if it works it will be a good buy for only $5.00. We haven't tried to start it up yet because apparently according to my husband you have to do things with the engine before you can just pull the cord. Who knew.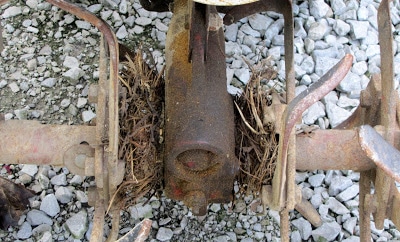 At another sale on the way home, my husband bought a saddle bag for his vintage Honda.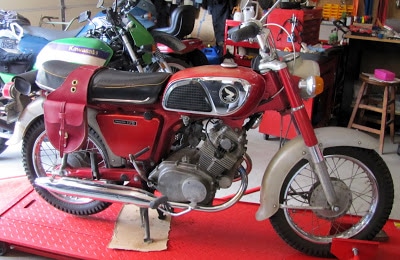 This garage sale was at a horse farm and had lots of guy stuff. The bag is really a horse saddle bag, but my husband got all excited when he saw it because it was about the right size for his motorcycle and it was close to the red color of his bike.
I think it looks a bit girly on the bike, but he likes it.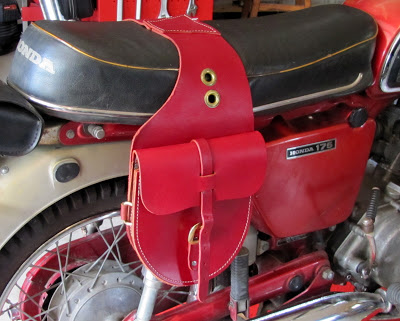 One of these days I will do a post about my husband's vintage motorcycle because A) it's vintage and B) my husband is way, way too large of a guy to be riding this size of a bike and it's pretty funny to see him on it. He actually races this in road rallies along with a bunch of other guys who are too large to be riding small engine bikes.