An apple pie you can eat as you walk around the house, no need for a fork and plate or a kitchen table for that matter? An apple pie that's not only adorable, but yummy?
Count me in!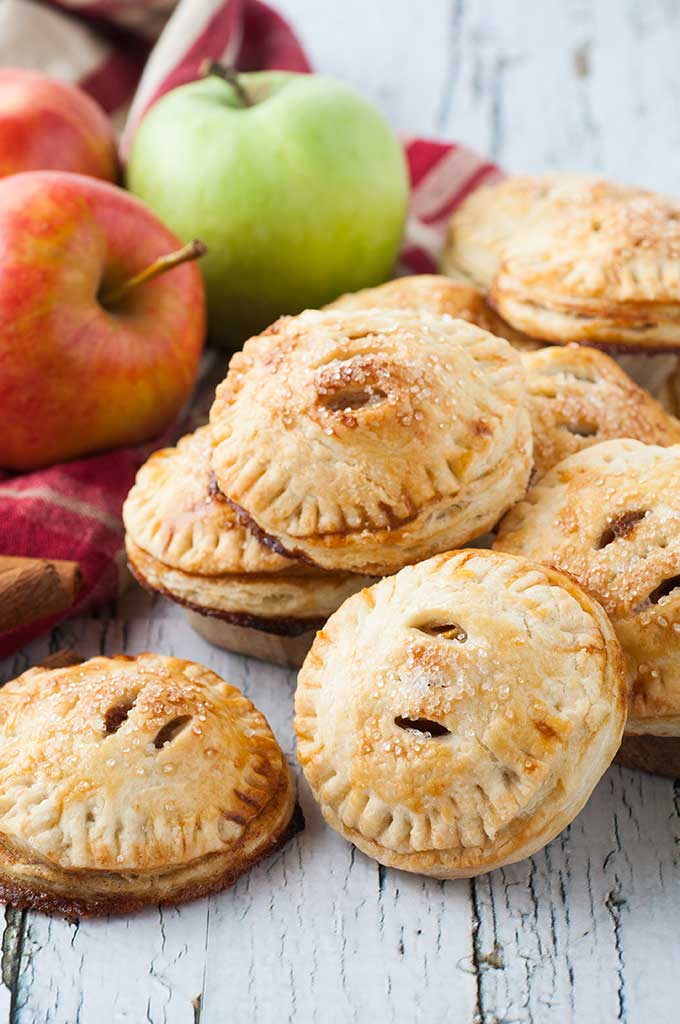 With fall coming on fast and furious yet it still being officially summer, I thought I'd whip up a batch of these apple hand pies for the weekend. The perfect answer for both fall and summer snacking.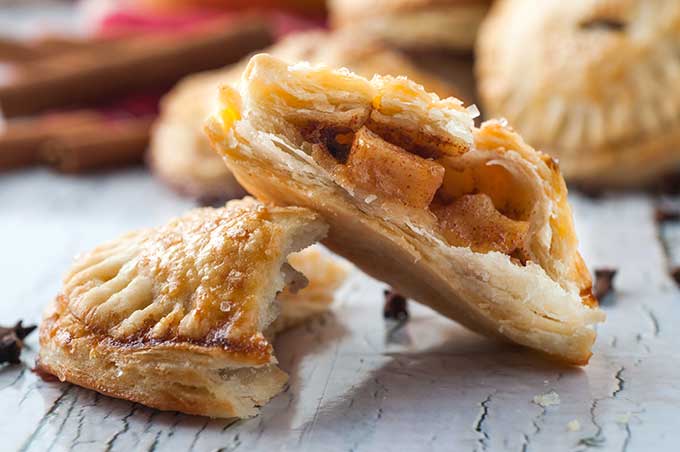 These are great for summer picnics, fall hay rides and eating in bed under the covers at 12:30 at night while your husband is sleeping.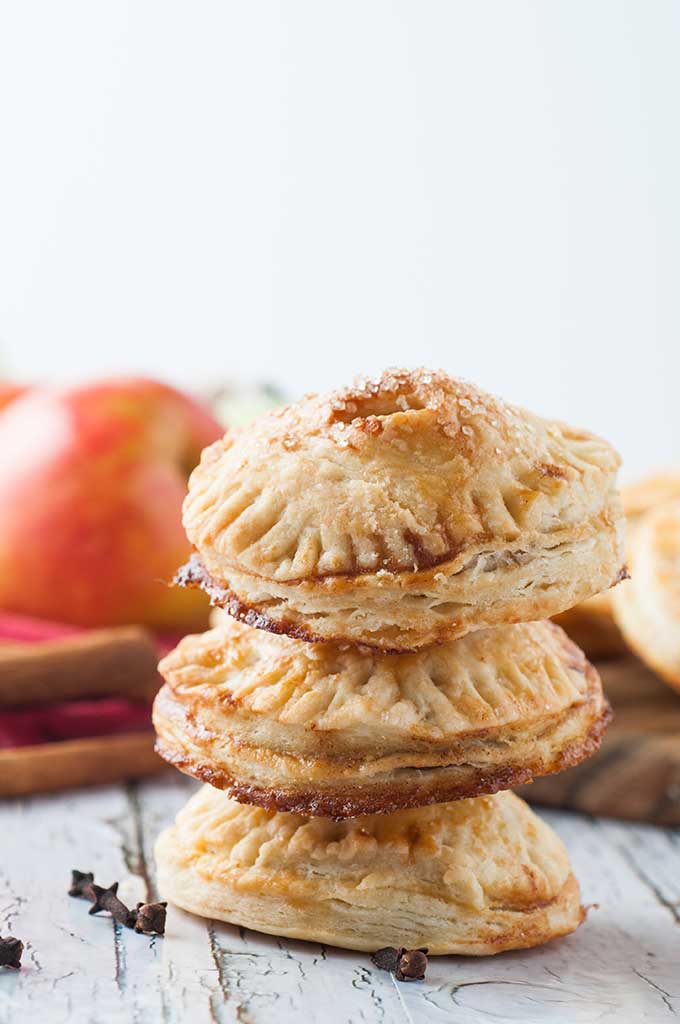 Before I get into the recipe, let's talk about a few pie related issues.
A Tip About Measuring Flour
OK, I know you all think I'm nuts for talking about measuring flour. I can hear you now, Uh, you use a measuring cup, Silly Girl.
But there is a correct way and a less than correct way to measure your flour. Using the wrong way may result in too much flour (up t0 150% more) and then your recipe may not be the best it can.
The correct way to measure flour is the Spoon And Level Method.
Use a spoon to scoop your flour out of the bag and into the measuring cup. Fill your measuring cup all the way to the top and then some. Do not pack the flour down with the spoon and do not tap the measuring cup on the counter to pack it down either.
Repeat after me, fluffy flour is good flour.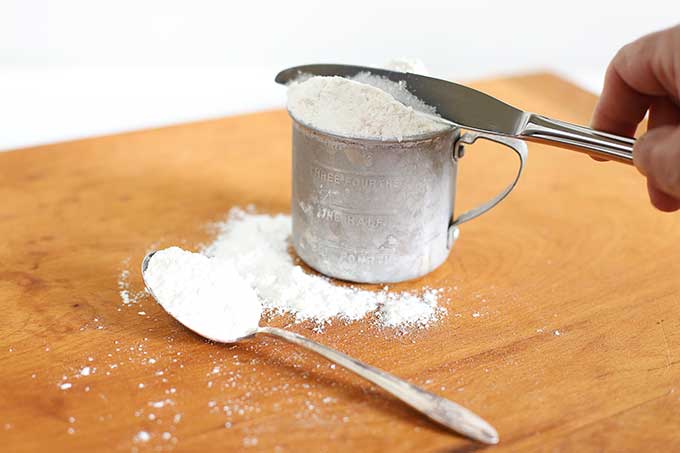 Then use a knife to run across the top of the measuring cup to get your even cup.
You have now successfully measured the correct amount of flour.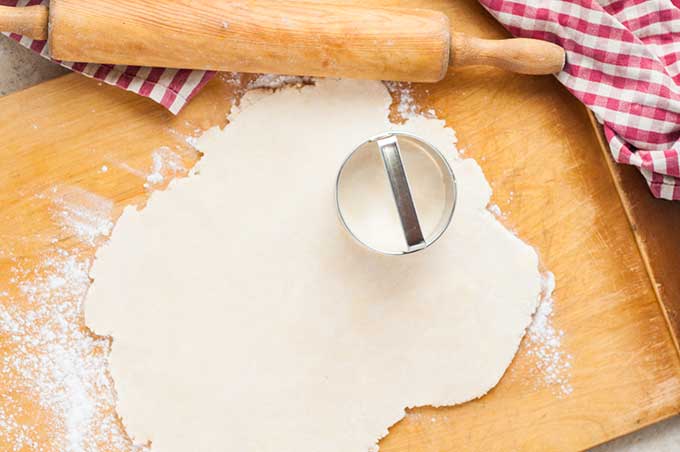 Let's Talk About Butter vs Shortening vs Lard
Yes, my grandmother's pie crust recipe calls for lard. No, I cannot bring myself to use a cup of lard (and not even sure where you buy lard nowadays). My hips are big enough as it is.
So lard is out and you are left with butter and/or shortening.
Most old school recipes will call for shortening which does a wonderful job of making a super flaky crust. And let's face it, if your crust isn't flaky, why bother making a crust. But using butter gives it a yummy flavor.
So let's go with both of them! Use a bit of butter for the taste and a lot of shortening for the flake.
BTW, if you are morally opposed to shortening or just prefer to not eat it, you can make it with 1 cup of butter instead of the mixture.You won't hurt my feelings.
And other BTW, feel free to use a store bought refrigerated pie crust if you want to take half the fun out of making apple hand pies. Seriously though, a store bought pie crust is a fine option if you want to save time. Your hand pies will still taste great!
OK, now that we have that debate settled, on to the recipe.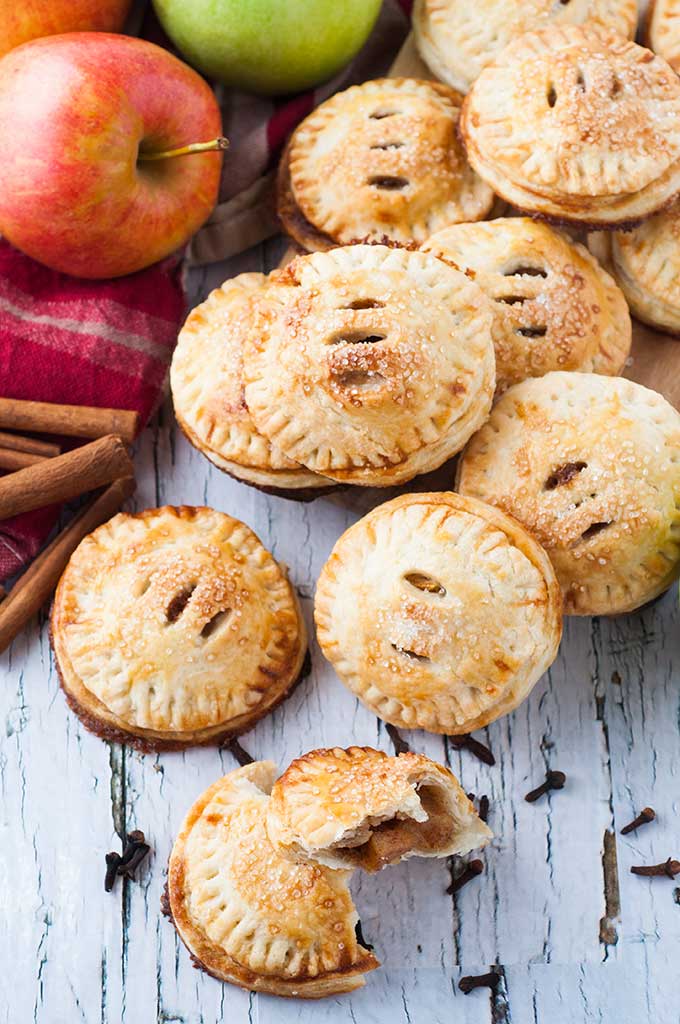 Apple Hand Pies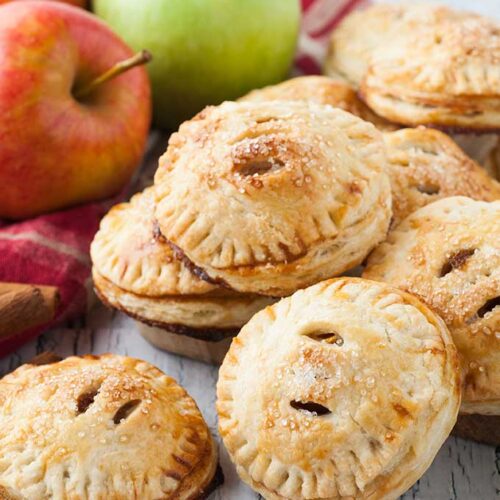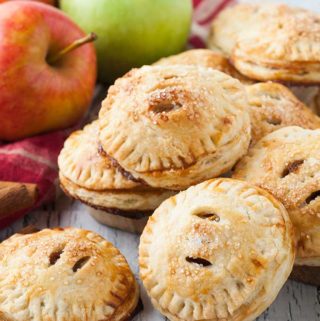 Apple Hand Pies
These homemade apple hand pies feature a juicy apple pie filling encased in a buttery, flaky pie crust. The yummy taste of a traditional apple pie, but in an adorable, handy size.
Print
Pin
Rate
Ingredients
Pie Crust
2 ½

cups

all purpose flour

1

teaspoon

salt

1

teaspoon

sugar

¼

cup

butter,

cubed and chilled

¾

cup

shortening,

chilled

½

cup

ice water
Apple Pie Filling
½

cup

brown sugar

½

teaspoon

cinnamon

¼

teaspoon

ground cloves

¼

teaspoon

nutmeg

¼

teaspoon

salt

1

tablespoon

flour

2

cups

apples,

peeled and diced

1

tablespoon

butter,

melted
For Assembly
1

large egg

1

teaspoon

water

1

tablespoon

coarse sugar

(for sprinkling)
Instructions
Pie Crust
Whisk flour, salt and sugar in a large bowl

Add cubed butter and shortening to the bowl and cut it in until it becomes coarse pea sized crumbles

Add ice water one spoonful at a time using just enough water to make a workable dough

Divide dough into 2 equal portions, wrap the portions in plastic wrap and refrigerate while making the filling
Preparing The Filling
Whisk brown sugar, cinnamon, ground cloves, nutmeg, salt and flour in a medium sized bowl

Add the melted butter and apples - stir to combine
Assembling The Hand Pies
Line a cookie sheet with parchment paper and set aside

On a floured board, roll out one of the portions of dough to ⅛" thick

Use a 3-4" round biscuit or cookie cutter to cut out 10-12 circles of dough and place them on the prepared baking sheet (the size of your cookie cutter will determine how many circles you can cut)

Top each circle with roughly 1 tablespoon of apple pie filling

Roll out the 2nd portion of dough, cut out 10-12 more circles and use a sharp knife to cut slit like vents in them

Place vented circles on top of each hand pie and use a fork to crimp the edges together

Whisk together the egg and 1 teaspoon of water to make the egg wash

Brush the top of each hand pie with egg wash and sprinkle with coarse sugar

Bake in a 400F oven for 20-25 minutes until golden brown
Notes
Can be covered and stored in the refrigerator for up to 5 days (if they last that long).
After your hand pies come out of the oven and have cooled completely, they can be frozen for up to 3 months if needed.
You can use any type apple your prefer. My favorite is a Golden Delicious, but I've also used Honeycrisp, Fuji and Gala.
Don't forget, when cutting out your circles you will roll out your portion of dough, cut your circles from the dough and then gather your leftover pieces to mash together so you can roll it out again to cut even more circles.
Nutrition
Serving:
1
hand pie
|
Calories:
175
kcal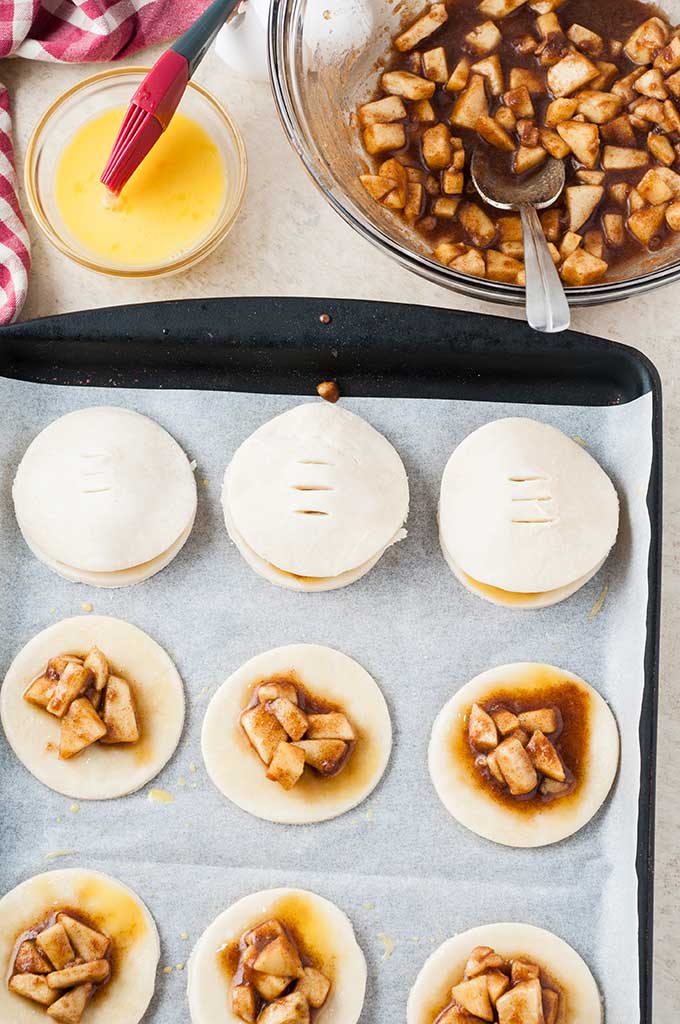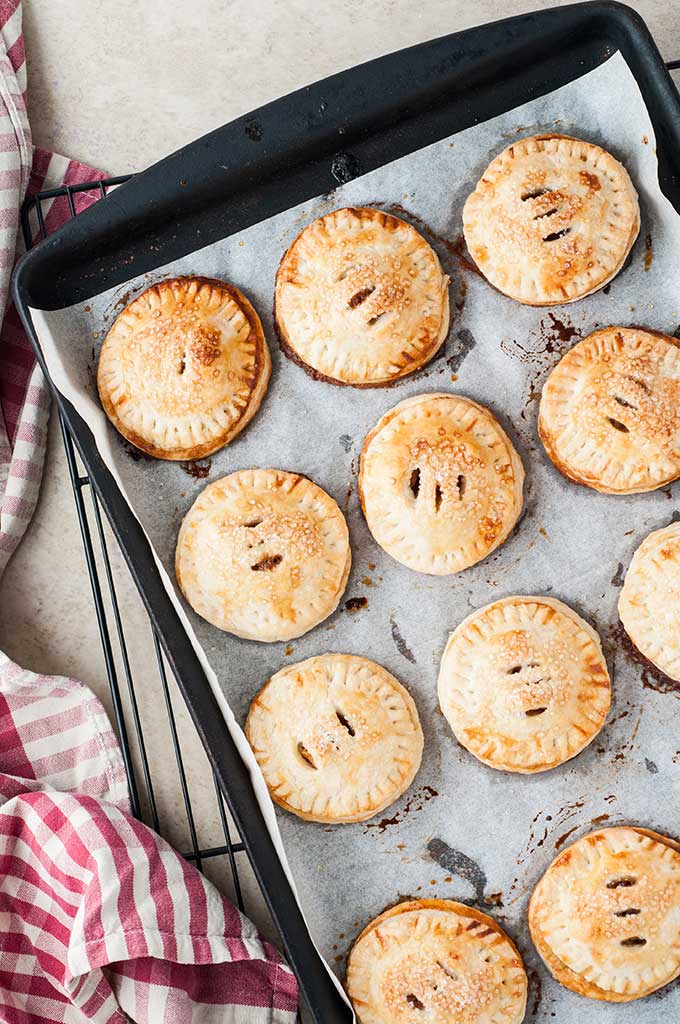 Have you got any big plans for the weekend? Are hand held desserts in your future?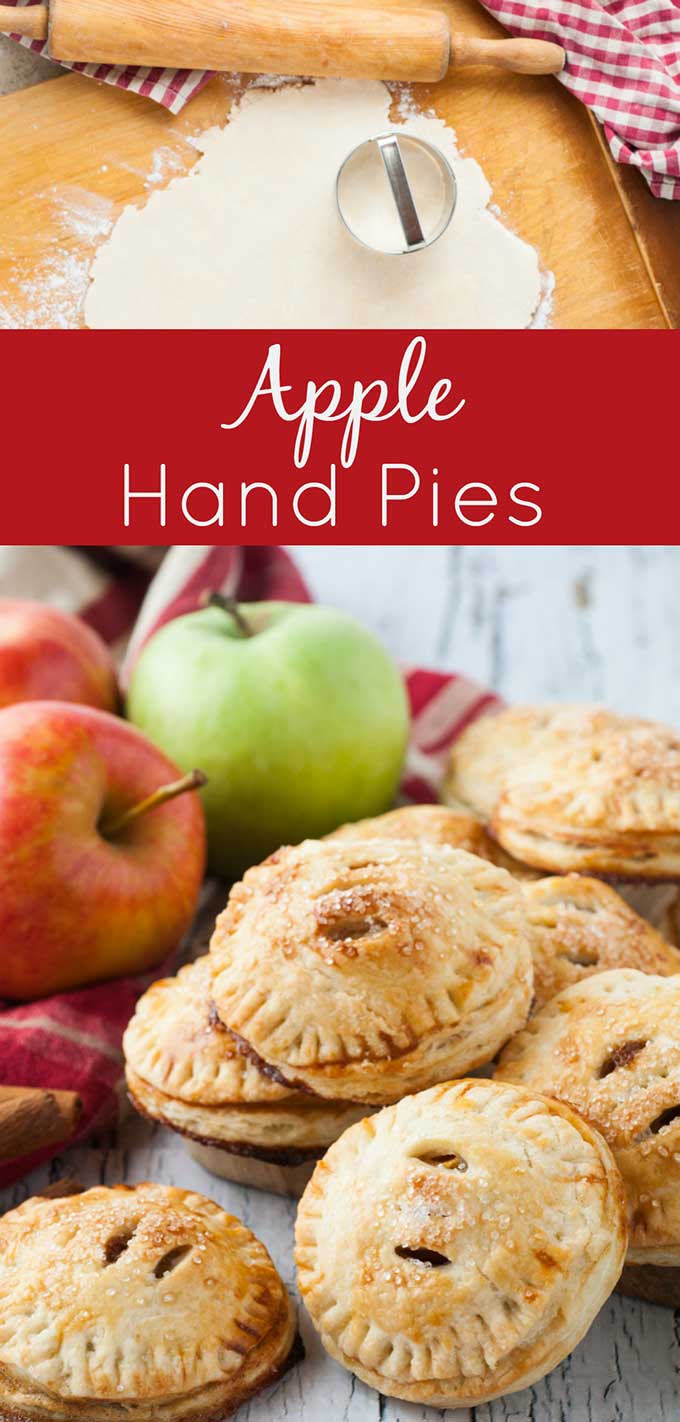 Other Posts Your May Enjoy:
Crockpot Baked Apple Recipe
Blueberry Crostata Recipe
Best Soft And Chewy Oatmeal Cookies