I always use at least a few bushel baskets here and there in the fall. They're sort of my go-to piece of fall porch decor.
You'll remember I used bushel baskets prominently in my porch decor in my Fall Porch Decor Farmhouse Style post from a few years ago and then showed how I used them for the holidays in How To Make Winter Porch Pots.
But they're also great to use for planters other times of the year.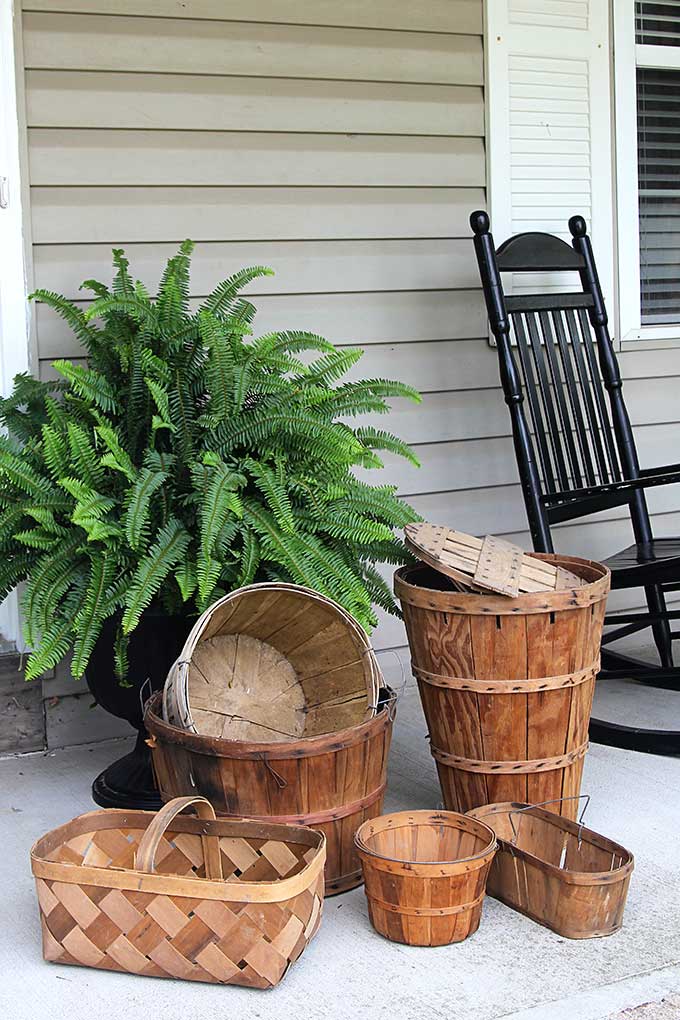 Normally I pick up my bushel baskets, tomato baskets and peach baskets (the tall ones you see in the post I linked to above) either at estate sales (head to the garage or shed to find them) or at local farm markets. I have also seen them quite often at thrift stores.
But since you might not be able to find one as easily as I can, I am doing this project with a basket I found at Michael's instead.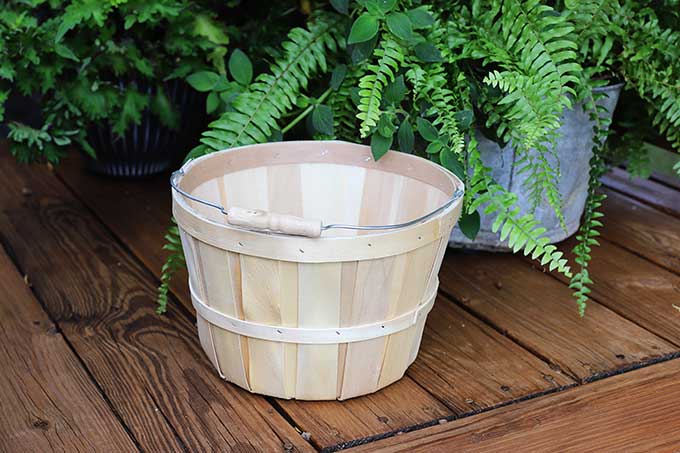 Yeah, yeah, I know you were expected an upcycled thrift store item, but sometimes it makes more sense to show you the more readily available version.
Michael's had a few different sizes of "bushel baskets" and I chose the larger one at 11.75" x 7.5". I have bushel baskets in air quotes (which are actual quotes, but just picture Chandler air quoting it), because their baskets are not a full bushel size. They are a more petite version of your grandma's bushel basket she kept in her garden shed.
This one was priced at $6.99 regular price, but since nobody ever pays regular price at Michael's, it was $4.20 with a 40% off coupon.
Shopping Note: these baskets are in among the regular storage baskets and not in the fall decor aisles.
Simple Bushel Basket Planter DIY Project
Supplies:
Bushel Basket
Vintage Effect Wash paint by DecoArt (optional)
White Craft Paint
Craft Paint Brush
Paper Towel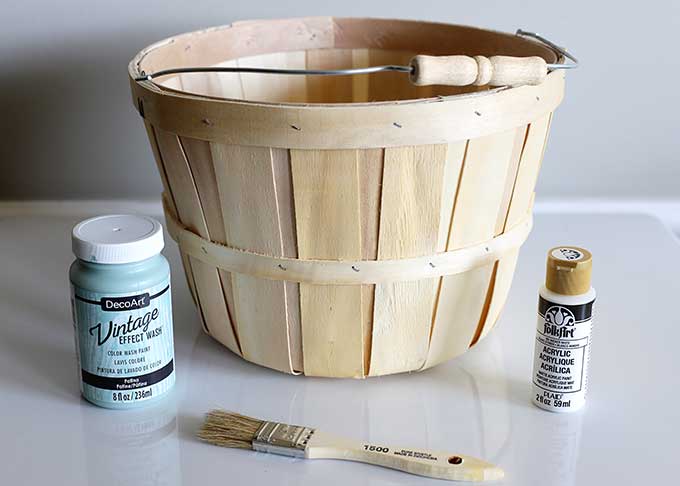 I've been wanting to try the DecoArt Vintage Effect Wash for quite a while (it has vintage in the name after all), so I thought this would be a good opportunity to try it.
The point of the paint is it's supposed to give the look of old stained wood that's been weathered, all with the ease of a paint. Plus there is no sealer required, so no need to wax or use a topcoat.
My honest opinion, which obviously isn't compensated, is that I LOVED the color choices (I chose Patina and it's sort of like the color copper gets when exposed I guess), but it wasn't THAT much different than just watering down regular craft paint like we used to do in the old days (like 5 years ago).
It is definitely easier and cleaner than working with stain though, so I do think I'll be trying it on more wooden projects where I want a lighter stain look.
Instructions:
Use your Vintage Effect Wash paint on the body of the bushel basket, avoiding any area you will be painting another color, like the rim. (This is where I feel a little silly doing a full-blown tutorial on this, because you're just painting, People).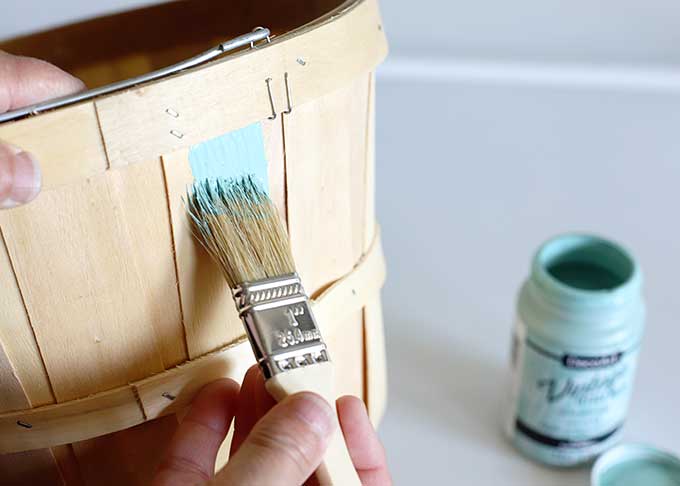 Wipe the painted area with a paper towel if you want to give it a "stained" effect.
I think it works best if you paint a small section, wipe it down and then go on to another small section. If you get too far ahead of yourself, it doesn't wipe off as well.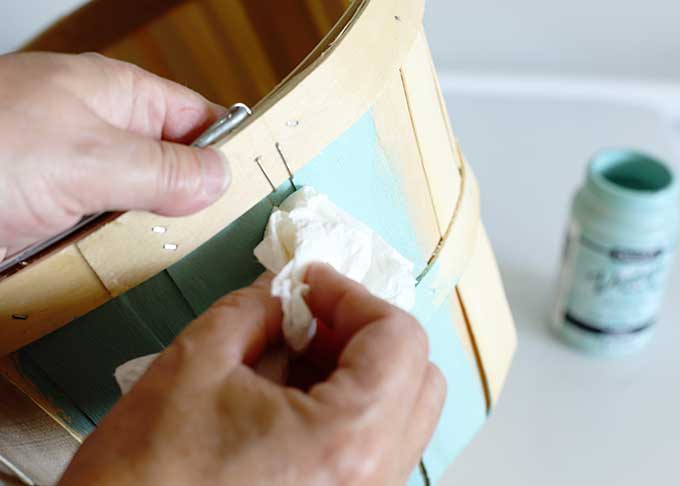 If you want a more painted look, as opposed to a stained look, do not do the paper towel step. Just paint this product on as a typical paint and be aware that you may need a 2nd coat if you want total coverage.
Use your alternative color on the rim if you want a two tone effect.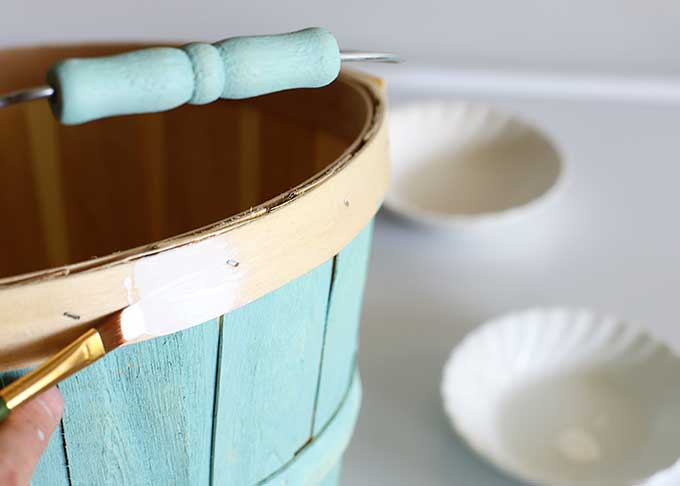 Paint the handle and you are done. This project took all of 10 minutes and pretty much changed the outlook for this plain Jane basket.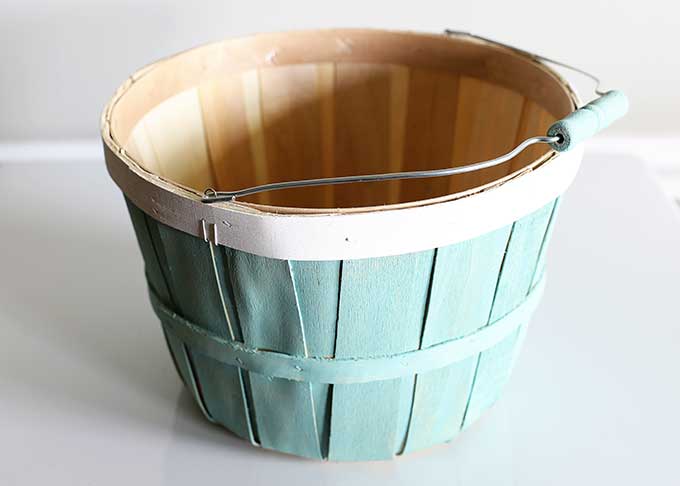 Can you plant directly in the planter?
You can, but I don't normally. I prefer to just set the already potted plant inside the basket with a liner of some kind in the bottom to catch excess water drainage. By not planting directly in the basket you will extend the life of your planters for years instead of just one season.
And after spending 10 whole minutes to paint this thing, you want to make sure it lasts!
For the large bushel baskets I use a pot liner/saucer you can find at Walmart or a plant store. Here's what they look like on Amazon.
For these smaller sized baskets a Rubbermaid food container works well.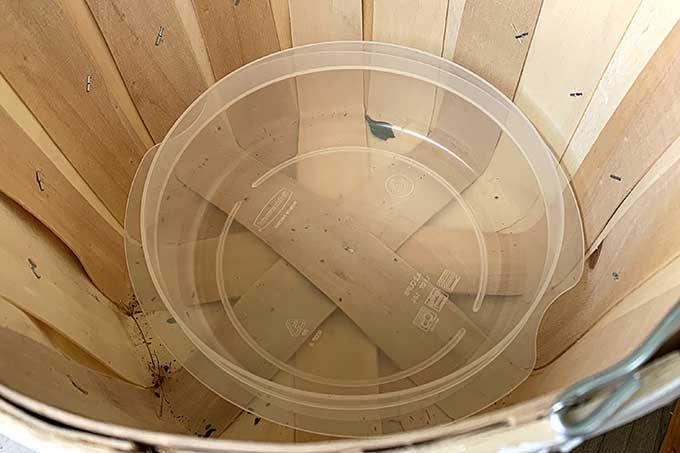 How To Use Your Bushel Basket Planter
I've currently got mine setting in the living room with a houseplant in it.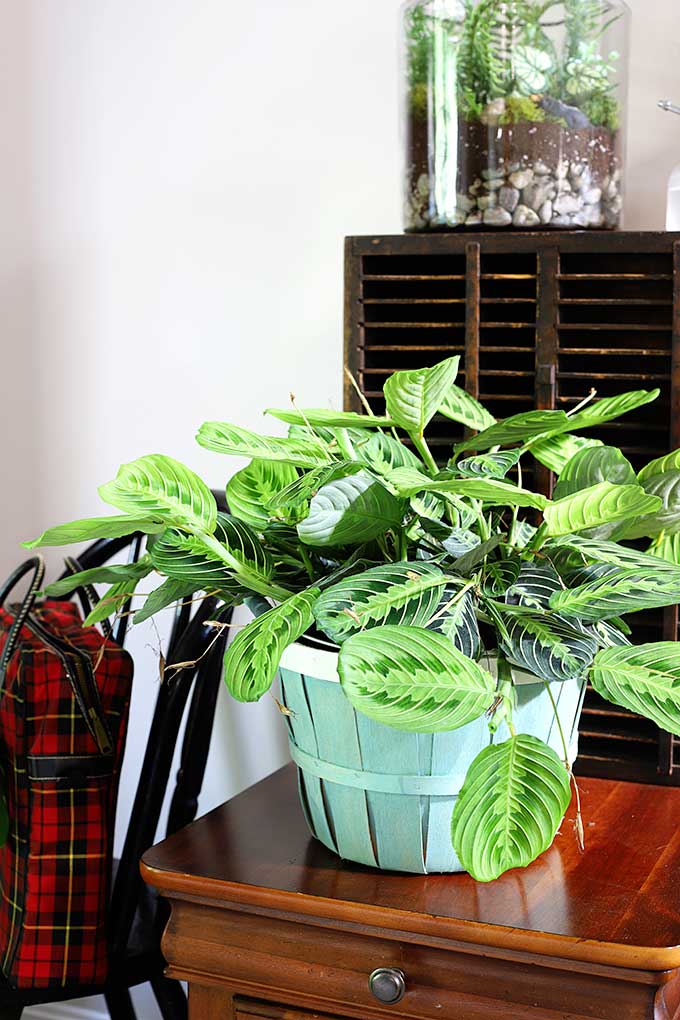 But to give you more ideas, I styled it for a few other seasons for you.
You can also use it for fall, by simply tossing a garden mum in the basket.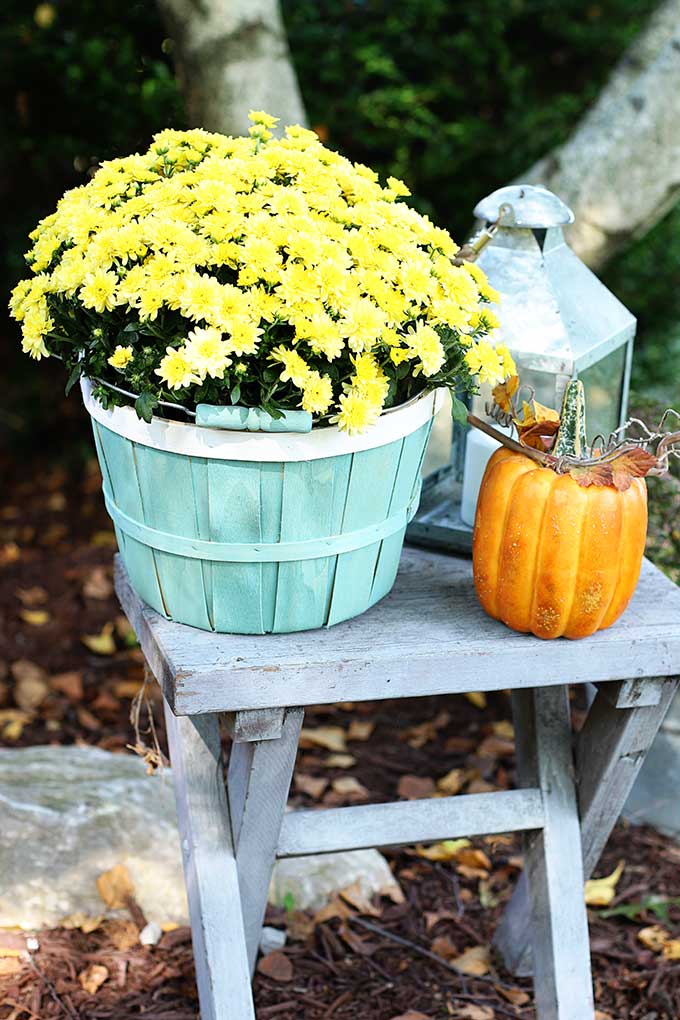 Geraniums for summer.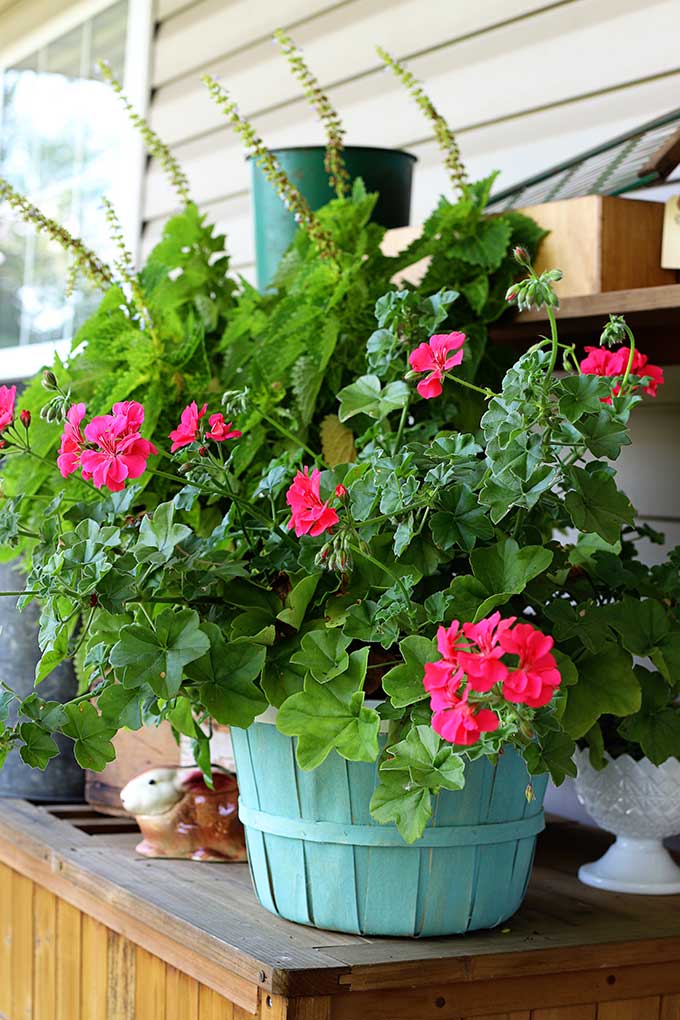 Some sort of greenery, pinecones or bulbs for Christmas (yes, I crawled up into my crawlspace and dug out some Christmas decor for y'all).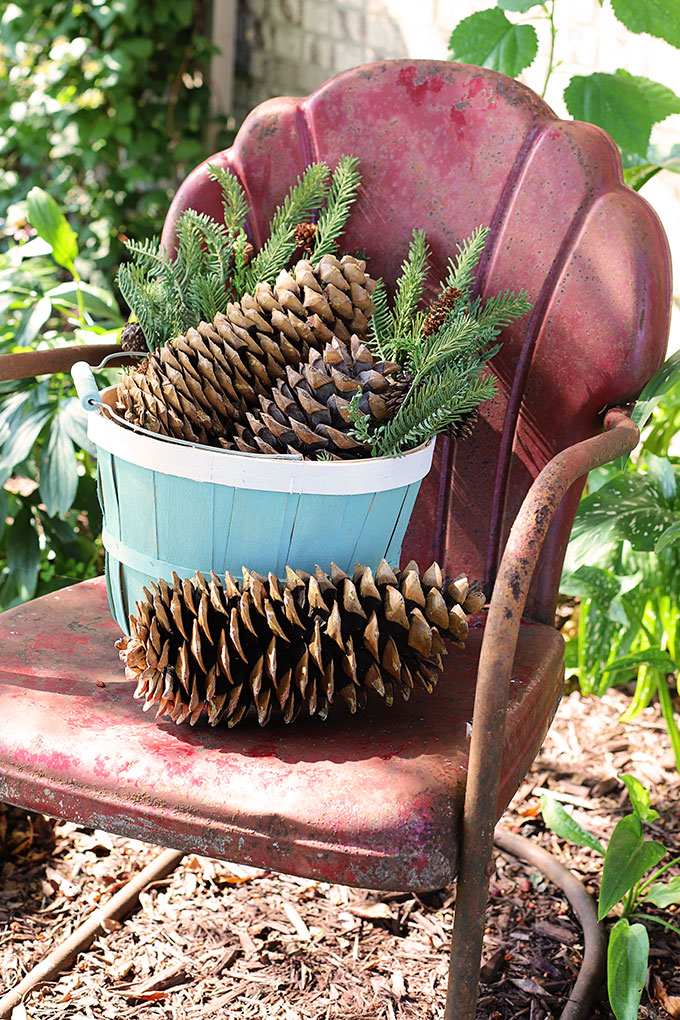 Or some pansies for spring.
OK, I couldn't find any pansies to show you. Or any spring flowers for that matter.
Even though pansies are a cool weather flower and CAN be planted for fall decor, it's just too early to find them around here. And it doesn't help that it is close to 100 degrees here this week.
I'm out of ideas, but basically if you don't paint it in a fall specific color you can just let it go on and on all year long. Although I have been thinking of painting one for Halloween in orange, yellow and white like a big old piece of candy corn.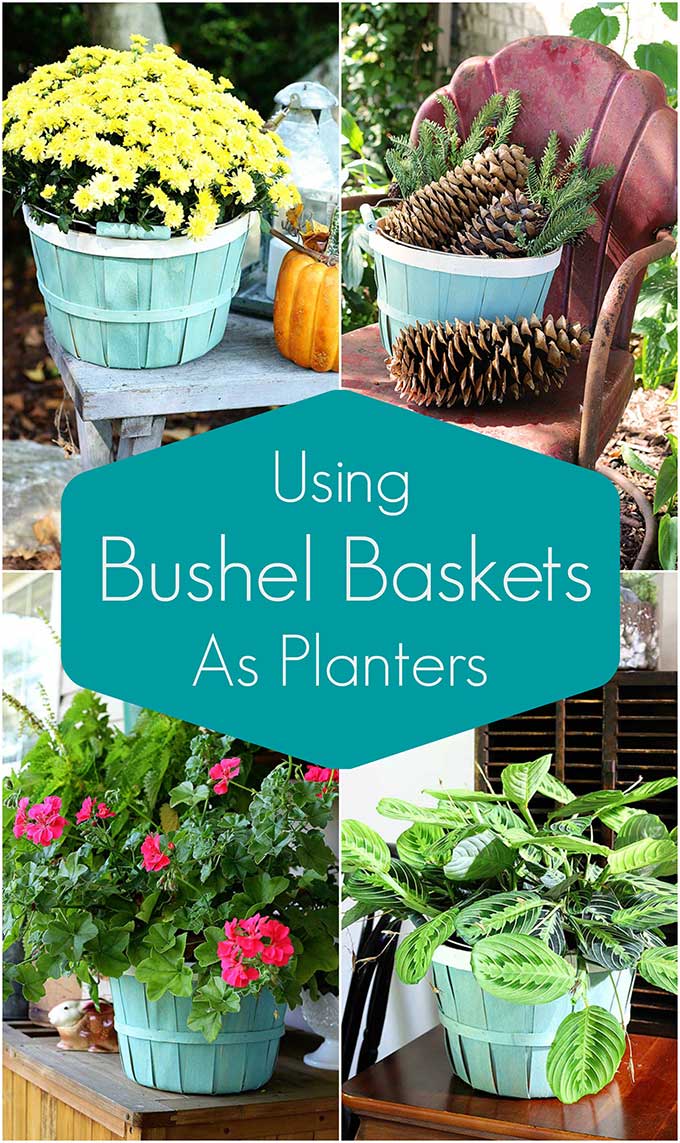 More Planters From The Thrift Store Decor Team
Yay, I have a special treat for you today! We are doing a second edition of Thrift Store Decor Team this month (I hope you didn't miss my Easy DIY Candles In Granny's Candy Dish post from last Wednesday) and the theme is all about Thrifty Flower Planter Ideas!
Pop on over to the other bloggers and get some ideas of how to make planters on the cheap, because even though summer is winding down a bit, fall planting season is coming up!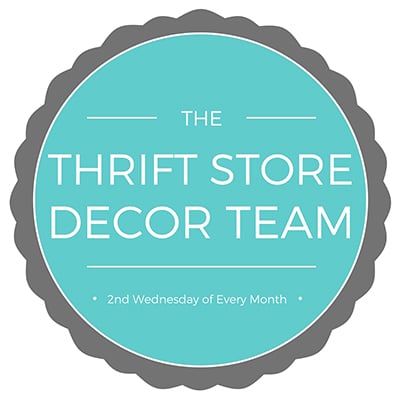 Petticoat Junktion - DIY Tea Kettle Flower Pots
My Repurposed Life - Vintage Toolbox Planter
My Uncommon Slice Of Suburbia - Succulent Bird Bath Planter
Refresh Restyle - Brass Plant Holder Idea
Domestically Speaking - Bird Bath Planter
Our Southern Home - Decorative Potted Plant Finish
House Of Hawthornes - Colorful Bushel Basket Planter (that's me)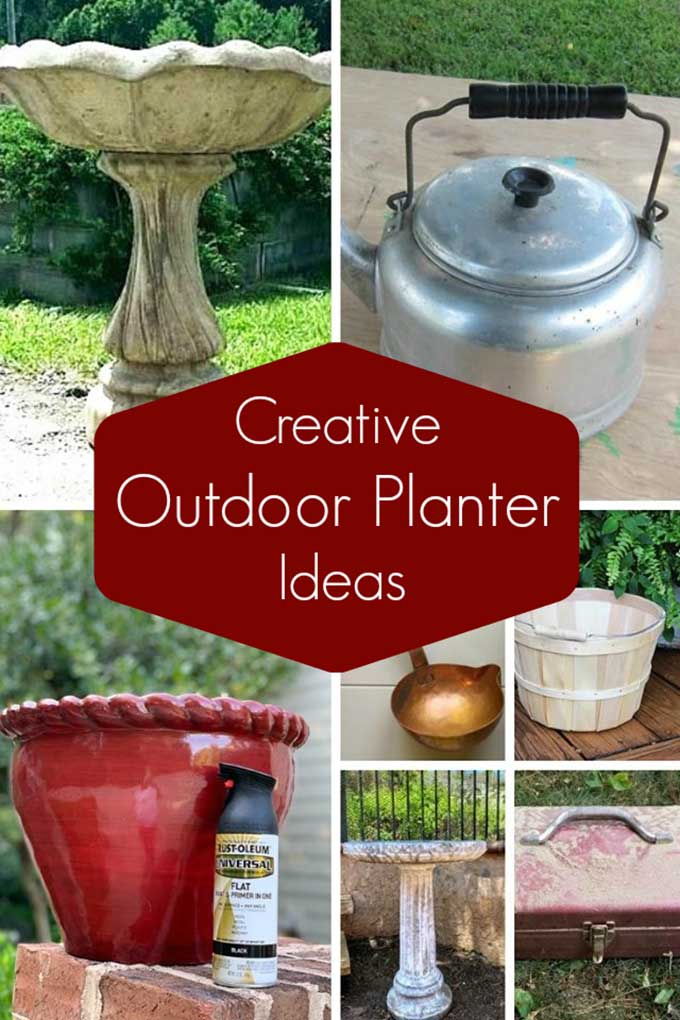 Other posts you may enjoy:
Repurposed Ice Cream Churn Planter
Ditch The Urns: Creative Garden Containers For Your Porch