Take a tour of some of the flowers I have planted on my back porch and other backyard areas.
This is the area to the left of the door coming outside from the living room area. I planted my favorite Black-Eyed Susan Vine which was supposed to be Lemon Star (yellow), but some orange ones popped up. Normally orange isn't my favorite flower color, but it's growing on me.
I love having the plants right in front of the one side of the french door so that you can see the flowers from inside also.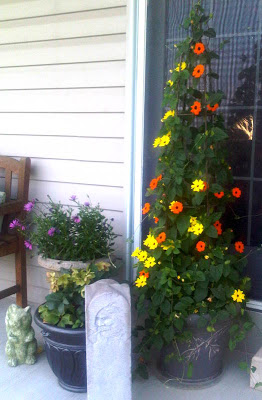 We have Soprano Purple Osteospermum in the tall urn to the left and in front of it I have a new perennial that I discovered this year - Ivory Prince Hellebore.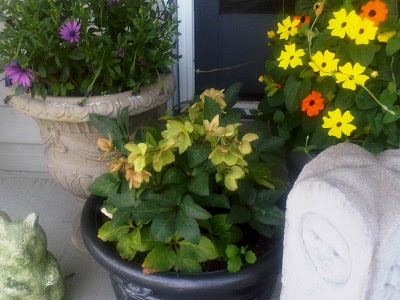 I love it's greenish purple flowers. The tag said it was a Early Spring bloomer, but it still has flowers on it now in mid-June. Even after the flowers die I think it will have great foliage.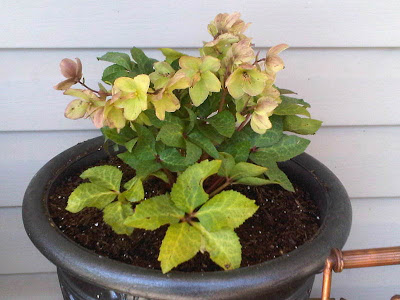 This is the seating arrangement to the right of the doors coming out from the living room. The little rug is new this year from Tuesday Morning. It probably could have been a little larger, but after buying and returning two other rugs that I thought would work and ended up not looking right I just gave up and kept this one.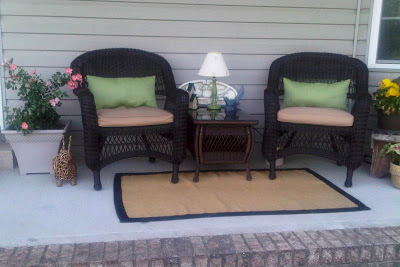 This is my Mother's Day present from my eleven year old son. I helped him pick it out of course. It is a coral colored Flower Carpet rose. I bought the large container that it is planted in at Big Lots for $8.00. It's plastic, but I thought it would do for this year and if the rose happens to make it through winter I will get it a fancier planter next year.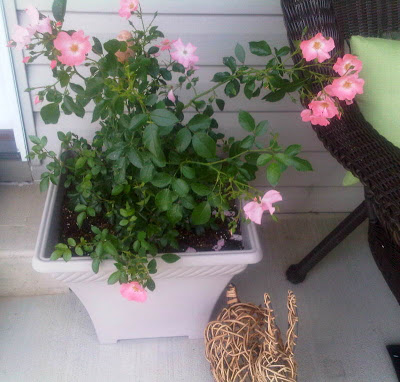 This is my tablescape in constant motion. I have rearranged that thing a zillion times and just can't find a look that I like. In this picture it has a lamp that I bought at a garage sale, a bird plaque that I got on clearance for $5.00 at Home Goods and some miscellaneous bird items I had sitting around. The lamp is not an outdoor lamp so I just leave it unplugged unless I am sitting out there reading at night.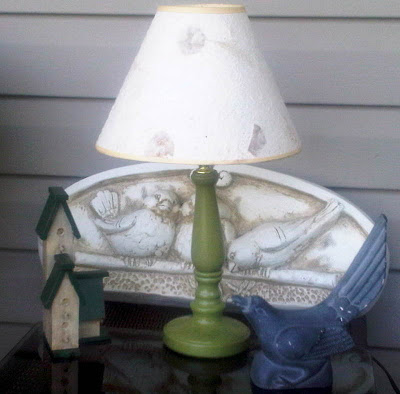 This area is to the right of the sitting area and is filled with my copper water fountain, some overgrown pansies, a snake plant accompanied by it's own little pink flamingo, a Giles van Hees Speedwell plant (spiky purple perennial) and some pink bell flowers that I didn't keep the tag from - they may be one of the Superbells.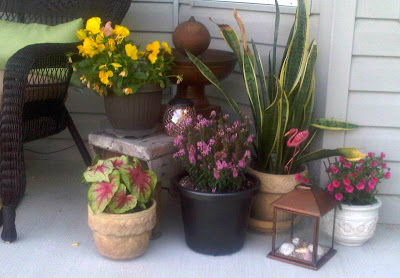 My mother told me that you have to have a Caladium in your garden. It was good luck or something. Anyhow, every year I buy one. This one did not have a tag on it so not sure what variety it is. I love the dark pink and green combination of the leaves.
This is planted in an antique planter that I bought a few years ago. It's a very porous stoneware or maybe yellowware, probably from the Zanesville area of Ohio (it's very similar to my grandmother's planter that the snake plant is planted in).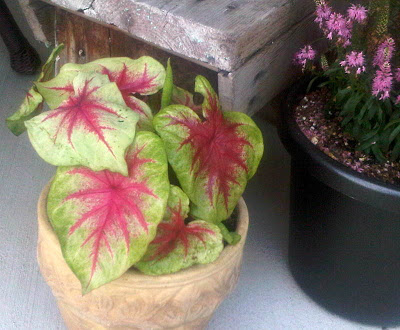 On the far left hand side of this porch is this Begonia. I have never been a fan of Begonias, but this one is changing my mind. It has had these wonderful showy pink flowers on it non-stop for over two months.
On each side of the porch steps I have the perennial Santa Fe Tickseed. I planted them last year and they have at least quadrupled in size since then.
This isn't a flower of course, but my birdbath. The top has been broken three times and I keep gorilla gluing it together. If it breaks again I may just have to give up on it. The birds love it though.
And just to keep things real, here is where we keep the guinea pig's outdoor cage when he's not using it. We let him out to sit and eat in the grass in the evenings to give him a break from being cooped up in his little cage all the time. It's not attractive, but neither is the drain pipe.
This is my little area on the back deck coming off our bedroom. The purple flowers are Plum Superbells and the coleus is called Kong Mosaic. The coleus has HUGE leaves on it and it's supposed to grow up to 22" tall. It should fill in the area nicely.
This is the area to the right of that deck area where I plant my shade loving plants. I have a few Hostas, a Coral Bells that I got from my Mom's house (I think it may be the Purple Palace variety), an Astilbe in the far right hand corner that you probably can't pick out in this photo and a Bleeding Heart in the far left hand corner that again, you probably can't pick out in this photo. Just wanted you to know they were there though.
Sheba is inspecting the perennials for me. She loves to play around in the flower beds chasing chipmunks, frogs and other critters. She doesn't do a lot of damage to the flowers other than laying on them occasionally. Wow, I really need to weed that bed don't I.
This is my original gazing ball prior to making the penny ball. It sits in an area beside my husband's garage along with some impatients. Every year I say I am not going to plant any impatients because they are too time consuming (watering daily!!!), but every year I end up buying some of them.
To round out our tour of the backyard flowers, I wanted to show you our birdhouse that we made a few weeks ago. I believe you call it a Wren House. It's design is totally functional, not pretty to look at.

As you can see the birds love it because they have filled it with twigs. To the top. I don't think the little birds could possible sit in there with all those twigs.