I'm a big fan of a DIY spring wreath for the front door.
Sure, you can buy a cute one at the local craft store, but it's all the more special when you put one together yourself.
Hot glue gun burns and all.
So today I'm going to show you how I made my spring wreath this year. It's sort of ½ repurposed and ½ items bought on a whim at the craft store.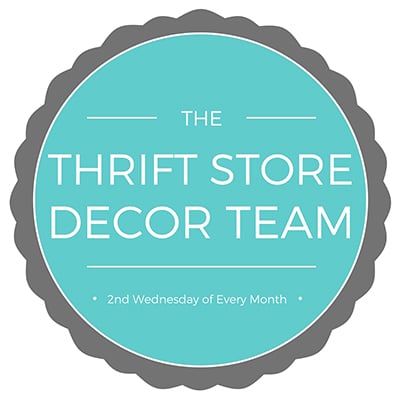 And as a bonus for you, today is Thrift Store Decor Team Wednesday! So if you pop on down to the bottom you'll see the other Trash To Treasure upcycle projects our team has done!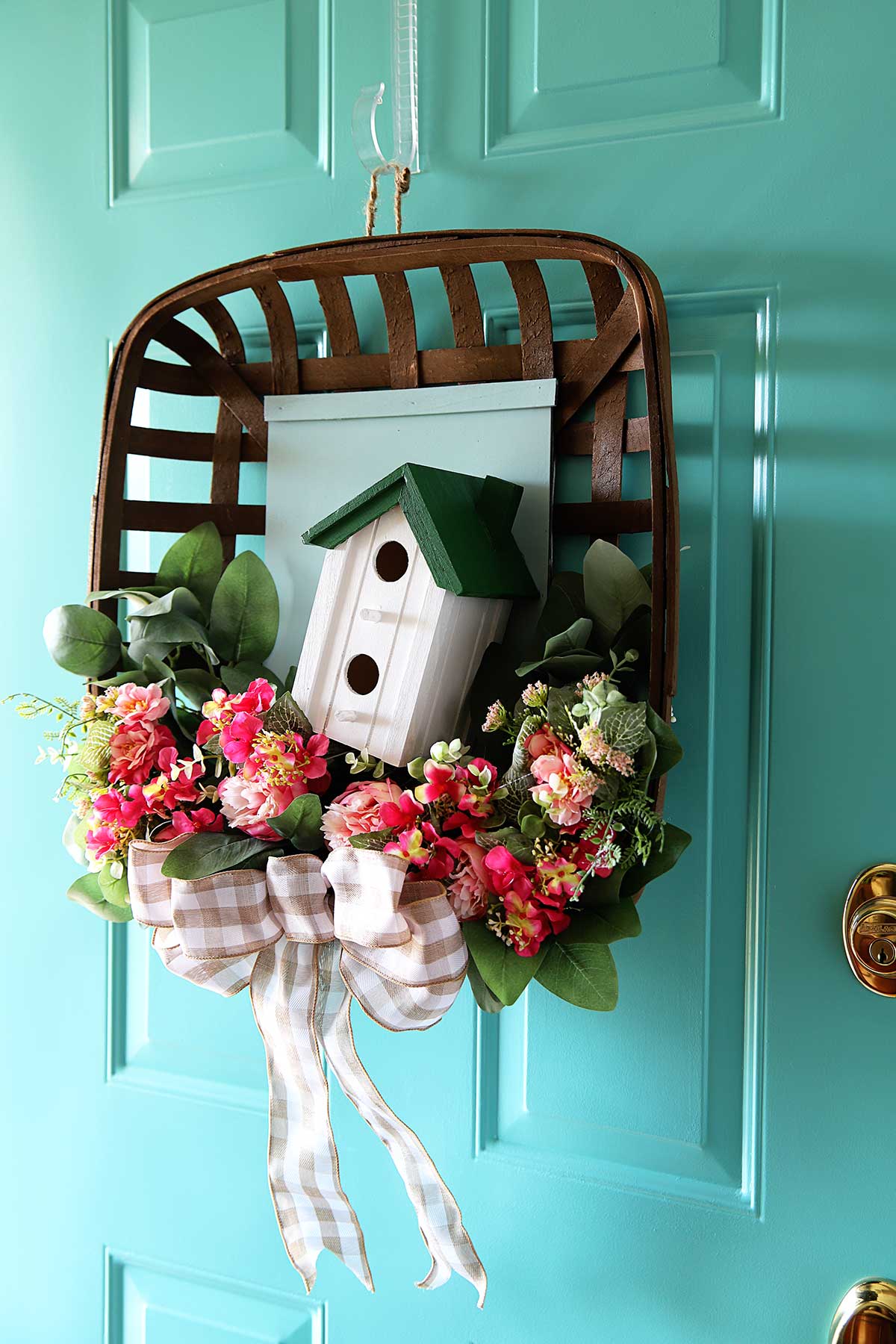 How To Make A Tobacco Basket Spring Wreath
(This post contains some affiliate links for your convenience. You can read my full disclosure policy here.)
Supplies:
White Craft Paint
Green Craft Paint
Bow or Ribbon (Brown Check Bow)
Hot Glue Gun
Tobacco Basket or Grapevine Wreath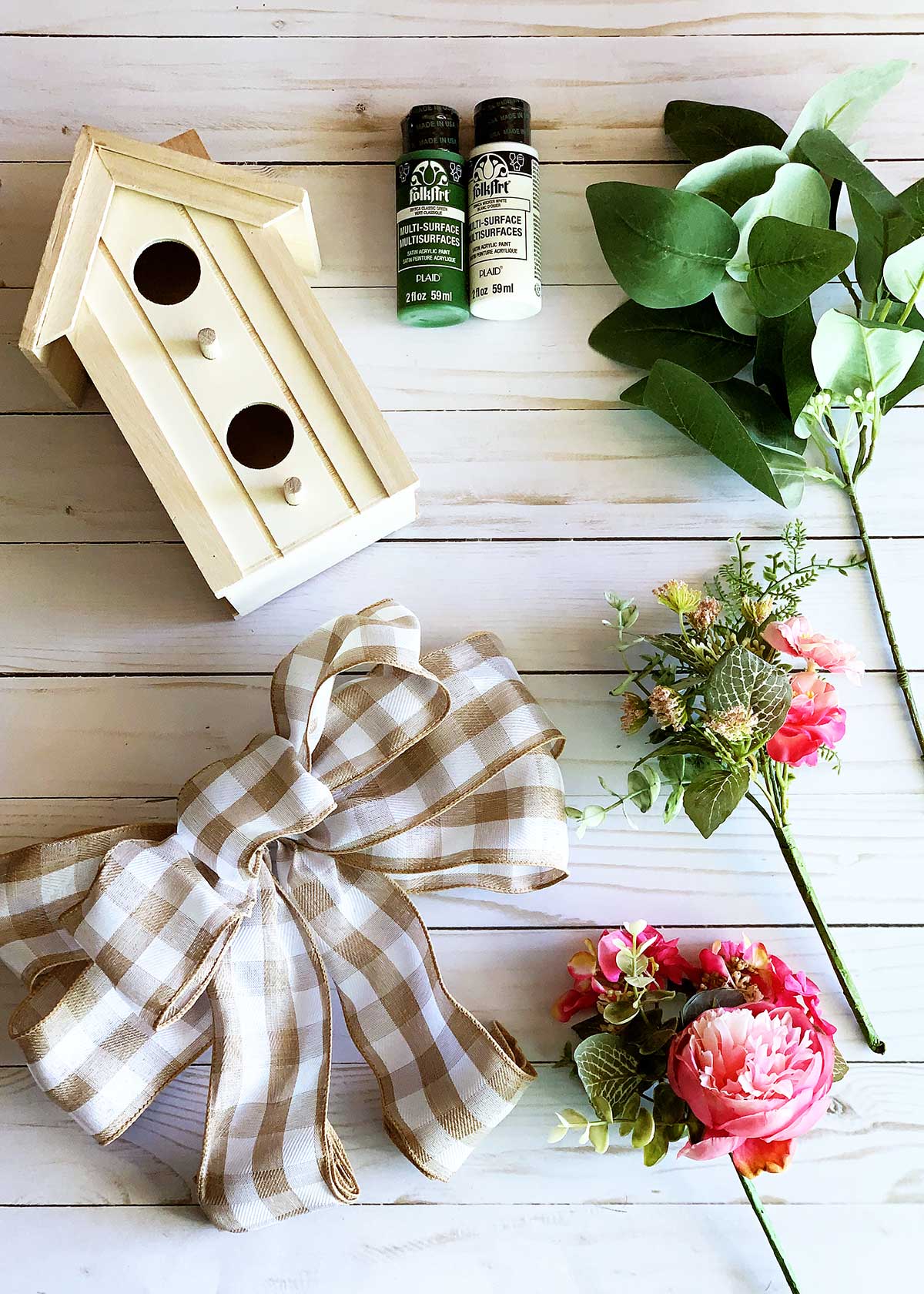 Instructions:
Since this is a repurposing project I started with an odd Halloween themed tobacco basket I found at the thrift store.
Not sure what they were thinking taking this beauty to Goodwill (insert sarcasm here).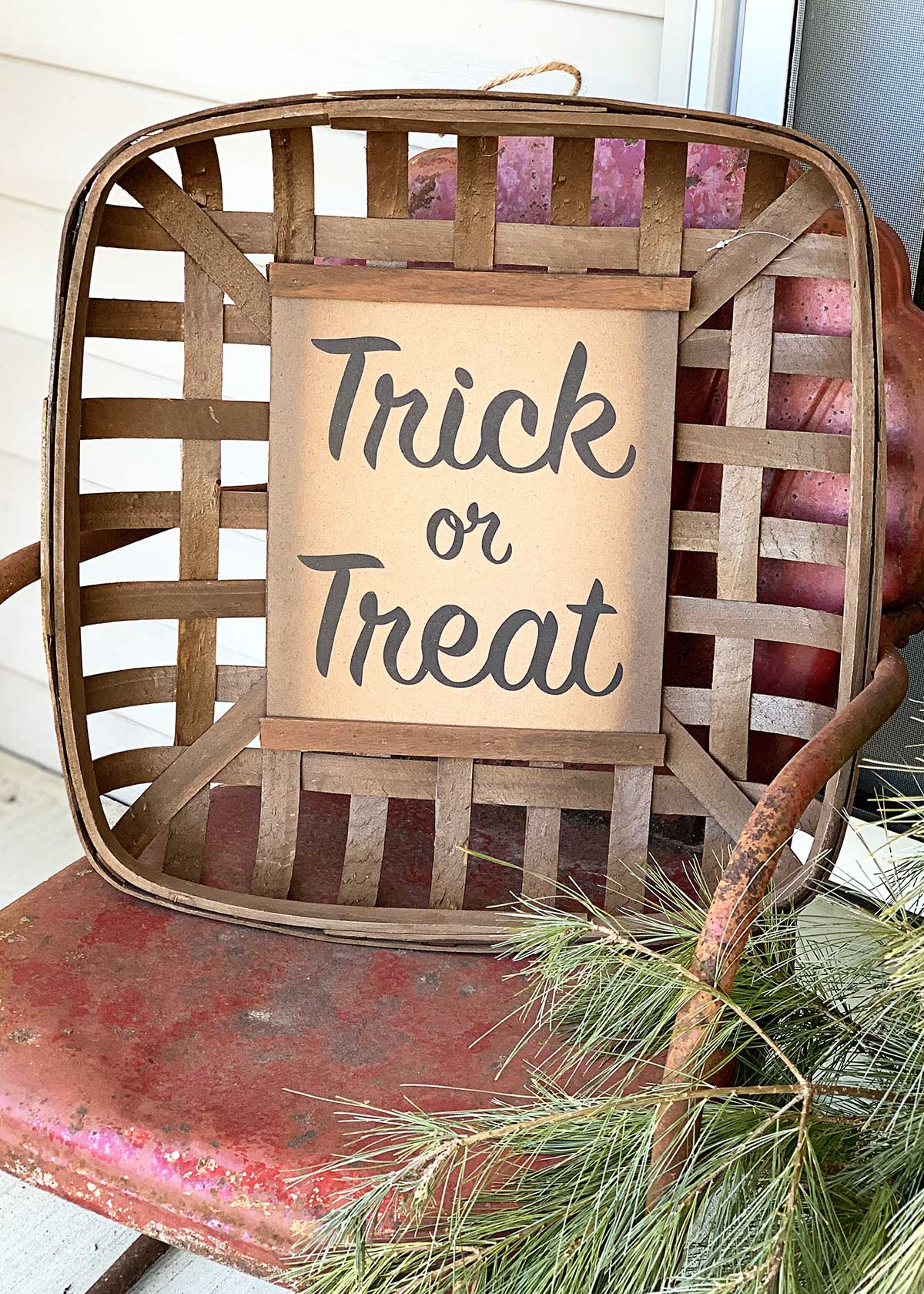 📝 NOTE: Obviously you may not be as lucky as me to find a tacky Halloween tobacco basket at the thrift store, but you can just as easily use a grapevine wreath as the base.
In addition, Target sells inexpensive tobacco baskets (although without the snappy Halloween saying) if you want to recreate this exact look.
I started out by de-Halloween-ing the tobacco basket.
I taped garbage bags around the sign and then spray painted over the Trick Or Treat saying.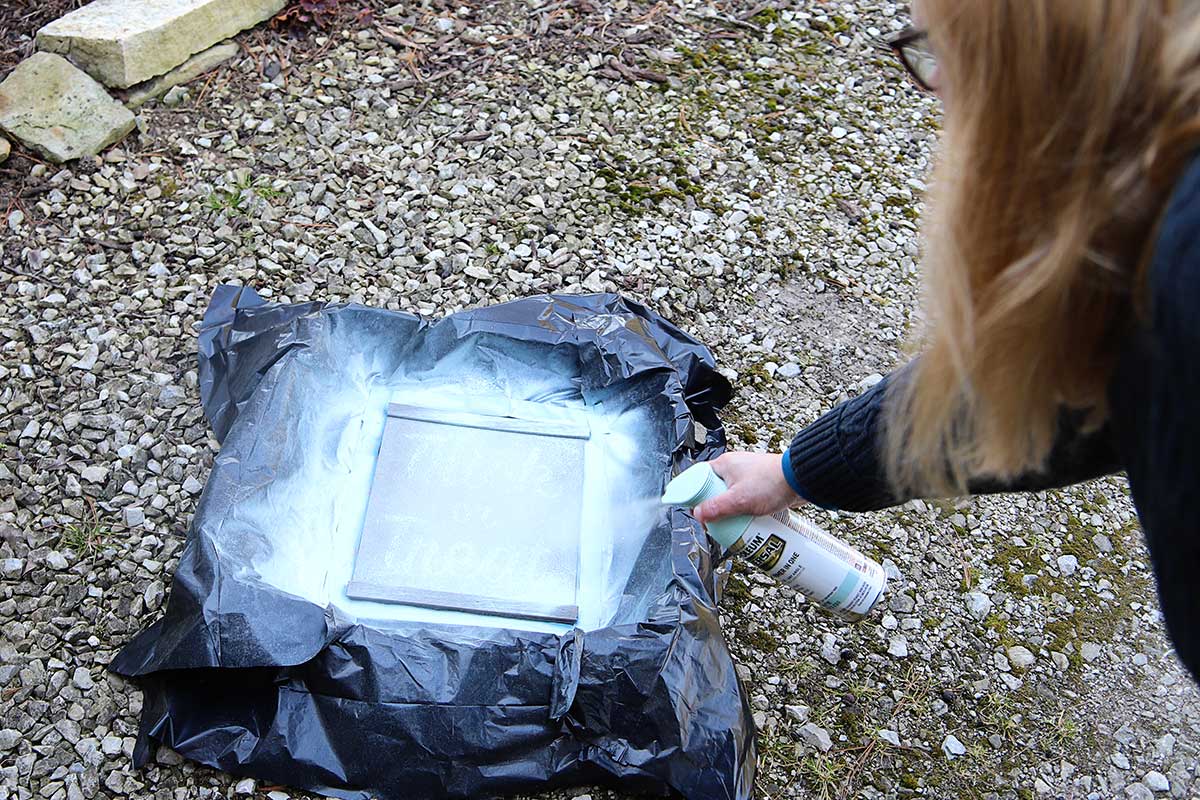 I could have just ripped the sign off the basket, but it was stapled in there pretty good and I was afraid I'd crack the wood on the basket.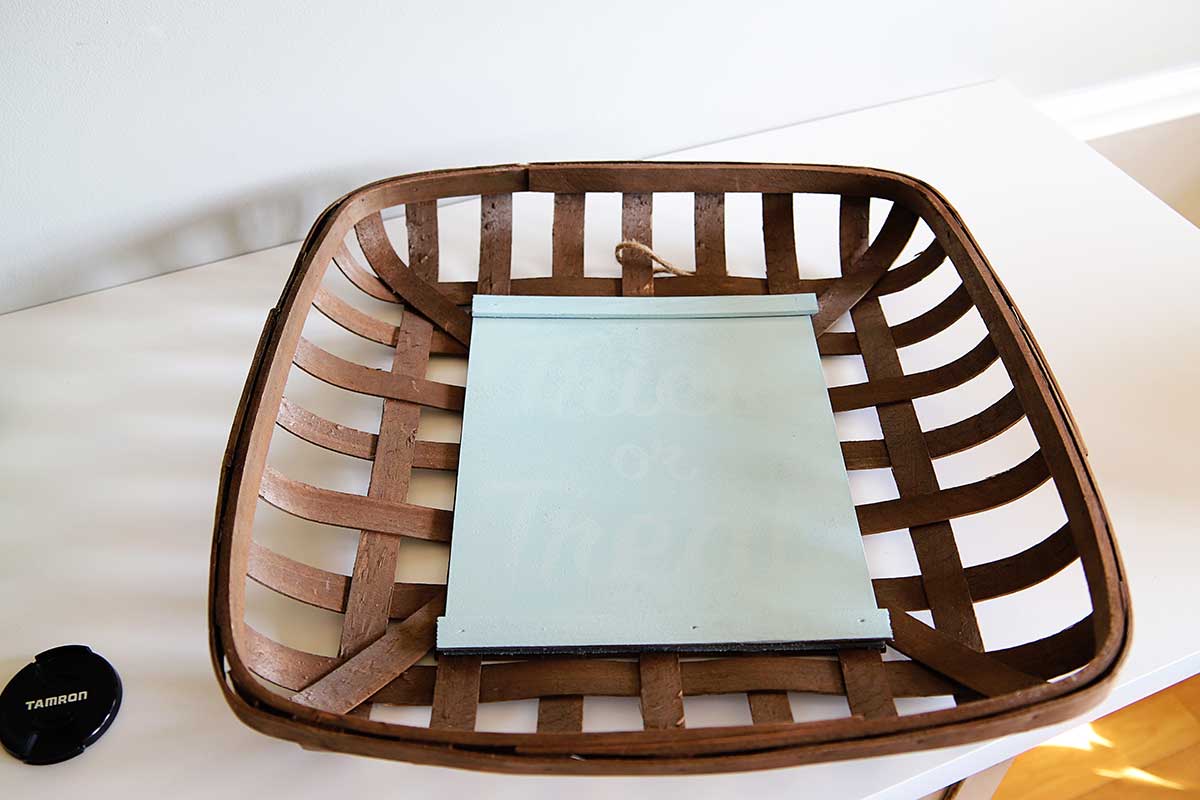 Then I painted the little wooden birdhouse. I kept it traditional with a white and green color combo.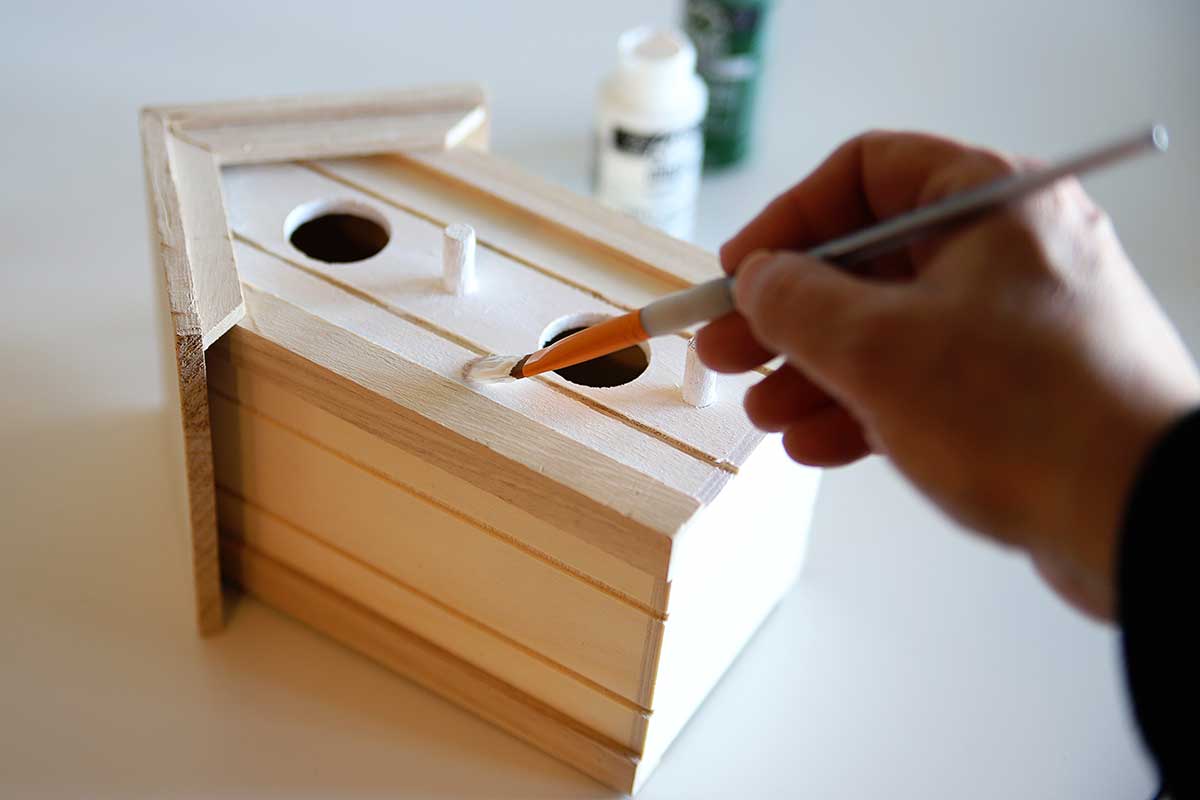 I used my handy dandy Ryobi glue gun to hot glue my eucalyptus picks around the bottom of the basket.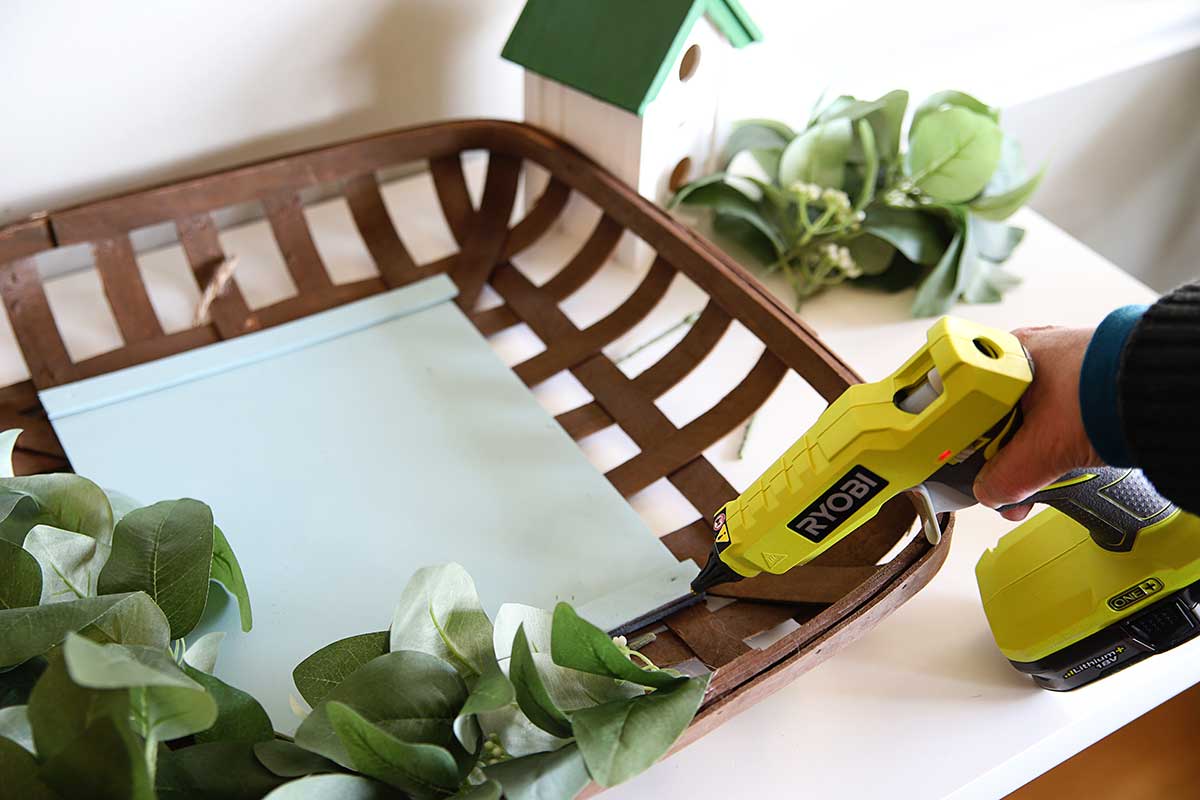 Followed by the peonies.
I then glued the birdhouse to the robin's egg blue "sky".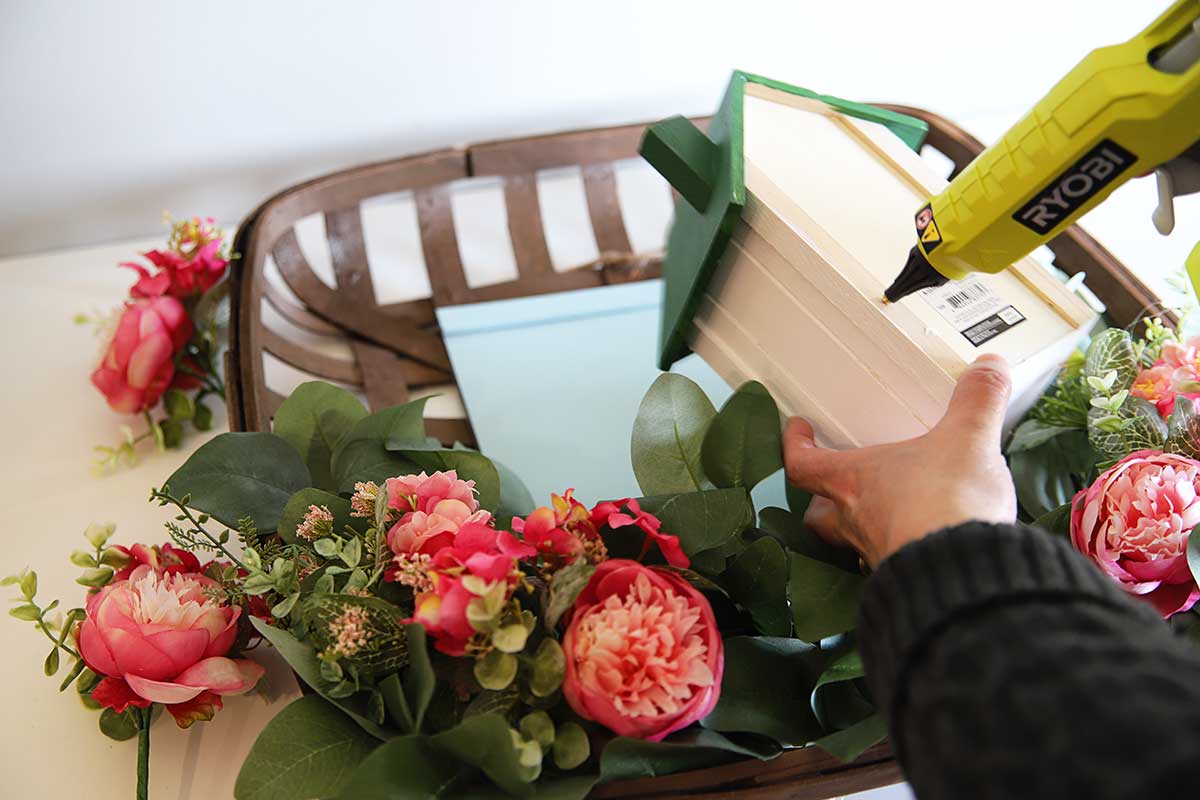 That was my whole theory on painting that sign blue in the first place (to make it look like the sky). But since my front door is blue, the whole blue sky thing sort of gets lost on my very similarly hued front door.
I attached the pre-made bow and then hung it on my door.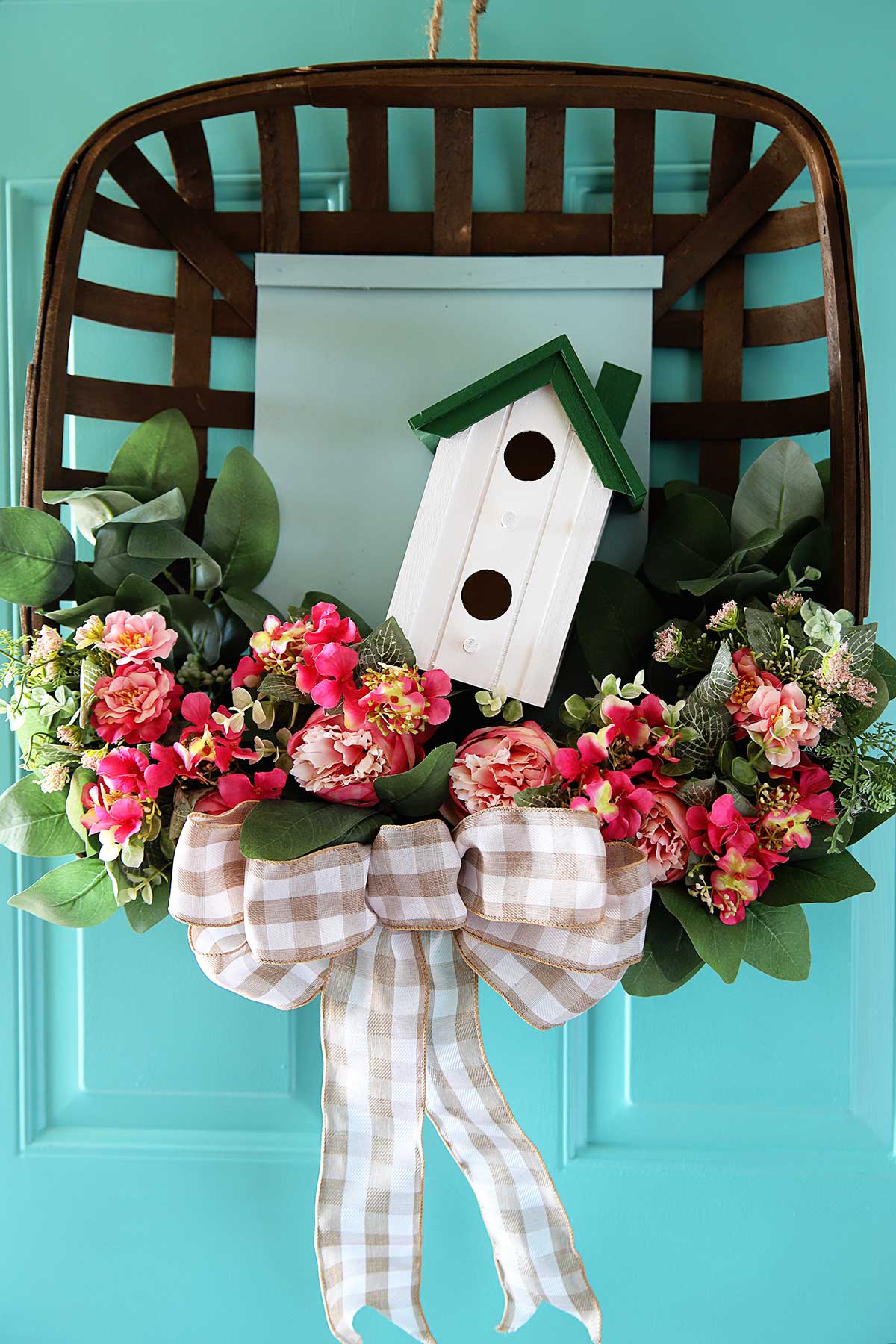 Now, this is where I'd normally give you a cost breakdown on this project and pat myself on the back for being so thrifty.
But really, Michaels has a LOT of pretty faux flowers out this spring and I sort of went a little wild and I'm scared to add it all up.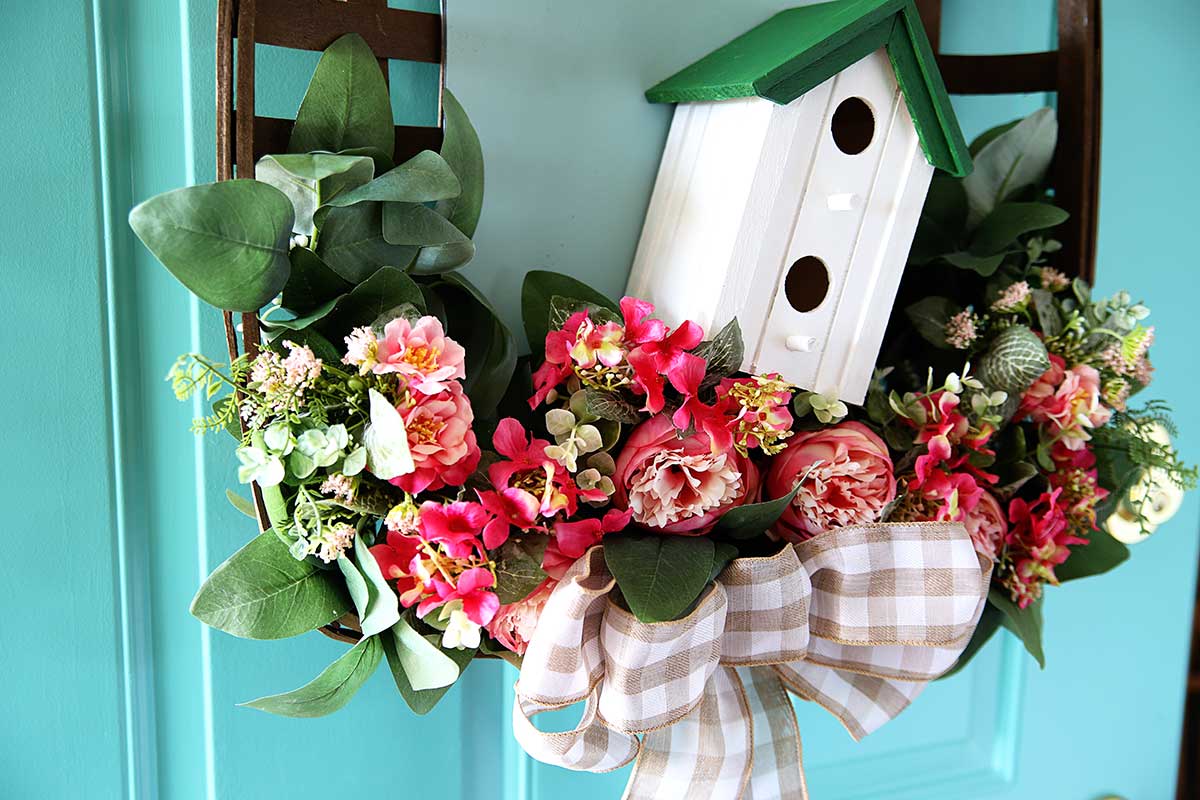 Totally not a Michael's ad, but I did spend an hour in there gazing at all the spring flowers.
Thrift Store Decor Team Projects
Now let's see what my Thrift Store Decor Teammates have up their sleeves this month: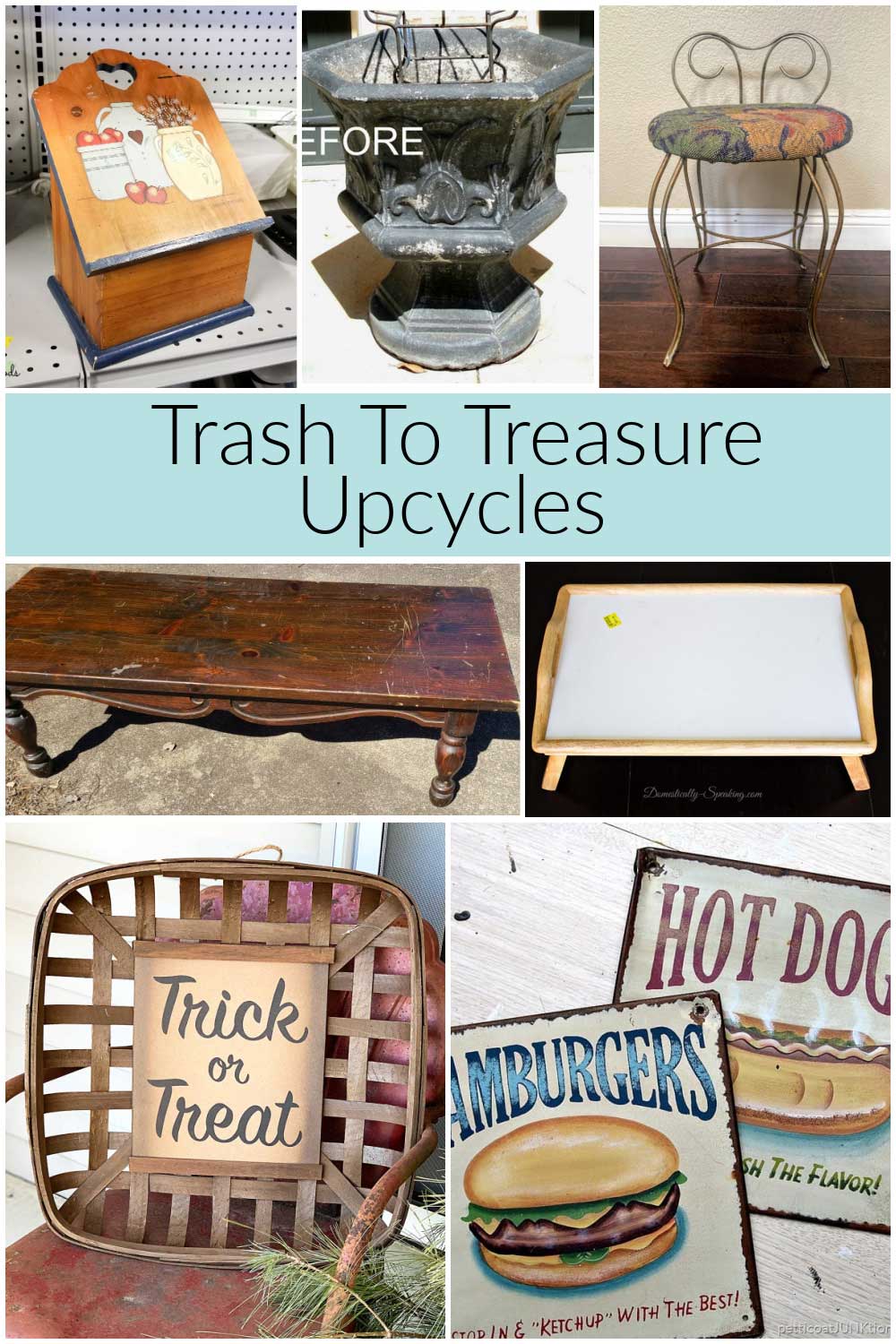 Concrete Planter Makeover - Our Southern Home
Vintage Vanity Stool Makeover - My Uncommon Slice of Suburbia
Inexpensive Kitchen Wall Decor - Petticoat Junktion
Thrift Store Coffee Table Makeover - My Repurposed Life
TV Tray Makeover - Domestically Speaking
Seed Storage Box From Recipe Card Holder - Sadie Seasongoods
Repurposed Tobacco Basket Project - House of Hawthornes (that's me)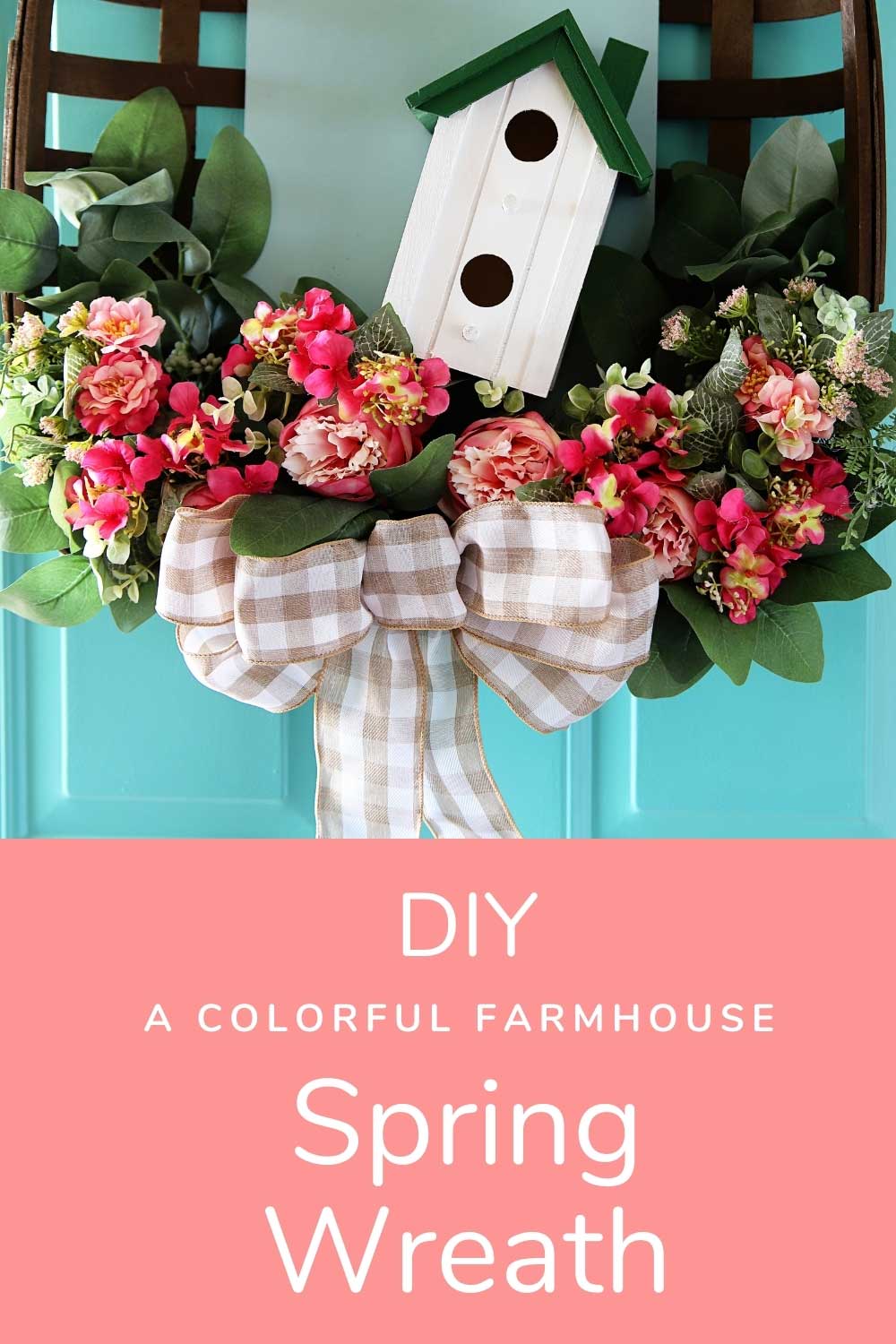 You May Also Like:
15 Spring Wreaths For Your Front Door
Watering Can Spring Wreath
Farmhouse Spring Porch Decor