House plants have made a huge resurgence in home decor trends in the last few years (did they ever really go away?) and terrariums are an easy way to get the look without a lot of fuss!
Terrariums can either be closed glass containers or open glass containers.
Both types of terrariums are pretty in their own right, but the closed terrariums create their own sort of eco-system in that the soil stays moist and doesn't require constant watering.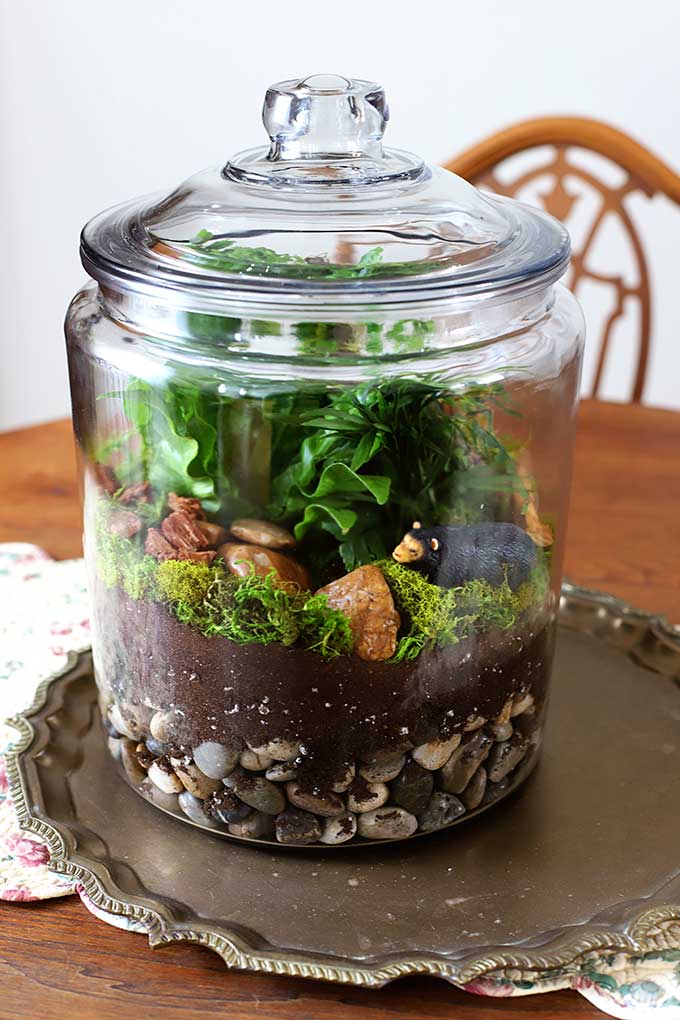 The moisture in the soil evaporates due to heat build up in the enclosed glass space, the water vapor condenses on the sides of the glass and falls back onto the plants and soil. The cycle continues again and again.
And there's the whole photosynthesis thing where the plants use the light to create oxygen for their little enclosed world.
Bet you didn't know I was going to go all Sheldon from The Big Bang Theory on you today!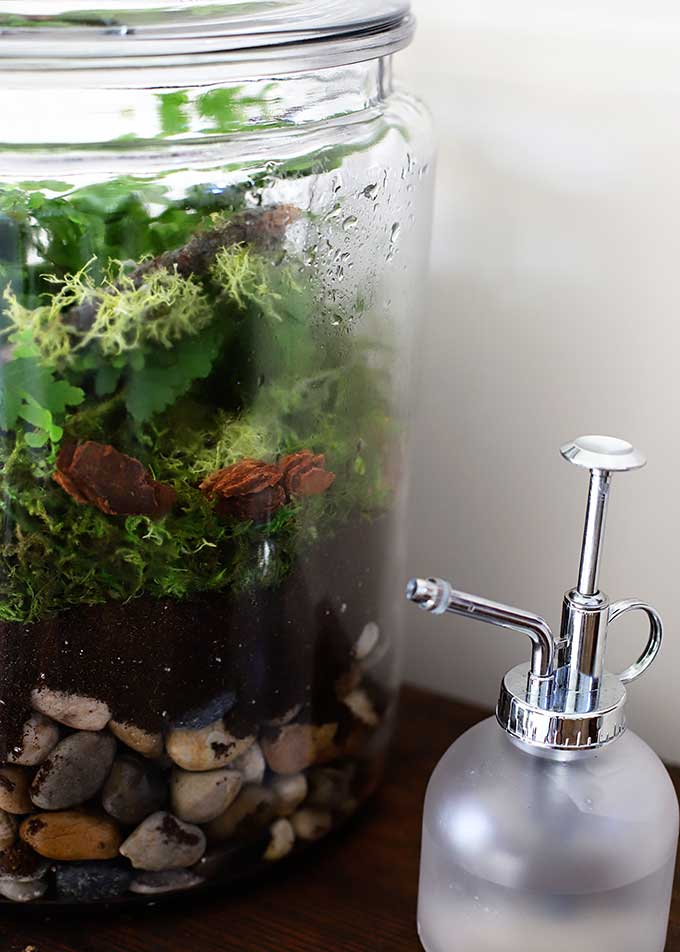 The key to making your closed glass terrarium is knowing that plants that enjoy warm moist environments do the best in closed terrariums. Think about it. The soil doesn't really dry out, it's constantly getting a steady dose of water from the condensation.
You need plants that THRIVE in that moisture (I've got a list down below of some great terrarium plants).
But all in all, I'm sort of partial to the closed kind because they're more traditional, so that's what I am going to show you how to make today.
(This post contains some affiliate links for your convenience. You can read my full disclosure policy here.)
How To Make A Terrarium
Terrarium Supplies:
Glass container with lid
Small stones (you can choose anything from gravel sized to little river rocks, whichever looks aesthetically pleasing to you)
Moss - I used decorative, but you can use live moss
Large stones (optional and just for looks)
A ceramic, plastic or resin animal or fairy garden item (optional and just for whimsy)
3-4 small plants - the plants I chose were Maidenhair Pacific Fern, Maidenhair Rosy Fern, Victoria Fern (it was marked as such, but I am not 100% sure) and a miniature Parlor Palm (I know you're thinking I'm nuts here, but these palm trees take a LONG time to grow, so it will be happy here for quite a while)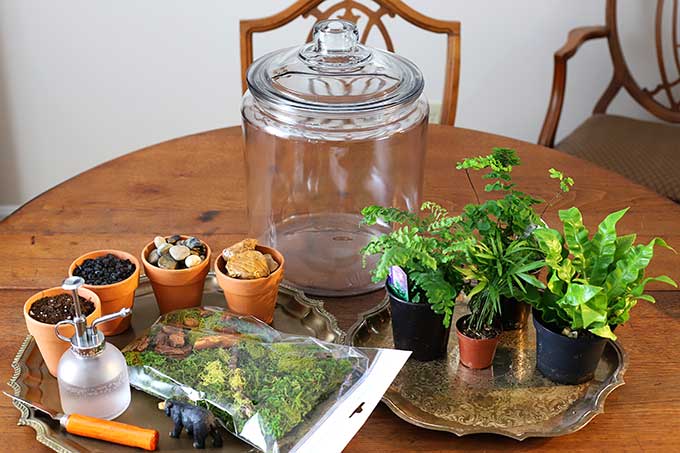 How To Build A Terrarium:
Place your smaller stones around the bottom of the terrarium.
You can either fill the whole bottom, or just around the edges. I wanted the stones to have a dominant look, so I built up the stones 4" around the edges and left the middle bare so more dirt would be available to the plants in that area.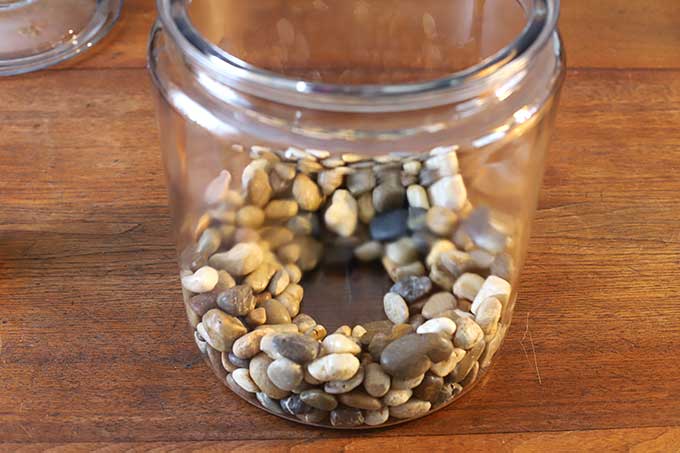 Add about 1"of horticultural charcoal to the bottom of the glass jar. This is to keep bacteria from growing and the terrarium smelling fresh.
This is especially important in a closed terrarium.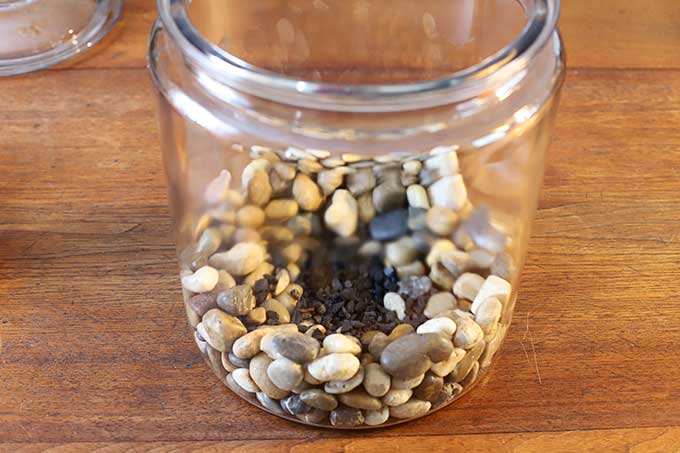 Add in your dirt.
I used enough dirt so the container was roughly ⅓ full. This allows enough room for the roots to spread out and grow freely.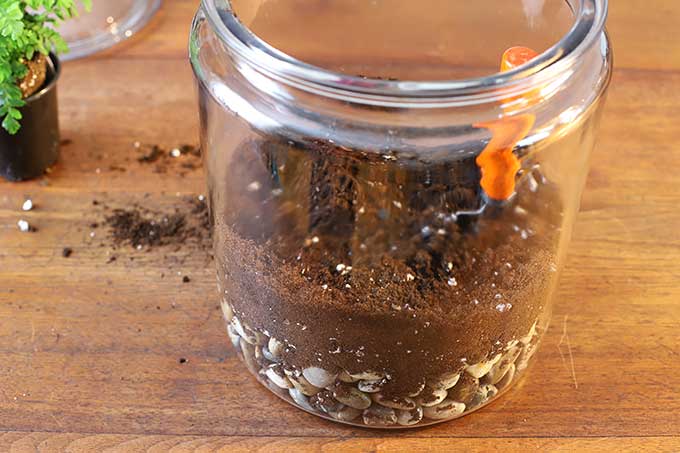 Plant your moisture loving plants in your terrarium.
Since I was going to add the bear and some other small items, I left space in the front for those to be more prominent.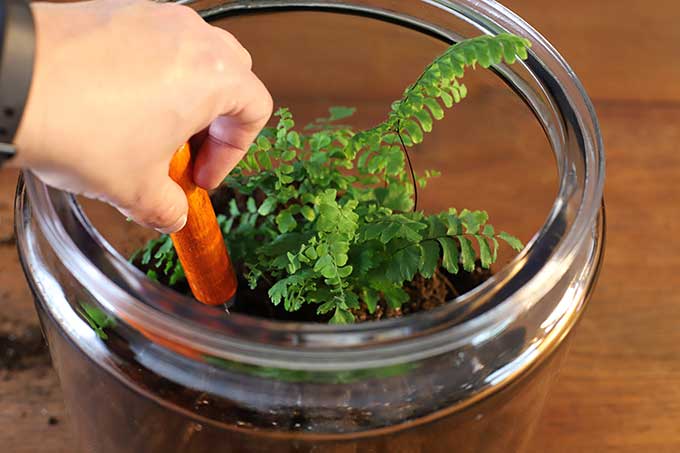 I put 4 small plants in my terrarium, which may have been pushing it, but I wanted a full looking container from the get-go.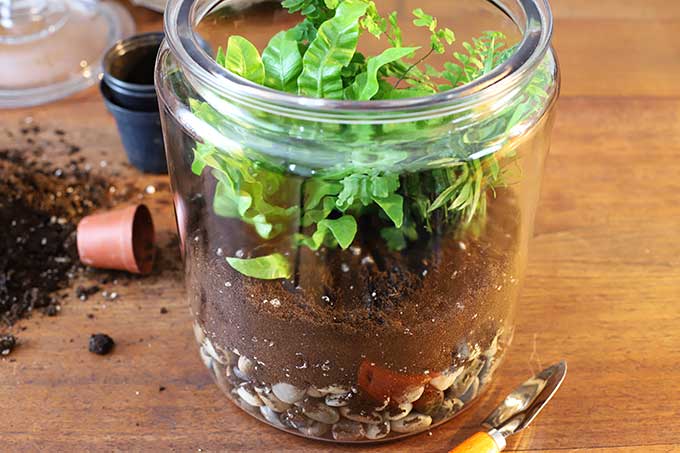 I then added moss on top of the soil.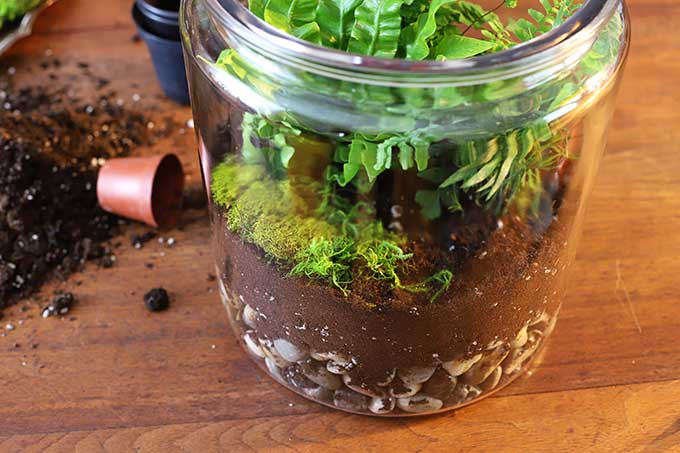 And some of the larger rocks.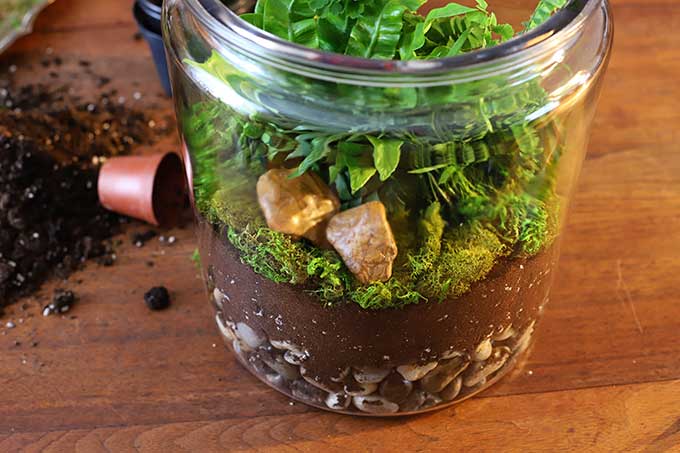 And my bear friend. I found him at Michael's in the fairy garden section.
I was going for a whimsical woodland look, so those elements combined with the larger chunky rocks at the bottom of the terrarium gave it a rustic woodsy look!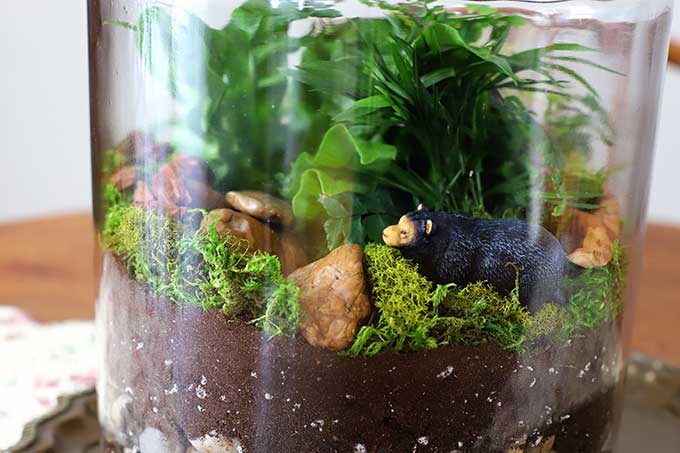 Mist your plants, place the lid on the container and place the jar where it will get light.
You want it near a light source, yet not setting on a windowsill where it will bake in full sun. Remember, the closed nature of the container makes it retain heat.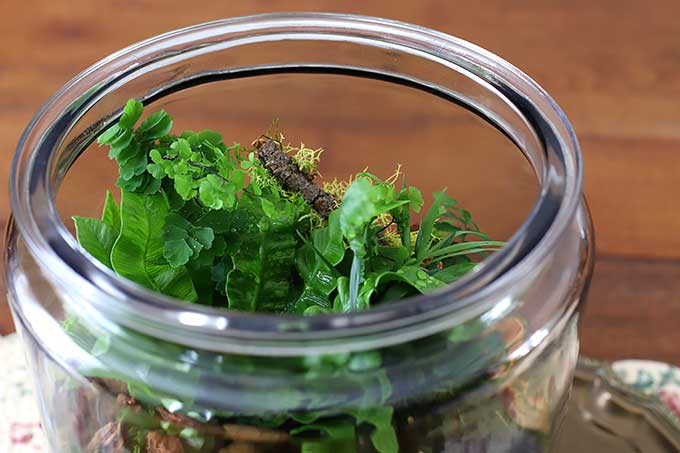 Best Terrarium Plants:
In general, you want plants that will remain fairly small (grow to under 12" in height) and will like the moist soil of terrariums along with the humid conditions. And of course, you want to group plants that have the same light requirements together.
Variegated Spider Fern - Gorgeous glossy leaves stand out in the terrarium
Nerve Plant - Beautifully patterned leaves
Variegata - rippled pattern on leaves
Golden Clubmoss - wonderful light green foliage
Pilea 'Aquamarine' plant - its petite leaves and creeping nature makes it great for covering base of terrarium
Strawberry Begonia - pretty green and red foliage for a pop of color
Friendship plant - very distinct leaves with large craters
Starfish plant - slow growing, strap-like leaves
Red veined Prayer Plant - gorgeous foliage that folds up at night
Watermelon Peperomia - green and silver variegated leaves that looks like watermelon rind
Baby's Tears - teeny tiny leaves
Venus Fly Trap - they don't actually NEED bugs to survive and love the conditions in a terrarium
Croton - their glossy leaves comes in bright, wonderful colors that stand out among a sea of green
Moss - although I used dried moss in my terrarium for decorative purposes only, live moss thrives in terrariums
African Violet - colorful flowers that like moist conditions (although I would only plant these in open containers, because African Violets don't like water droplets on their leaves)
BTW, although I love me some succulents, they don't do well in a closed terrarium because they like to dry out between waterings. Not a lot of drying out happens in an enclosed terrarium.
If you want to make a succulent terrarium, use a shallow terrarium with an open top so the plants have good air circulation and have a chance to dry out between waterings.
Ideas For Terrarium Containers:
Flea markets and thrift stores are a treasure trove of glass jars and containers if you want to go the inexpensive route. I also find nice glass jars meant to be used as kitchen canisters at the local big box stores.
A good rule is to have a container large enough you can get your hand into them to do the planting and not get your hand stuck on the way out. No one wants to walk around with a jar stuck on the hand all day.
Some of my favorite jars to make closed terrariums are:
And for open terrariums:
Watering A Terrarium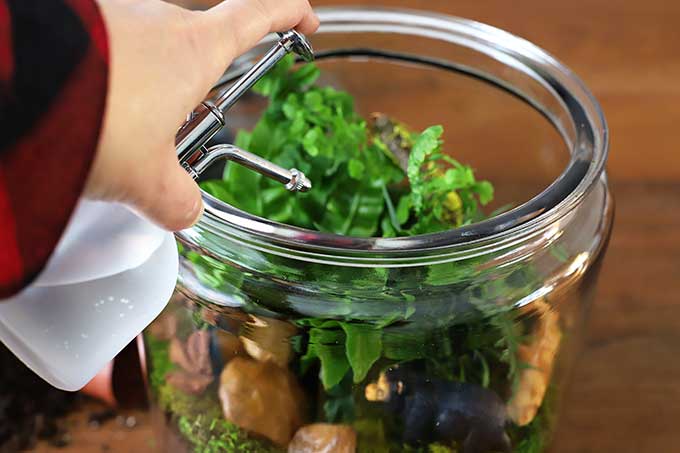 It is REALLY easy to over-water a terrarium. I prefer to use a spray bottle or mister to mist the plants slightly when extra water is needed.
My husband bought me this little indoor gardening tool set from Amazon and it came with the cutest little mister and some mini gardening tools perfect for getting into small spaces.
Remember in a closed terrarium you will need to add extra water VERY infrequently. Maybe a little spray once a month or even less than that. Let the soil tell you when to spritz again.
If you have over-watered your terrarium you can leave the top off for a few days to release some of the water into the air and dry out the terrarium a little.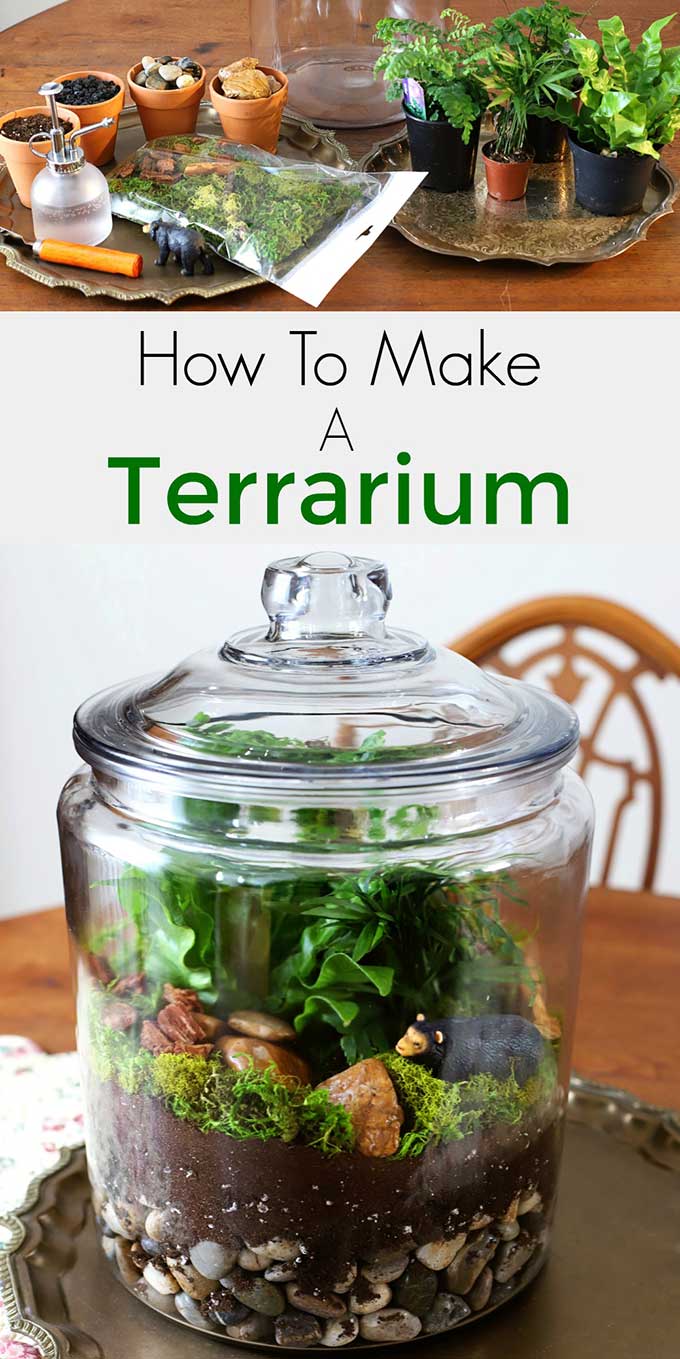 Other Posts You May Enjoy:
20 Whimsical Fairy Garden Ideas
Caring For Air Plants
Cyclamen Care: How To Grow Cyclamen Indoors
Rustic Birch Bark Vase DIY
DIY Coffee Pot Terrarium