If you have a yard that is partially or fully shaded, you may feel a bit stuck when it comes to adding color and foliage to your space. The good news is, there are plenty of beautiful plants that absolutely thrive without direct sun! This list of the best shade plants will inspire you to roll up your sleeves and start planting!
10 Best Shade Plants for Any Garden
Let's jump right in and talk about the best shade plants for any garden. Take a look at the photos below and mix and match to build the ultimate garden for shade plants.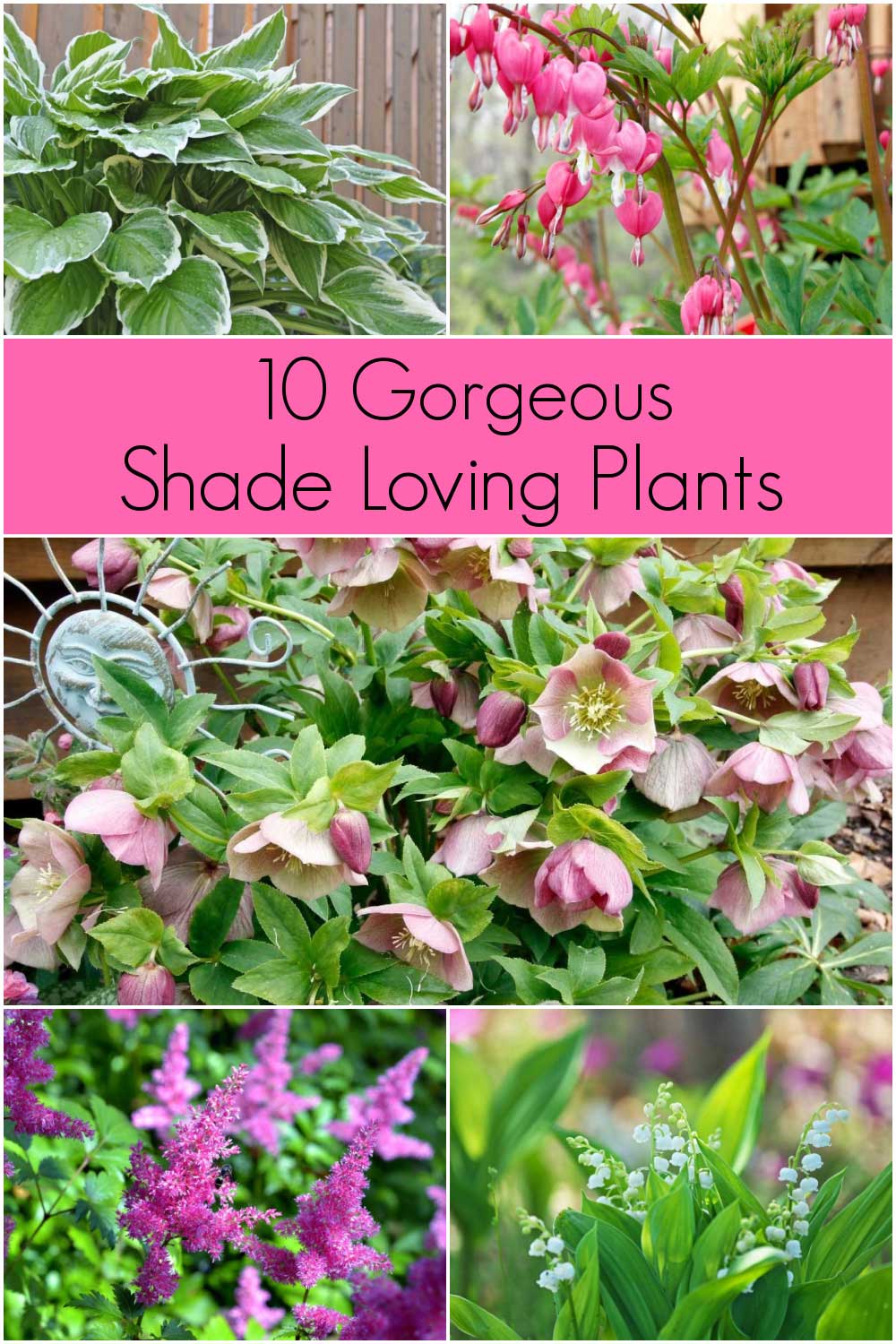 1. Hosta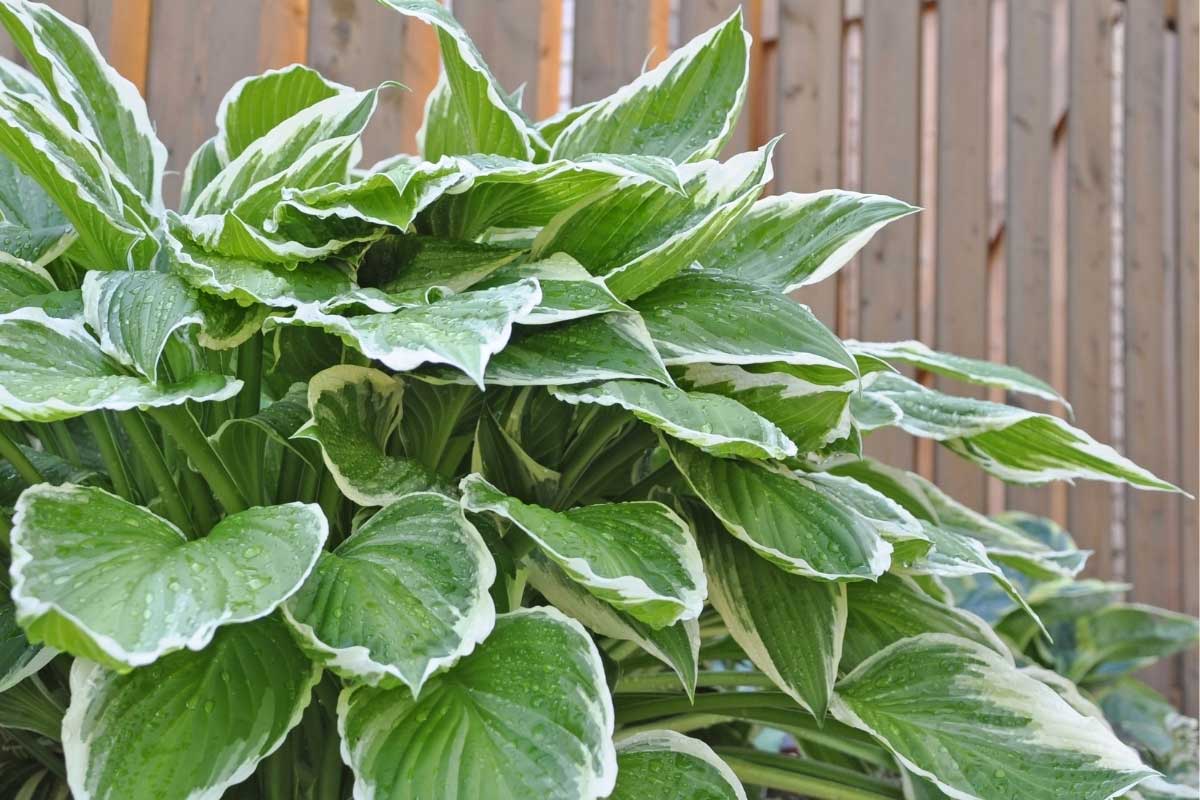 With hundreds of varieties in a wide range of sizes and many color variations, hostas are a very popular perennial garden plant for many reasons.
Colors range from a pale yellow to a beautiful deep blue-green, but there are also many variegated colors available. The leaves come in many different shapes and textures, and the plants produce white and purple flowers that are great for bees and other pollinator insects.
Hostas offer low-growing, and clump-forming plants that come in slow, medium, and fast-growing varieties. A smaller variety might grow faster to reach mature size in three to five years while larger types may take five to seven years. As an added bonus, these shade plants are amongst the easiest to propagate, so your garden can continue to expand for years to come.
If it's hostas you want, make sure to plant them either in the early spring or at the end of summer after the heat of summer has ended.
2. Astilbe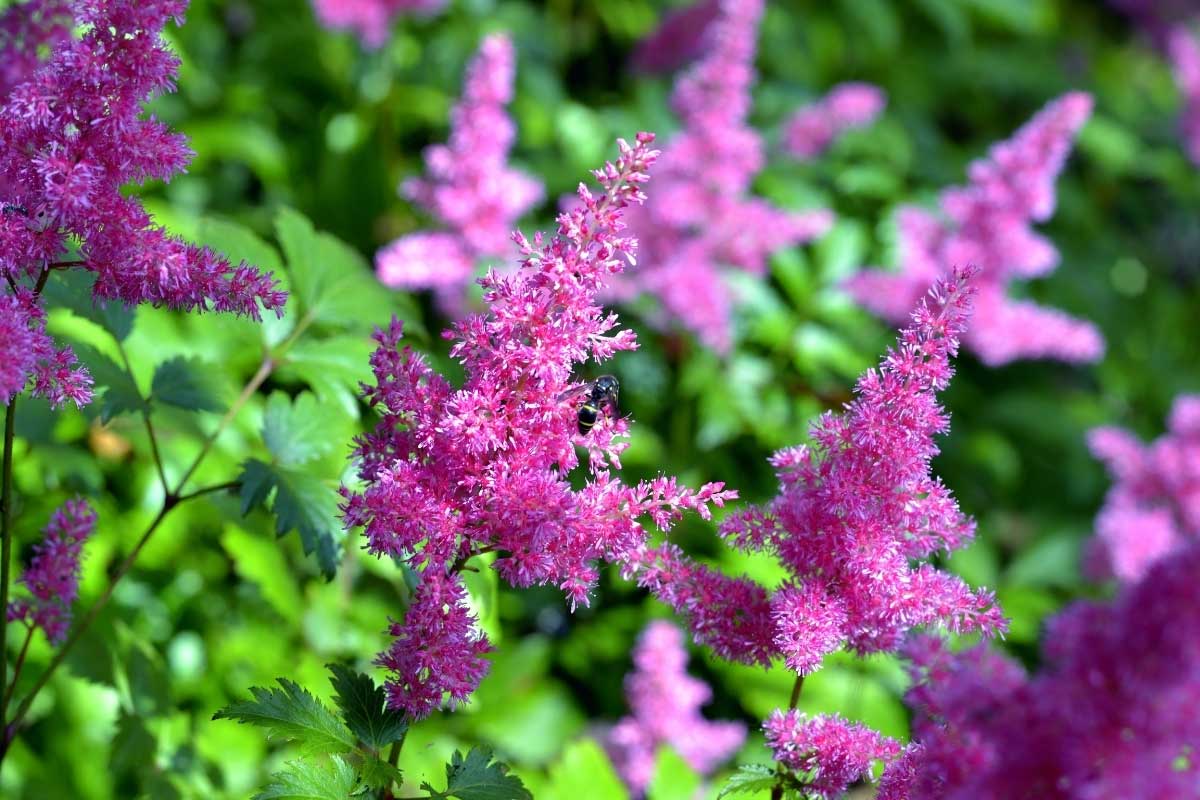 Adding a striking allure to your flower garden or any shady area, astilbe flowers boast tall, fluffy plumes that will stand out and above most other fern-like foliage.
It might be hard to pick which of the twenty-five species you want in your yard, because they are all beautiful. They are quite colorful too as they can range in color from whites to dark purples.
Bloom times also vary, as well as the height of the plants and flowers. Planting a few varieties can keep your shady area with color through the summer.
3. Foamflower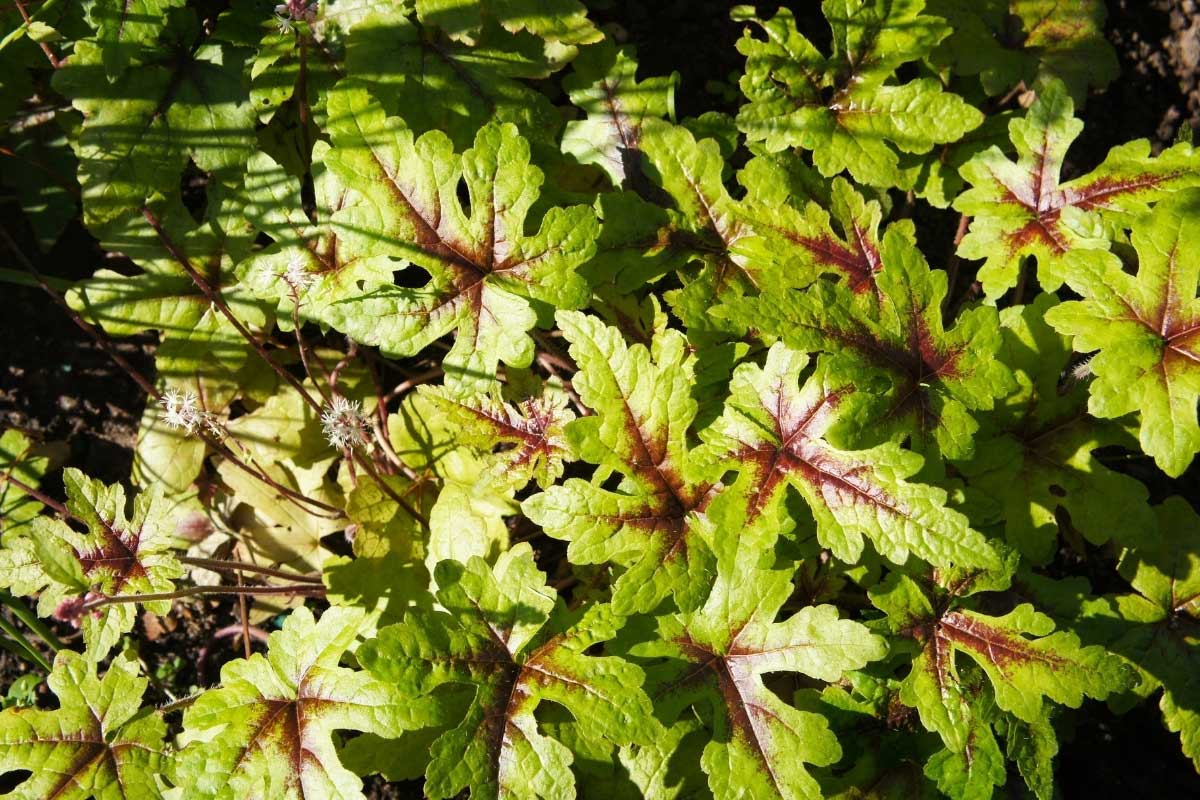 If you like low maintenance, the foamflower might become a favorite of your shady plants. Easy to grow, these perennial wildflowers are beautiful and can spread quickly without being invasive. Use these to enhance your ground cover and fill in spaces in between other shade plants.
Foamflowers grow 6"-10" tall clumps of fuzzy heart-shaped or even maple leaf-shaped leaves. In early April you will be delighted by the wispy plumes of slightly honey-scented creamy pale pink or white star-shaped flowers.
4. Heuchera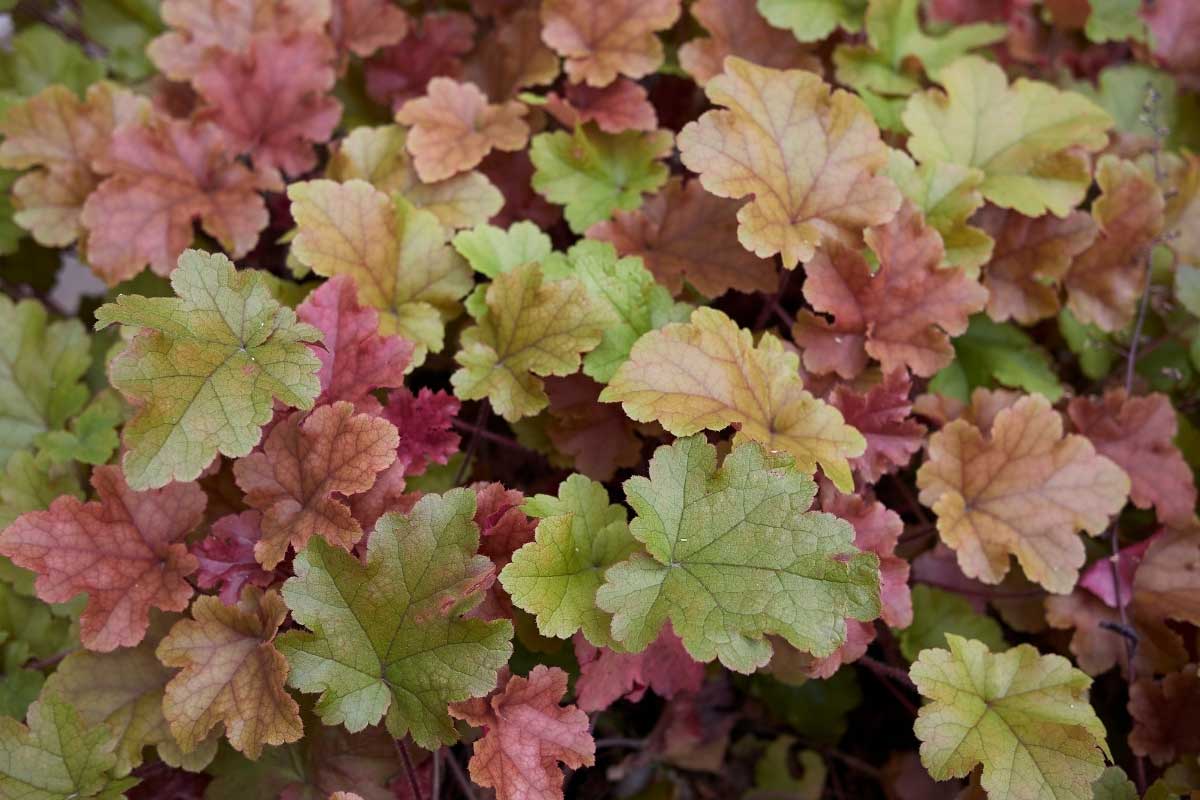 Heuchera, also known as alumroot or coral bells is one of my favorite perennials to brighten up any shady garden area.
These plants feature colorful foliage with heart-shaped, rounded or triangular leaves that are either smooth, wavy, or ruffled. There is also a nice variation of colors ranging from deep purple with silver veins to pink, gold, and amber (just to name a few!). Even more fun? Their leaves can vary with the environment and change colors with the seasons.
There are 50+ species of this native North American plant that will make a beautiful addition to your garden. With this plant, you can expect clusters of cream to red-colored flowers to rise above the foliage in the late spring. Depending on the variety you plant, you may see blooms last for a few weeks or even throughout the entire season.
5. Bleeding Heart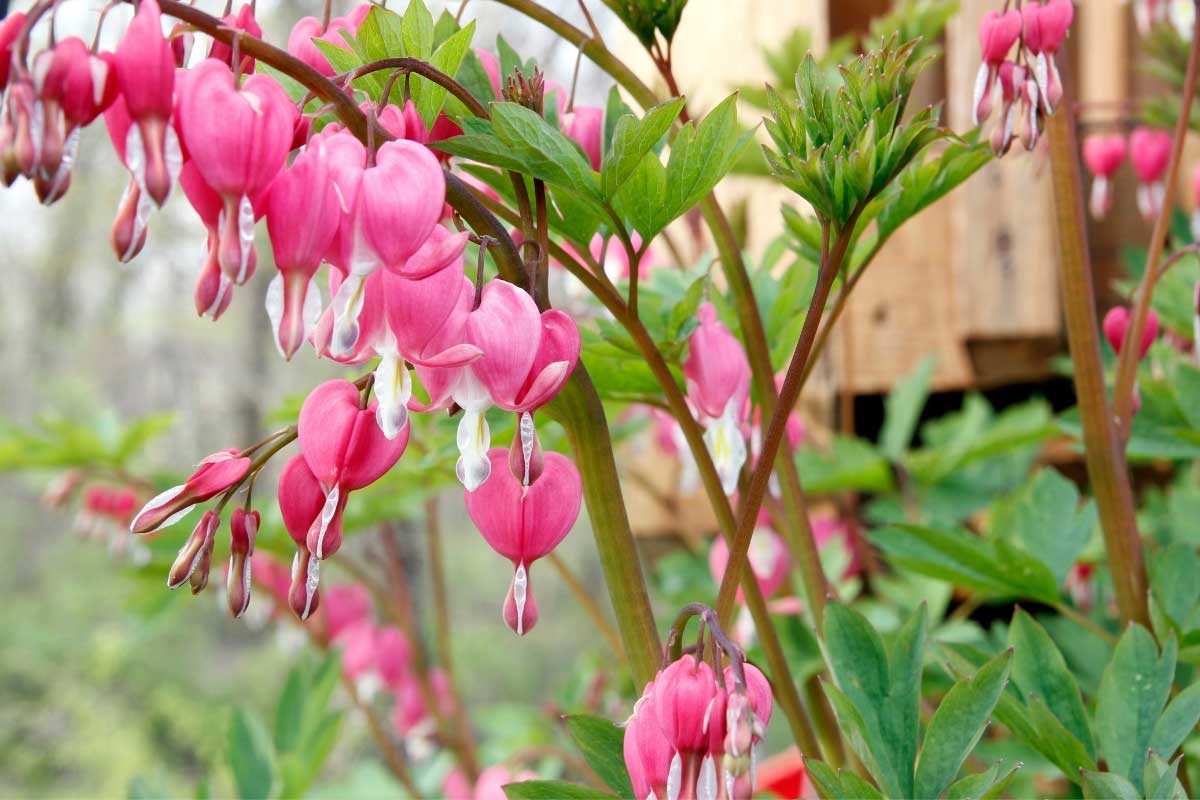 Being one of the oldest plants still in cultivation and an easy one to care for makes the bleeding heart one of my favorite shady plants.
The biggest issue with this plant is narrowing down which one to buy! There are more than 20 different varieties with plenty of color choices to go through. But, the good news is you don't need to pick just one. Grab a few of these pretty plants and stock your shade garden.
Bleeding heart plants generally grow to two or three feet in height and have up to 20 tiny blossoms on each stem. Blooms appear in the spring and bid their final adieu by mid-summer. As an added bonus, this mildly toxic plant may keep deers and rabbits away from your garden.
6. Caladium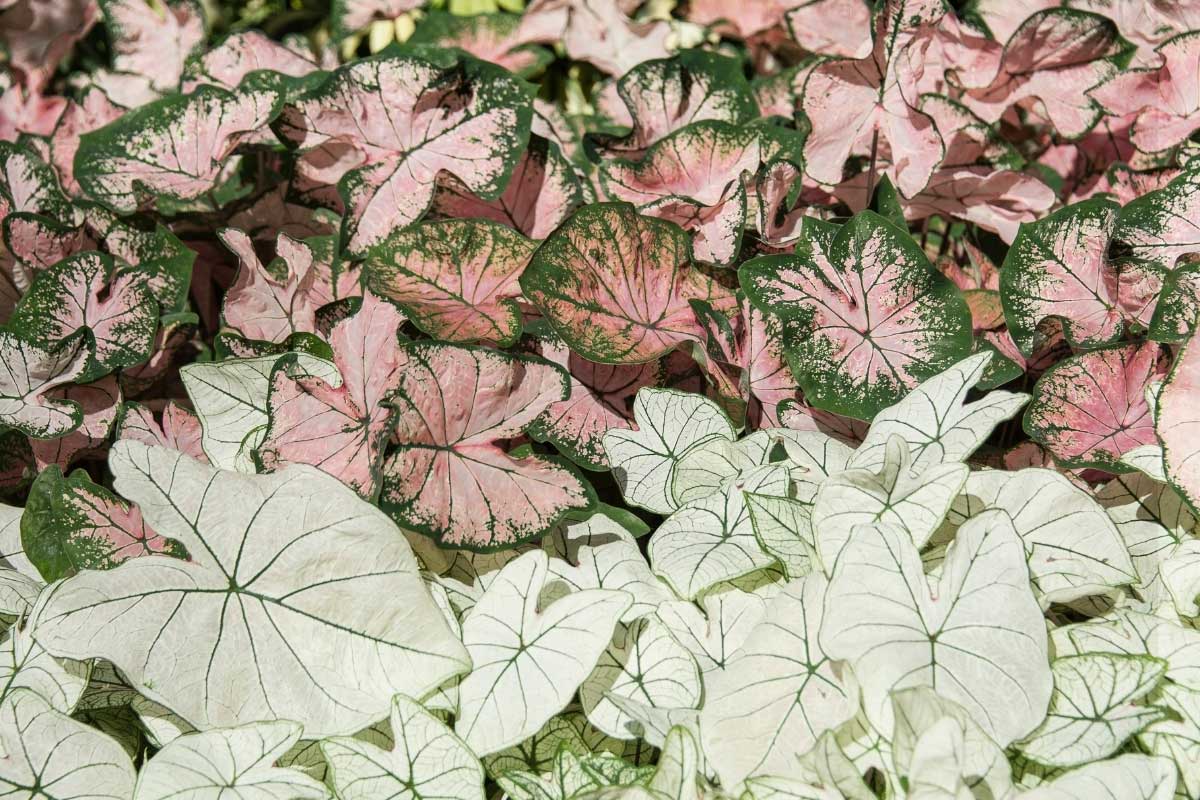 There are so many planting options for this beautiful plant known as the caladium. Plant this in containers on decks, as flower garden border foliage, or any other shady spot that needs some brightening up.
These big heart-shaped leaves will give you amazing color combinations like red and green, or pink or white. Caladiums aren't really known for blooms but with their natural leaf beauty, who needs flowers, right?
Most varieties grow 18-24 inches tall but there are some dwarf varieties that only grow 8-12 inches tall. If you have a shadier spot in your home, they also make beautiful indoor plants in a nice flower pot.
7. Spiderwort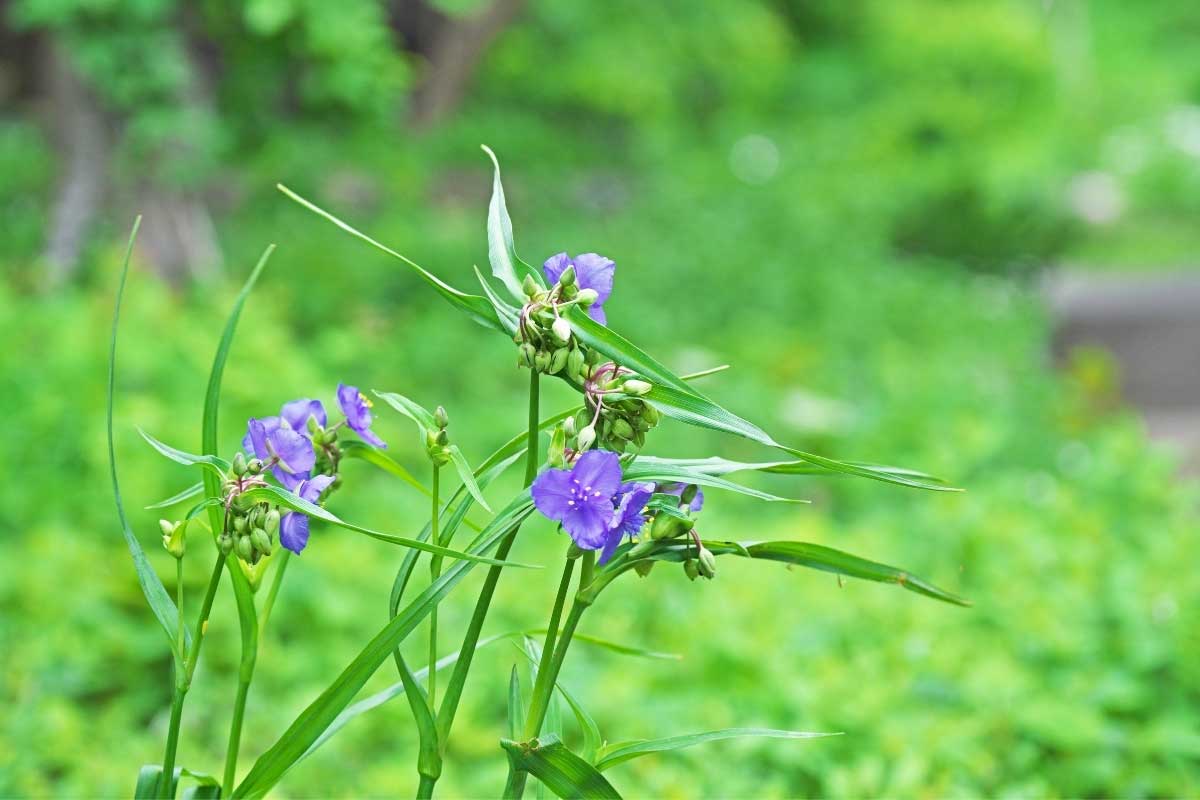 Scared of spiders? Don't let the name deter you from this pretty plant! Spiderwort is a very pretty three-petaled plant that has flowers that bloom in shades ranging from blue to red, white, or pink. Spiderwort plants are great for garden borders and edging, or containers because they grow in clumps that will be about 1-2 feet high.
So how'd it get the name spiderwort? The name comes from the fact that when the stem is cracked open it secrets a sticky white substance that becomes thread-like and silky when hard, just like that of a spider's web.
The flowers of this unique plant are only open for the day, as they bloom in the morning and close at night. Miss the show? Don't worry, they will continue to bloom for four to six weeks in the summer.
8. Ferns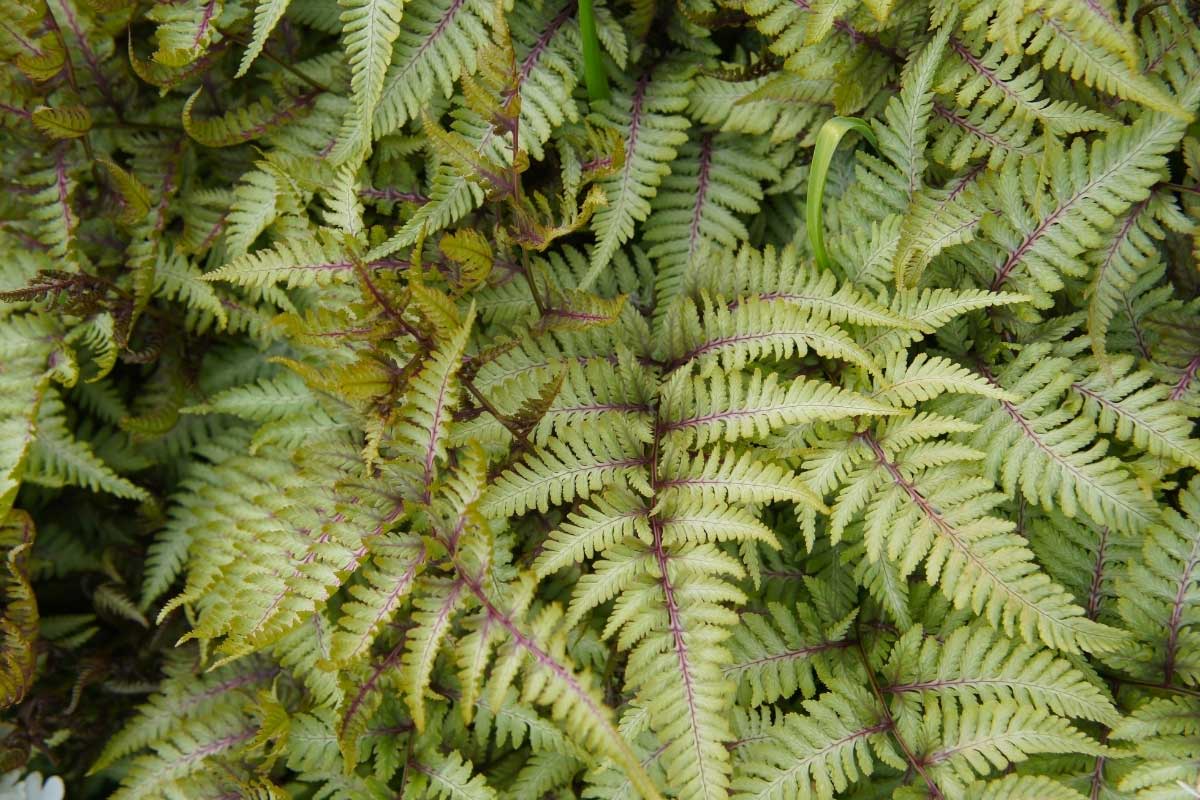 Ferns tend to conjure images of walks in the woods for most people, as you'll find ample amounts of these shade plants there. These hardy plants grow wildly and are a great addition to any shade garden. These rich green plants are the perfect accent to your other shade plants like the caladium and hostas.
There are many varieties of ferns, but if you are looking to fill space or even cover some open ground that is in a shady area you can try ground cover ferns.
Looking to take things to the next level? Plant fiddlehead ferns and then harvest and eat them. They are a fun one to add that will deliver a return on investment, right to your dinner table!
9. Lily of the Valley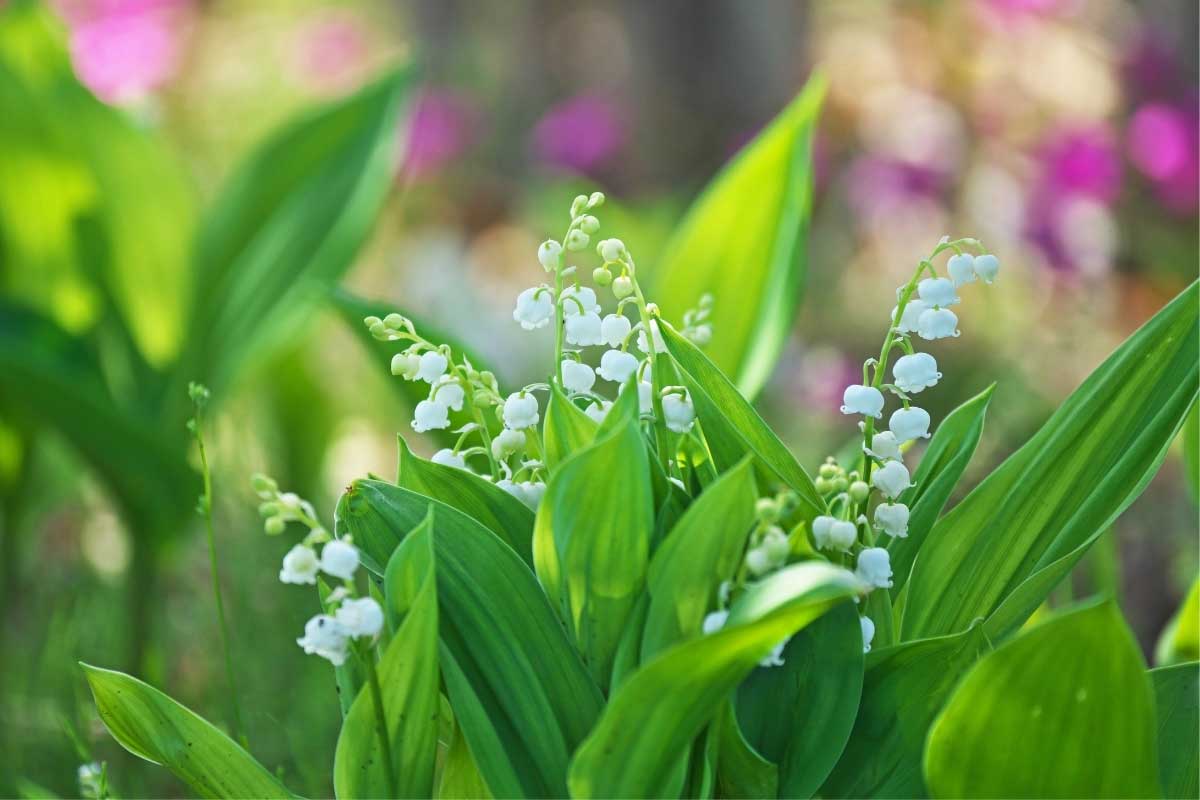 Lily of the Valley is a fast-spreading plant that will come up year after year in the late spring. These bell-shaped blooms are in soft shades of white and blush, and can be quite fragrant. With a height of about 6-12", this shade plant can serve as ground cover
Note: lily of the valley is also quite toxic. All parts of the plant - stem, flower, and leaves have toxins that can be extremely dangerous or even fatal if consumed, particularly for children. If you have pets or kids, steer clear of this plant!
10. Hellebore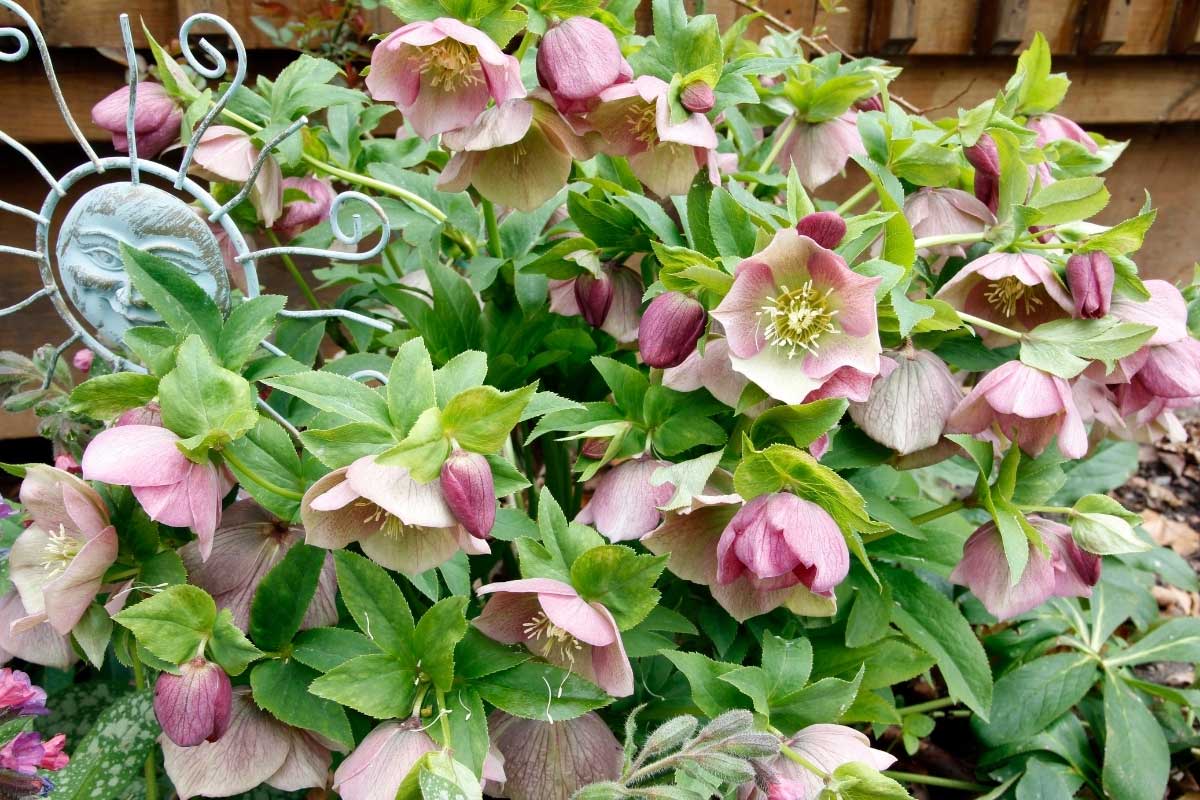 This shade plant is an early bloomer—a welcome sight in any garden! There are several species that fall underneath the hellebore name, including lenton rose, Christmas rose, and the black rose just to name a few.
These plants are low clumps with leaves that are palm-like, with small flowers that look like roses. The flowers bloom face down and can typically be found in creamy shades of white, or pink.
Have a deer problem? Hellebores are full of alkaloid toxins which makes them great for keeping deer and other small animals away from a garden (by the way, if your garden issues are more squirrel-related, you've got to try this DIY squirrel repellant)!
Plus, adding hellebore to your garden gives you a pretty burst of color in early spring, then will serve as foliage the rest of the year.
A Note On Hardiness Zones
All the plants listed can be grown as perennials in USDA Hardiness Zones 4 through 9. As always, some people in areas as low as zone 3 or in areas as high as zone 10 can still grow these, it's all relative to your very specific area, known as a microclimate.
The only exception is for the Caladiums which can only be grown as perennials in zones 9 through 11. They are grown as annuals in other zones. They are such a pretty addition to the shade gardens I wanted to make sure and introduce them to you in the list.
If you are unsure of your Hardiness Zone, you can input your zip code in the interactive USDA Plant Hardiness Zone Map and it will tell you your zone.
Final Thoughts on Shade Plants
As you can see, there are plenty of options to mix and match and create the shade garden of your dreams! Make sure to choose a combination of low-growing ground cover plants mixed with taller blooms and spilling foliage for the most visual appeal.
More Gardening Posts:
I've got an entire section devoted to gardening!
But, if you are looking for something specific, you may enjoy one of these posts.
You can learn how to grow peonies your neighbor will envy or how to grow hydrangeas in pots. Prefer to keep things more classic? Take a look at this post about old-fashioned flowers for your garden. You'll feel the nostalgia!
Happy gardening!