I love old hardware, especially door knobs.
I found this old door knob set at an antique store for $5.00.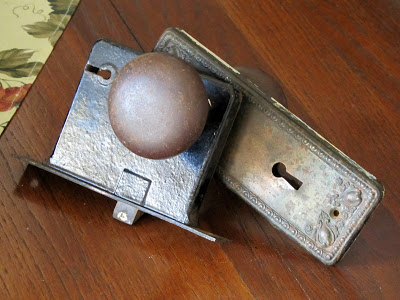 It came with both door knobs, the locking hardware (mortise dead latch I believe)and the escutcheon plate. I love Google, because if you think I would know the difference between a mortise dead latch and a bored dead lock without Google then you're just being silly.
Now the knobs on this were nothing special - just run of the mill , old and slightly rusty, but the escutcheon plate was what sold me on it.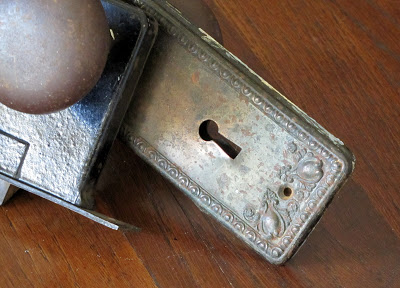 I love the egg and dart around the edges and the little ornate area in the corners.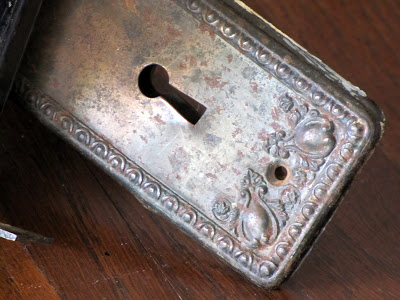 I also bought this door knob set for $10.00. Now it didn't have the rest of the hardware with it, but I loved the black porcelain knobs. This antique dealer had them in both black and white, but I chose black because it reminded me of the doorknobs in the house I grew up in.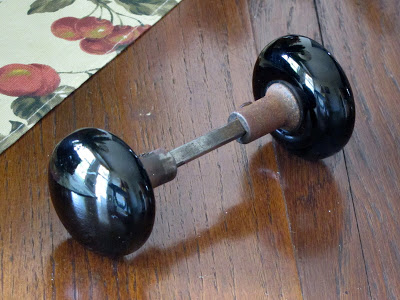 And if I had had any idea that the new owners of the house would have done a complete remodel of the house after we sold it, I would have taken the door knobs (and doors) with me. And yes, I took photos of my door knobs before the house was sold just so I could remember them (I told you I love door knobs)!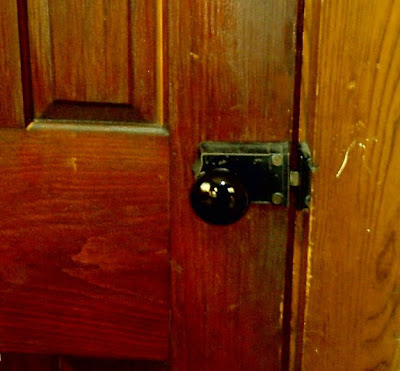 Now, before you think "what the heck is she going to do with door knobs?", I actually had a plan in mind. I had seen a French Country decor book that used door knobs as an accent piece recently. Plus one of my favorite bloggers, Kim at Savvy Southern Style, has used door knobs in her decor, so I had a vision in my head of using them on my kitchen table.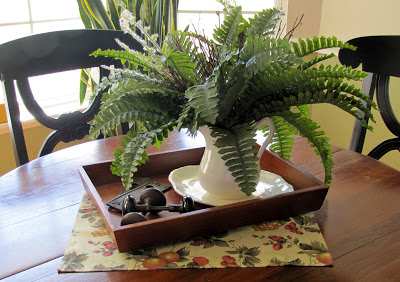 I like the look, but may change out my fern with some Fall decor in the next few days if I ever get around to getting it out of the storage boxes.
At the same antique store I found this green tin.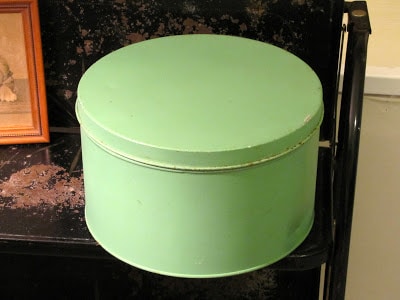 It's slightly rusty and chippy and I loved the vintage green color. I doubt that it started out life with this green color, but it has had it for long enough that that shade of green has come back in style.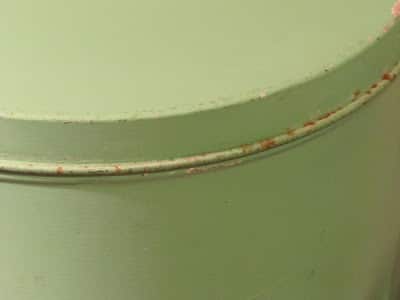 I have it up in my office on my
metal shelf
that I bought at a garage sale a few weeks ago. After much research, I found that the shelf is called a Fold-N-Roll Versa Table made by Re-Ly-On Metal Products.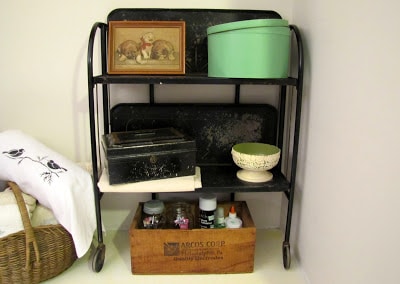 I am using the shelf/table to store some crafty items on. The tin holds my acrylic craft paints.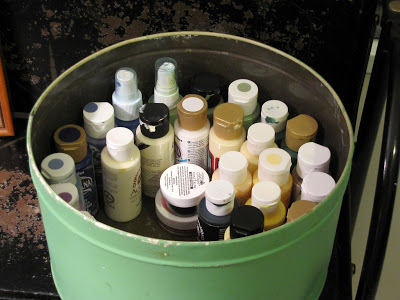 My
metal cash drawer
from another antique store holds my glue gun, glue sticks and miscellaneous small items.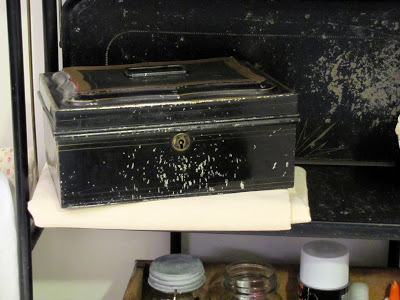 And my electrodes box holds a mishmash of other various crafty things. Now you can find a peach crate or an apple box just about anywhere, but an electrode box - that's unique!