OK, so it's not exactly a haul per se.
I should reserve that term for a huge pile o' junk. But I did manage to find a few cool things at the estate sale on Friday.
I'm just a little bit giddy over this very retro looking metal Christmas tree stand.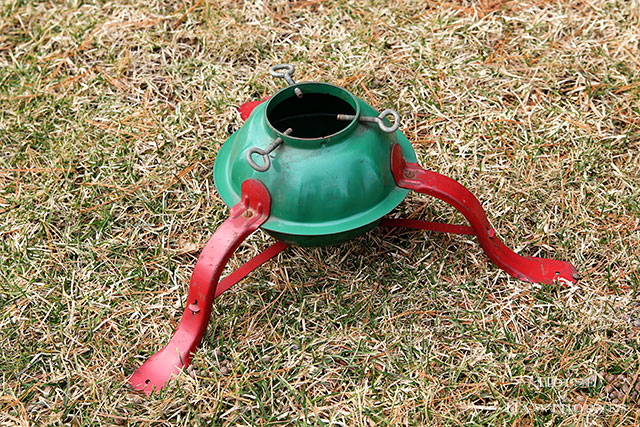 Since I had arrived over an hour AFTER the sale had started, I was surprised that no one before me had nabbed it.

Because who in their right mind would overlook this puppy!
I also was surprised that this snowflake Pyrex casserole dish hadn't been adopted yet.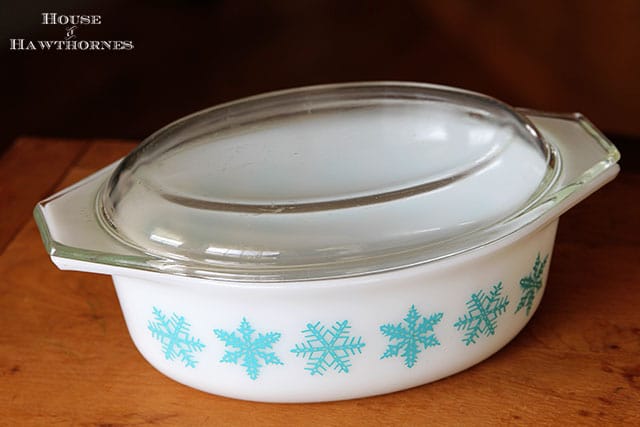 I've been eyeing them on some of the Pyrex lovers' sites (you know who you are). So I was excited when I saw it in the Craigslist photos for the estate sale, but never dreamed it would still be there when I arrived at the sale.
Not that I dream about estate sales the night before I attend them.
And imagine which room of the house the stuff that caught my eye would be in.
And then visualize the floor plan of the house based on the Google Maps street view of the exterior.
And formulate a game plan of attack for said floor plan, based on the items that I'm most interested in.
Kitchen first, then basement, then garage, then bedrooms.
Nope, that would just be crazy.
Now this needlepoint thingie. I actually CAN see why it wasn't picked up with the first wave of serious, hard core estate salers.
I just don't think it's one of those super-marketable items at the antique malls.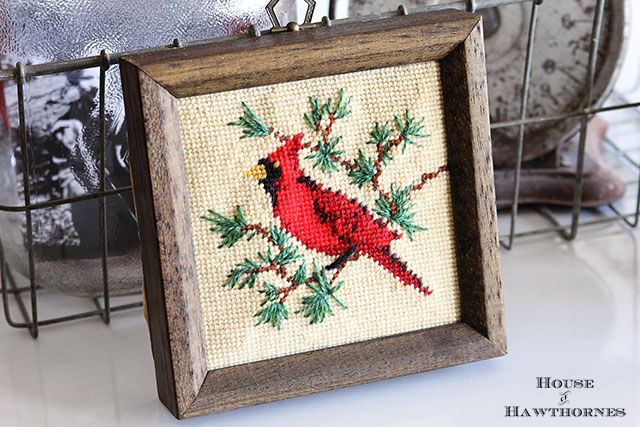 But since when am I concerned about what's popular? What's trendy?
Not I, says the girl who has a deer head on her wall. And a Lane cedar chest in the living room.
It wasn't until I had gotten home that I realized I sort of had a Christmas theme going on. Must have been dreaming of a white Christmas the night before also.
So do you formulate a game plan for attacking an estate sale? Or do you just prefer to wing it and enjoy the spontaneity of the experience.