I have heard a lot of my fellow bloggers talking about their dreams and thoughts for their futures lately. And it has me thinking.
Sometimes I feel that blogging can be a detriment to following your dreams if you let it.
Yes, you are constantly inspired by other bloggers' creativity. You can spend hours and hours just hopping from one totally awe inspiring blog to another. Whether it is decorating, crafting or whatever floats your boat.
But the key word is "other". If you are being inspired by others are you going down their path of creativity? Being influenced by their style? Following their dream?
I have found that my dreams for the future have changed quite a bit since I began blogging. I see all sorts of new opportunities out there. But are they my dreams or someone else's?
I need to figure this out. Because, if you don't follow and nurture your own dreams you are living someone else's life.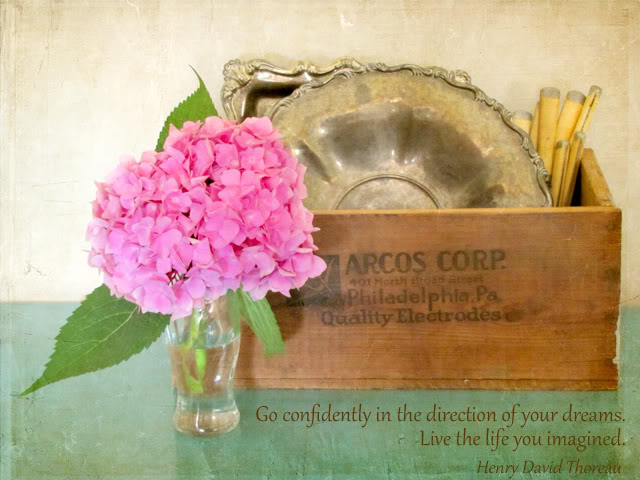 (roll mouse over photo to see original photo SOOC)
I used Yesteryear texture at blending mode of Soft Light 100% Opacity and Yesteryear texture again at blending mode of Multiply 38% Opacity. Adjusted Saturation, adjusted Levels and removed some of the texture from the hydrangea. Yesteryear texture is from Kim Klassen Cafe

This totally awe inspiring post was influenced by Kim Klassen Cafe's Texture Tuesday!